When I worked in a day care centre I made a new batch of playdough every single week, but I feel a little guilty to admit that it's one activity I hadn't done with my own boys! All that's change, since I added making playdough to our March Break list of boredom busters!
We whipped up a few batches of Kool-Aid playdough this week and the boys loved it! The best part was the boys were a great age to do it almost entirely by themselves! I handled the boiling water bit and helped scoop the dough onto a floured surface for kneading but they took care of everything else and the project was a big hit with the whole family! The dough is so soft and nice to work with that even Mom and Dad sat down for a playdough play session with the boys! Plus, it smells really good!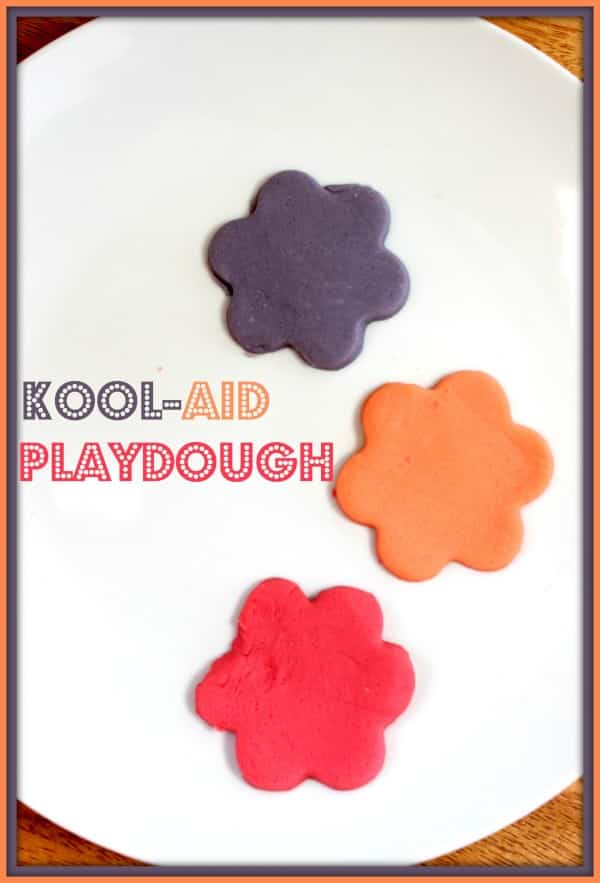 Recipe for Homemade Kool-Aid Playdough
Ingredients
1 1/4 cup flour
1 cup boiling water
3 tbsp vegetable oil
1/2 cup salt 
1 package of Kool-aid, any flavour
Directions – Easy as 1-2-3!
1. Mix together flour, salt and Kool-aid powder.
2. Stir in boiling water and oil and mix until well blended.
3. Scoop dough onto a floured surface and knead until the playdough is a nice consistency, add more flour if needed.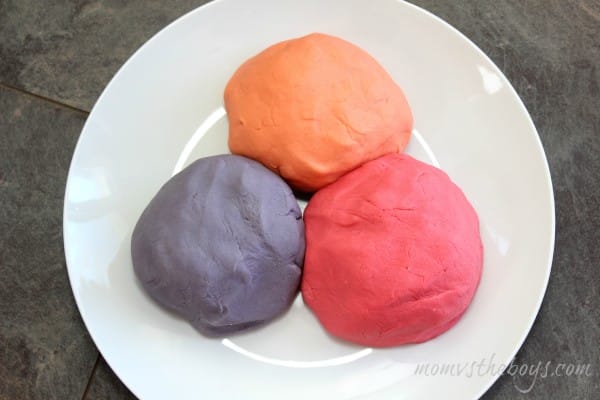 The batches will be a little bigger than the balls shown above, my boys were busy playing with it when I snapped some pics and I didn't want to steal it all away! We used, Orange, Grape and Tropical Punch but feel free to use any flavour/colour you like! Store the playdough in a ziploc bag or plastic containter when finished.