Welcome Home!
As we rolled up through the gorgeous gates of Beaches Negril, our driver looked back and welcomed us home. This being our first time at Beaches Negril, we gave eachother a curious look and answered 'thanks'. Each staff member met us with the same greeting, Welcome Home, and even Elmo was on hand to welcome us to our new home away from home. While it may have seemed strange to us at first, it all made sense to us as soon as we walked into our jaw dropping Beachfront Conceirge Family Room. Yes, we were indeed home!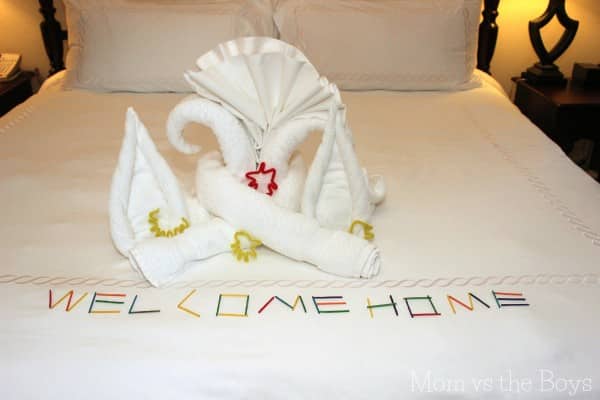 Beaches Negril has over a dozen spectacular categories of rooms and suites. As a family of five, we are always concerned about space and comfort when we travel, but we had nothing to worry about staying in the luxurious Beachfront Concierge Family Room located on the top floor of the Santa Cruz building. As they say in Jamaica, 'No worries, mon!'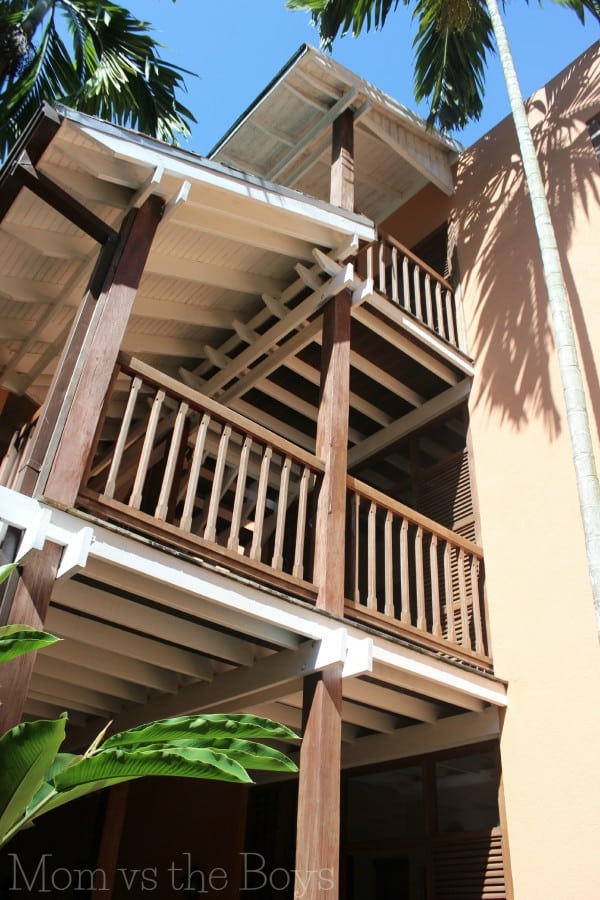 Beachfront Concierge Family Rooms
Beachfront Concierge Family Rooms are connecting rooms that are located on the third floor of all three buildings- Savannah, Santa Cruz and Montpelier. One room features a four poster king size bed and the other one 2 double beds, marble-finished en-suite bathrooms, spacious wardrobe and premium television. Picturesque views of the Caribbean Sea are enjoyed from the rooms' private balconies.
Check out our video to tour the suite!
Our rooms had more than enough space for a family of five! The 'parents' room had a very comfortable king sized bed that I had no trouble falling asleep in each night! I often have a hard time sleeping in hotels but with this bed and long days on the beach, I was out within minutes each night! The closet space was ample and much appreciated as we had a lot of luggage between all of us. I was able to hang my dresses, tuck away suitcases and organize our gear easily and out of our way. The double sinks and private baths worked out great and we made use of the complimentary robes.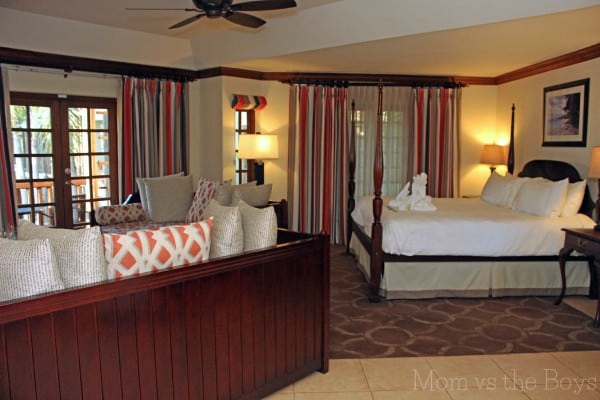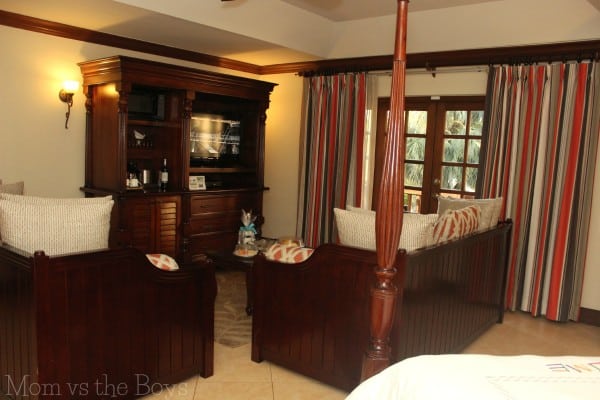 The living room area was well used by the kids as they hung around sipping on juices from our daily stocked fridge in the morning, or playing a little x-box while mom and dad got ready for dinner. Both rooms had x-boxes and this was the highlight for the boys! While we certainly didn't come all the way to Jamaica to play video games, it took any possibility of boredom away during some down time in our room.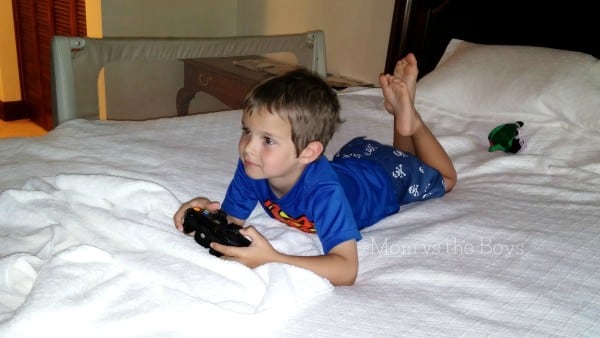 The balconies are a little small and only holds one small table and two chairs but we had still a bit of time resting out there as well, usually in the early morning. On Saturday night, we tucked the boys into bed, brought out our bottle of champagne and relaxed to the sounds of the wedding music on the beach below! I appreciated the double towel bars so much, we hung all of our bathing suits on there to dry.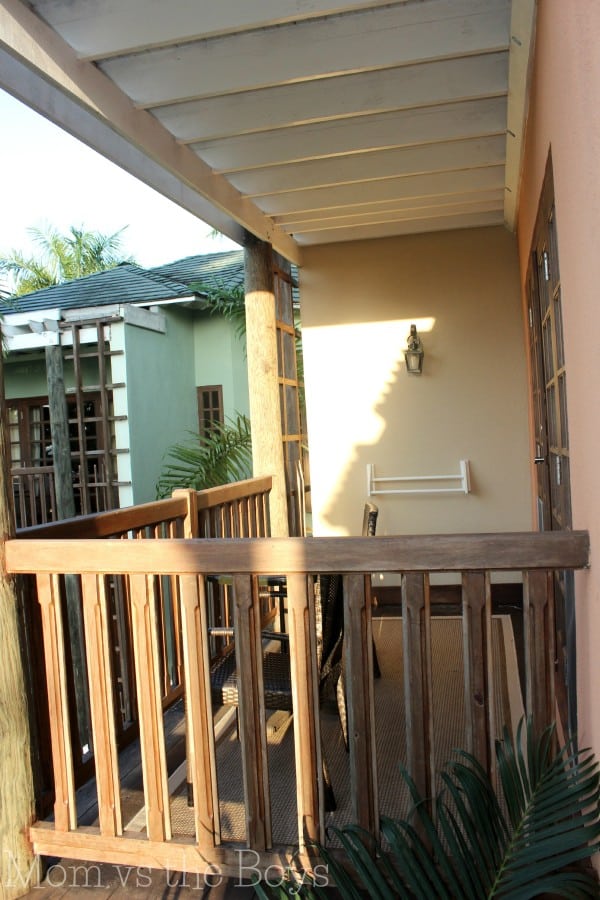 The 'kids' room, contains two double beds that are fit for kings! They are very high up off the floor, and the boys loved jumping up to get on them. The staff brought us bed rails to prevent any falls, which was such a nice gesture! The couch in this room also pulls out into a bed and the staff will come and set that up for you each night, as well as turn it back down into a couch each morning.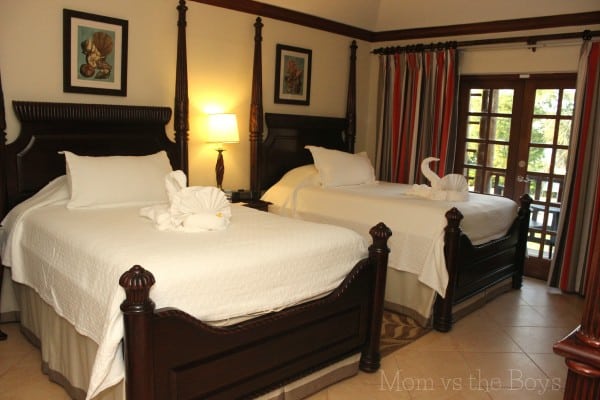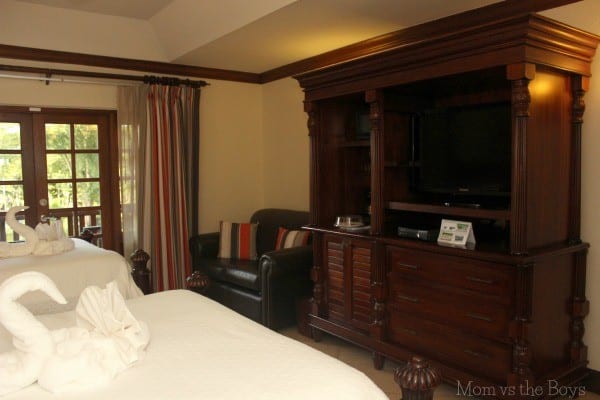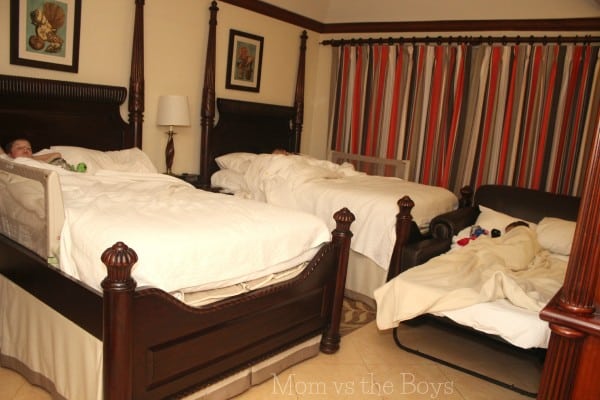 This room also has it's own fridge that was stocked daily with juice, water, soda (the adults room included alcoholic beverages as well). Having another sink and bath area was such a treat travelling with a large family! Each room contained an easy to use electronic safe in the closet as well.
Looking for other posts on Beaches Negril? Check out these:
Beaches Resorts is Luxury All Inclusive