We had wanted to travel to a Caribbean all inclusive with the family for awhile now, but one of the biggest things holding us back was our picky, picky eaters. My husband and I had visited resorts before and felt bored with the food after a couple days, but were happy to make do. Our kids on the other hand, they are as stubborn as it comes and we worried how they would survive.
After a quick trip to Beaches Resorts in Turks and Caicos with my oldest son, a resort with a whopping 19 restaurants, I saw that while he preferred to stick to what he knew and liked best, we were always able to locate choices that suited him. We decided we were ready to take the whole family away and Beaches Negril in Jamaica was on the top of our list.
Beaches Negril has 7 fantastic restaurants that serve up everything from sea food on the beach to wood fired pizzas, plus a little cafe for late night sweet treats!
Here's the low down on where to chow down at Beaches Negril!
Bar B Q Park
After a long day of traveling, we weren't feeling up to sitting down in a nice restaurant, and we were delighted to find Bar B Q Park just steps from our room. BBQ park is a walk up and order eatery with outdoor seating. It serves up all the favourite American barbecue favourites, along with some Jamaican patties. The french fries were delicious and the kids were excited to see Bacon Cheeseburgers and Chicken Nuggets on the menu! It's open for lunch and dinner and has late hours for nightime snacks. There is no dress code so you can even pop over from the pool to grab a bite to eat.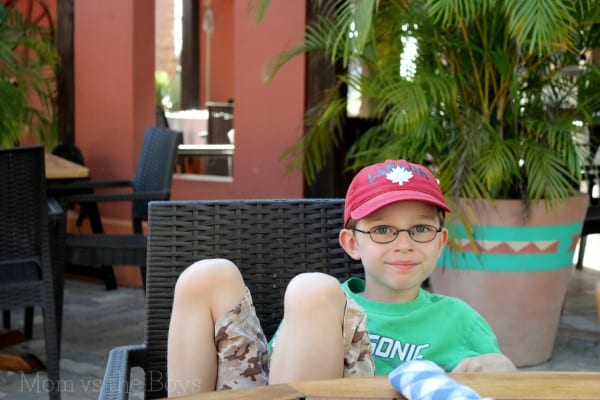 The Mill
The best place to start the day! The Mill is the largest restaurant located directly beside the main pool. It's open for breakfast, lunch and dinner most days, and served buffet style. There are a wide variety of choices for both kids and adults. Our family loved breakfast here, with made to order omelettes, pancakes, cereals, bacon, bagels and lots of fruit. There was plenty to choose from.
During the lunch buffet we sampled chicken wings, grilled ham and cheese, fried chicken, and burgers. Dinner was a different theme every night. Dress code is resort casual.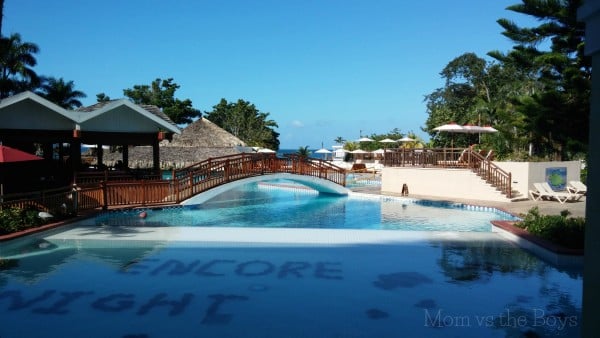 Dinos Pizzeria
Pizza by the beach? yes please! Our kiddos love pizza, so this was the perfect spot for us! Despite having about 14 different featured pizzas, my guys always ordered pepperoni, it's a classic. The Garlic Pizza Sticks are a must and I loved the Calzones as well. They even have dessert pizza! Marcello, the pizza chef from Italy, hand makes your pizza and cooks them up fresh in a woodstone oven. He's also super friendly and great to chat with as he works!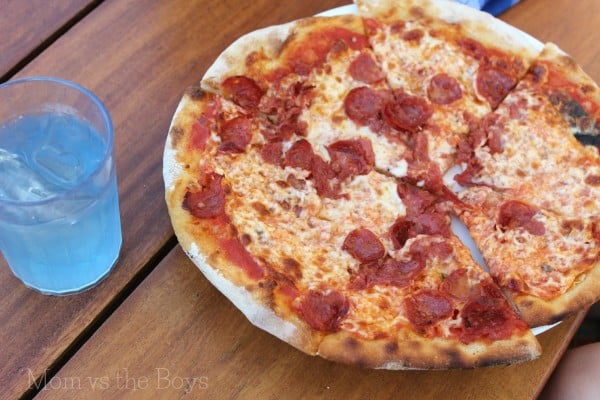 Dinos is only open from 12-6pm daily, so you'll have to eat an early dinner or grab one to go if you are planning on pizza in the evening. Just like a regular pizza place, they are happy to box one up for you. No dress code, so feel free to come over straight from the beach or the pool.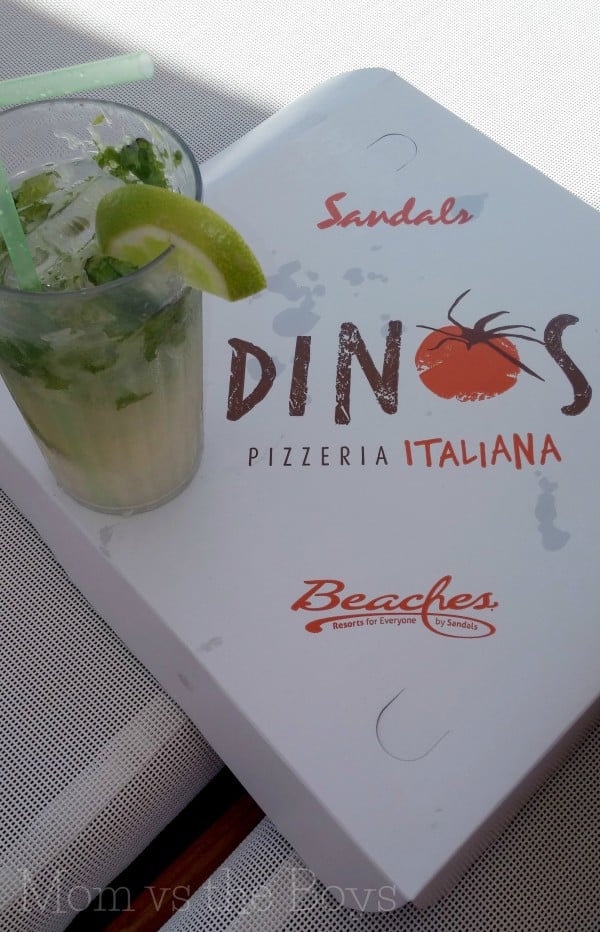 Stewfish
Nestled right out on the beach is Stewfish restaurant. Only open for breakfast and dinners, it's a great place to eat with your feet in the sand. Our table was right by the sea and the boys enjoyed playing on the beach while we waited for our order. The boys did not find much on the menu to their liking but Mom and Dad enjoyed the Jamaican & Caribbean cuisine and even came back for a second night without the kids. They do focus on seafood but have other options as well such as stuffed chicken. If you love sweet chili as much as I do, go ahead and order the fish sticks with sweet chili sauce off of the kids menu for your appetizer!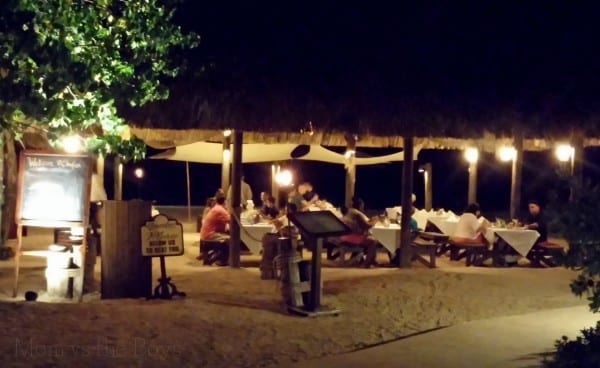 The Venetian
Located on an upper level between The Mill and the Live Entertainment Stage, The Venetian gives an amazing few of the beach and resort. The restaurant itself is gorgeous and pretty darn fancy! So. many. breakable. glasses! The mom in my immediatley wondered if we should have sent the kids to Kids Camp instead, but my worries were completely put to rest as soon as our waiter Daryl arrived on the seen. He was so friendly and fun, despite his sophisticated black suit and white gloves and the kids loved him instantly. He joked with them and showed them some cool water pouring tricks and we ended up having a wonderful dinner. He even worked his magic and somehow got my youngest to eat spaghetti, which he never eats at home! My oldest fell in love with the mushroom risotto and donuts for dessert is always a win.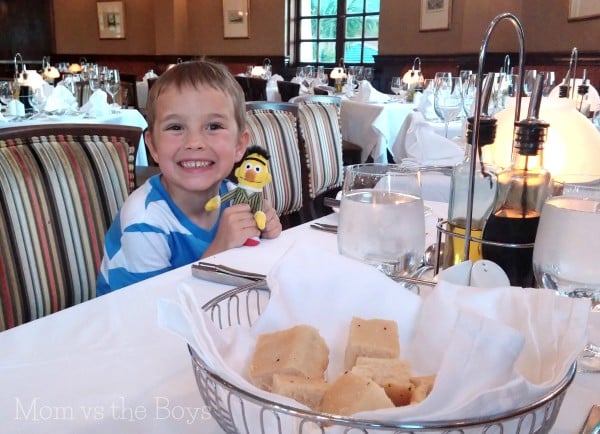 The Venetian is one of two restaurants that require reservations, and the dress code is Resort Evening Attire. It's a great place for a date night with our without the kids and is open from 5:00 until 9:30pm.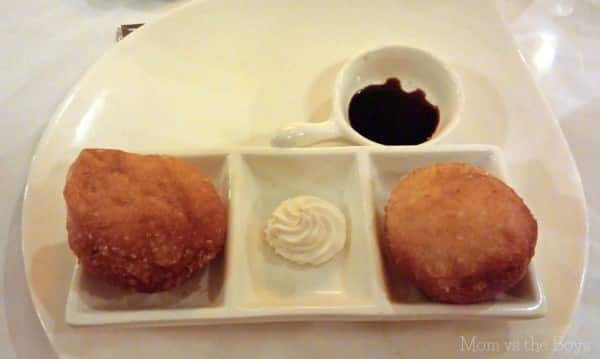 Kimonos
The other reservation required restaurant is Kimonos. Knowing this was fare that the kids wouldn't enjoy, we did feed them early and drop them off at Kids Camp this night. Our experience was very different because the restuarant was currently under renovations and the restaurant had been relocated to the large hut on the beach. Normally you would see authentic Teppanyaki tables and lively trick weilding chefs at your table, but our beach dining was pretty romantic and we enjoyed everything about it.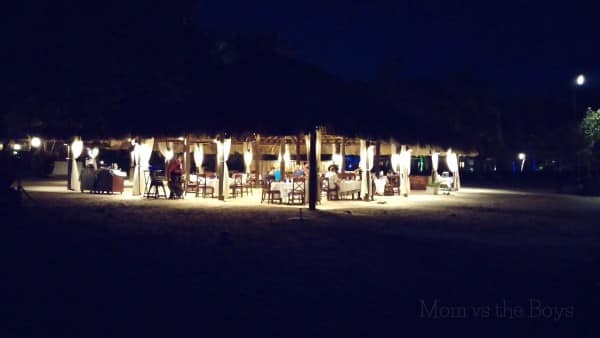 The food both smelled and tasted amazing! If you are wondering about the menus before booking reservations, drop into the Conceirge office and take a peek at the full menus for all of the restaurants available there. The renovations are now complete and Kimonos is back open in their original location, I would love to go back and see it again!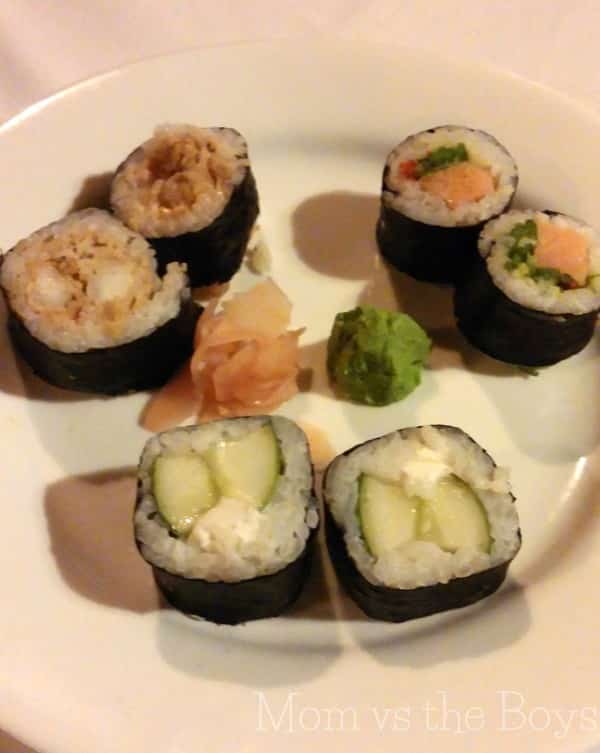 Arizona's
The last restaurant is Arizona's and one of our favourites, we ate here almost every day for lunch! It's located just steps from the pool and Pirates Island Waterpark and includes a nacho station that is to die for! I'm still craving those delicious chips! All the toppings are fresh and ready including hot cheese and chili, fresh salsa and guacamole, everything you desire to custom build your favourite nachos!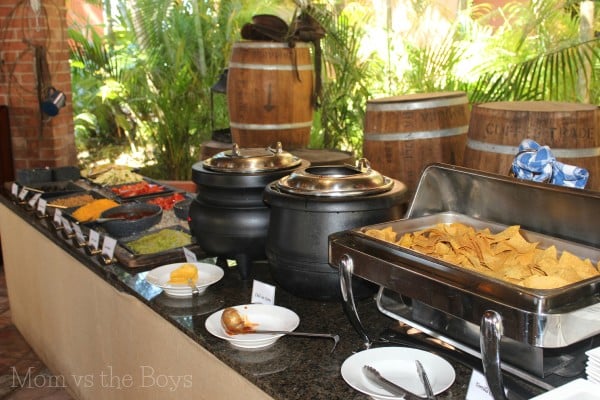 Arizona's offers all kinds of Southwestern fare including quesadillas and churros, which were favourites for the kids. French fries arrive in cute fry baskets whether you order them on their own or as a side to go with something like a  jerk chicken wrap. Dress code is resort casual and you can dine here for both lunch and dinner most days.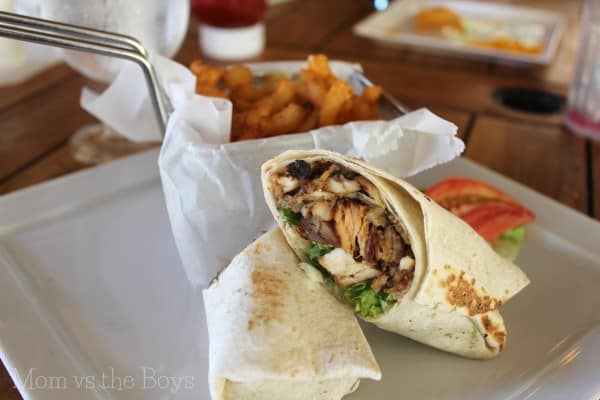 Snacks
Still hungry? The best place to grab a sweet treat, crepes or hard serve ice cream is Cafe de Paris. Two things I absolutely raved about our visit to Beaches Turks and Caicos were the frozen hot chocolates and warm chocolate chip cookies at the ready. Sadly, neither was available at Beaches Negril, but there were other nice things like brownies and cupcakes. If you love lattes, this was definitely the place to get your fix.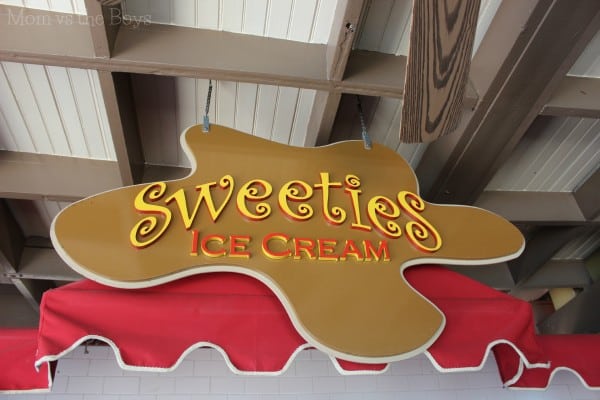 The other spot to sneak a sweet treat was Sweeties Ice Cream Counter, located right by the water park. We often popped in here to make our own ice cream cones to cool off during the day or for a fun dessert after a meal.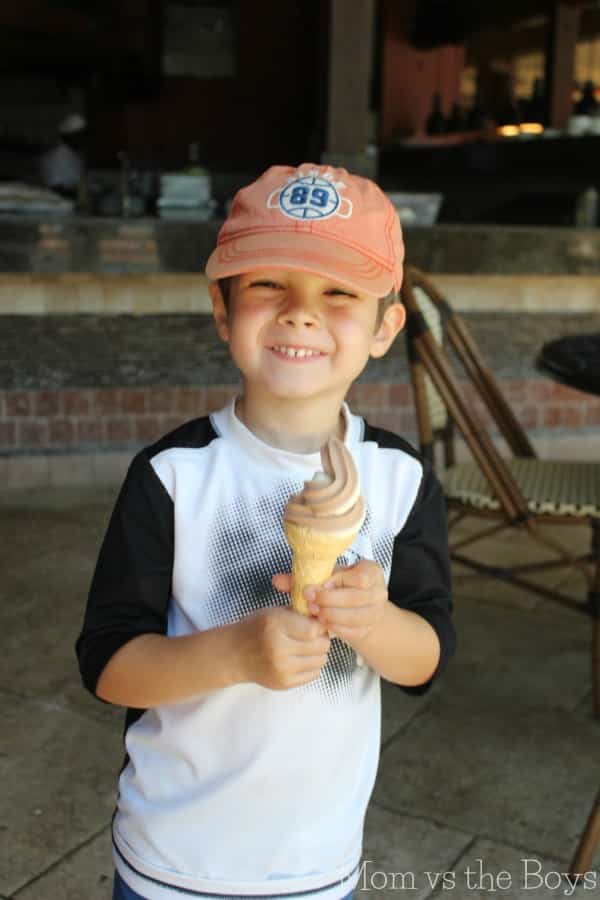 With all these great choices, it was impossible to go hungry at Beaches Negril. Yes, we did have times where the boys chose to skip a meal, but I think that had more to do with being tired from the sun and surf than not finding something they wanted to eat. Not every restaurant is open every day, so watch your daily newsletter to see which ones are operating, and be sure to book your reservations for The Venetian and Kimonos, early during your stay. One night a week, you'll be able to join everyone down at the beach for a great beach party! Tables, chairs and a large buffet is set up right in the sand and the kids can get cotton candy and try drinking right from a fresh coconut! It's a lot of fun, complete with fire dancers!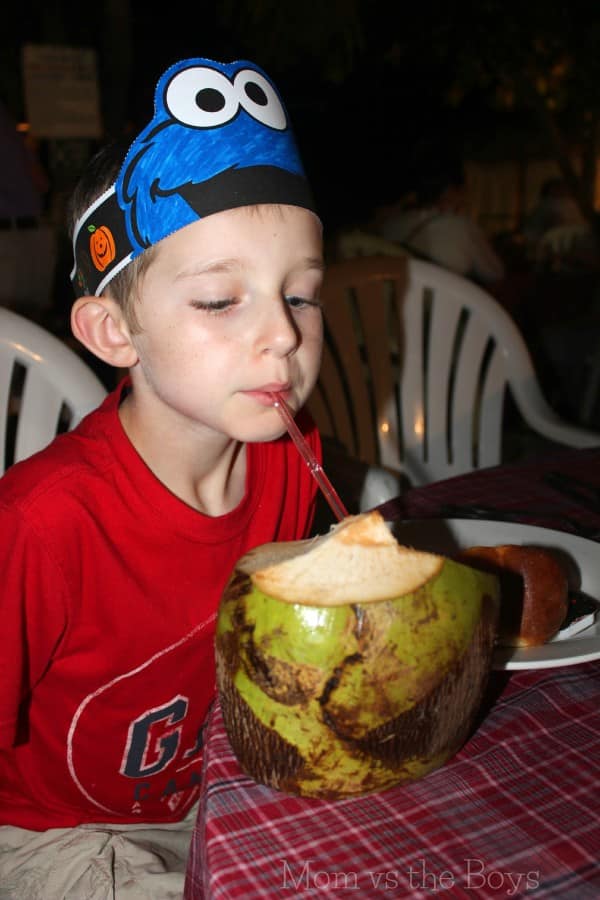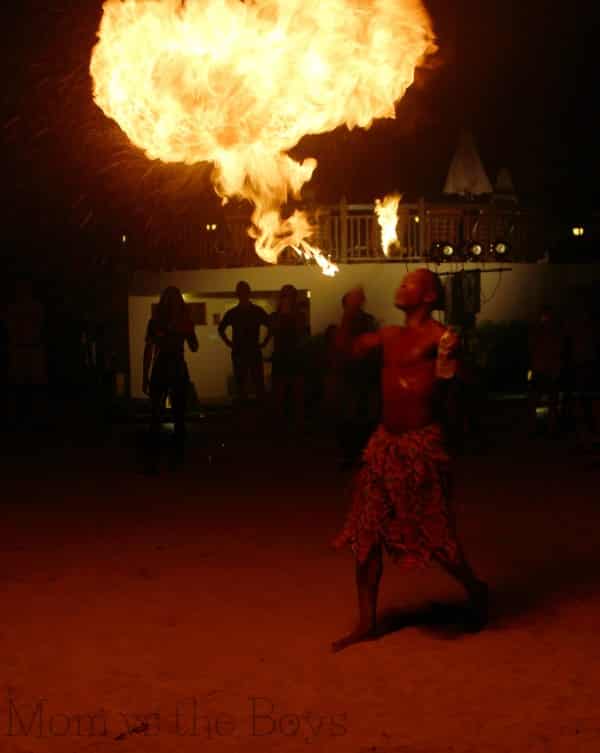 For more information on Beaches Negril, visit their website!
Looking for other posts on accomodations and activities at Beaches Negril? Check out these:
Beaches Negril ~ Beachfront Concierge Family Rooms
Beaches Resorts is Luxury All Inclusive