Despite any amount of teasing, shoving and not sharing in the household, my boys are actually the best of friends. They love to joke and laugh together, usually over something about a fart. As much as it annoys me, it definitely makes me smile to see them building a bond that will last their whole lives. But it's times when they show their heart, that really catches my breathe. The times they show their tenderness and love for eachother, well, that just brings tears to my eyes.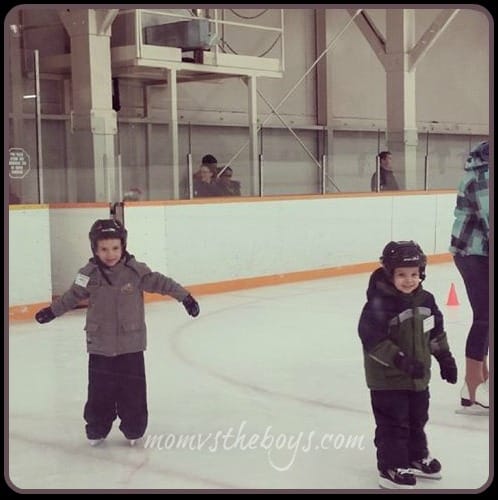 These two started skating lessons for the first time last year. This picture was one of the few times you saw Little Buddy on his feet. After a couple of lessons and a significant amount of falls, he decided to keep his butt firmly planted on the ice for the remainder of the season. His big brother, our Middle Man, tried to help him up a few times but would end up right back on the ice beside him. Still it was nice he tried.
This month our lessons started up again. Little Buddy now wearing the grey snowsuit his brother wore the year before him! I was super impressed with their progress, they were both doing great! Little Buddy was trying so hard and when he fell, Middle Man was never too far away to come and rescue him. This year, being bigger and stronger, he was able to pull his brother up each time. You could see their love for eachother in their eyes. Each fall, Little Buddy looked up to his bigger bro for help and he was there ready to give it. He followed him around the ice the whole session and never gave up.
The first day is always an assessment day for skating and by the end of the lesson the instuctor picked two or three kids who were doing well and moved them up to the next level. This included Middle Man. They sadly looked at each other as they parted ways. 
As much as it melted my heart seeing these two work as a team, I know it will do them both good to practice on their own. Little Buddy needs to learn to pull himself up when he's down and Middle Man needs the freedom to focus on growing his own skills.
In the van after lessons, Middle Man says, "I won't be there now to help you up when you fall buddy, but you'll be okay"
Indeed they will. 
Brothers Make the Best of Friends!