It's hard to believe that Summer will soon be winding down and before we know it we will be back to the time crunched school year. I don't know about you, but for me, the best part of summer holidays is not having to make those packed lunches for the kids, they are so time consuming! Add on rushed mornings, after school activities, and new sports seasons starting up and the hustle and bustle really adds up!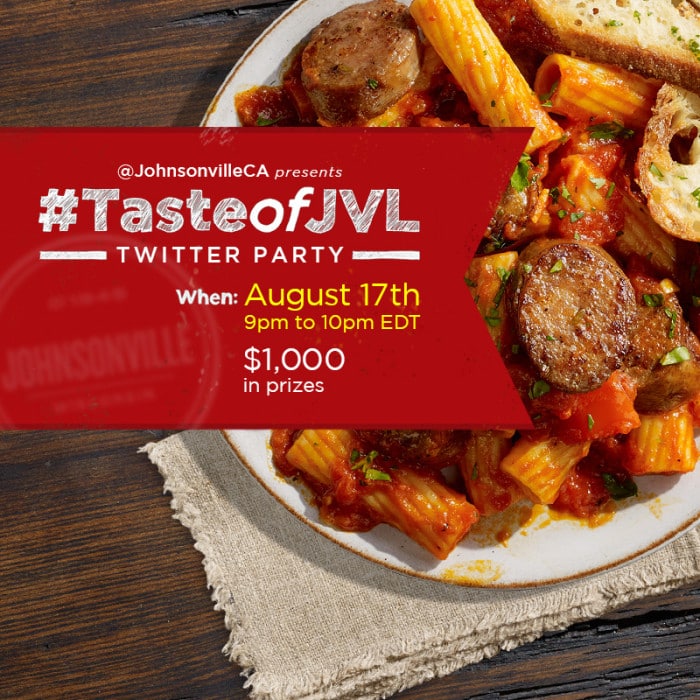 You're Invited!!
Join us on August 17th from 9 – 10 est for a #TasteofJVL twitter party with hosts Johnsonville Canada, where we will be discussing easy & delicious meal solutions for busy moms! There will be fun tips, plenty of conversation and delicious recipes to try. And best of all, we'll be giving away $1,000 in prizes! 
This party is sure to inspire your fall cooking and definitely make you hungry! Mark your calender and join in the fun on August 17th for your chance to win!
Please note that prizes are open to Canadian residents only, but everyone is welcome to join in the conversation. Make sure to follow @JohnsonvilleCA on Twitter and RSVP below. See you at the party!
#TasteofJVL Twitter Party
Date: August 17th, 2015
Time: 9pm – 10pm EST
Twitter Party Hashtag: #TasteofJVL
Host: @JohnsonvilleCA

Co-Hosts: – @momvstheboys, @mommymomentblog, @mommykatandkids 
Please add your Twitter handle to the linky below.
Enter your Twitter Handle (eg. @momvstheboys) in the Name field and your Twitter URL (eg. https://twitter.com/momvstheboys) in the URL Field