I've never believed in love at first sight. I guess I still don't, not with humans anyway, but I've definitely been struck with the love bug twice in my life with pets. After losing our chocolate lab last fall, I've been feeling a little bit lost. Yes, it's nice not to have the hair in the house, and it sure is easier to go on a holiday but there was also no one to go for a walk with in the middle of the day, or a warm furry friend to snuggle with on the floor and no one threw me a coming home party every time I walked through the door either. I knew I was ready to open my heart and home to another pet again and really wanted the boys to grow up with a dog. Our lab was quite elderly when she passed away and the boys never got to see her as an energetic young thing, and that always made them sad.
I spent a number of weeks researching dog breeds, and watching who came available at the humane society. There were a few great dogs, but nothing really seemed to click for me. My husband told me, 'you'll know when it when you see it' and he was right.
We found an adorable 4.5 month old Miniture Australian Shepherd available and we were immediately smitten, I spoke to the owner that evening and early the next morning we took a long drive to meet him. I was all kinds of nervous and excited! What if he wasn't the one? What if we meet him and he's not what we expected? what if, what if, what if??? Again, my husband said to me 'you'll know when you see him' and he was right. (I'm not even having a hard time admitting that!)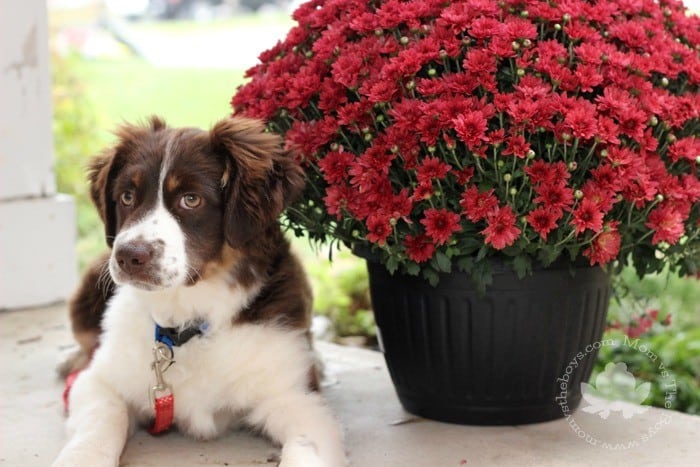 We arrived and took one look at this furry ball of fluff with the cautious eyes and freckled nose and fell madly. deeply. in love. Yup, love at first sight. It can happen. It can happen for me if it has four legs and lots of soft fur! But truth is, I don't love ALL dogs. I really don't. I'm a dog lover, but I'm not comfortable with every dog and that's why I was a little nervous meeting this guy. That all melted away instantly the second we opened the door. He had me at hello and a tail wag!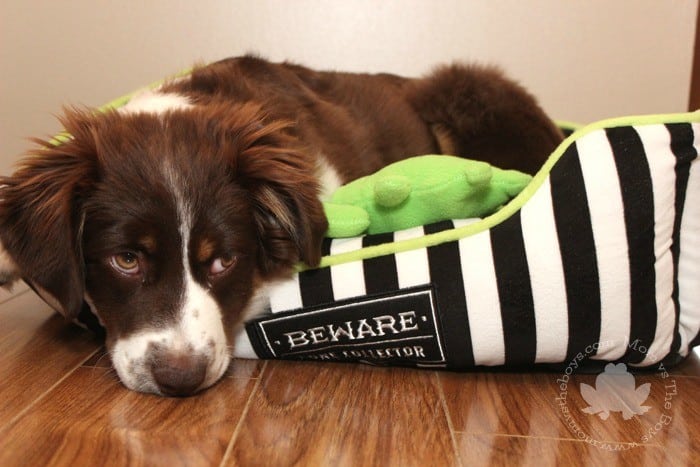 So along came Oakely into our lives, we've been having a lot of fun this week getting to know him and letting him get to  know us. He's going to need a lot of practice on the leash before we take any of those long afternoon walks but he's coming along at his own pace. He's the exact opposite of our last dog, but like kids, each one is different and has their own personality. His first night with us, I tucked him into his crate with his blanket from home and gave him a hug. 'Love you' I heard myself say and was surprised, but truth is, I did love him. He's part of the family now and we couldn't be happier. 
#boymomto4 now!