Disclosure: This is a sponsored post. All opinions expressed are my own. To make sure these products are right for you, always read and follow the label.
After too many holiday treats or late-nights catching up with friends and family at holiday gatherings, you may be left feeling more frazzled than fresh! The good news is that it's relatively easy to get back on track.This year, I will parterning with Bayer to bring you all kinds of tips and tricks to help you look and feel great all year long! 
Stay Hydrated
One of the simplest fixes you can make to your beauty routine is to swap out pop for water. Luckily, I tend to prefer water over most beverages (okay maybe not over wine!) and it's what I drink most of all day. If you like the flavoured drinks, try infusing your water with berries, lemon or cucumber. 

TIP: Try setting reminders in your calendar to fill up your glass with water every couple hours. Give it a couple weeks, and it will become routine! My husband laughs at my "sippy cup" as he calls it, but I have a large cup that has a lid and a straw that I fill up multiple times of day and carry with me around the house. 
Stay Moisturized
Silky smooth skin is the first step in a beauty routine. The Dermal Therapy line of moisturizers helps restore your skin's moisture with elements similar to those found naturally in healthy skin.

TIP: Make it part of your routine to moisturize. Whether it's right out of the shower or just before bed (or both like me!) if you make it a routine it will just become habit and you won't have to think about it. I found this body lotion left my hands feeling slippery, so I find before bed is best with this one. I just keep it on my nightstand. 
Get enough sleep
Oh mamas, I KNOW this one is sooooo hard. Do we ever get enough sleep? If you get less than six hours sleep, it's likely affecting your appearance and you may notice wrinkles, dark circles or puffy eyes. It even changes your facial expressions; you tend to furrow your brow and frown more when you're tired. Yes for me to all of this. My dark circles are permanent and I do furrow my brow when I am drowsy. 

TIP: Set an alarm for bed time. You set an alarm to get out of bed in the morning. Use the same approach to make sure you get to bed early enough at night! It may sound silly, but how many of you sit in bed and get lost in a good book, or even your phone? Sometimes, time gets away from us as we scroll through our facebook feed and a quick reminder brings us back to reality and off to sleep.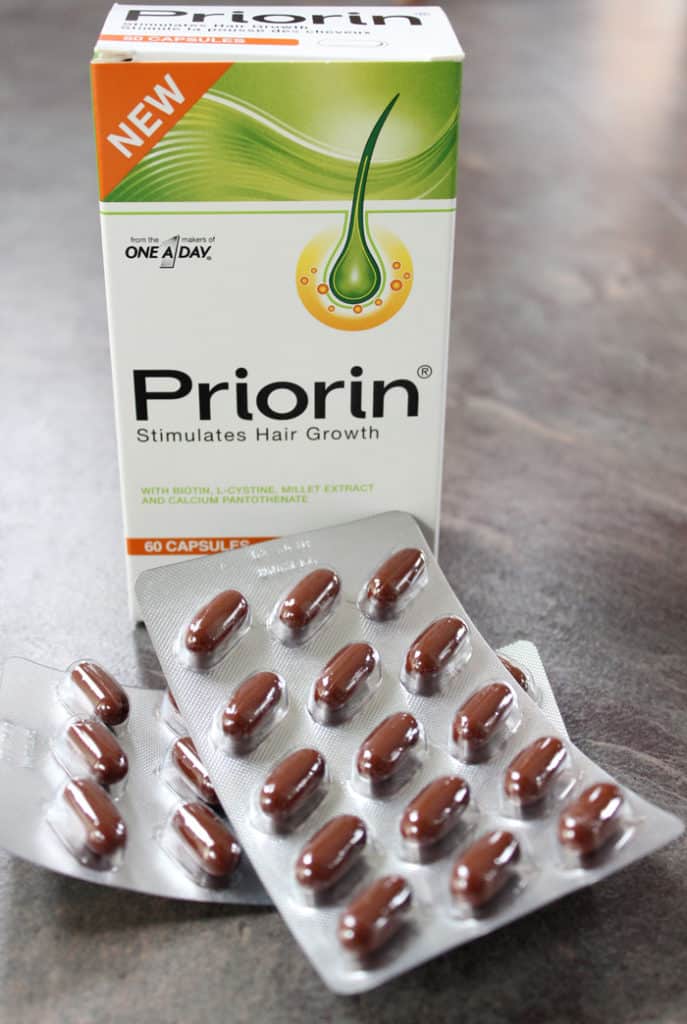 Enjoy more good hair days
I'm completely guilty of loving winter just so I can hide under toques and scarves, but January is the time to start thinking about your spring hair. When the weather warms up your mane will be on full display. My hair is insanely thin and it's really been bothering me lately. I'm sure my whole head of hair gathered in an elastic is the same amount of hair other people have in just one strand of their french braid. I'm so jealous of all those youtube hair tutorials. I never have enough hair to try any of them.

Good news? You can take steps now to be ready. PRIORIN® is a supplement that supplies the hair with millet extract, the amino acid L-cystine and calcium pantothenate, which in combination has been clinically shown to promote hair growth and hair re-growth. PRIORIN® also contains the nutrient biotin, which helps to maintain healthy hair. Take 2 capsules daily with food for 3-6 months. I'm excited to get started on these. 

TIP: Make it a part of your breakfast or lunch routine so you remember to take supplements daily.
To be sure these products are suitable for you, always read and follow the label. 
Got any other tips for looking and feeling great this year?