Last fall my husband and I took on the huge project of renovating our attached living room and dining room. It was a huge task that took weeks as we removed all the old popcorn ceiling from both rooms, added a built in fireplace, painted, and then shopped, shopped, shopped for all new curtains and accessories. We had a bit of a deadline looming overhead as the holidays approached, but it all came together perfectly. When the last trace of drywall dust and scent of paint had disappeared, our tree went up and our guests were arriving for the season.
Oddly enough, one of the hardest aspects of the room was finding a new art piece for our dining room. Where does one buy affordable art anyway? I wasn't finding any luck when I was approached with the possibility of ordering a canvas print from canvasndecor.ca. Yes! Why didn't I think of that! It's the perfect way to personalize your home. Instead of having a meaningless landscape on our walls, we could choose a photo that tells a story, a personal story.
My husband frequently travels for work and often finds himself in Europe. On one particular visit he had an amazing opportunity to visit the Mont Saint-Michel Abbey in Lower Normandy, France. This 10th century structure is awe-inspiring and has a fascinating history. The gothic architecture is incredible and makes for one jaw dropping silhouette on the sky line. Perfect photo opportunity!
My husband was travelling with a co worker who also happens to be a wonderful photographer and she took several beautiful shots that she graciously shared with us. We decided to use one of the photos of the Mont Saint-Michel Abbey just as night was falling. The setting sun cast a fairy tale like purple sky that made for one gorgeous photograph.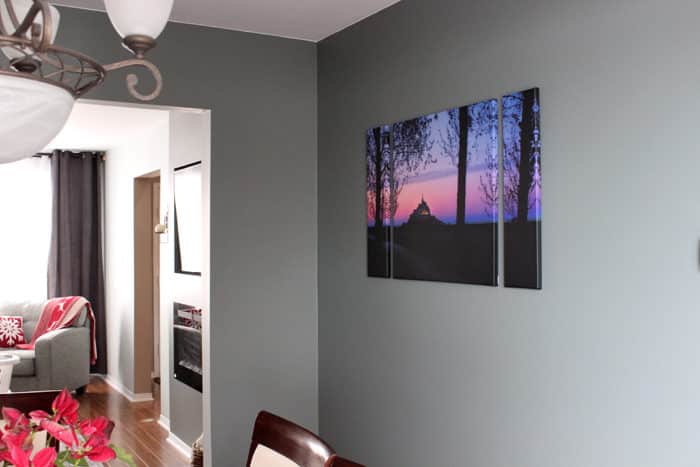 Canvas n' Décor is a Canadian company located in London, Ontario and has a great selection of canvas and specialty photo prints. All of their products are created using the best quality archival components which will last for generations to come and most of their materials derive from renewable resources which are safe for pets, kids, households and the environment.
Ordering from Canvas n' Décor is easy as 1, 2, 3!
1. Choose a Canvas Format
There are many different formats to choose from including single panel, panoramic, split panel or framed. All you have to do is choose the one that is going to best display your photo. For our image, we decided that it would look really eye catching in a 3 panel split. The center panel has a square dimension and features the largest viewing area. The two outside panels are much slimmer in comparison. When ordering this option the image preview is not quite yet available, but you will receive a digital proof via email so you can approve the layout and request any changes as necessary. Our only trouble with the split panel was during hanging the art piece as the hangers weren't placed at the exact same measurement on each one. It was a bit tricky to get each panel perfectly placed and level, but the end result is worth it and I love the look of the three panels together. It's a great way to fill a large wall space. 
2. Select size and finish
Canvas n' Décor offers a large selection of common sizes to choose from, plus you can also choose between two sizes of wrap thickness which I really appreciated. We opted for a thinner 3/4″ thickness the image hangs on a busy walk through beside the dining table and we didn't want people bump it. 
Finish options include Flat Matte, Low Lustre and Stain Pearl.
3. Crop and Customize
Simply upload your desired photo and then use the online photo editor to personalize your photo with custom text, filters and more. 
Canvas n' Décor offers free ground shipping in Canada (Yukon, NWT, Nunavut express only) and usually ships within 1-2 business days.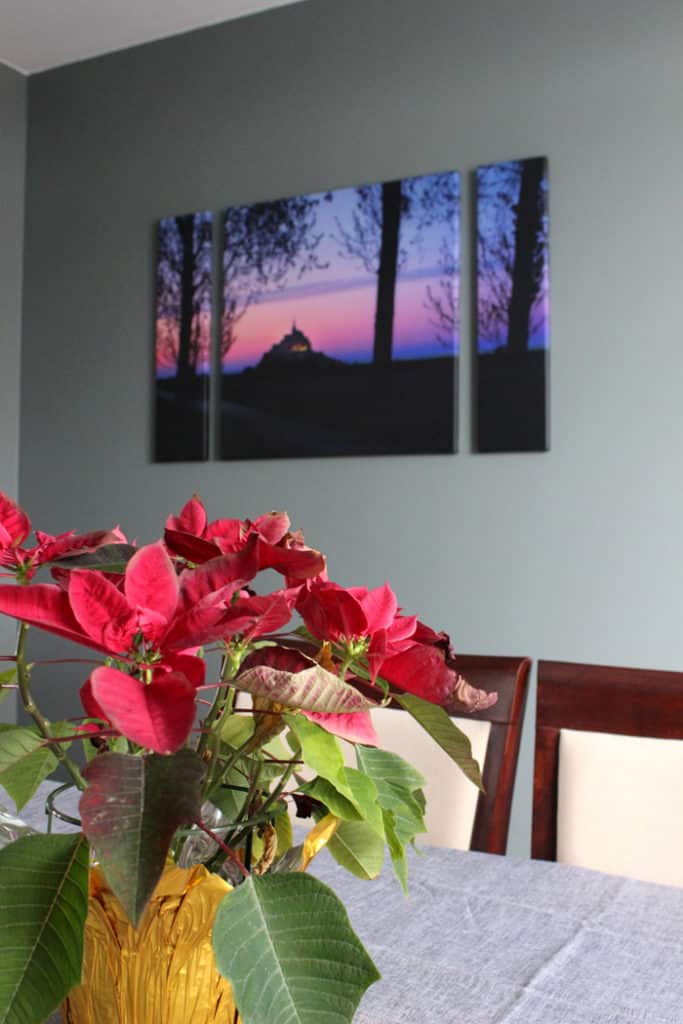 Save 50% on the website and save an extra 10% when you order 2 or more pieces
Choosing a custom canvas print for you home is  great way to personalize your space. Whether you choose a favourite family photo or something from your travels, your canvas print will be a great conversation piece and cherished memory for years to come.
Visit canvasndecor.ca for more information and follow along with them on twitter and facebook for all the latest news!