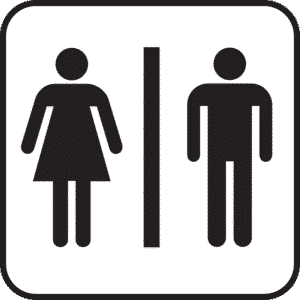 Any parent of the opposite sex of their offspring knows how frustrating it can be when you are out on the town and one of them needs to use the washroom. When they were young it I would just haul them all into the ladies room with me, but it didn't take too long for them to start complaining and ask to use the men's room instead. Look, I get it, no male wants to hang out in a ladies washroom and they've got some pretty rude looks from little girls who were in there and didn't understand why these boys just came into their space. But as a parent it can be a tough step to let them wander off solo into a space you aren't allowed to tread yourself. 
Having three boys made things a little easier for this mama. When one of the boys asks to use the washroom in a restaurant or store, I always just send one of the other brothers with them. Safety in numbers right ladies? So my boys have been using the mens room on their own for years now and you would think I would be a pro at it, but this week I found myself out in the city with just my youngest boy. Having a day with just one of my boys is always a treat, in big families any one on one time with the kids is rare and special. He had an eye doctor appointment that morning and we ran a few errands and then we decided to stop for a lunch date before heading home.
Now my youngest is seven so he's a little boy, but not that little and can manage using the men's room alone but when he asked to go and I didn't have a big brother to send with him, it did give me pause for a second. Our seat in the restaurant wasn't near the hallway to the washrooms so I told him to go ahead, but quietly trailed along behind him and watched from the end of the room to make sure he found the right door. There was a tv at this end of the room so I waited there for a bit and watched the news so I would know if any one else went into the washroom after him. Time ticked on.
With it being a blustery day outside the restaurant was pretty quiet and I wasn't worried about him, but what in the world was taking so long? It felt like forever since he had gone in there. I decided to walk down the hallway and stood just outside the door to the men's room. Now I could hear his voice coming from the other side of the door. Who is he talking too???? Was there someone already in there when he went in? It was getting louder too, was he yelling?  What the heck is going on in there?? 
And just as I was about to bust through that men's through door, he opened it. He looked up, quite surprised to see me in the doorway and giggled.
"what are you doing mom?" he asked
"I was just checking on you" I replied
"oh, did you hear me?" he wondered
"I did hear you, who were you talking to?" I questioned
"no one, I was dancing in the mirror, like this, watch" and he started to boogie down to the music from the bathroom speakers in the hallway. 
A mom's anxious mind can turn a million scenarious a second when something doesn't seem quite right with their kids, but it's good to know that this one, just doesn't have a care in the world lol While I was waiting for him to use the washroom, he was in there throwing himself a dance party, with loud singing to boot! That little wild child of mine, certainly keeps me on my toes.