Today is Bell Let's Talk Day which is an initiative to end the stigma and talk about mental health. This post is in no way affiliated with Bell and I have not been asked to write this, but it is something that has been on my mind a lot this week. So when I saw all over my social feeds that today was Bell Let's Talk Day, I just thought, it seemed like a good day to share.
I suffer from anxiety. It's not something I talk about much, or ever really. Sometimes I'll share a post I've seen that someone else has wrote on my facebook page, but I don't speak of it from a personal level, often not even with family or friends. 
But there it is. I have anxiety. Not sometimes, or occassionally, but every day. 
So lately I've had a few opportunities that came up where I had to make big decisions. Any decision is hard for someone with anxiety, making big ones, can be down right debilitating.  As always I turned to my husband as a sounding board and it really hit me when he told me to "trust my gut".
I used to be really good at trusting my gut. Time and again I've made decisions this way and was right, my gut was a good guide to have. But not anymore. I can no longer trust my gut.
My gut is where the anxiety lives. It's a breeding ground, an anxiety factory. 
When I'm faced with a decision, no matter how big or small, my anxiety starts pumping out every reason it can think of as to why I shouldn't. So even when presented with a fun opportunity to try something new, to go somewhere amazing, to do something I've always wanted to do, anxiety tries to talk me out of it. Anxiety tells me it's too much money, it's scary, that something bad will happen, the risk is too great, the guilt too strong, the journey too stressful. You'll regret it, she says. What if it's awful? She asks. It will be all your fault, she blames, if things don't work out. 
I can't trust my gut so I have to trust others. I'll present my husand with an idea and see how he reacts. Even when it's positive, I'll start bombarding him with questions and see again how his answers play out. What if? What if? What if?……..
I'll ask friends for advice and see if they agree. If they've done it before, I'll start bombarding them with questions. What did you do? What happened? What was it like?…….
Anxiety makes my head fuzzy and loud, so that I couldn't hear my gut even if it was telling me the truth. Anxiety makes my body freeze, where I become immobile, I can't turn left or right and I'm stuck. Anxiety for me is foggy and confusing, loud and disorienting, it's untrusting and suspicious, it's lonely and afraid. 
It's not being able to trust your gut. And when you can't trust yourself, it's a frustrating and frightening place to be.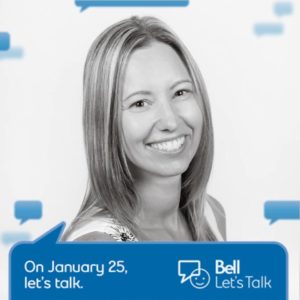 Today, for every tweet using #BellLetsTalk, Bell donates 5¢ to #MentalHealth initiatives. Join the conversation: Bell.ca/letstalk