Everyone's motherhood journey is unique and special, for me, I had three baby boys all in three years! Life for me was all baby- all the time, for quite a long time. Our house was filled with play yards, excersaucers, bouncy chairs, and diapers, diapers, diapers! We quickly learned what items parents truly needed and which ones really weren't that necessary.
Did you know that Best Buy Canada carries baby products? While most people may think of Best Buy as a gaming and entertainment store, they are so much more than that and carry some of the best and most trusted brands for babies and their parents.
Best Buy Baby Sale!!!

Check out the Best Buy Baby Sale happening from February 17th – March 9th!
Join the Baby Samplers Club for the chance to get great baby products for FREE!
Best Buy carries a huge selection of great baby and maternity products and want to share them with you. Yeah Baby!
Parents-to-be or parents with a baby under age two are eligible. If you're selected, you will test and keep baby products for FREE in exchange for writing a review. Sign up now for this fun and unique opportunity!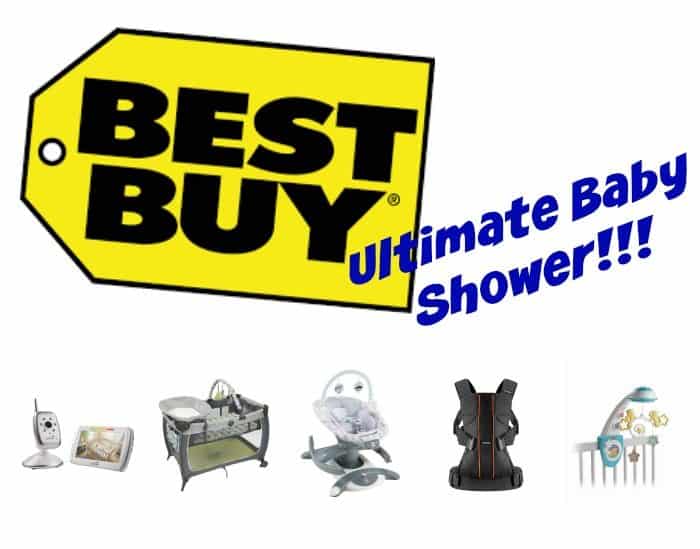 Are you pregnant or know someone who is? I've been dreaming up the Ultimate Baby Shower Bundle with the help from Best Buy and I've come up with some pretty fabulous gifts! I think most parents like to choose their own strollers and car seats to meet their family's needs (though Best Buy carries some of the best of these too!) so I've focused on covering the rest. It's actually been really fun reminiscing about our own baby years and checking out all the awesome new products on the market today for this amazing stage in life! 
Summer Infant Wide View Digital Video Baby Monitor – $199.99
Keep an eye on your little one in any room with this Summer Infant monitor. It features two-way communication and a 5″ colour LCD video screen, with automatic black and white night vision. What's really cool is it has digital zoom for closer views on screen and is an expandable system so you can add cameras to monitor multiple children in different rooms. 
Safety 1st Prelude Play Yard – $199.99
This spacious play yard sets up in seconds and offers plenty of room for naps and playtime. It includes a full-sized bassinet, an elevated changing table, and a toy bar with 3 toys. Built-in storage pockets are also handy for storing extra diapers, wipes, and other essentials. With three little ones this item was a lifesaver for us, it provided an extra place to change a baby or a quiet place for a nap. We brought ours along to visit family and on many vacations to use in hotel rooms as well. 
MOBI Dual Scan Air Non-Contact Digital Thermometer – $89.99 Only at Best Buy! 
This is one item I wished we had sooner because we went through a few different types of thermometers before falling in love with the digital no touch system and it's still the kind we use today. This thermometer from MOBI, provides a fast and accurate temperature reading in the safest and most hygienic way possible. It features additional modes for food, rooms, bottles, and bath water and allows for super-quick, one-second temperature readings from the forehead while storing the last 30 readings so you can monitor the data over several days. We love that you can take a temperature reading on a sleeping child without waking them up. 
Fisher Price 4-in-1 Rock 'n Glide Soother – $179.99
Your baby will love the smooth and soothing forward-and-back or side-to-side motion of this Fisher Price 4-in-1 Rock 'n Glide soother. It's like being cradled and rocked in mom's arms, thanks to a variety of modes, gliding speeds, and reclining positions. The soother also offers music and nature sounds, rotating seat, and optional soothing vibrations. We got so much use out of a similar one we used with the boy and I love that this one grows with your baby from newborn to young toddler years, thanks to removable inserts and adjustable rock and glide positions.
Fisher-Price Starlight Musical Mobile – $44.99
Help soothe your sweet baby to sleep with the Fisher-Price Starlight musical mobile. This mobile plays up to 30 minutes of lullabies, classical music, and calming nature sounds to bring serenity to the nursery. Little bears offer visual stimulation for your little one while sparkly stars cast soothing shadows on the wall.
BabyBjörn Baby Carrier One – $279.99 Black/Orange Only at Best Buy!
I loved using a baby carrier, but I never had one as awesome as this! The Baby Carrier One by BabyBjörn is a multi-functional front and back baby carrier that is simple to use and comfortable in all positions. Ideal for those wanting an ergonomic baby carrier with incomparable comfort, the Baby Carrier One is a must for parents who want to vary the way they carry their baby or toddler for long periods. Can be used from newborn to 3 years of age and does not require an infant insert.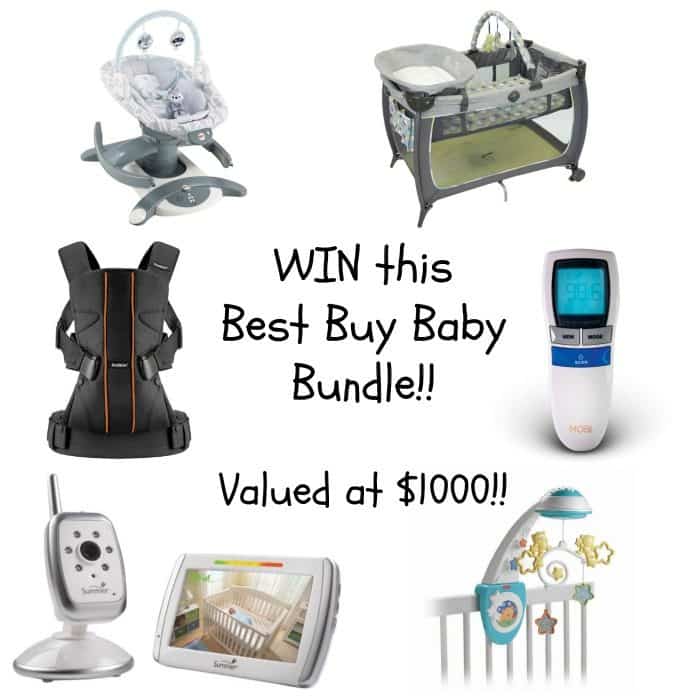 That's right! What if I told you that together with Best Buy, we are ready to shower one lucky mama or mama to be with everything I've listed above! Pretty amazing right? When it comes to baby gear essentials, we know how important it is for parents to have the best products for their little ones. Keeping baby happy, healthy and safe is always a top priority! And while we may not be able to come over and cook you dinner or cuddle your new baby through the night, we do hope that these quality products will help you ease into parenthood with many of the every day essentials you'll need for those precious first years with a baby. 
For a chance to win the Best Buy Baby Shower Bundle valued at almost $1000, enter below. Open to Canadian residents (excluding Quebec) over the age of 18 yrs. Ends March 9th at 11:59pm est. 
Disclosure: This post is in partnership with Best Buy Canada. All opinions are my own.