Disclosure: This is a sponsored post. All opinions expressed are my own. To make sure these products are right for you, always read and follow the label.
It's been a long winter and you deserve a break. Fortunately, it's coming up in March! If you have a vacation planned, I'm super jealous 'cause this mama is stuck at home. We had planned on going somewhere warm this spring and then noticed that 4 out of the 5 members of our family needed their passports renewed and well, there goes the budget just on those! Nevertheless, I was just checking out our library hours this morning, so I'll still be happy sleeping in, reading a good book, and NOT making lunches for the week! It's the little things.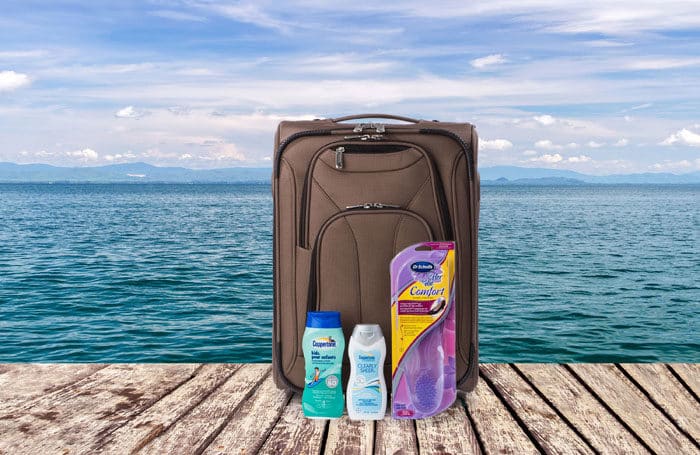 For those of you who will be heading out for some family fun in the sun, here is a checklist of things to think about ahead of time so you can truly relax and enjoy your well-deserved break:
Your wardrobe choices:
If you're going away, plan your outfits ahead of time so you strike the balance of having what you need without over packing. You need to think about accessories and shoes to complete your looks and being efficient about the clothing you pack leaves room for those important finishing touches. Speaking of finishing touches, you can plan ahead to ensure those killer pumps don't kill your night because of the pain and discomfort they cause. Scholl's® For Her™ has several insole and cushioning options to fit different kinds of heels and flats, no matter what part of your foot or shoe is bothering you so you can enjoy the night!
Your toiletries:
 Be just as thoughtful and conscientious about what you pack in your toiletry bag. There's nothing worse than arriving at your destination to find you've forgotten something essential. Take some time to create a checklist of the items you can't be comfortable without. For starters, a toothbrush, toothpaste, deodorant and sunscreen. Coppertone has products to keep your whole family covered; from Coppertone ClearlySheer SPF 50 for you, to Coppertone Kids Sunscreen Lotion SPF 60 for the kids, these are great options that provide sunscreens filter UVA and UVB rays to help provide sunburn protection. ClearlySheer feels weightless on your skin, won't clog pores or cause breakouts, and works great under makeup, while the Kids Lotion is waterproof*, so it's ideal for water loving kids. If you're headed to the beach, remember that reapplying is just as important as putting on in the first place, so reapply at least every two hours, or after being in the water.
(*Retains SPF after 80 minutes of activity in the water or sweating)
An eye mask (this is a must for both vacations and staycations!):
 After months of early wakeups, there's nothing better than a lazy morning in bed. If you're sleeping in a room that gets bright in the morning, an eye mask can help block out the light and allow you to catch up on sleep and come back from your vacation feeling refreshed! We have room darkening blinds on our windows for a reason, this mama loves to sleep in any chance she can get! 
What are your March Break plans? What are the key items you'll be putting on your vacation checklist so you're prepared and make the most of the mid-winter break?
This post is sponsored by Bayer. To make sure these products are right for you, always read and follow the label.