ATTITUDE launches its Solution for sensitive skin, a new line of Canadian-made products enriched with colloidal oatmeal bearing the National Eczema Association's Seal of Acceptance.
Nearly six million Canadians (one in five) will suffer from atopic dermatitis (eczema) during their lifetime, along with one baby out of two. This is what led ATTITUDE to create its Solution for Sensitive Skin, a certified product line with approximately thirty skin care and household products specifically designed to meet the daily needs of people with sensitive, atopic and dry skin. This new ATTITUDE collection is certified by the National Eczema Association, enriched with colloidal oatmeal, fragrance-free, hypoallergenic and clinically tested by dermatologists.
A COMPREHENSIVE AND NATURAL SKINCARE SOLUTION FOR THE WHOLE FAMILY
"Since people with sensitive skin use creams and other skincare products many times per day, in large amounts and throughout their entire lives, the choice of ingredients is essential," states Jean‐François Bernier, company founder and president of ATTITUDE. "Our products are made using only worry-free ingredients that are free of carcinogens, mutagens and endocrine disruptors, and developed with uncompromised safety in mind."
"People suffering from skin problems due to sensitive skin often have reactions to conventional products without knowing it and they may spend months looking for solutions. Our product line offers a simple and comprehensive solution to improve their daily lives," explains Dr. Hans Drouin, vice‐president and director of research and development. "Our products are fragrance-free, developed by health and cosmetic experts, and tested under dermatological control to validate that they are hypoallergenic and non-irritant."
WORRY-FREE, CERTIFIED INGREDIENTS
For this product line, ATTITUDE worked in close collaboration with the National Eczema Association in order to receive its seal of acceptance. The seal certifies that its products are free of all ingredients that are known to irritate sensitive skin. These 31 new products – completely safe for use and composed of worry-free ingredients – are also EWG VERIFIEDMC by the Environmental Working Group, a reference standard in the field of health and well-being. The standards established by EWG help consumers make the best choices possible by opting for ingredients that pose a minimal amount of risk to health.
CONTAINING UP TO 3% COLLOIDAL OATMEAL
Offering everything from creams and soaps to ointments, shampoos and household products, all of the products are made of natural ingredients and enriched with colloidal oatmeal extracts, for use by the whole family. Colloidal oatmeal is a medicinal ingredient that is taken for its soothing properties. It is approved by Health Canada** for the effective treatment of sensitive or atopic skin and eczema.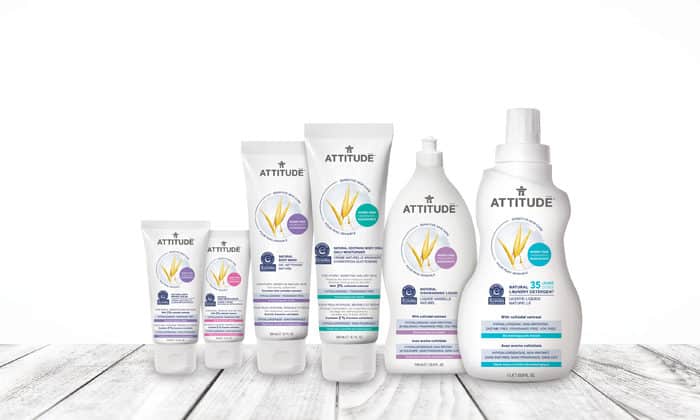 FOR BABY
Composed of 6 household products, 9 skincare products and a sunscreen, the Solution for Sensitive Skin for Baby product line naturally cleans, moisturizes and softens baby's skin from head to toe, creating well being where it really matters. With a hydrating body cream, a soothing bath soak, a water-repellent protective ointment, a deep repair cream, a diaper cream, foaming hand soaps, 100% biodegradable baby wipes and everyday household products, all of the products are fragrance-free, non-irritant and enriched with soothing oatmeal.
FOR THE WHOLE FAMILY
Composed of 6 household products, 8 skincare products and a sunscreen, the Solution for Sensitive Skin product line is also designed to eliminate a maximum of irritants for families on a daily basis. It includes: a soothing shampoo to treat dry scalps; a foaming hand wash; a shower gel; a moisturizing body cream; a water-repellent protective ointment; household products for the bathroom, kitchen and windows; a laundry detergent; and several other gentle and worry-free products.
ATTITUDE PRODUCTS ARE AVAILABLE IN-STORE AND ONLINE
In Canada, ATTITITUDE sensitive skincare products are available for purchase at several retailers, including baby stores, natural foods stores and pharmacies. In Ontario, products are available at Metro and at Terra20, and on Well.ca for all Canadian provinces and territories. You can also order products directly from the website www.ATTITUDEliving.com, which provides access to more than 100 ATTITUDE products!
Want to try these great products out with your family? Enter below for the chance to WIN an ATTITUDE Senstive Skin Prize Pack featuring:
Natural Body Wash
Natural Deep Repair Cream
Natural Soothing Body Cream/Daily Moisturizer
Natural Hand Repair Cream
Natural Laundry Detergent
Natural Dishwashing Liquid
Open to Canada residents only, ends April 7th, 2017