When my husband and I bought our first vacuum we honestly just picked something that looked okay and had a budget price, how different could vacuums really be right? We bought our first house; a three bedroom two story, we picked out a fur baby and went on to have not one, not two but three babies of our own so it's safe to say our house was full! With three busy boys and a love for pets it became really clear that our old vacuum wasn't up for the job and that's when we made the switch to Dyson. All these years later, we've never looked back. Dyson has proven to us time and time again that there's nobody better, other vacuums just don't give you that "Dyson Clean".
What's new from Dyson? Check out the Dyson Big Ball Animal 2!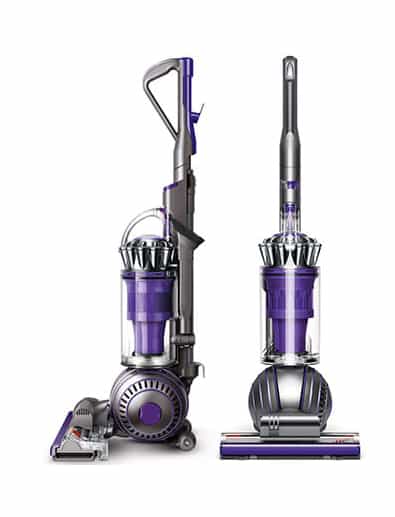 My parents have the Dyson Small Ball Animal and love it, so I already knew this Big Ball 2 version was going to be amazing. The small ball is perfect for small homes and apartments but for anything larger you need a bigger unit and this is it, it's like the big brother to the small ball! 
Dyson vacuums are super user friendly, even right out of the box. Most new gadgets I leave for my husband to figure out, but there is no need to hand a new Dyson over to get ready, it's so easy to set up and get rolling.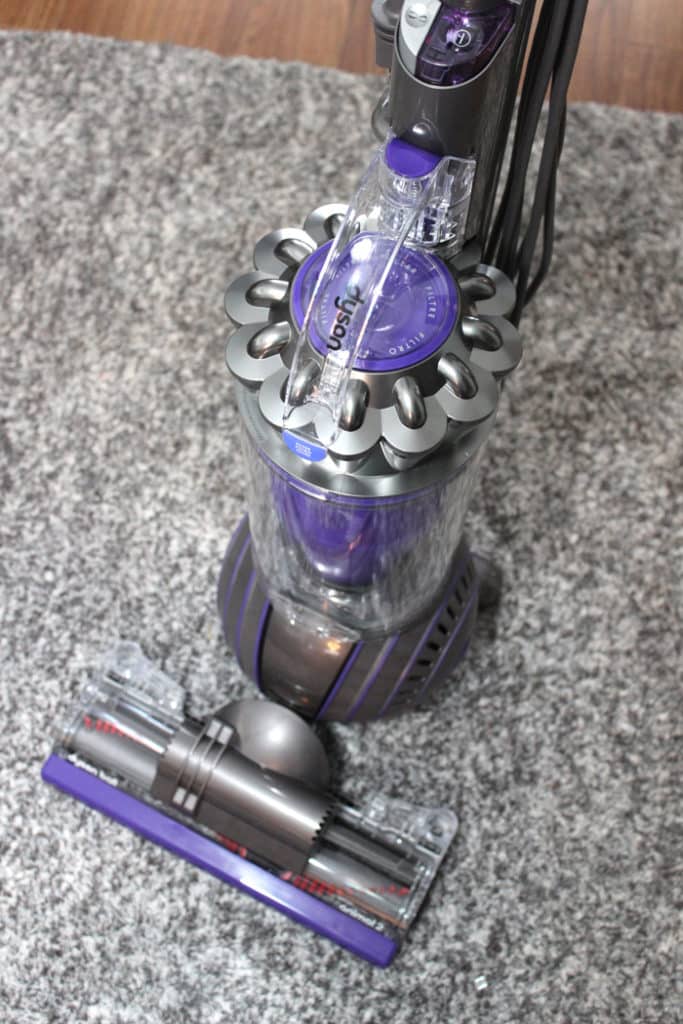 By arranging the cyclones in a radial formation, airflow is more efficient, preserving air pressure and maximizing suction. Dyson is alllll about the suction! The cyclones help remove more dust, allergens and small particles from the home such as pollen, mould and bacteria. 
The Dyson Big Ball Animal 2 is not filter free like other Dyson models such as the Dyson DC77. There are 2 filters that are both easy to locate and remove. One is located in the ball and the other in the center of the cyclone assembly.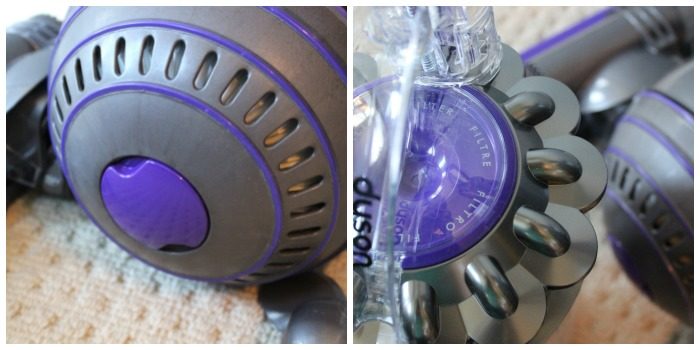 There are no after purchase costs associated with these, they simply need to be rinsed with cold water and thoroughly air dried before putting back in place, about once every two months.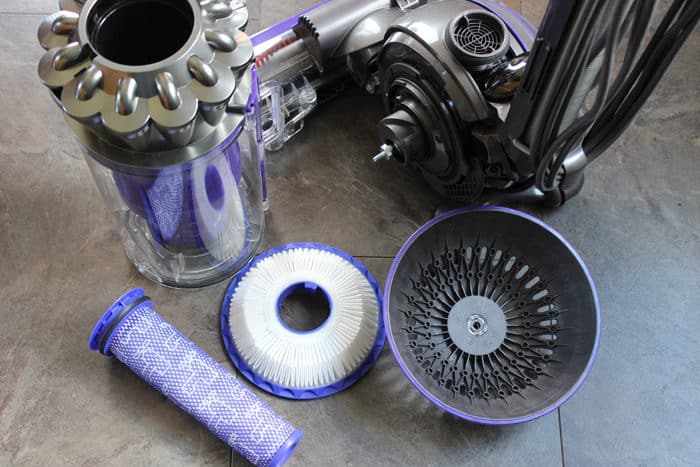 The Dyson Big Ball Animal 2 is a multi-floor machine. It's perfect if you have a mix of carpet and laminate flooring because it can work it's way through the house without skipping a beat.  The active base plate automatically adjusts the cleaner head height to seal in suction across carpets and hard floors. No other vacuum has stronger suction at the cleaner head.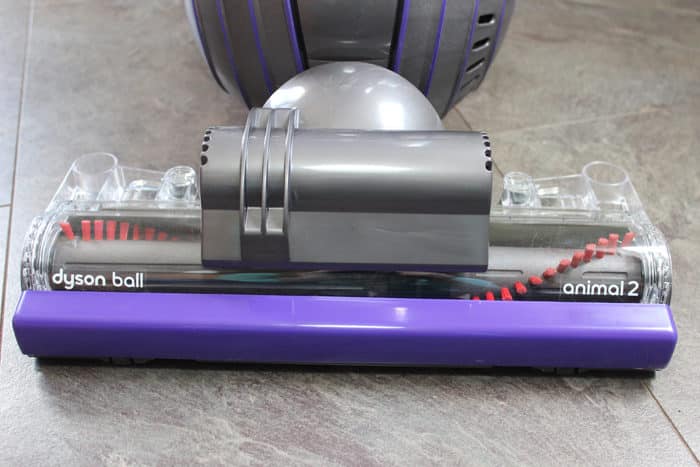 One of my favourite things about Dyson vacuums (besides the awesome 'turn on a dime' ball technology) is the extra long hose and cords. A new model can be a bit stiff at first, but after a few times you'll have it worked in and able to stretch up to 4.6 metres to clean high places like ceiling fans and up the stairs. With the cord I love that I can plug it in, in the upstairs hallway and work my way in and out of bedrooms without ever having to unplug and move the cord to a new outlet!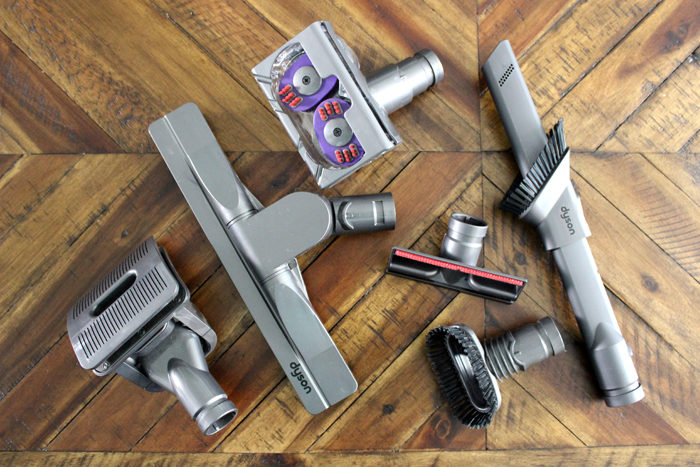 Dyson is notorious for being generous with their attachments, especially the Animal series. The Big Ball Animal 2 comes with the above attachments which includes the two standard ones plus 4 extra attachments including a Tangle-free Turbine Tool (great for removing hair and fur from furniture), Articulating hard floor tool, Stiff bristle brush and a Grooming tool for your pet. Our pup is pretty nervous around the noise of the vacuum and runs when it starts up so we haven't been able to try this tool out with him yet, but the idea is genius. The two standard attachments can ride on board.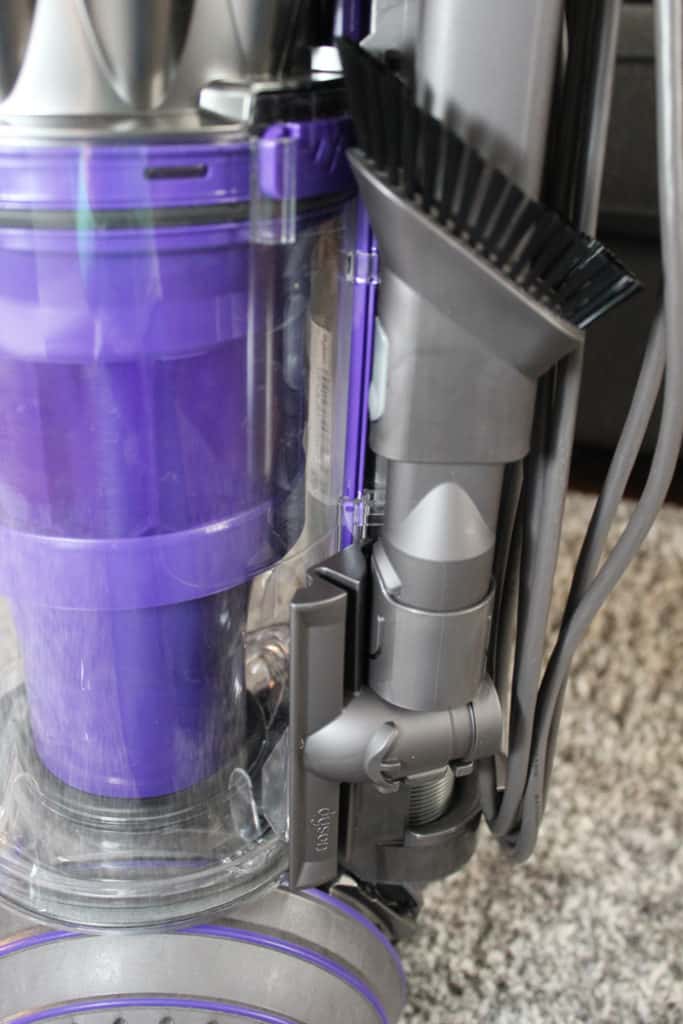 Sharing the #DysonClean Love
You know when you find something you just LOVE and you want to share it with everyone you know? I was really excited to learn that Dyson was also gifting a Big Ball Animal 2 to a deserving family. The family I chose is a family of 7 (5 kids!!!) with 2 cats. They are a homeschooling family so they spent most of their time at home and when I asked the mom about her current vacuum she told me it was being held together with duct tape! I couldn't wait for her to experience a Dyson and hear what she thought of it. 
I wasn't surprised at all when I got this message back "the dyson is showing me how absolutely NASTY my carpets are!" lol I remember all too well our first spin through the house with a Dyson, it shows you EVERYTHING! The hygienic bin is see through so you get a good look at all that dust, dirt and hair. I actually love that you can see right in there, it gives me this weird satisfied feeling knowing that I'm sucking that up and taking it out of the home and when you accidently suck up small toys parts (Re: LEGO!), they are easily spotted and can be removed! With just one push of the button, the bottom of the bin opens up and all that nasty stuff falls right out! 
Like me, she found the Dyson on the heavy side but I was impressed to hear that her older boys were using it just fine. Now if she could just bring them over and show my boys how they do it! The family lives in a town house that I'm told has a "zillion" stairs and mixed flooring throughout so it's perfect for the Big Ball Animal to tackle. They also have a spring inspection coming up so I was happy to help them prepare their home to pass with flying colours! It's official we have 7 new Dyson super-fans!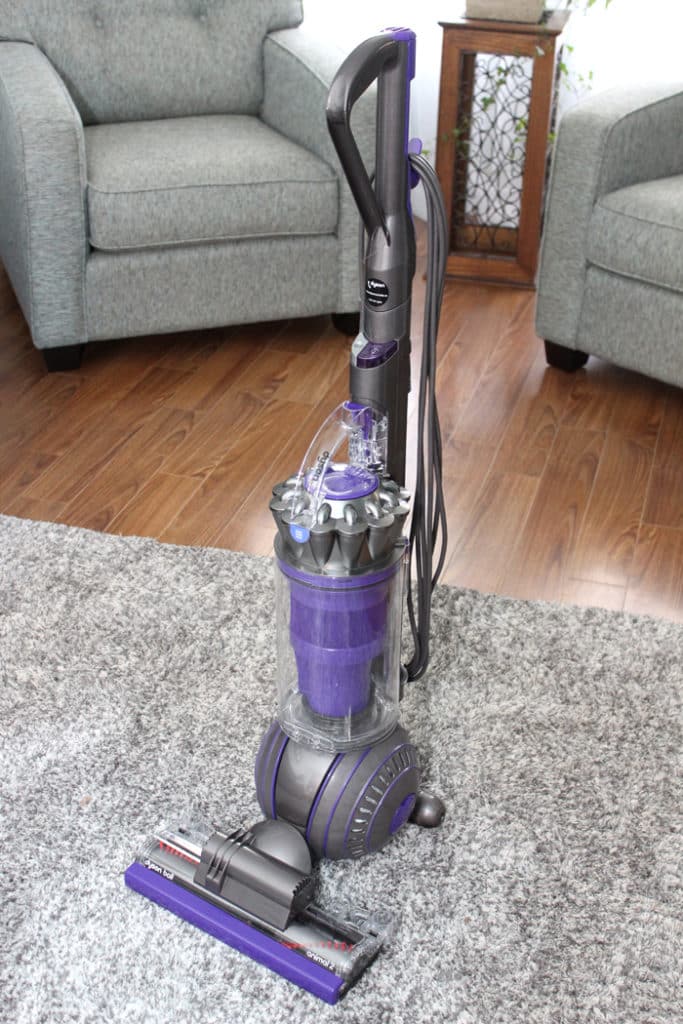 Wouldn't it be nice if someone gifted YOU a Dyson??? Drop back in tomorrow for a chance to WIN your own Dyson Big Ball Animal 2!!
Visit the Dyson website for more info on the Big Ball Animal 2 and other products