With days upon days of clouds and rain, this spring  was getting a wee bit depressing, so when the opportunity came to visit Sherkston Shores on Lake Erie and the forcast actually called for sun and high temps, we couldn't pack fast enough!
Sherkston Shores is an all ages beachfront RV resort on over 560 acres of land. Whether you like to rough it for the weekend or are looking for a home away from home for the summer months, Sherkston Shores has accommodations to suite every family and lifestyle. They offer tent sites, RV sites, cabin rentals, rental cottages, seasonal RV stays, and seasonal vacation cottage ownership with all the amenities to keep you both busy and relaxed throughout your stay. Basically, you choose your holiday and Sherkston Shores can make it happen.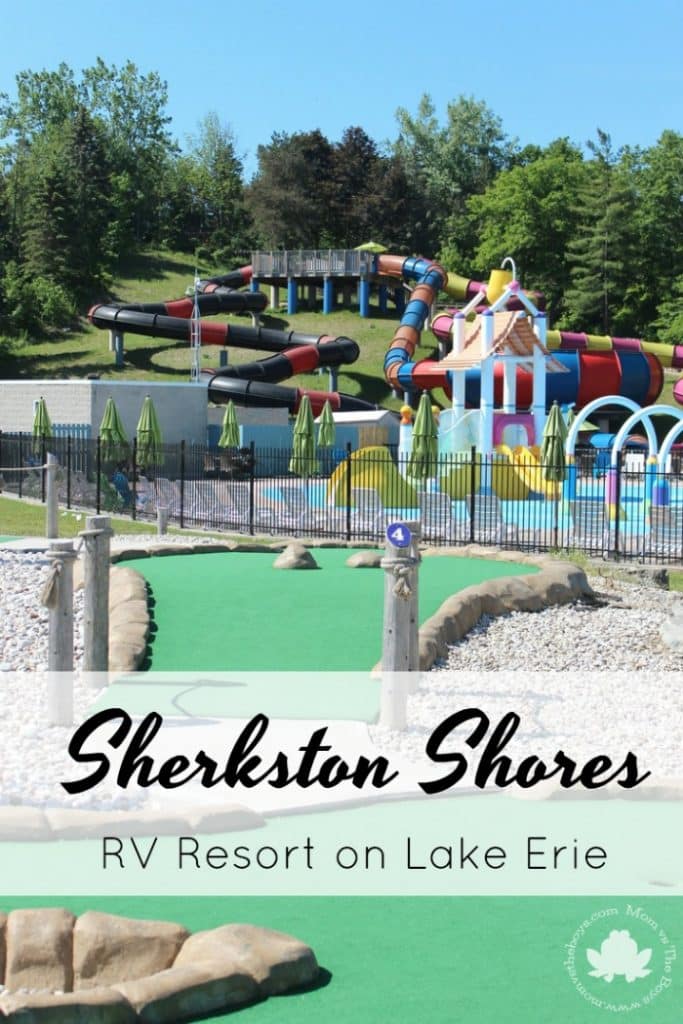 Does your ideal vacation include the beach?
Sherkston Shores sits on two and a half miles of sandy beachfront and you can even rent a luxury RV cottage right on the beach! If money isn't an option, go for the Black Diamond edition that will simply blow your mind! Think roof top patios with comfy couches and an outdoor kitchen, covered porch, 3 tv's, internet access and daily housekeeping, all right on the beach with gorgeous views of Lake Erie day and night. You can catch the sunset right from your deck or muskoka chairs.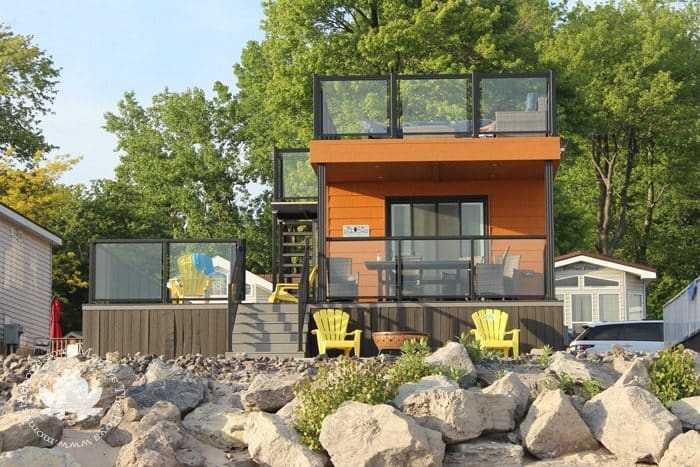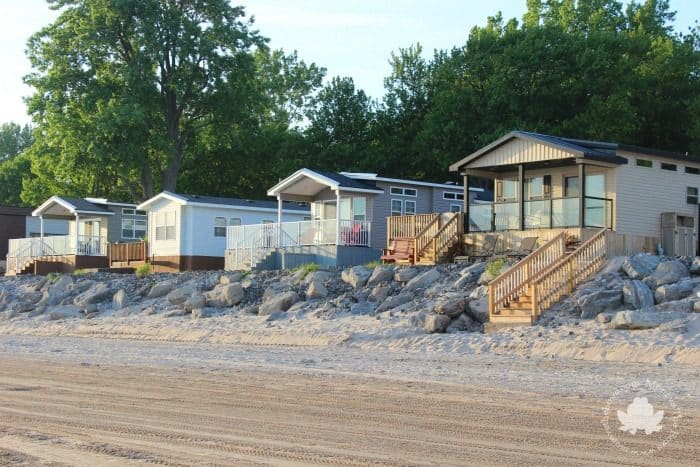 Even if beach front living isn't in your budget, you can still walk or drive down (golf carts are the main transportation here and they are allowed on the beach!) and enjoy the beach for the day. The beach is very private and you'll have so much space to carve out as your own. Nothing like the crowded public beach that you're used to, so you can relax and read a good book or spread out and play catch with the kids. There's plenty of room for sandcastles and it's the best spot to end the day, watching the sun set.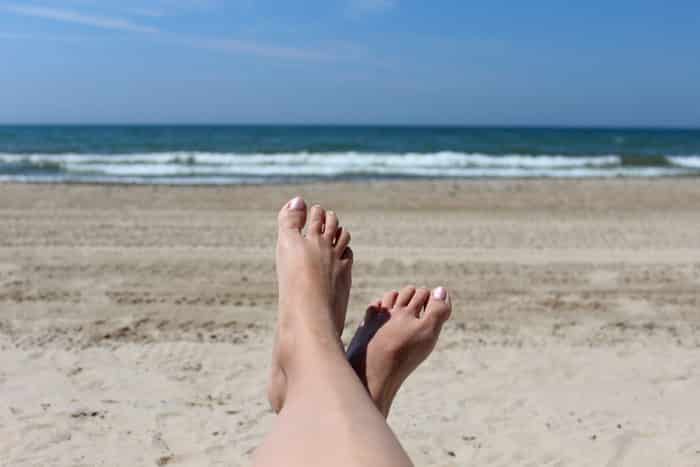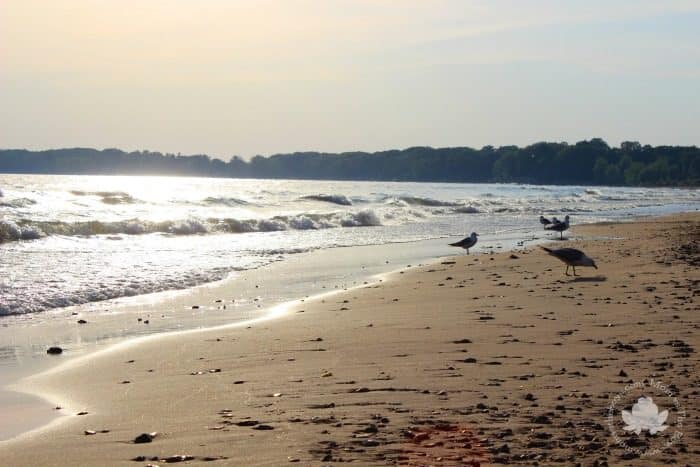 Does your ideal vacation include keeping the kids as busy as possible?
You know the saying a tired puppy is a good puppy? The same goes for kids and boy will they be tired! There is soooo much to do at Sherkston Shores, you won't have to worry about the kids (or the adults!) getting bored. The daily Kids Klub or Kids Camp features activities and crafts plus there's fun evening entertainment like chocolate bar bingo and games like minute to win it as well.  To beat the heat Sherkston Shores has 2 heated pools, 3 giant waterslides, 2 splash pads for kids and even a hot tub for cooler days and evenings. Our whole family loved riding the waterslides, they were definitely the highlight of our stay.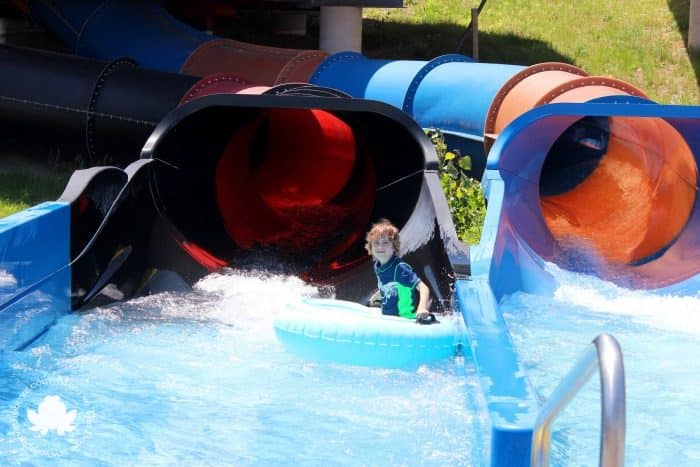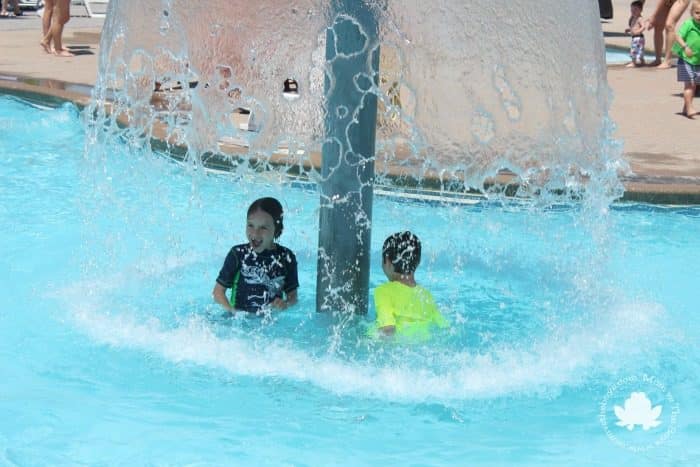 There's plenty of dry activities as well such as mini golf, skateboard park, basketball and hiking and biking trails that are all free of charge. For an additional fee you can rent Kayaks, Paddleboats, Canoes, Standup Paddleboards and Sea Doos or try out the Rope Climbing Challenge, Rock Climbing Wall, Bungee Trampoline and so much more. 
The only down side we found was that the activities don't open until 10am for non owners at the resort. If you have early risers who are eager to get their day started, this can be a long wait.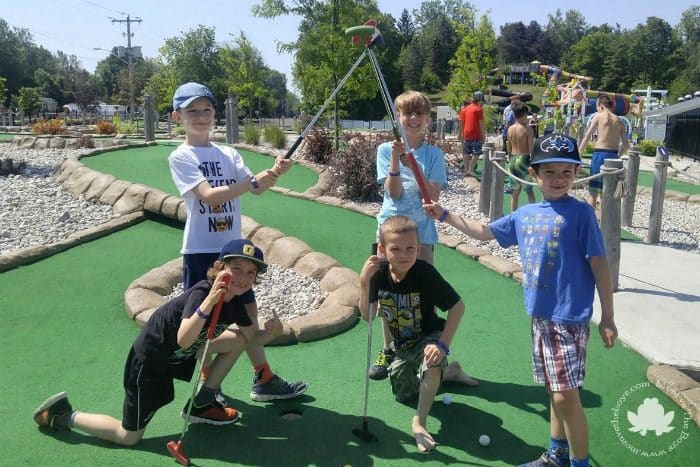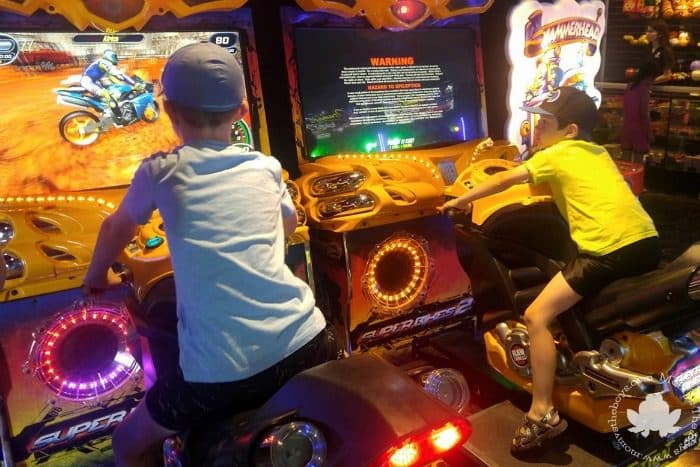 Does your ideal vacation include fishing with a furry friend?
Sherkston Shores has a Quarry stocked with fish that is perfect for beginners and experienced fishers alike. You can fish off the dock or right off shore strictly on a catch and release policy. Our boys had only tried fishing once before earlier this spring so they were super excited to try again. They had a great time practicing their perfect cast and while they did see both small and large fish, they weren't able to catch anything this time out. It definitely didn't deter them though, they had a great time. A big snapping turtle found us quite interesting and spent his time swimming around the dock checking us out. We were equally fascinated by him! 
Pets are welcome at Sherkston Shores as long as they are friendly and kept on a leash at all times. Pet owners are of course responsible for clean up and if you are renting a unit there is an additional fee. It's so nice to be able to bring along your furry members of the family when you are on vacation. We spotted not one, but two off leash dog parks as well.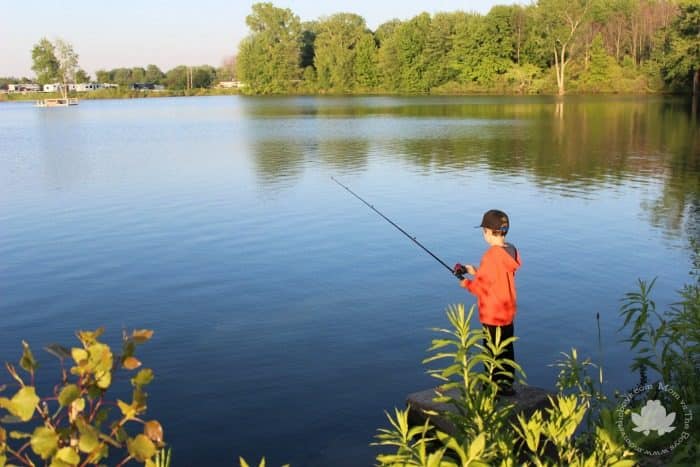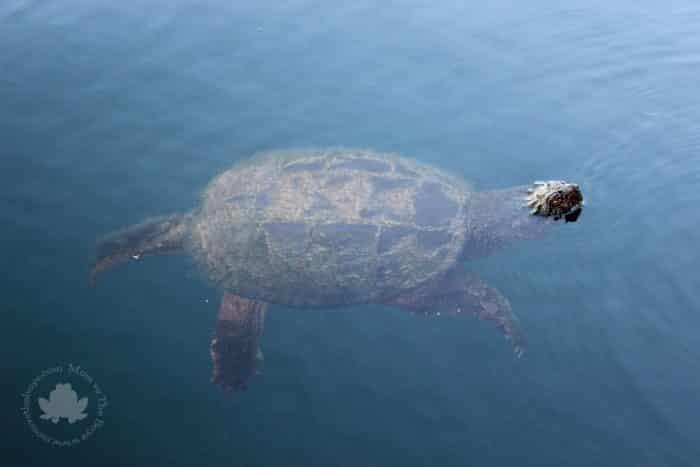 Does your ideal vacation include all the comforts of home?
If are you choose to rent a unit at Sherkston Shores, you have a few different options to choose from. The Rustic Cabins are really cute and have bunkbeds and a small fridge but no running water or washroom facilities, though public facilities are close by. The rental cottages are perfect and just like a tiny home giving you all the amenities you are used to with just a smaller amount of space. There are different levels to choose, from basic to luxury. We stayed in #35 Evergreen Village which is a Premium Rental Cottage. It was tight on space with our family of five but we didn't spend a whole lot of time in our cottage anyway. It did have a full bath complete with shower and a kitchen with a full fridge, stove and microwave but no dishwasher or propane bbq to use. (there are charcoal type bbqs that you would see in a provincial park on site and fire pit though)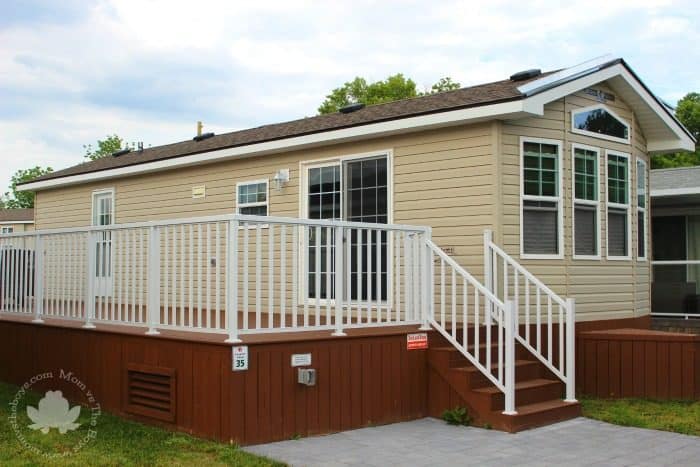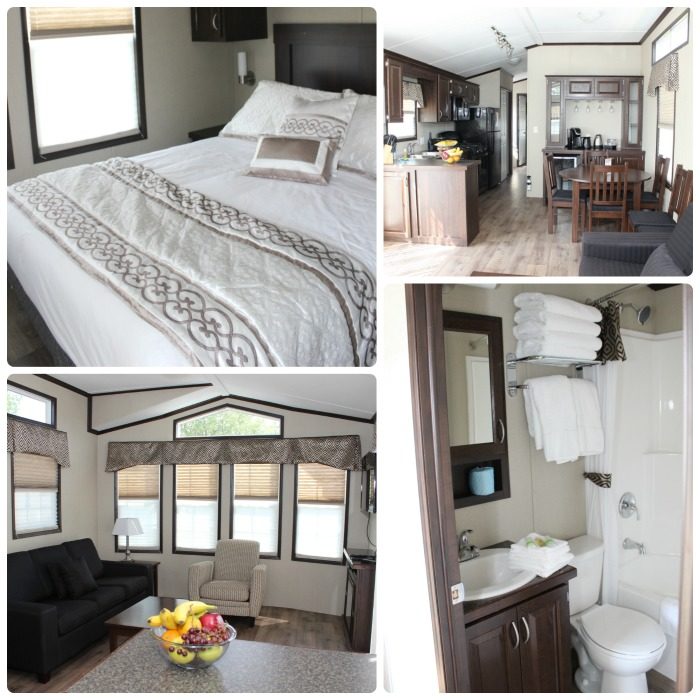 These units do have air conditioning and heat, though our unit had a broken a/c so we had to rely on the breeze from the window. The downside to all lots at the resort would be the lack of privacy. The lot sizes are very very small, only about the size of the rental cottage itself with a small spot for a fire pit at the end. The backyards all come together and there are no trees or green space for the kids to play. The deck is open with no shade available. We definitely struggled with wanting to keep some blinds down for privacy but needing the windows open for a breeze, plus with the windows open the noise level was high, especially at night when we were trying to sleep but others were out by their fires. 
Does your ideal vacation include as little cooking as possible?
So even though you have a kitchen and you could cook, do you really want to while you are on vacation? If that answer is no, don't worry! We were very surprised to see that Sherkston Shores had their very own on site Boston Pizza restaurant, you don't even need to leave the resort to go out to dinner! The restaurant has a full menu and you can choose to take your meal to go or dine inside the restaurant or on the outdoor patio. You can even have your pizza delivered!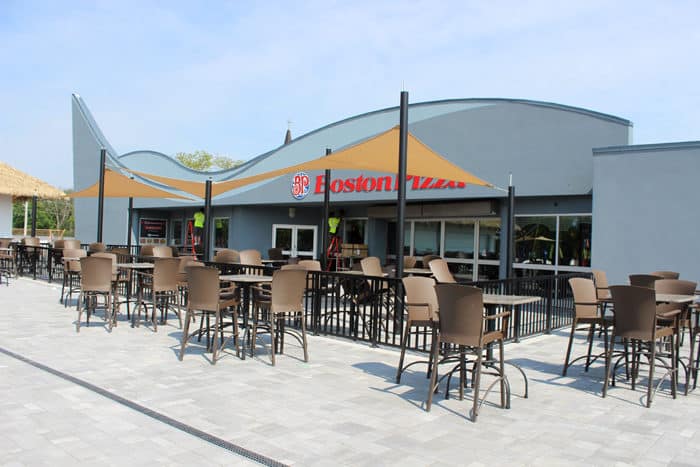 There is also a Sherkston Cafe where you can get coffee, slushies, ice cream and snacks as well as the Sherkston Convenience that has so much more than you would expect. We stopped in to pick up some firewood and we were blown away by just how much the convenience store had to offer! We wandered through the aisles finding all sorts of things besides your standard sunscreen and treats, you could even order patio furniture here and we were so surprised to find a deli at the back of the store where you could get rotisserie chicken, potato salads etc. You could pick up a lovely picnic dinner to eat on your patio or even down at the beach.
If your ideal vacation includes daquiris by the poolside, Sherkston Shores can do that too thanks to the Daiquiri Deck Pool Bar which serves up a selection of alcoholic and non-alcoholic cocktails and beers.
So what's your ideal vacation look like? If it looks like Sherkston Shores, pop over to their website for more information and be sure to follow along with them on Twitter @SherkstonShores Facebook and Instagram.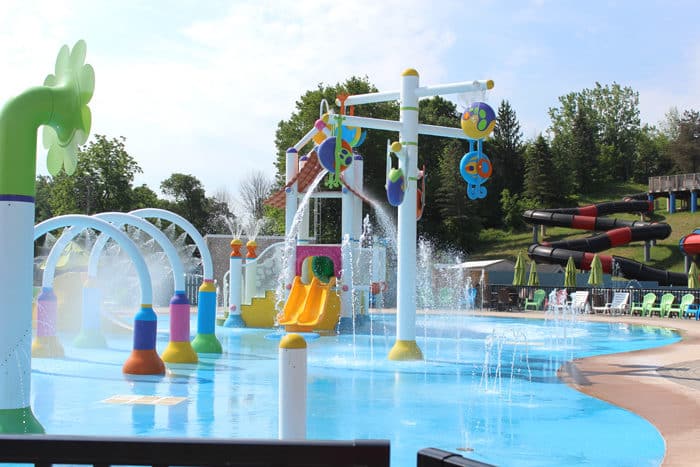 disclosure: We received a complimentary stay with Sherkston Shores, however, all opinions expressed are my own.