It's the last game of the tournament to end the year and our little tiger is working his way down the field after accepting a clean pass from his team mate. He dekes around a player to face the goalie and shoots at the upper pocket of the net. He scores! Having put his team in lead his rushes back to half field and meets his best buddy with a chest bump to celebrate. From the side lines he looks like any other athletic boy on the field. You can't tell the worries that plaque his mind. The doubt, the uncertainties that run through his brain by the minute. The anger at times, the rage when he's reached his limits. No this boy, in this moment, is focused and in control and playing sports gives him that.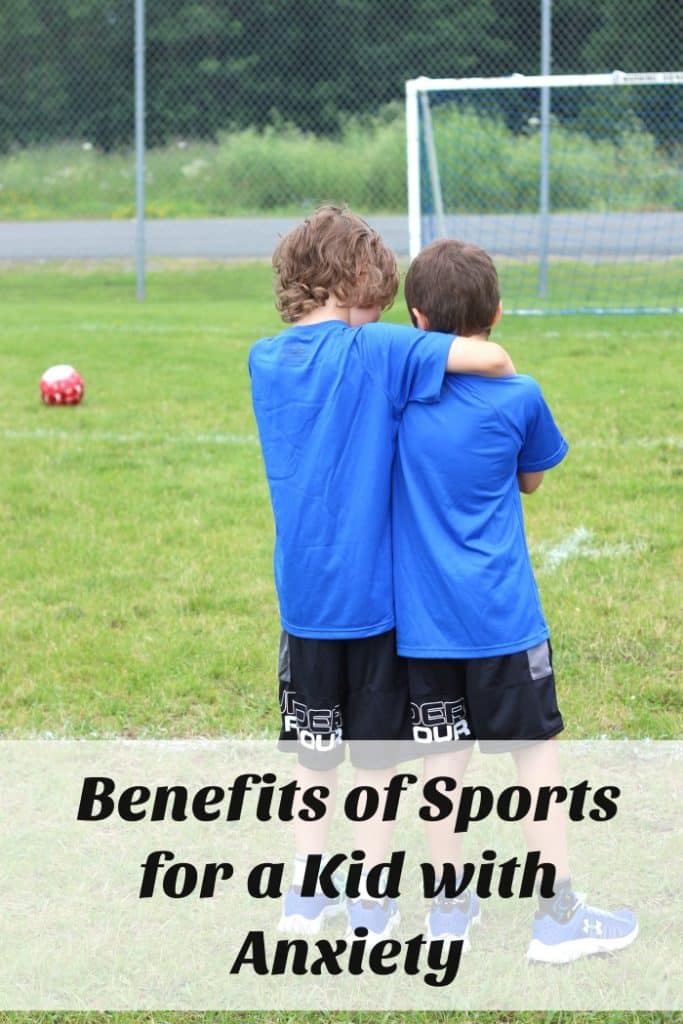 Benefits of Sports for a Kid with Anxiety
Builds Confidence
Kindergarten proved to be difficult for my little guy. While he was excited at the idea of going, the reality of being away from the comforts of home and stuck in a loud, busy room with random kids all day hit him pretty hard. He had a rough year, but that spring he decided he wanted to play soccer so we signed him up for a U6 Tim Bit team at a local field. Being the cautious guy that he is, he spent a good part of the season tucked beside his goalies net, but by the end of the year he was feeling brave enough to take to the other end. Slowly his confidence built and by the next spring when we was joining U8, he was feeling confident and at home on the pitch. Soccer had become his 'happy place' and as a mom there's no better feeling than seeing your child find his place to shine.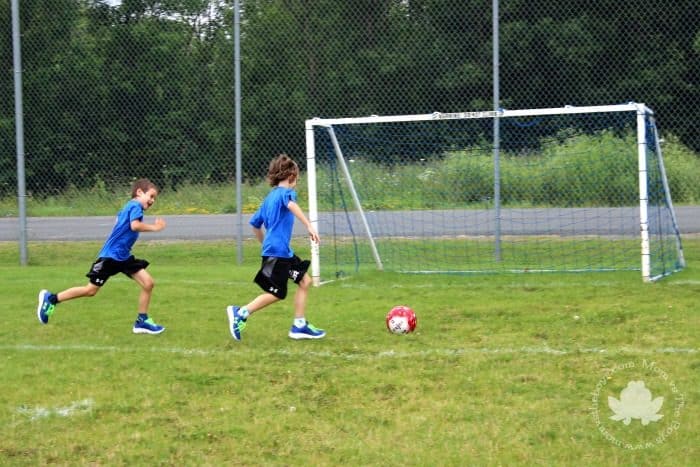 Develops Friendships
Making friends is hard for kids with anxiety and sports is a nice way to get to know other kids without a lot of awkward talking. When we start a new season of sports it's always nice to see a few familiar faces on the team with a fresh mix of new faces so our boy has a chance to branch out and make new friendships. Because sports teams overlap age groups, it's a nice opportunity for kids to make friends who might be older or younger than them. My son is in a grade 3 class at school but during his recess time he tends to join up with the kids in grades 4 or 5 to play soccer or manhunt. He prefers playing with older kids as he has a chance to play hard and test his skills while learning from more experienced players.  During the years when he's in the oldest age group of the team, it provides a good opportunity for him to show leadership skills and guide his team. Off the field, it allows him to have a diverse set of friendships that will serve him well throughout his school age years. When he heads off to high school, it's nice to know he'll already a have a few friends in the crowd to look for.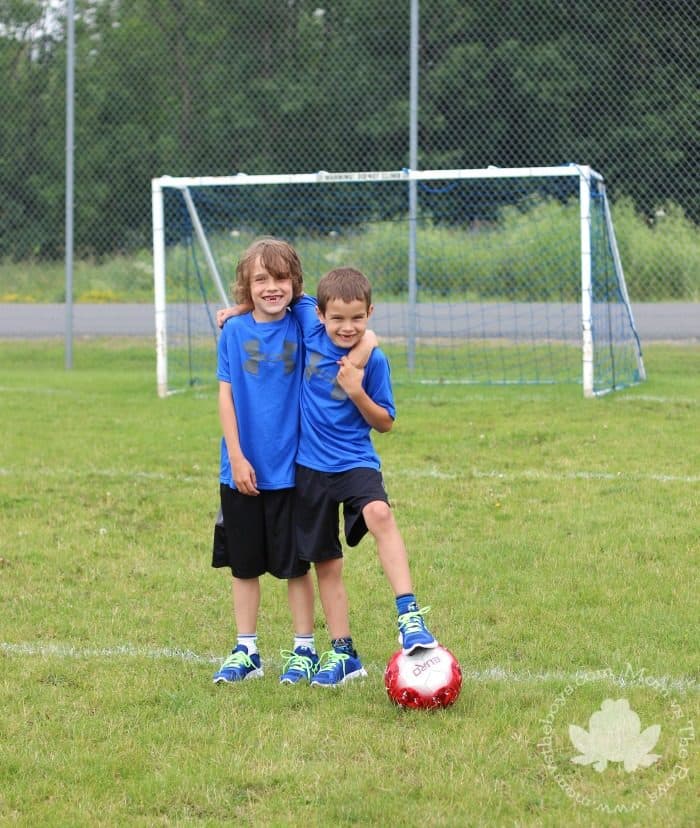 Teamwork
Teams win together and they lose together. The pressures of sports can cause a fair bit of anxiety, but the positives far out weigh the negatives in the right environment. Sports offer character building opportunities and kids learn to celebrate the wins with good sportsmanship and deal with the disappointments of a loss. As a parent of a child with anxiety, it can be very hard to sit on the side lines reading their faces and knowing how they are feeling in intense situations but it's a chance to take that step back and let them try to handle things on their own. We've been blessed with excellent coaches who provide a nice balance of encouragement with a push to give it their all. It's good for kids to learn to communicate and take feedback from other adults as well as team mates.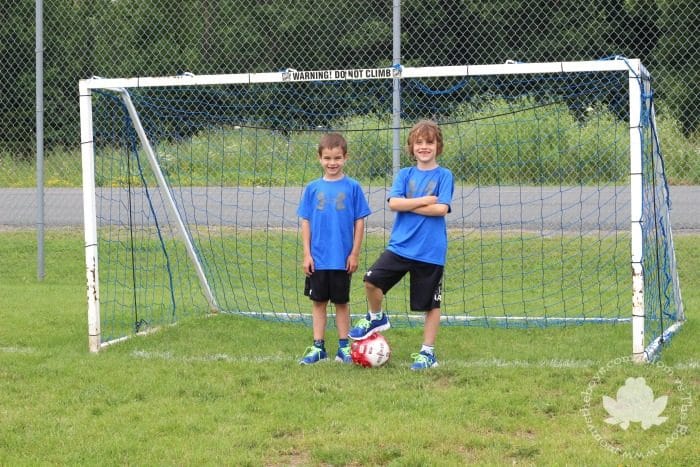 While it's true that sports can be a bit harder on kids with anxiety, with the right coaching staff and a positive environment it gives those kids a place to let loose and be themselves. It's important to give them chances to grow without too much added pressure. Just this week our son was given the opportunity to try the goalie position and as you know that comes with a ton of intense pressure. Performance anxiety definitely escalated for him during his first game in net, but it was a great chance for him to grow and learn and he did great! I won't lie, having my kid in goal, gave mom a fair bit of anxiety herself!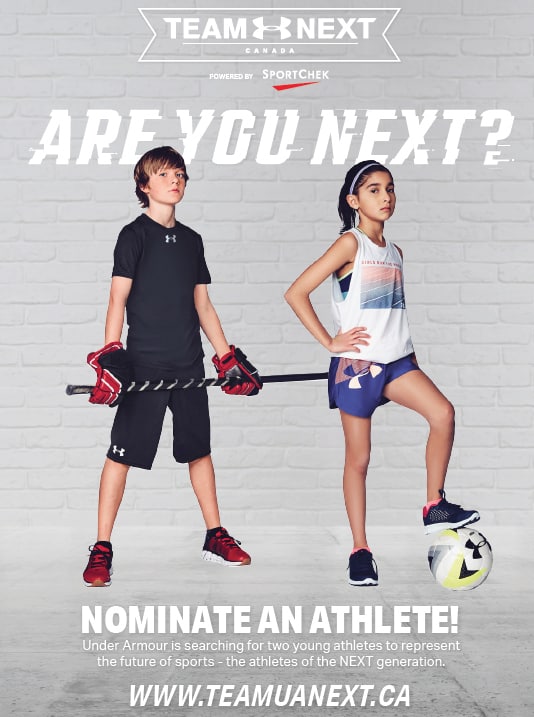 Whether it be on the ice rink, the baseball diamond or even the school yard playground if you've got a kid who really shines at sports they have a chance to be a youth ambassador for Team UA Next! 
In addition to some pretty epic bragging rights two winners will win some pretty cool prizes like Under Armour gear for a year, a spot in an Under Armour photo shoot and a chance to be featured in Sports Chek stores across Canada.
For more information on TEAM UA NEXT Canada powered by Sport Chek check out this blog post outlining the program. 
To enter your child to compete, visit TeamUAnext.ca
Also check out @sportchek on Twitter and Instagram using #TAKEYOURSPOT and #UANEXTCANADA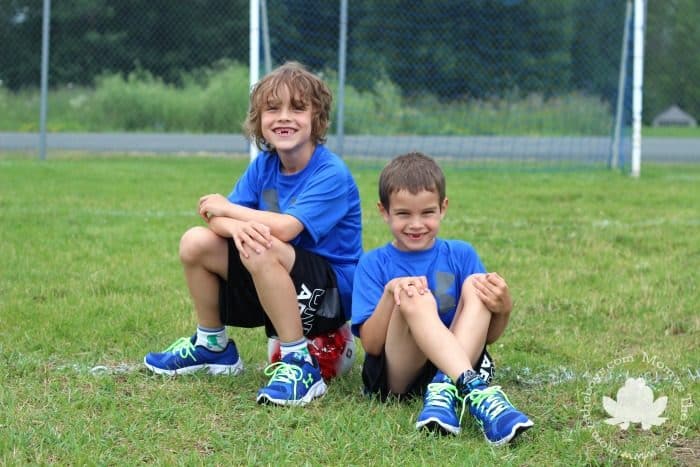 To keep your kiddo cool and dry while out testing their skills this summer, suit them up in Under Armour apparel. The UA Tech Big Logo Tee is quick drying and ultra soft for complete comfort. The UA Stunt Shorts are as well, plus it has built in 30+ UPF to protect skin from the sun's harmful rays. As a boymom to three I appreciate without a doubt that both items feature anti-odor technology that prevents the growth of odor-causing microbes. Can I get an amen?!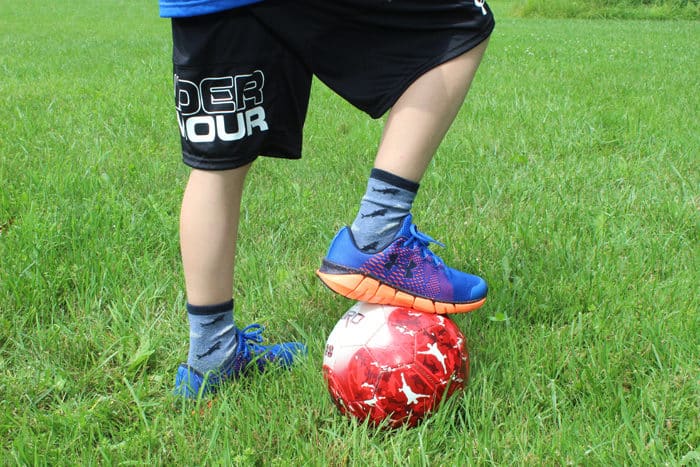 Keep your boys active with UA footwear. The trendy colours and style are boy approved (I believe my son actually whispered "sick" when we opened the box) and parents will appreciate the durability and support from the Grade School UA X Level Scramjet and Pre-School UA Assert 6 Running Shoes. Both shoes are light weight and that anti-odor technology is featured in the shoes as well where it's needed the most. 
For more styles available visit UnderArmour.com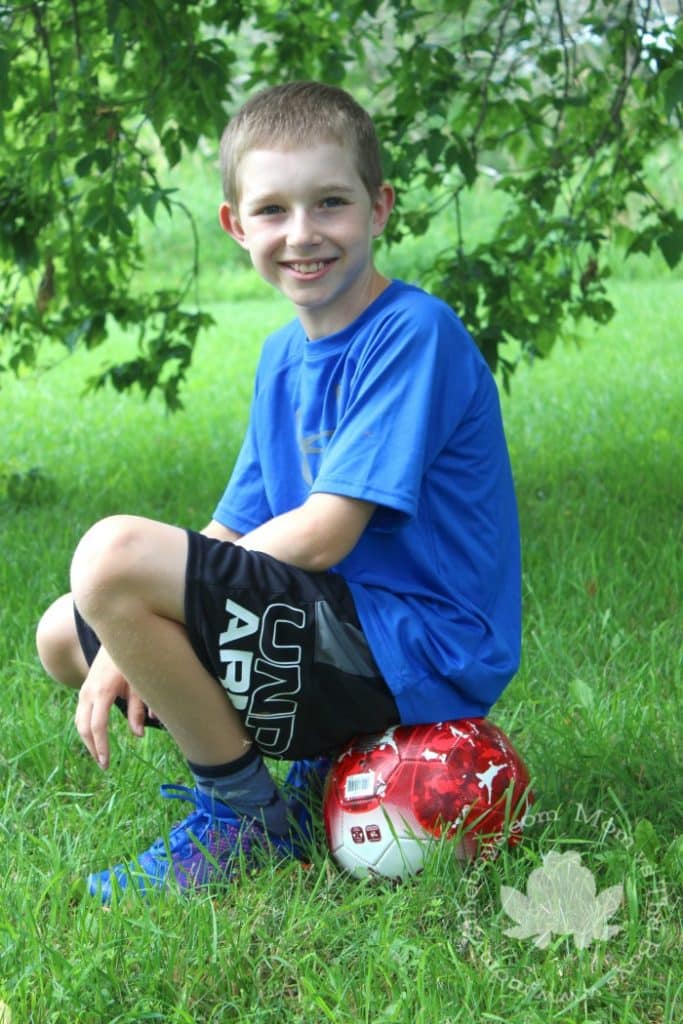 Disclosure: This post is in partnership with Under Armour. All opinions are my own.