Thanks to Sweet Reads Box for sending me the September Sweet Reads Box for reviewing purposes. All opinions are my own.
Do you ever get that kind of lost feeling after you've finished a good book? It's bittersweet, I guess, but that feeling when you've really loved the characters and the story and you don't want it to end and now you're not quite sure how to move on without them. It always leaves me feeling a little bit lost, but I know the cure is to just jump right into a new book and discover new stories and characters you haven't met before.
I did a lot of relaxing and reading over the Thanksgiving weekend, that's what it's for right? Last night I turned the last page on the book I was working my way through, now normally, I would be a little bit sad because it always seems to take me weeks to get to the library or book store to pick up something new, but I was actually kind of excited last night because I knew I had the September edition of the Sweet Reads Box waiting for me!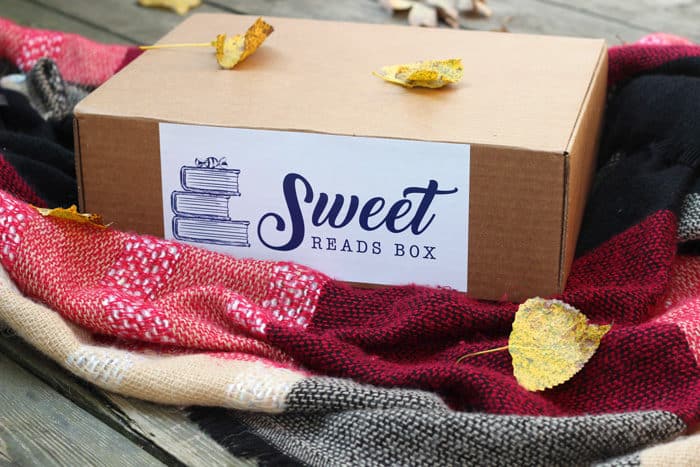 Sweet Reads Box is a brand new subscription box for Canadian book lovers! I couldn't be more excited about this one! Sweet Reads promises "Me Time…Delivered" each month where you'll receive a new best selling novel to enjoy and along with it; a sweet treat and a delicious drink to set the mood as well as a special item connected to the novel's storyline, theme or setting.  
I love that subscription boxes are always a surprise and I wanted to open it up for the first time with all of you! Check out my video below for the unboxing of the first Sweet Reads Box – September 2017 edition.
Doesn't it look amazing? I was really impressed with my first look at Sweet Reads Box and I think you will be too. I just love how the box is themed perfectly to the month's novel with so many fun surprise gifts.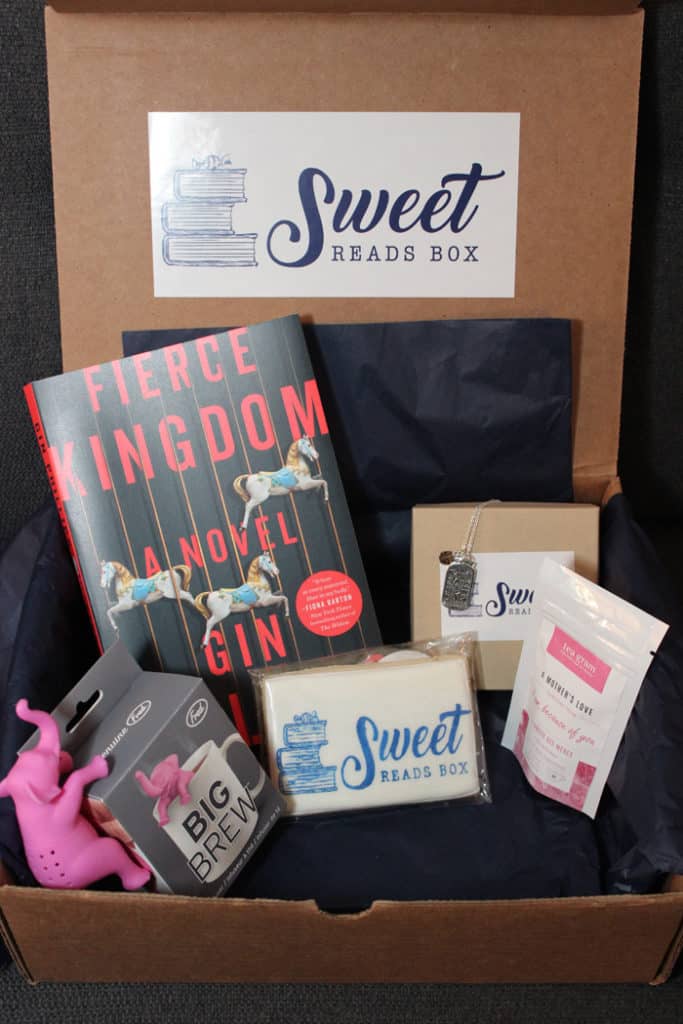 Here's a low down on the September edition of Sweet Reads Box
Fierce Kingdom by Gin Phillips
I can't wait to dive into this book, it looks like a captivating read about a mother protecting her son. It's speaking to me already.
" An electrifying novel about the primal and unyielding bond between a mother and her son, and the lengths she'll go to protect him."
The zoo is nearly empty as Joan and her four-year-old son soak up the last few moments of playtime. They are happy, and the day has been close to perfect. But what Joan sees as she hustles her son toward the exit gate minutes before closing time sends her sprinting back into the zoo, her child in her arms. And for the next three hours—the entire scope of the novel—she keeps on running.
 
Joan's intimate knowledge of her son and of the zoo itself—the hidden pathways and under-renovation exhibits, the best spots on the carousel and overstocked snack machines—is all that keeps them a step ahead of danger.
A masterful thrill ride and an exploration of motherhood itself—from its tender moments of grace to its savage power—Fierce Kingdom asks where the boundary is between our animal instinct to survive and our human duty to protect one another. For whom should a mother risk her life?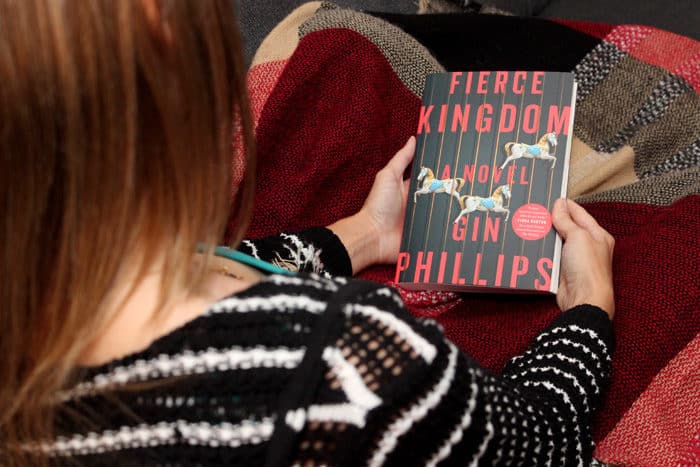 "A Mother's Love" Summer Rose Tea from Tea Gram, plus the cutest elephant tea steeper. The info card that comes with the box tells me that the elephant exhibit at the zoo is an important feature in the novel, so both sound very fitting to the story.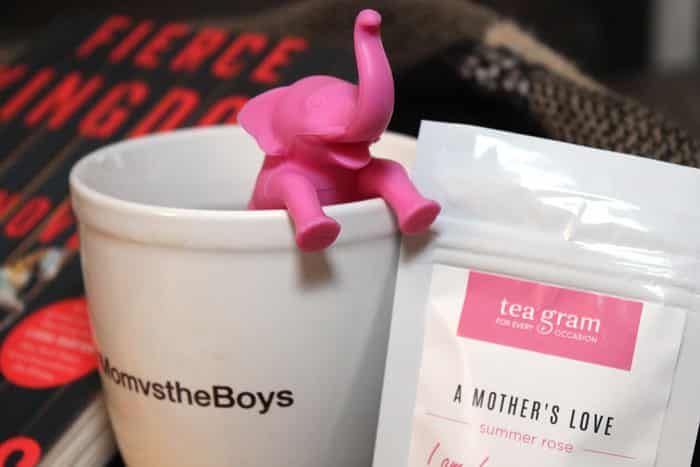 The sweet treat for this months Sweet Reads Box is a custom handpainted cookie complete with the Sweet Reads logo, so perfect for the launch of Sweet Reads Box! It was quite big actually and also quite tasty!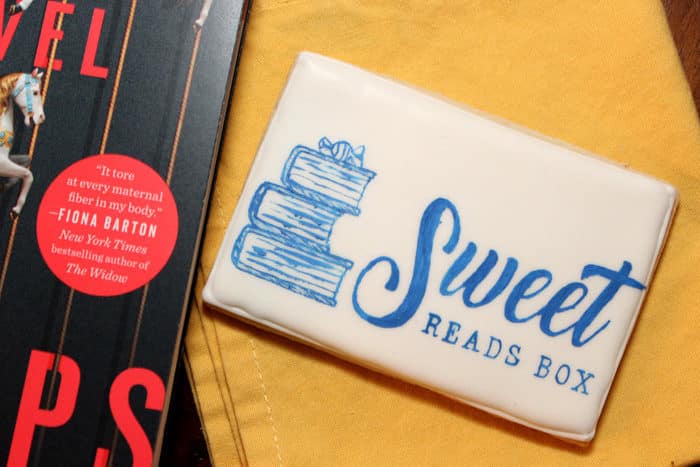 I was super excited to find a beautiful necklace from Foxy Originals in this month's box! It's really pretty and features a quote from e.e. Cummings " You are my sun, my moon and all of my stars"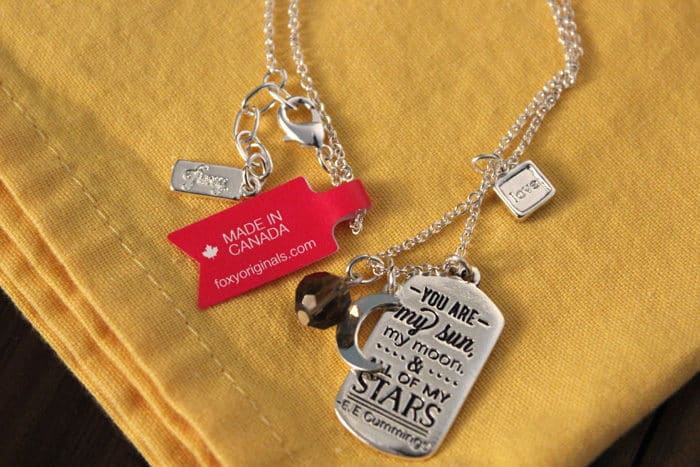 A subscription to Sweet Reads Box is $49.99 (plus shipping and handling) and is shipped by Canada Post on the 15th of each month. You have the option of purchasing just one month or you can purchase 3 month or 6 month subscriptions and you'll see a cost-per-month savings. If you join the Sweet Reads Box mailing list, you can save 10% off your first order of a 3 or 6 month subscription!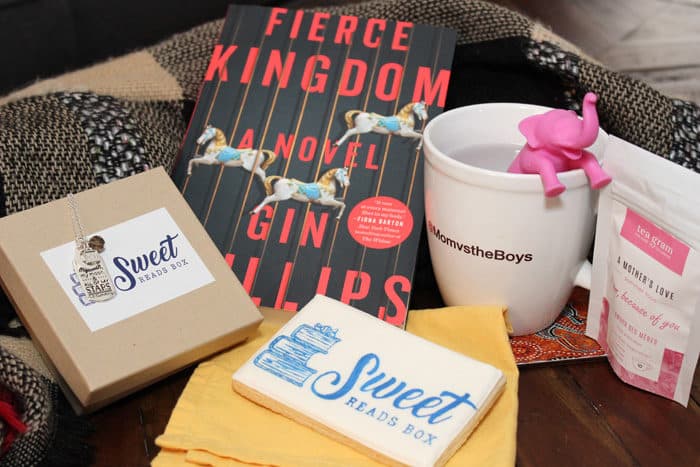 Visit the Sweet Reads Box website for more information and to order and follow along on with @SweetReadsBox on twitter, instagram and facebook.
Win the September Sweet Reads Box!!
Enter below for a chance to win the same Sweet Reads Box I reviewed here! Open to Canadian residents only, ends October 28th 2017 at 11:59pm. Good Luck!