We visited Volcano Bay as part of the Family Forward Conference, all opinions are my own. 
Volcano Bay is Universal Orlando's newest park, making it the third as it joins Universal Studios Florida and Islands of Adventure. But this theme park is so different than the other two because it's a full water park with a fun and vibrant polynesian theme. Water is Life. Life is Joy. That's the philosophy celebrated at Universal's Volcano Bay water theme park and it resonates throughout the park. Whether you're looking for thrilling rides or relaxing in the Florida sun, you'll find everything you're looking for at Volcano Bay.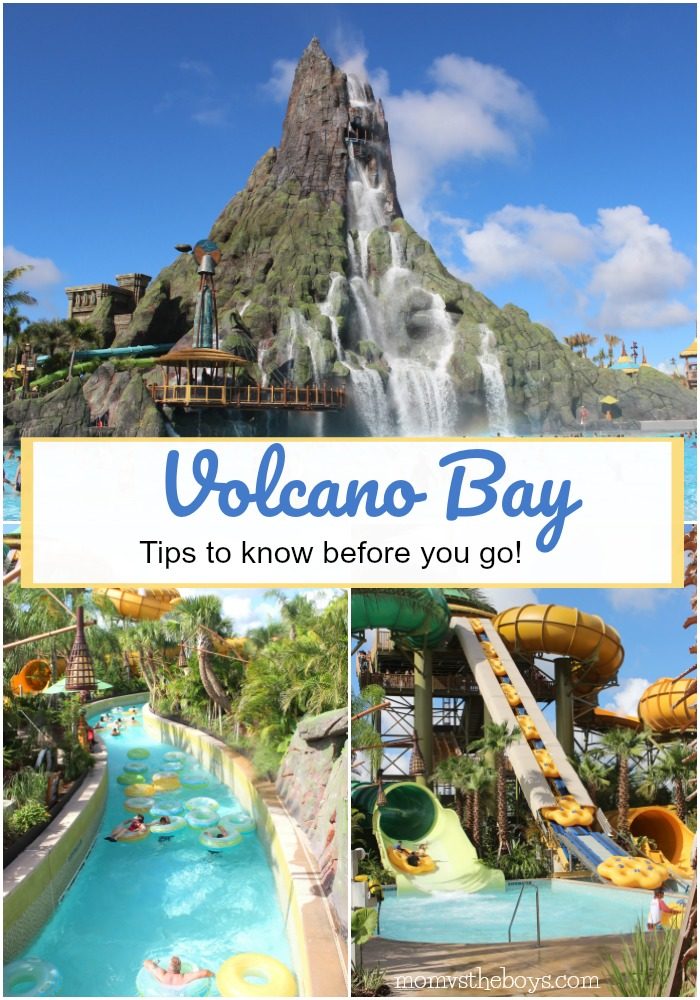 Insider Tips To Know Before You Go To Universal's Volcano Bay
Because Volcano Bay just opened this spring, it's a coveted attraction and can get pretty busy. In August when we visited the park hit full capacity shortly after opening and sadly people who were in line, were turned away. To be sure you make the most out of your day at Volcano Bay, I've got some great tips for you and a run down on each ride. 
Stay On-Site
Staying at a Universal Resort like Sapphire Falls Resort, allows you early entry into the park. This is a complete bonus because it ensures you entry into the park plus you have first pick of seating and lockers. Getting up before the sun to go to a water park seems crazy, but trust me, you'll be screaming your way down the most popular ride while others are still lined up outside. There are no express passes for Volcano Bay, because with the Tapu Tapu system, it's not needed. 
While staying on-site you'll have access to free shuttle buses as well to get you to and from the park, and they start running very early in the morning. This also allows you the opportunity to leave the park if you want to and come back later in the day. It's great being close by without the worry of parking, because we arrived so early in the morning we headed back to our hotel mid afternoon when both the sun and the crowds were at the highest. We cooled off, took a nap and had a little pizza party in our room and then headed back to the park in the evening for another round of fun and to see the park lit up at night.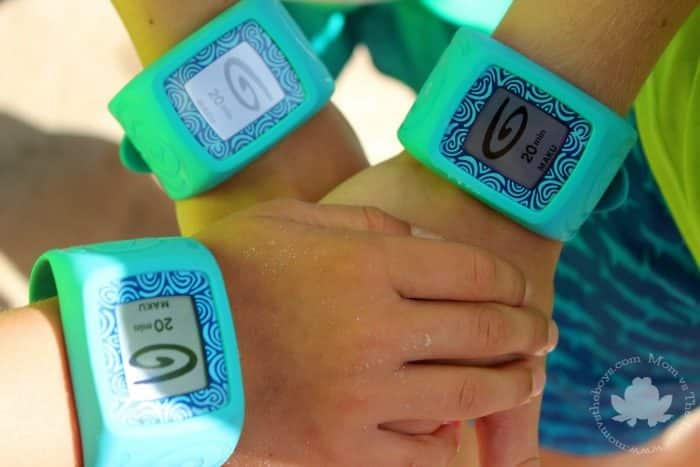 TapuTapu
TapuTapu is the key to Volcano Bay. It's a waterproof wristband that allows visitors to not only hold their spot in virtual lines for rides, but also activates several interactive locations found inside Volcano Bay. Upon entry each member of your party will receive their own TapuTapu, now when you've chosen the ride you want to go on you simply tap your TapuTapu to the icon outside of the ride to reserve your spot in a virtual line. The wristband will tell you how many minutes you have to wait and will vibrate slightly to alert you it's time to "ride now". This doesn't mean you have to rush over right away, if it catches you in the middle of the lazy river or having a bite to eat, don't worry, just head over when you are ready. I believe you have an hour before it deletes your reservation. Now, "ride now" doesn't actually mean you can literally walk in and be the first down the slide, it just means that you can now line up for your ride, so you should still be prepared to wait, however the line up will be short and it won't take long before you are next to go. 
You can only secure your spot on one ride at a time, once you tap in to ride your chosen ride your TapuTapu will reset so you can choose another. If you change your mind or your child accidently taps in for the Ko'Okiri Body Plunge (trust me it happens) don't worry, you can simply tap in for a new ride and you will lose your place for the previous one.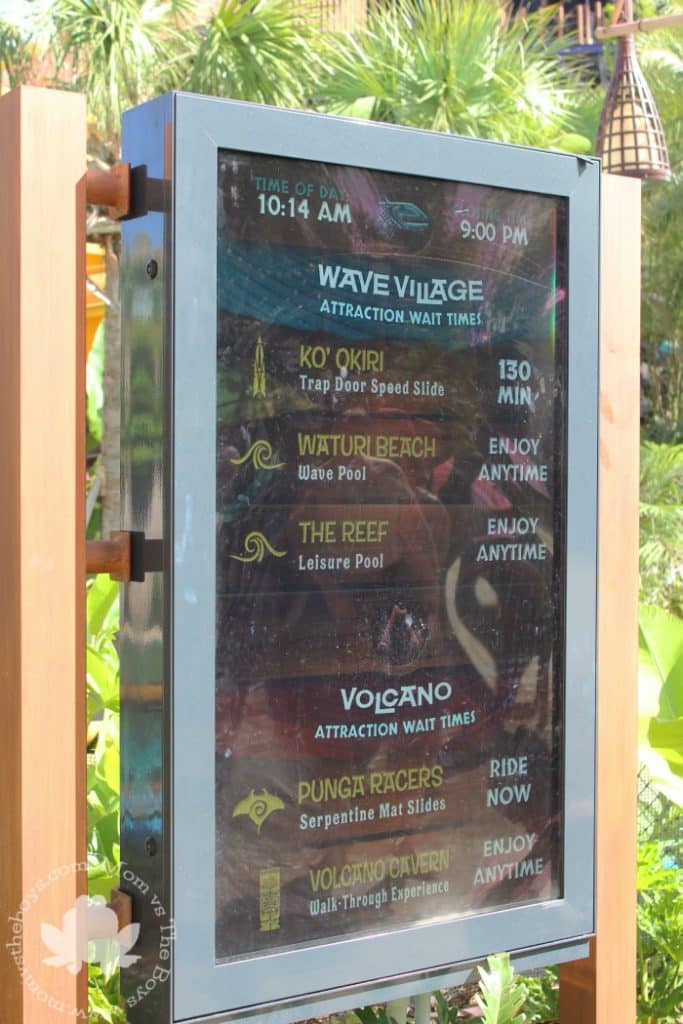 Watch for "Ride Now" alerts on slides as you wander through the park or on the info boards. You'll be able to ride right away on these rides without getting out of your virtual line for another ride. We saw a number of info boards throughout the park, but unfortunately only one was working. Probably just a glitch on the day we were there, so watch for these as they will give you the wait times for every ride, plus indicate which rides you can "ride now". The info boards also will give you the time of day, being a water park we had our watches tucked away and wished our TapuTapu also could tell us the correct time. 
If you should lose your TapuTapu, which I would venture is fairly common on rides as we had one son lose his and we also found someone else's, just head to one of the concierge huts to get it replaced. 
Watch for interactive spots to use your Tapu Tapu throughout the park, you'll be pleasantly surpised by some!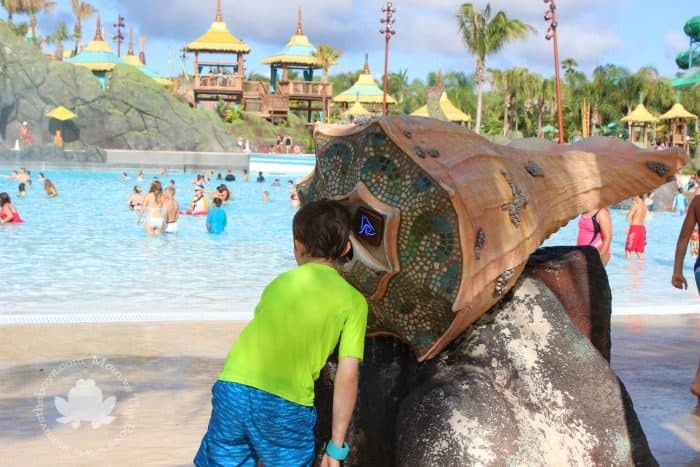 Set Up Taptu Pay Before You Go
Taptu Pay allows you to store your wallet in a locker and not worry about carrying cash or credit cards with you throughout your day. You can set up your account before you arrive using the Official Universal Orlando Resort App and then link a credit card for payments at Volcano Bay. You will have the ability to link all of your party's Volcano Bay tickets to same account and even set spending limits on your account so you don't get carried away. Now when you want to  purchase merchandise, food and drinks all you have to do is use your TapuTapu which is already on your wrist. 
Rental Lockers, Seating and Towels
There are different sized lockers for rent at Volcano Bay and you'll want to choose yours first thing when entering the park. You can link up to four TapuTapus to a single locker so your party can access it whenever they need to.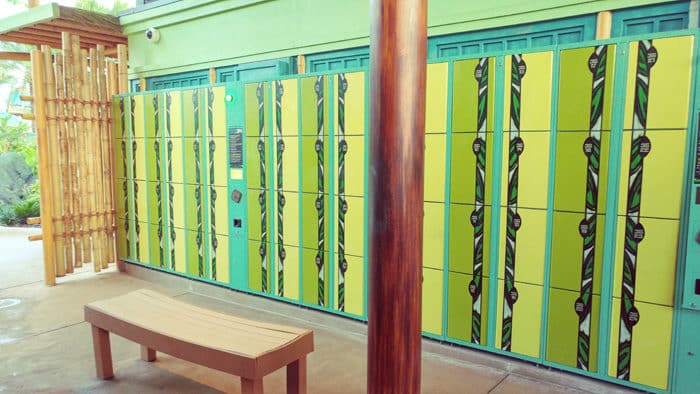 If you desire you can also rent Premium Seating or a Cabana for your party. Personally, I didn't find it necessary to have and we didn't even use our lounge chairs that we saved when we got to the park. With kids in the 8-12 range, we were on the move pretty much all day. If you are travelling with young children or grandparents the cabanas would be very useful though. Call to reserve the seating as soon as you have your dates. At the time we visited, there were quite a few kinks with this system but hopefully they are all worked out now.
Premium Seating– Includes a pair of padded loungers with an adjustable shade canopy and a built-in storage lockbox. Plus, you can enjoy the services of an area attendant who'll see to your food and drink orders. Prices start at $30 US per pair.
Single Cabanas – Holds up to 6 people. Choose from upper level cabanas for spectacular views, ground level cabanas for convenience and accessibility, or stand-alone cabanas that offer a bit more privacy. Starts at $160 US.
Family Cabanas– Holds up to 16 people. Relax with your group in a large, private stand-alone cabana. Starts at $300 US.
Towels are available to rent for $5 each or you can bring your own from home.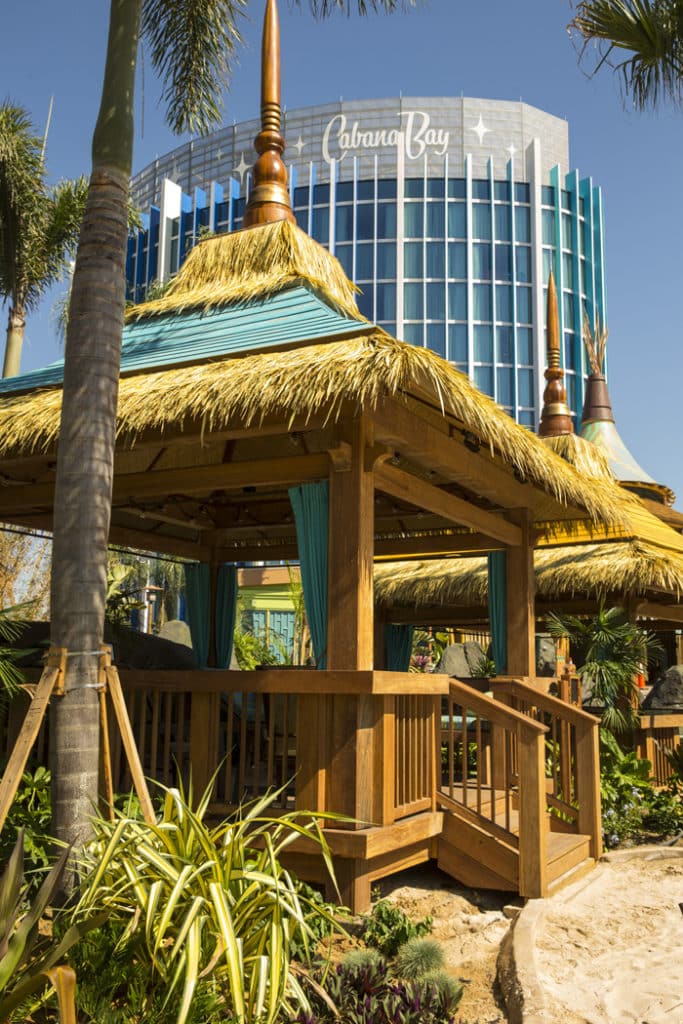 What To Wear
Obviously you'll want to be in your bathing suit, but it's a full day in Florida sun so it's also a good idea to make sure everyone has sun coverage as well. Rash guards are perfect for both children and adults, ladies you'll appreciate that it keeps everything "tucked in" when flying head first down Punga Racers. Skip the hats because you'll be in water most of the day or just keep them in the locker until you are going to be out resting, and bring plenty of sunscreen. You can wear water shoes if you want to, some rides don't allow them, but most do. There are lots of water sprayers on the side walks to keep them cool but the paths are a little rough on your feet. 

A Guide to the Rides at Volcano Bay
Waturi Beach- At the base of the Volcano you'll find Waturi Beach. Most of the time the water is crystal clear and calm, but when the music starts, the waves will follow and the whole beach area turns into a giant wave pool.
Runamukka and Tot Tiki Reef- The youngest visitors to Volcano Bay can play in this area where they'll find splashy slides, a tot-sized water volcano and a family of friendly tikis with spraying fountains. Plus, adorable whales spray and sing as kids raise and lower their hands.  It's a favorite play place for young children with its bubbling geysers, water guns, slides and dump cups. This whimsical play structure is the most playful spot in Universal's Volcano Bay.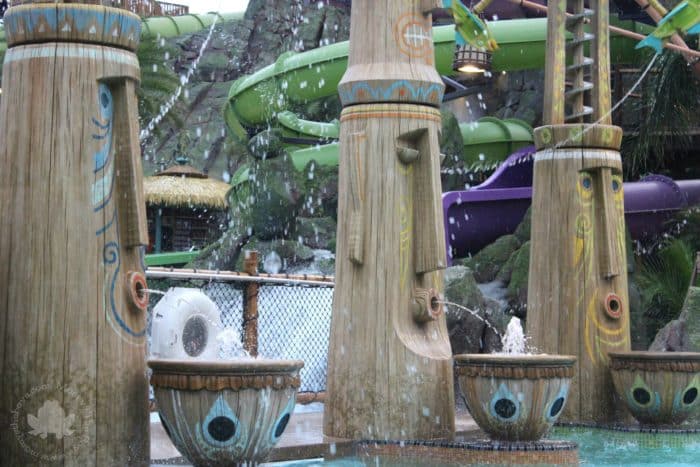 Puka Uli Lagoon- Perfect kids who are a little older this is a step up from the Runamukka and Tot Tiki Reef area .There are a few interactive spots to use the TapuTapu and it's located right beside the Ohyah and Ohno Drop Slides so if you have a group with a wide range of ages, this is probably a good spot to hang out. 
Kopiko Wai Winding River- This is a calm or better known as a "lazy" river. You'll find sprays of water along the way, and beneath the lava rocks, Stargazer's Cavern reveals the magical night sky above. This ride can be enjoyed anytime, but because of this it gets extremely busy during mid day when visitors jump in here to wait for other rides. It's a great ride later in the evening when it gets dark and the lights go on.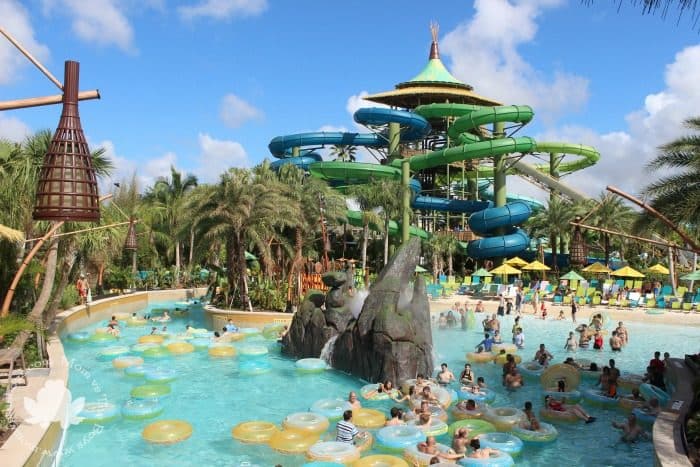 Te Awa The Fearless River- Warning: This is NOT a lazy river so don't be mistaken which ride you are on, this is a thrilling whitewater ride and there was plenty to be fearful about. Like the winding river, this ride as no wait times and becomes extremely busy during the day. Tubes go fast and the only way to get one is to wade out into the current to retrieve one when hopefully another passenger gets off. Children and small adults can easily be swept away in the choppy waters with or without a tube. I highly recommend you leave children (even pre teens) away from the entrance and have them wear a life jacket. Also, just skip this ride if it's crazy near the entrance, it's just not worth it as guests wrestle each other for tubes. I literally saw a woman jump on a riders back as he was floating by hoping he wanted to get off and would give her his tube. He did not want off and was quite offended by the action.
From a personal encounter, all 3 of my boys and I got swept away in the aggressive water. My husband swam in pursuit of the children who were bobbing along getting hit by other riders on their tubes. He eventually got them all in a big bear hug when he past a lifeguard and thought he would get some help. The lifeguard asked him if he was okay to which my husband responded "no" and still the lifeguard did nothing. If it wasn't for the grace of fellow riders who scooped the children up onto their own rafts and helped us collect empty rafts along the way, I'm not sure the outcome would have been as pleasant. After speaking with other guests at Volcano Bay, I learned that ours was not an isolated incident at all. This happened to many other families who were also disappointed in the lack of response from attending life guards.  I did hear other families say they enjoyed the Fearless River, so for this ride, I say use at your own risk and discretion. Absolutely use life jackets and avoid busy times. After our horrible experience, we did not attempt it again.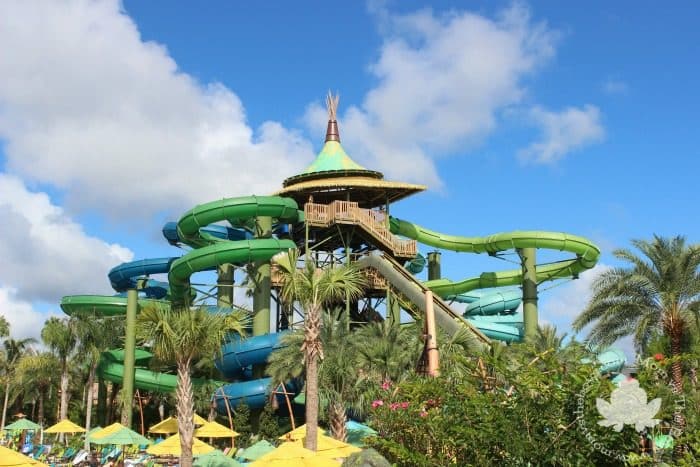 Tahinwha Tubes- These are four separate Easter Island-inspired slides with rafts for single or double riders. We really enjoyed them, the wait times were always low and it gave the kids the option of riding alone or with a parent. Unfortunately the day we were there they shut down mid day, so I'm glad we got a chance to ride them in the morning. These rides did require you to carry your raft with you up some stairs, where the big rafts for other rides get pulled up mechanically. 
Krakatau Aqua Coaster-  This first-of-its-kind-in-Florida family slide is the park's signature ride. Krakatau Aqua Coaster will send your four-person canoe upward and racing through dark twists and turns within the volcano  before emerging with a plunge through a waterfall! This aqua coaster will use linear induction motor technology—magnets will "pull" your canoe up the side. It feels just like a real roller coaster, but on water and is quite thrilling. This ride can have the longest wait times so try to ride early in the day.
Honu of Honu Ika Moana-  On Honu, you can surf the underwater currents on a four-passenger raft, speeding through an open flume, then streaking along two massive walls emblazoned with Waturi turtles. 
Ika Moana of Honu Ika Moana- A twisting, turning, multi-person slide. ika Moana lets you go with the flow on a five-passenger raft as you glide along twists and turns, passing over bubbling geysers which erupt like a whale's blowhole. Sections of the ride are filled with thick mist so you can't always see where you are going, which adds to the excitement. Fun family ride!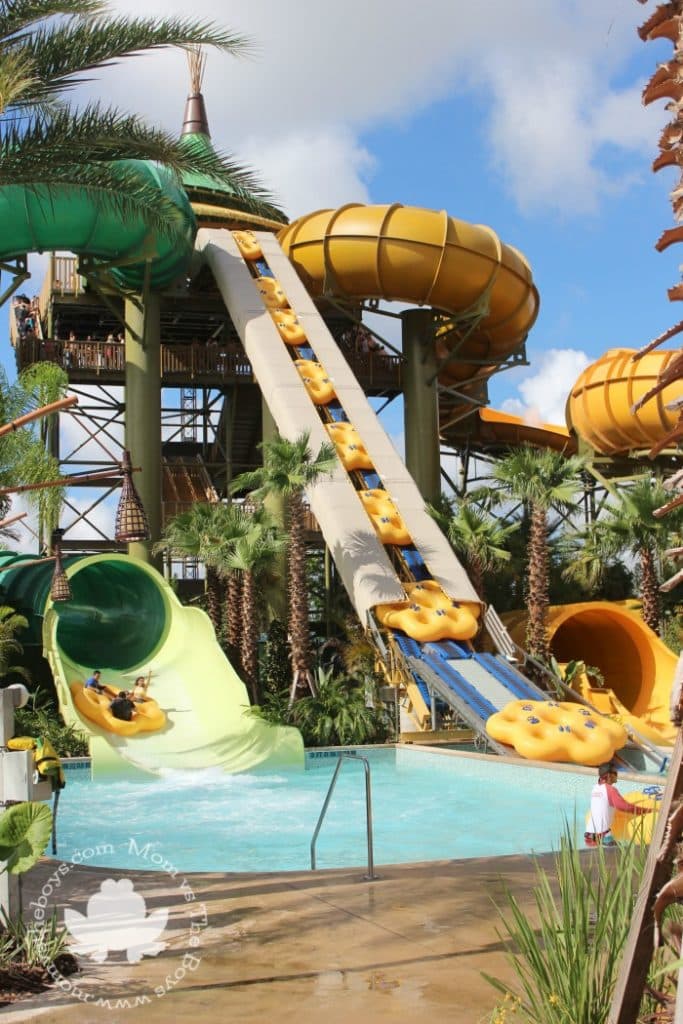 Maku of Maku Puihi Round Raft Rides- One of the largest raft rides, this six-person adventure isn't for the faint of heart. Enter the dramatic lava-tube path, then Maku slides through a deep volcanic gorge before spinning wildly around bowl-like formations. When a geyser blasts its massive column of water high into the air, your raft gets sucked into a watery vortex and shot along the twisting flume before you're deposited into a calm pool at the canyon's end. Our whole family loved this one.
Puihi of the Maku Puihi- North America's first "saucer ride" sends multi-passenger rafts on a dramatic lava-tube path where you careen through a dark, winding cavern. Suddenly, you feel the stomach-flipping thrill of zero-gravity hang time as you explode out into the far side of an immense funnel, then splash your way to safety at the bottom. This is a 5 person raft our whole family could ride together and it was by far a family favourite. We rode it at least 3 or 4 times and loved it!
Ko'Okiri Body Plunge- If you are brave enough to take the plunge (which I definitely am not!), you'll take a 70-degree fall though a drop door and down 125 feet of slide. Your reward will be sliding through a pool filled with guests! Be sure to ride early to avoid long wait times.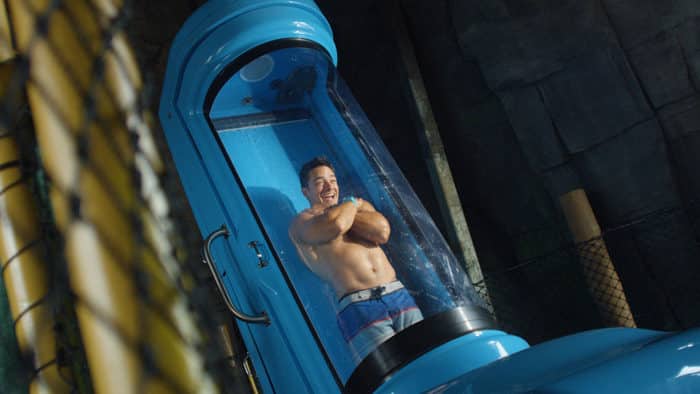 Kala and Tai Serpentine Body- Twin trap doors plunge two guests down clear, intertwining tubes before sending them splashing into the turquoise waters below.
Punga Racers- If you ask my boys they will tell you this is their favourite ride! Single riders on their manta ray mats race down four separate lanes through underwater sea caves. It's the only mat ride at Volcano Bay and you head down lying on your stomach, face first! Ladies, watch your tops! lol
Ohyah and Ohno Drop Slides- These two twisting slides launch guests from the tubes four (Ohyah)- and six (Ohno)-feet above the water for an adrenaline-pumping plunge into a 10-foot-deep pool. It's only recommend it for strong swimmers due to the depth of the pool and the need to swim from the bottom of the slide to the exit of the pool. My 11 year old loved it and went on it a couple of times.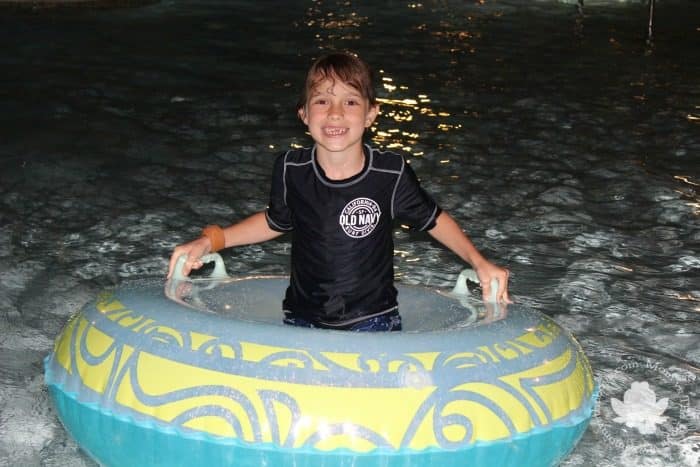 One of the best features of Volcano Bay is the conveyor system that pulls the rafts to the top of the rides. You won't need to lug inner tubes around with you or worry about one not being available. The whole park is designed for you to make the most out of your day and thoroughly enjoy yourself.
Life jackets are available and there are areas outside of the rides for you to store belongings such as hats, sunglasses or watershoes on the rides that don't allow them. Everything about Volcano Bay is well thought out, except perhaps the names of the rides. As you can see above the names of the rides can be very confusing. Many share the same name in a different order or something similar and they are hard to pronounce. When we were trying to decide as a family which rides to go on next, it got confusing fast. Despite that, the Waturi theme is on point throughout the whole resort and really makes you feel like you have stepped into an exotic location. The boys loved the rainforest like mist that spontaneously happened in certain areas throughout the day.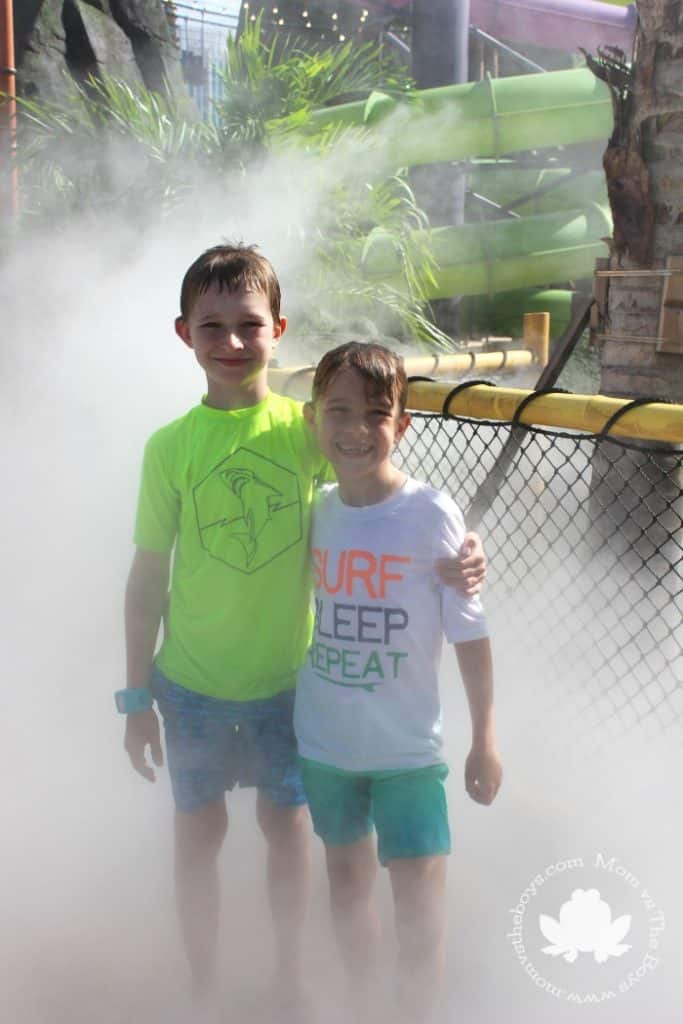 Overall we loved our day at Volcano Bay and out of the three parks I would say this was hands down our favourite. Be sure to stay until evening or come back to see the Krakatau Volcano light up to purple and then "pour lava" as the lights turn to red.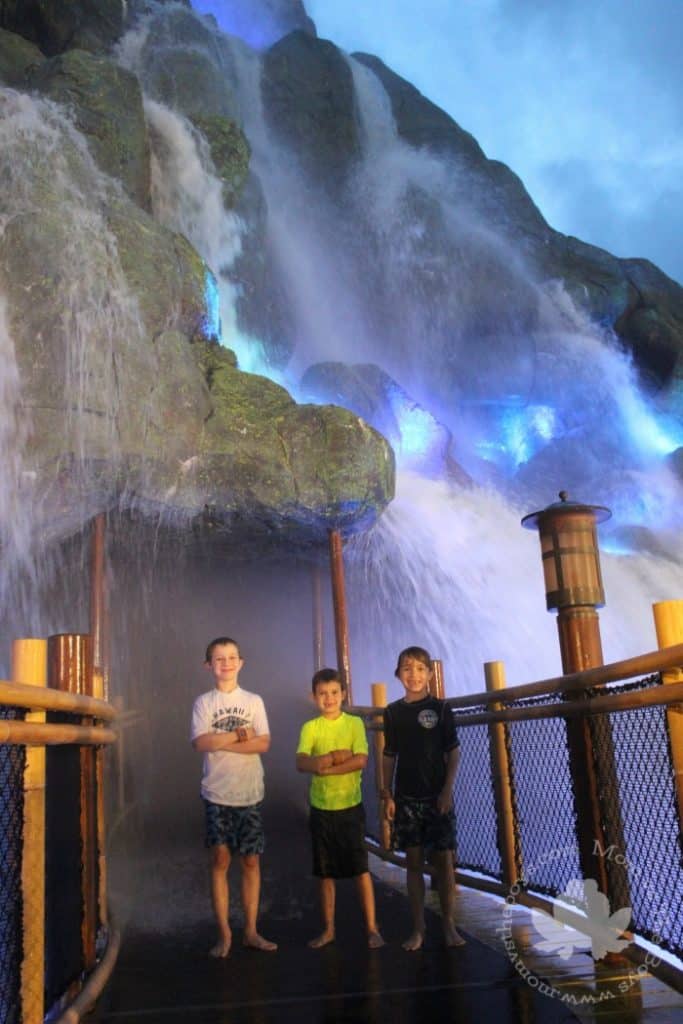 Check out this short clip of night scenes at Volcano Bay
Visit the Universal Orlando website to find out more about Volcano Bay and to plan your Universal vacation.
Special thanks to Univeral Orlando and Family Forward for a great day at Volcano Bay, so many memories made!