We stayed at Loews Sapphire Falls Resort at a discounted rate as part of the Family Forward Conference, all opinions are my own. 
This summer we drove from Ontario down to Florida to attend the Family Forward Conference in Orlando. It was our first time visiting Universal and we were blown away as soon as we pulled into the drive at our on site hotel – Loews Sapphire Falls Resort. A friendly staff member greeted us before we even got out of our vehicle and gave us full instructions on where we could park our van and check into our room. She even helped unload our van and whisked us into the hotel lobby which had the kids buzzing with excitement! It didn't take long to get us all set up with themed room keys for every member of the family, the staff made a great first impression giving our boys balloons while they waited.
Being an international guest we didn't use the text messaging service that is offered, but many of the American guests were excited about the feature, preferring it over calling the front desk.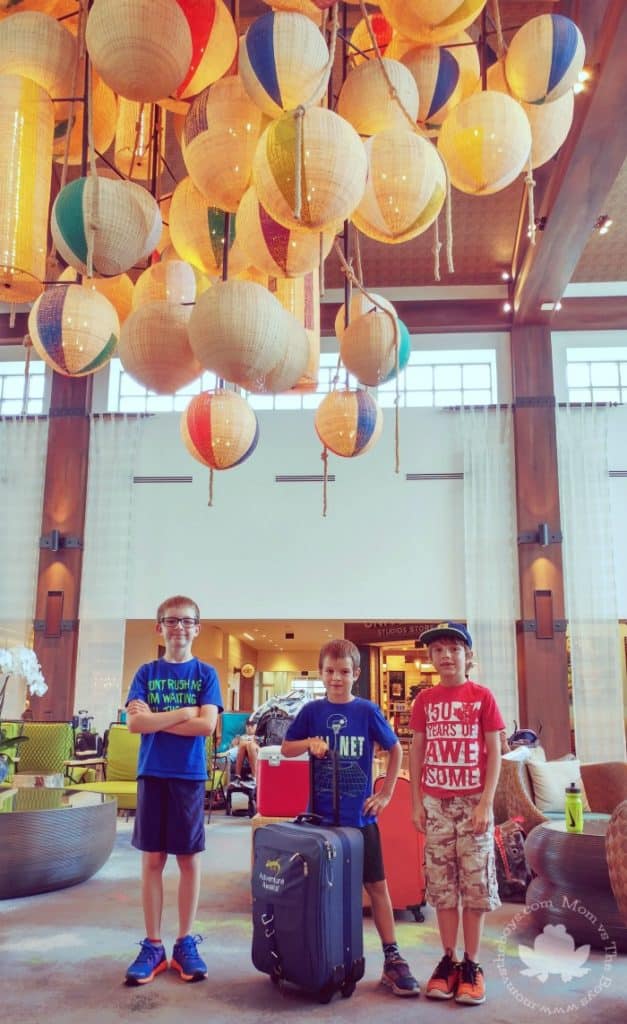 Loews Sapphire Falls Resort is a Caribbean themed hotel and right now is the newest of the on site hotel options. Next summer, watch for Universal's Aventura Motel opening right next door.
We were booked into a cozy 321-square-feet standard guest room which didn't leave much wiggle room after adding the roll away bed for our third child, but we didn't plan on spending too much time inside our room anyway. The room is beautifully decorated with Caribbean colours and features separate shower and vanity areas, free wi-fi, flat screen tv and most importantly a small fridge. Having a fridge allows families to save costs on buying breakfast and beverages each day. We stopped into a Walmart close by and stocked up on snacks, yogurt tubes, cereal, milk, water etc to keep on hand. Another great option is to use Amazon Prime Now for hotel delivery.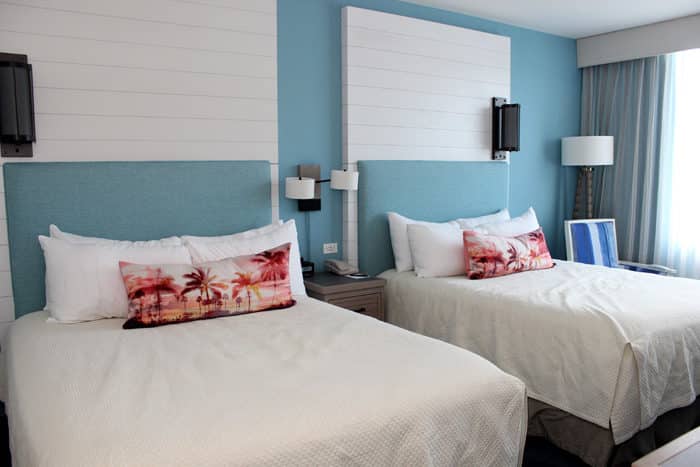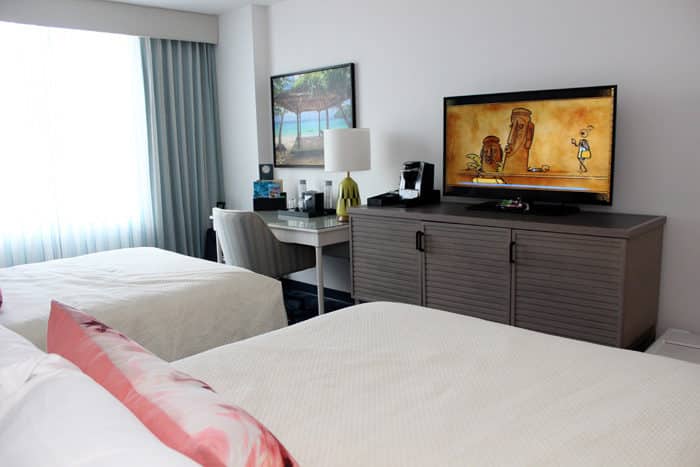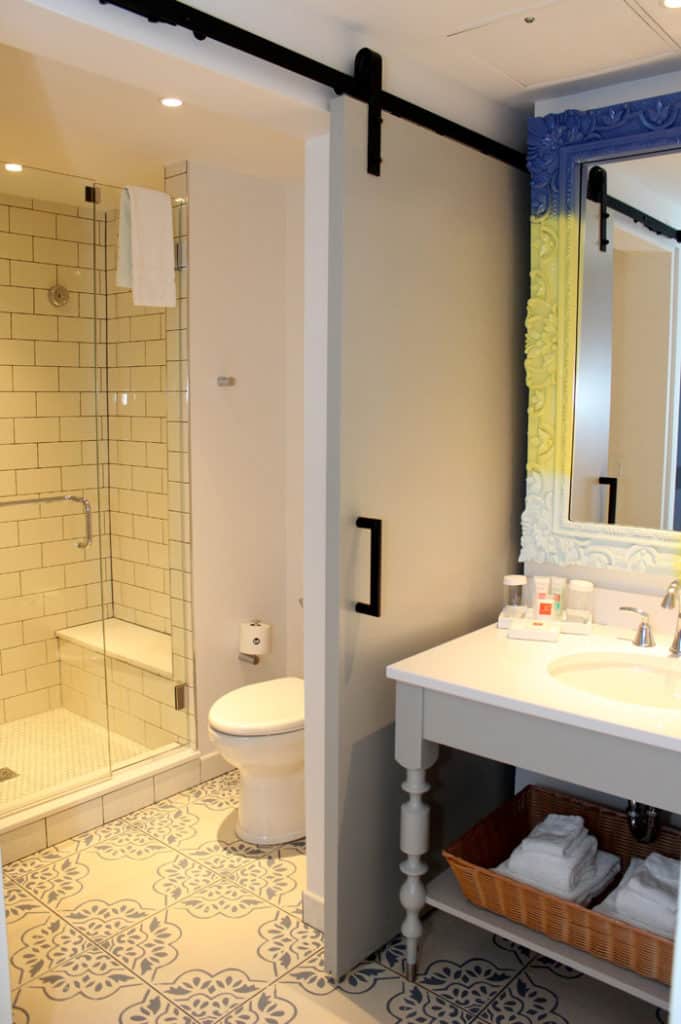 First stop – the hotel's 16,000-square-foot pool! The Loews Sapphire Falls pool is the largest of the other Universal Orlando Resort's five onsite hotels and features a super fun water slide that the kids used over and over again, as well as, shallow areas for smaller children and an abundance of beach balls to play with. This area really gives you that laid back vacation vibe with palm trees, lounge chairs and even sand to dip your toes in. The lifeguards are incredibly attentive which made us comfortable enough to allow the children a little independence as they chose different areas to play but the water temperature was so perfect that even mom and dad couldn't resist getting in to splash around.
Occasionally, the pool will close even when it is seemingly sunny which can be frustrating. There were times we left the parks in the afternoon to come back to the hotel to cool off at the pool and found it closed despite the weather being fine. We also swam in the pool at night with lightening starting to roll in and the pool never closed at all, so it's hit and miss. Complimentary towels are available for use as well as cabanas complete with big screen tv's are available to rent.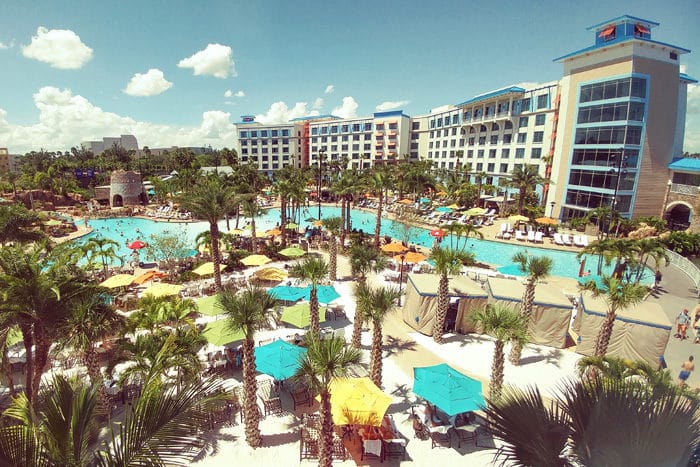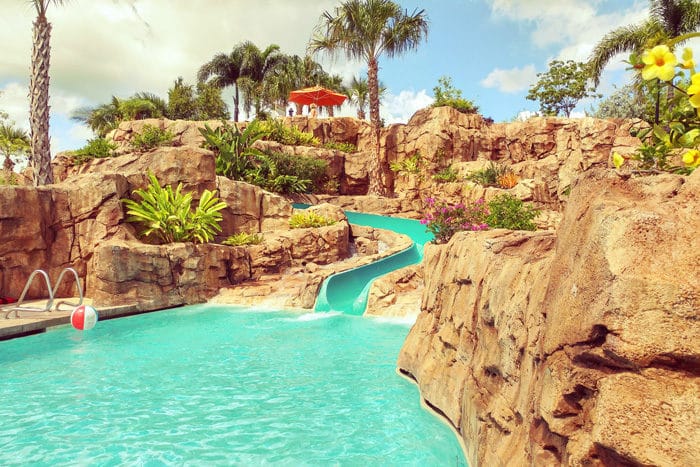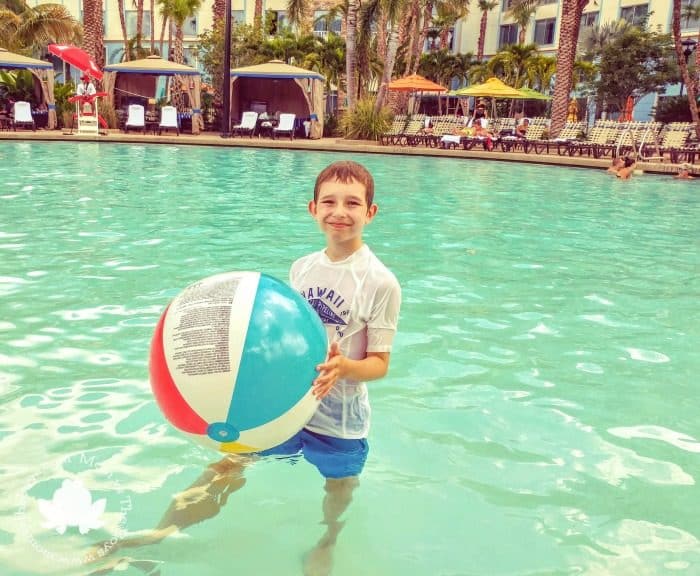 For poolside dining, the Drhum Club Kantine offers lots of tasty choices such as burgers, fries, nachos, sandwiches and I highly recommend the Mojo Pork Tacos. There is a children's menu available (grilled cheese, chicken fingers etc), as well as, a dessert selection (mostly ice cream) and adult drinks complete with souvenir cup.
Tip: Hang on to that cup, it will save you the next time you order a drink. Tuck it away in your room or it may disappear after the cleaning staff have tidied up your room, they do a thorough job.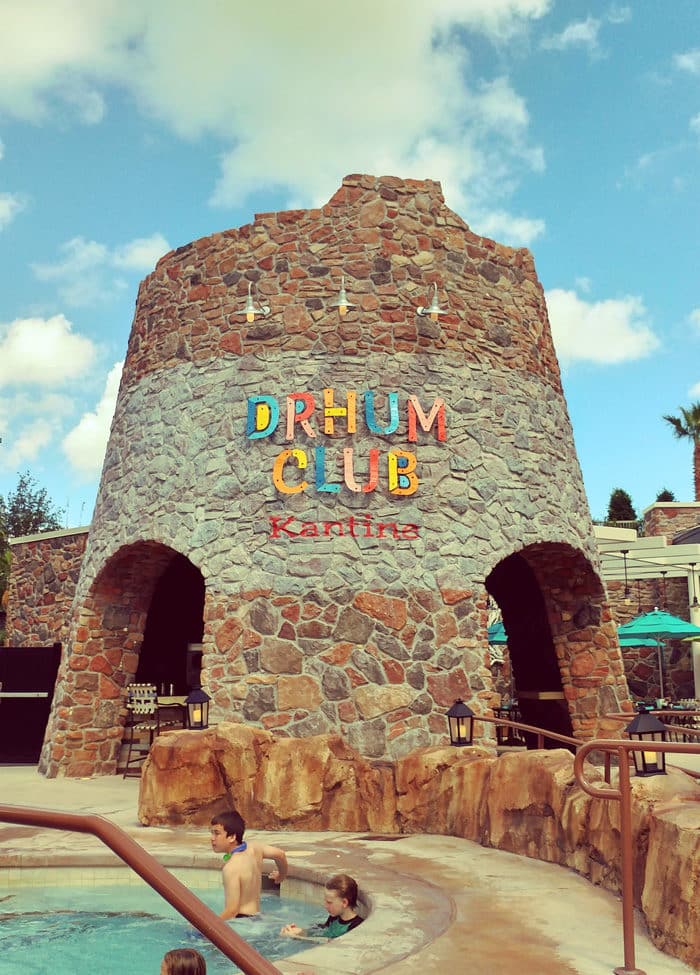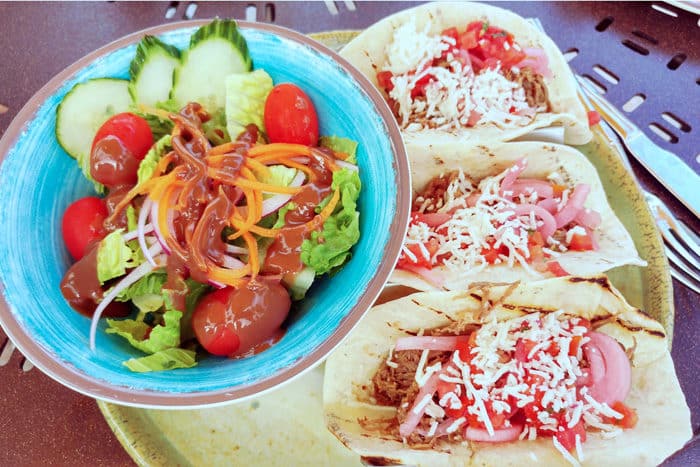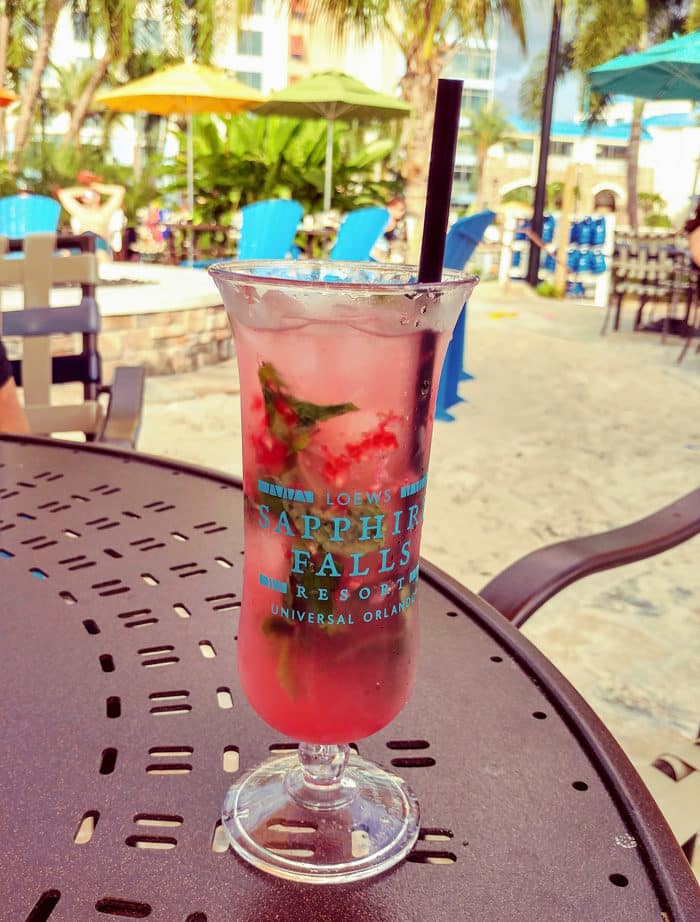 Loews Sapphire Falls Resort offers other dining options as well including Amatista Cookhouse, Strongwater Tavern and The Dutch Trading Co for a grab-and-go snack. We really enjoyed eating poolside so we ended up eating at Drhum Club more than once. The hotel also has a small arcade, fitness room and poolside activities like ping pong to keep you busy.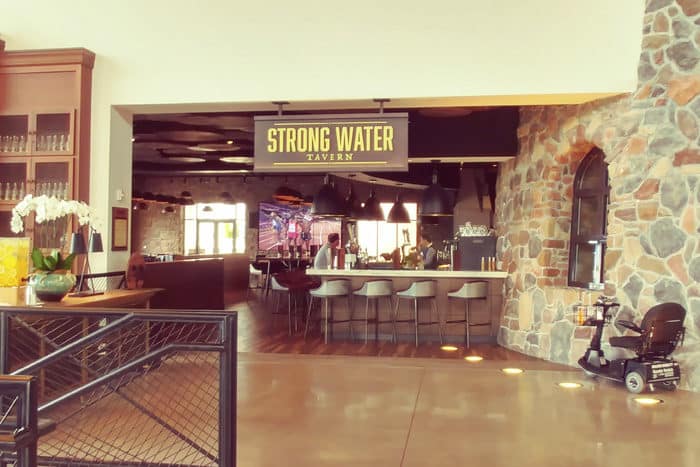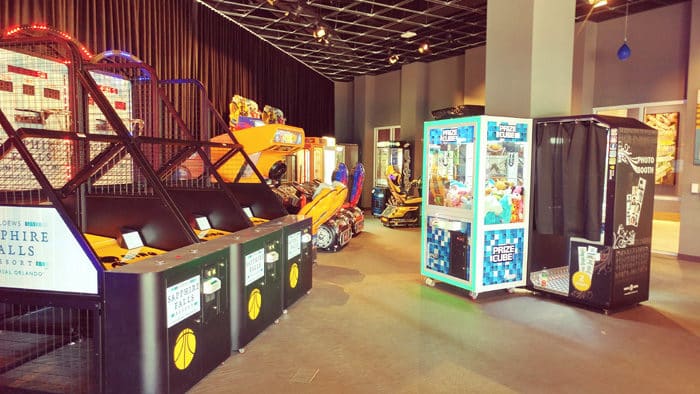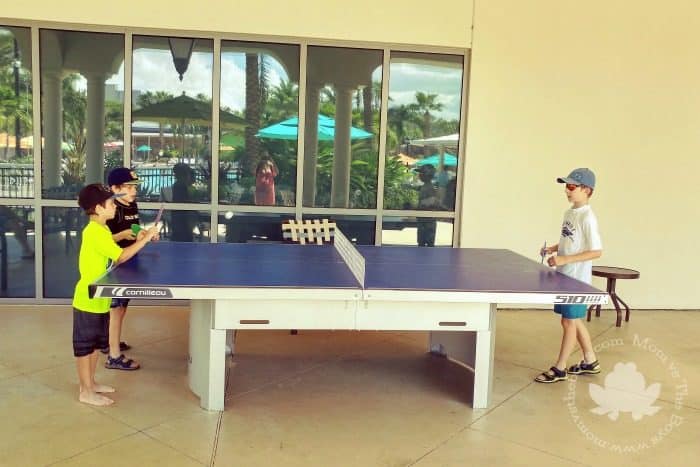 Getting to the theme parks
While the hotel is a really fun place to be at on it's own, you're really here for the theme parks right? To head over to Universal Studios Florida, Universal's Islands of Adventure or Universal CityWalk you have three choices.
1- Water Taxi
Sapphire Falls has its own water taxi dock situated at the back of the resort and they are free to use. The wait time can vary depending on the line up as the taxi can fill up quickly and you may have to wait for the next one. Be sure to give yourself lots of time if using this transportation if you are expecting to be somewhere at a specific time, such as a dinner reservation, but generally you shouldn't have more than a 10-20 min wait. The boat ride itself is an enjoyable 10 minutes and doesn't make any additional stops along the way. The hotel water taxi dock has it's own security screening and allows you to bypass the main entrance security check at CityWalk which is a nice perk. Occasionally, the water taxis shut down due to inclement weather, even when it is seemingly sunny, so be prepared to choose one of the other options if this happens.
2- Shuttle Bus
Universal Orlando Resort offers a free shuttle bus service between all five onsite hotels and CityWalk. There is a bus stop at the main entrance, it doesn't usually take long for the bus to arrive and I never saw the bus full. The shuttle is not a direct route though and did make stops at at least 2 other Universal hotels before the final stop outside of CityWalk.
Tip: There are two bus routes, one going to CityWalk and the other that goes to Volcano Bay. Be sure the bus is headed to the location you need before hopping on.
3- Walking Path
If the water taxis aren't running or you just feel up to a stroll, you can always choose the garden walkway to head to and from CityWalk which is also where you can access the dry theme parks. It's a safe path that winds its way along the water taxi canal and takes about 10-15 min to get from Sapphire Falls to the CityWalk entrance near Margaritaville.
If you are headed to Volcano Bay it is just a 5 min walk from Sapphire Falls Resort but it will be on busy streets and not the quiet walking path. It's best to take the shuttle bus which is just as quick and easy.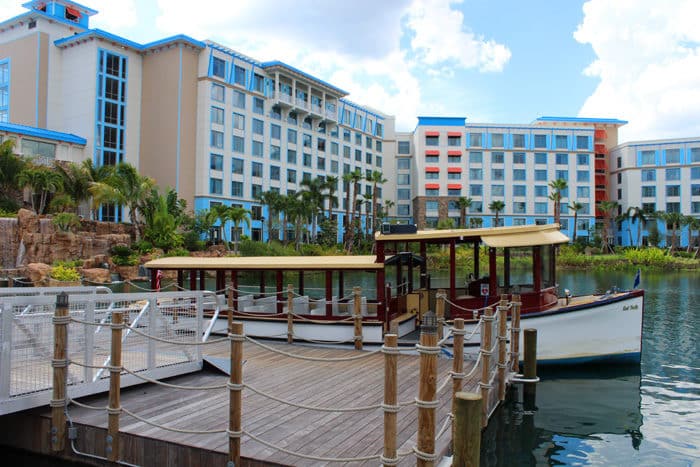 On Site Perks
One of the biggest perks of staying at Loews Sapphire Falls is Early Park Admission to The Wizarding World of Harry Potter™ and Universal's Volcano Bay™ one hour before the theme park opens to the public.
Use your room key card to charge purchases made throughout the Resort. This will eliminate the need to carry cash or credit cards around as you can just bill the charges to your room's account. You need to set this up with the hotel staff upon check in and they will set a spending amount for you. This system worked perfectly for us while dining at the hotel restaurant but when we headed into the park it didn't seem to work and we were lucky we had brought some cash along. We heard from others that had the same situation and had to rectify the problem back at the hotel, so the first time you head to the parks it might be best to bring a back up method just in case.
Merchandise purchased at select outlets throughout the resort can be delivered to your room free of charge. This is great when you are scooping up souvenirs and don't want to lug them around with you all day. The items will appear the following afternoon inside your room.
Access to any of the pools at the five onsite hotels including Loews Royal Pacific Resort, Hard Rock Hotel, Loews Portofino Bay Resort, and Cabana Bay Beach Resort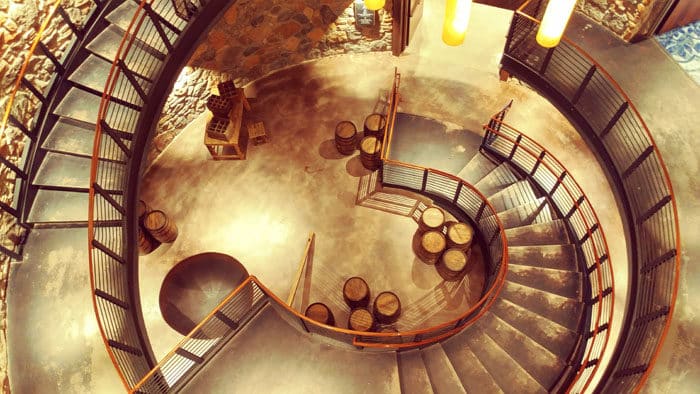 Visit the Universal Orlando website for more information on Loews Sapphire Falls Resort, other on site hotels and to plan your Universal vacation.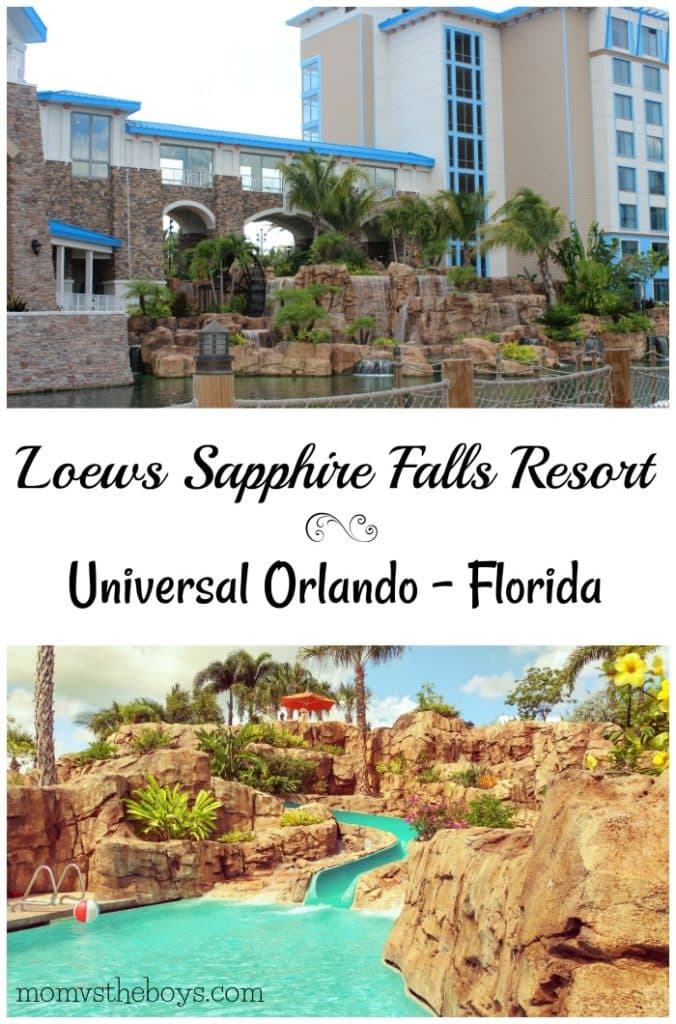 Heading to Volcano Bay? Read our Insider Tips to Know Before You Go, complete with a Guide to the Rides!