If you have a little one who is just learning all the hues of the rainbow, this fun activity for learning colors will provide hours of fun! Little Mouse, Little Mouse, is a game my boys just couldn't get enough when they were toddlers and preschoolers, and truthfully they don't mind playing a round or two even now just for the fun of it!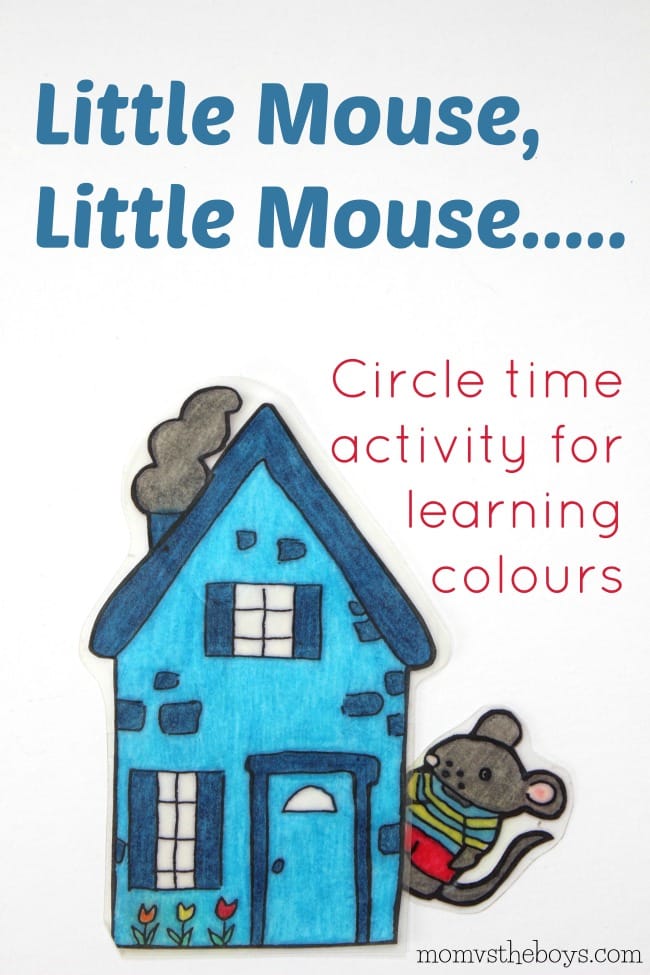 Little Mouse, Little Mouse…..Activity for Learning Colors
To play this game you will need:
One mouse
A number of houses in different colours
and this fun rhyme
Little Mouse, Little Mouse are you in the ______ house?
You can make your mouse and the houses out of any material you choose. My set is made out of paper which has been laminated for durability. You can easily get yours laminated by taking the finished supplies to a copy store like Staples or for a cheaper way, you can pick up a roll of mactac or other clear laminating material. Another similar item is clear shelving paper, often you can find both right at the dollar. Of course, you could just skip the laminating altogether, but small hands are usually not very gentle and you'll get a much longer life out of the activity if you take the time to protect it.
I've created a printable template for you that is similar to my set shown here. Just print the image off and make as many houses as you like, you'll only need one mouse. Colour each house one colour. You can use a variation of shades if you like, I used some darker shades of the same colour for accents, but make sure the house is all one colour.
For my set I used, Red, Blue, Purple, Pink, Yellow, Green and Orange.
I've also seen this activity done with flannel to go on a flannel board, if you are a daycare teacher and have access to one, that's a great idea too.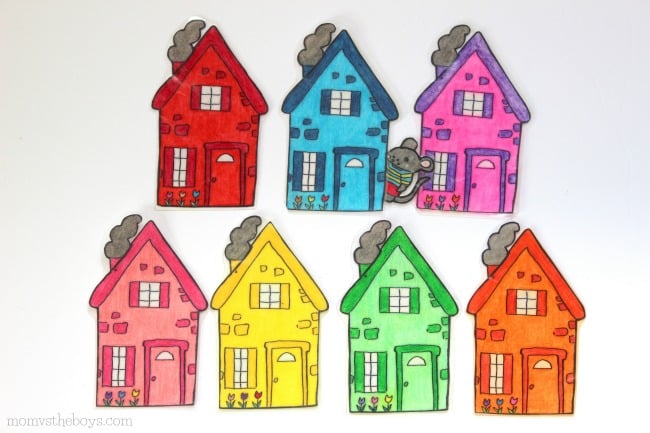 How to play Little Mouse, Little Mouse
Lay all your houses out on the floor in front of you. Have your child close their eyes while you hide the mouse underneath one of the houses so it's completely hidden.
When your child opens their eyes, they say the rhyme and guess a colour of house the mouse could be hiding under
"Little Mouse, Little Mouse, are you in the red house?"
Lift the house they chose to reveal whether or not the mouse is hiding there.
Repeat until the mouse is found.
Circle Time Game
Little Mouse, Little Mouse can be played with one child or a whole toddler or preschool group in a daycare. If playing in a group, have the children take turns guessing. Repeat the game by hiding the mouse several times until everyone has had a turn guessing.
Mix it up!
Children love guessing where little mouse is, but they also love being the one to try to stump you!
Let your child be the one to hide the mouse while you cover your eyes and play the game the other way around. My boys also loved playing this game on their own once they learned it and they would often take turns hiding Little Mouse from each other.
Little Mouse, Little Mouse is such a fun activity for learning colours, kids will want to play it over and over again! Click Here to download a hand drawn house and mouse template I've created for you. Or feel free to search out your own clip art images to use as well.
PIN ME!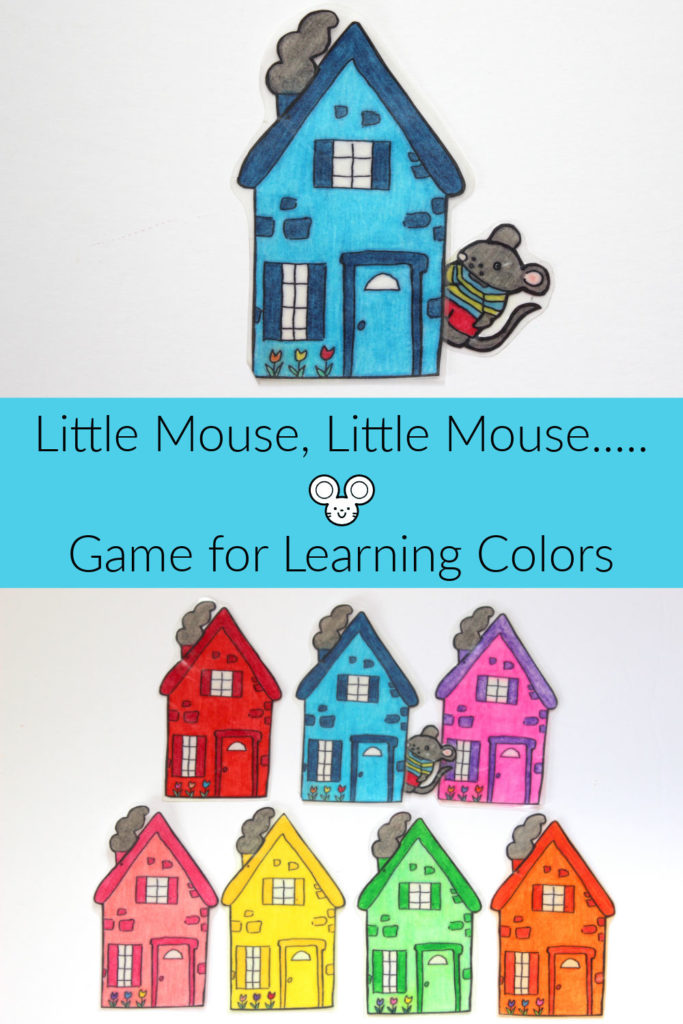 Check out these other Circle Time Learning Activities