Complimentary Canadian book box subscription provided for reviewing purposes. All opinions are my own. 
This summer was a quiet one for us, while we usually have a number of trips planned throughout our sunny months, this year we kept things simple and stayed close to home. So what's a girl to do? Read of course! Thanks to Sweet Reads Box, which is a Canadian book box subscription service, I kept my reading up all summer long. I read on the back deck, in the car, before bed, on a boat, at the beach…… I read to my heart's content.
From the Lost Girls of Camp Forevermore in June to Pachinko in July I was always in hand with a good book. Then August's book box arrived on my doorstep and just check out all the fun surprises!
This Canadian Book Box is packed full of fun and useful household items! It's one of the top reason I love Sweet Reads Box, besides the great book selections of course! The additional items that come in the box to compliment the monthly theme are always spot on and good quality.
August Sweet Reads Box
While it's fun to read about far off places and big cities, this month's book gives us something we didn't even know we were looking for – a peek back  in time of our own Canadian history. 
The book this month is The Lost Diaries of Susanna Moodie by Cecily Ross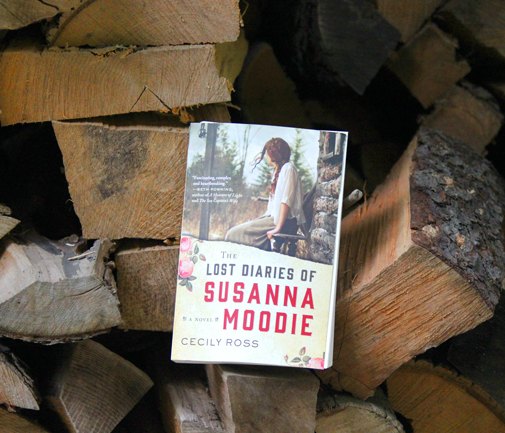 From the Back Cover
An engrossing tale of a woman's survival in the remote backwoods of the canadian wilderness, drawn from the life of renowned author and pioneer susanna moodie
Teetering on the edge of genteel poverty, Englishwoman Susanna Moodie agrees to leave behind her growing career as a writer to follow her husband from her beloved Suffolk to the backwoods of Canada. It is the 1830s and profiteers are selling dreams along with the promise of fertile land in the New World.
John Moodie, Susanna's husband, is an ebullient man with a weakness for money-making schemes, and he is convinced that riches await them across the ocean. Though Susanna follows, nothing is what they have been led to believe and they are woefully unprepared for life in the wilderness. While John is a devoted spouse, he is often absent, leaving Susanna to face the tremendous task of survival in the bush alone, with only her sister, Catharine Parr Traill, nearby to turn to.
Susanna's true story of hardship in a log cabin in the woods is part of our national mythology. Now, in this novel, told through her imagined lost diaries, an unprecedented portrait of Susanna's inner life is revealed—we come to know the wife, the mother, the sister, the writer, the woman confronting both the wilds of Canada and the wilderness of her own heart.
Part love story, part coming-of-age narrative, this captivating novel brings to vivid life Moodie's courage, wit and strength, as well as her moments of despair. The Lost Diaries of Susanna Moodie shows how one woman, against all odds and adversity, prevailed and made this savage and beautiful land her own.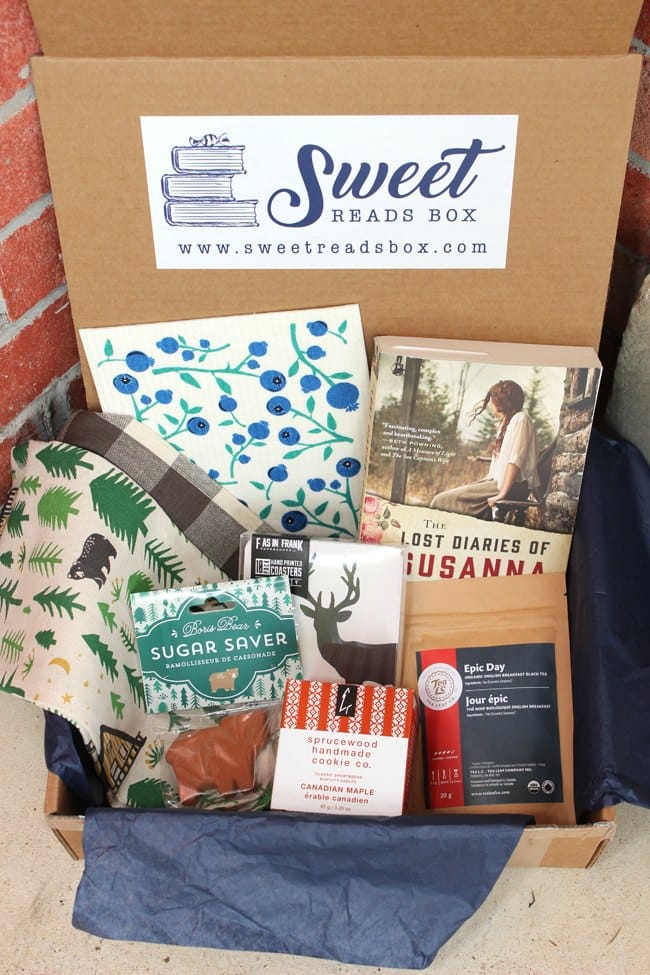 What Else is in the Box?
Each month, you'll find new and exciting items to go with the theme of the book. With this month's book being about a young lady from England settling in Canadian wilderness, the box contents couldn't be more fitting! 
Beverage Selection: Epic Day Organic English Breakfast Tea from the Tea Leaf Company Inc.
Treat Selection: Canadian Maple Classic Shortbread from Sprucewood Handmade Cookie Co.
Additional Items:
Deer Coasters from F as in Frank Paper Goods Co. – a set of 10!
Blueberries Swedish Dishcloth from Now Designs – 100% natural and machine washable
Wild & Free Dishtowels – set of 2! the forest cabin print is adorable!
Boris Bear Sugar Saver from Now Designs – keeps your sugar from hardening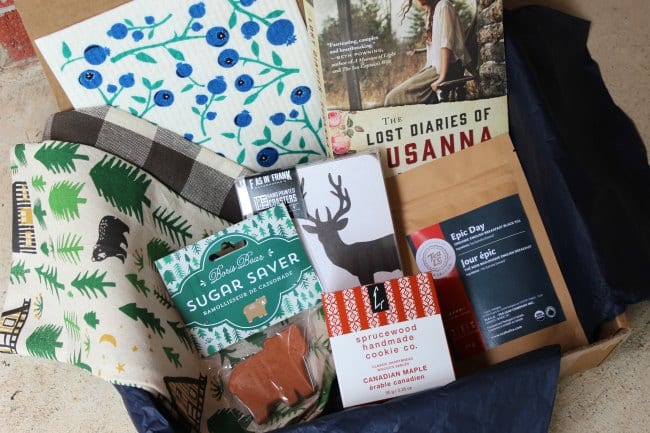 How to order a Sweet Reads Subscription Box
A subscription to Sweet Reads Box is $54.99 (plus shipping and handling). You have the option of purchasing just one month or you can purchase 3 month or 6 month subscriptions and you'll see a cost-per-month savings. 
Be aware that the boxes are selling out almost every month so the best way to ensure you receive a book is to order early or go ahead and get the 3 or 6 months subscription. 
Follow Sweet Reads Box on facebook, where they host fun facebook live interviews with authors from past books. It's a really fun way to chat with others who's read the book, as well as ask the author any questions you might have.
Visit the Sweet Reads Box website to order and follow along on with @SweetReadsBox on twitter, instagram and facebook.
If you enjoyed this Canadian Book Box reveal and want more, find past Sweet Reads Box unboxing videos and photo reviews, here.
Win Your Own!
This month you can enter for a chance to win your own Sweet Reads Box, just like the one shown here! Enter below, open to Canada only, ends Sept 23 2018