Getting ready for back-to-school means getting back to planning for everyday meals – breakfast, lunches, dinners and snacks.  As busy parents, it's more important than ever to find new ways to help your family eat well that are budget-friendly, too.  Canadian Turkey can help you get back-to-school ready with easy and delicious recipes (like Turkey Ragu!) that will please every member of your family!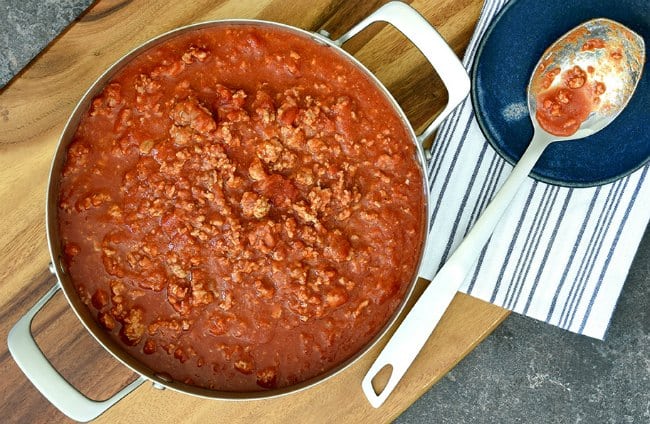 5 TIPS TO GET BACK-TO-SCHOOL READY WITH CANADIAN TURKEY
This post is sponsored by Canadian Turkey, Turkey Ragu recipe provided.
Scale Up
Turkey is a great option when planning to double or triple your favourite recipes.  Scale your recipes so you can cook once and then freeze extra portions to have on hand when you need dinner or lunch in a hurry.
Foolproof Favourites
Develop a series of go-to recipes that you know are easy to prepare and that your family will love.  The Canadian Turkey website is packed with kitchen-tested recipes that are both healthy and tasty too.  Turkey is so versatile and comes in so many cuts that you can find something for everyone's taste and preference.
Plan Ahead
Try to cook with recipes where you can do some prep work ahead of time or plan to pre-cook some or all of the ingredients.  Meal planning up to a week in advance is a great way to save time during busy weeknights.
Keep it Healthy
Turkey is a great source of protein and important minerals and nutrients.  Both dark and white meat is lean, so you can feel good putting turkey on your plate without having to compromise on taste and flavour.
Change It Up


Turkey adapts to all of your favourite flavour profiles and spice combinations, and with so many cuts to choose from you can find choices that please the whole family. Turkey is a delicious option for breakfast, lunch, and dinner. You can serve it hot or cold, and it tastes great the next day, too!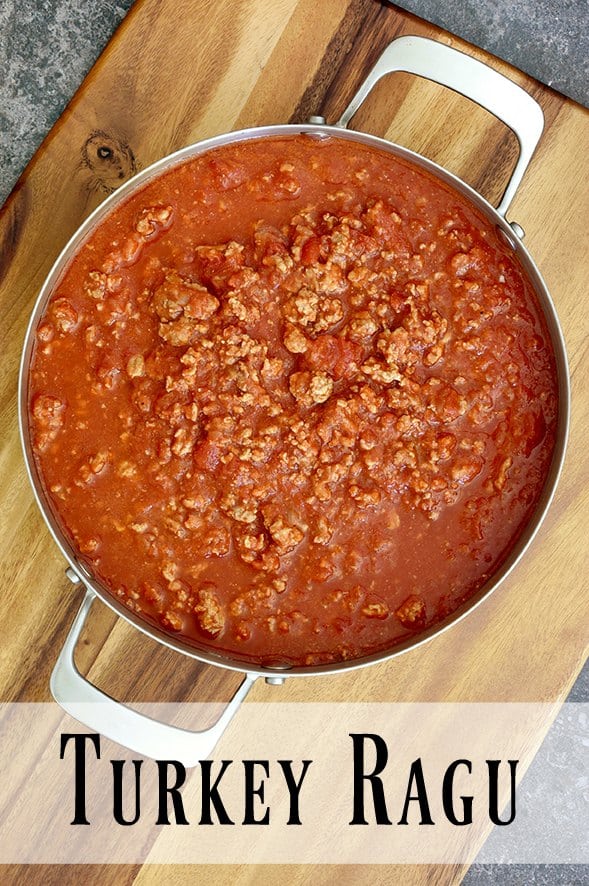 Meal Starter Turkey Ragu
Turkey Ragu
Prep time:
Cook time:
Total time:
Use this meal starter Turkey Ragu to create soups, pastas, casseroles, chili, and rice dishes.
Ingredients
3.5 – 4 lbs. ground Canadian turkey
2 turkey sausages, removed from casing (optional)
3 cups white onion, minced
6 cloves garlic, minced
1 tbsp. olive oil
1 tbsp. garlic powder
1 tsp. sweet paprika
1 tbsp. ground Italian seasoning
2 tbsp. Worcestershire sauce
1 tbsp. tamari sauce
2 jars (2 X 680 ml) pureed tomatoes
3 cans (3 X 398 ml) diced tomatoes
Salt and pepper to taste
Instructions
In a large pot or Dutch oven, heat olive oil and sauté onions over medium heat.
Cook until onions are lightly browned and caramelized, 6 – 8 minutes. In the last 2 minutes, add garlic and mix to incorporate. Do not let garlic or onions burn or they will make your sauce bitter.
Add turkey meat and sausage if using. Stir occasionally so meat cooks evenly.
Add garlic powder, paprika, Italian seasoning, salt and pepper, Worcestershire and tamari. Cook for 8 – 10 minutes until no longer pink and cooked through.
Add tomato puree and diced tomatoes.
Bring to a gentle simmer. Cook for 10 minutes until flavours incorporate.
Season with salt and pepper to taste. (Some tomato products do not come seasoned)
Divide into desired portions, approximately 1 cup per person, and freeze until ready to use.
TIP: To add big flavour, make sure to follow these tips. Cook onion slowly until caramelized, but not burned. For best tomato flavor, use a premium brand of canned tomatoes. To add a large punch of flavor, buy butcher made sausage and remove from casings.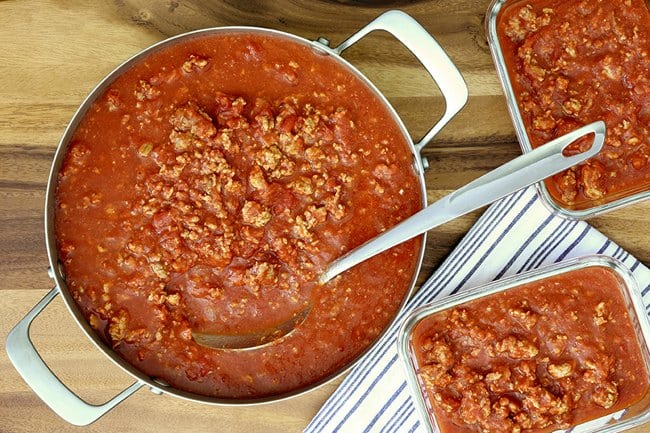 Canadian Turkey can teach you to cook smart by creating 'meal starters' that you can cook once and then use as a base to create multiple recipes later on.  Make the Meal Starter Turkey Ragu, freeze in multiple portions and then you have a base on hand for quick meals during busy weeks.  Use this meal starter to create soups, pastas, casseroles, chili, and rice dishes.  Do the heavy lifting once and make cooking multiple healthy and nutritious dinners super quick and easy! Click here to see other ways you can use this Turkey Ragu base. 
To help you prepare for back-to-school meal planning, enter below for a chance to win a $75 Visa Gift Card! Open to Canadian addresses, ends Sept 17 2018 11:59pm est. Good Luck!