Recently I was sent a package of every flavour of Hidden Valley Ranch dressing! If that's not inspiration to hit the grocery store and come up with the best recipe I can dream up, I don't know what is!
Hubster and I spent a few days trying out a couple of different recipes we created ourselves and here are the results-
 who will win? Hubster with his Twice Baked Cheesy Ranch Potato or Mama with her Chicken Bacon Ranch Pizza????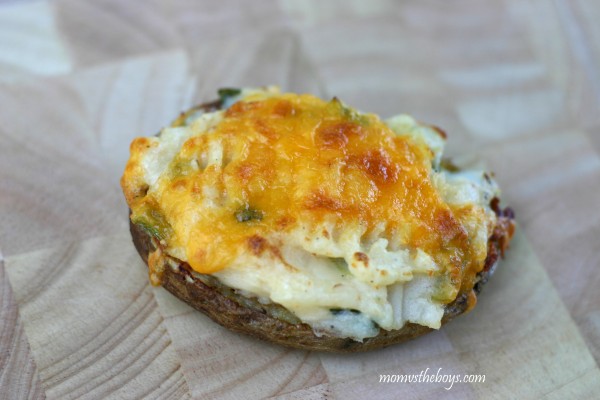 Twice Baked Cheesy Ranch Potato
Recipe Yields 4 servings.
3 Large Russett Potatoes
1/2 cup Hidden Valley Cheese Ranch Dressing
1 tbsp Olive Oil
2 tbsp Chopped Green Onion
2-3 Strips of Bacon, Cooked and Crumbled ( real bacon bits work in a pinch)
Grated Cheddar Cheese
1.  Wash potato and pierce several times with fork and cook on full power in the microwave for 8 minutes. Turn over, and continue to cook for 8 more minutes until soft. If you have a potato button on you microwave, this should work fine too.
2.  Turn on oven and set to Broil.
3.  Cut potatoes in half lengthwise and scoop out potato and set aside.  Leave about 1/8 inch of potato so you do not damage the skin (you'll want to get pretty close to the skin, don't worry if you do damage one, you only need to have 4 good halves)
4.  Brush the 4 best potato skins with olive oil on both sides.  Place on cookie sheet and broil in oven for 5 minutes or until golden brown.
5.  While the skins are in the oven, add Hidden Valley Cheese Ranch Dressing to potatoes  and blend until smooth.  Add more  Hidden Valley Cheese Ranch Dressing, as required.
6.  Mix in Green Onion and Bacon.
* Mom vs. the Boys TIP:  Store chopped green onion in the freezer in a ziploc bag or container and use in recipes when needed.*
7.  Scoop potato mixture into the 4 browned potato skins.  Top with grated cheddar cheese to taste.  Broil in oven until cheese melts, approximately 5 minutes.
Tasty, Tasty – but now for Mama's Creation!

Chicken Bacon Ranch Pizza
Pizza Dough:
1 package of active dry yeast
1 tablespoon white sugar
2 1/2 cups warm water
2 tablespoons olive oil
1 tablespoon salt
1 cup whole wheat flour
5 cups all purpose flour
1. In a large bowl, dissolve yeast and sugar in teh warm water. Let sit about 10 min until creamy.
2. Stir in olive oil, whole wheat flour, salt and 4 cups of the all purpose flour in the the yeast mixture. Mix in the remaining flour, 1/2 cup at a time, stirring well after each addition. Turn it out onto a lightly floured surface and knead until smooth and elastic, about 8 min. Lightly oil a large mixing bowl, place the dough in the bowl and turn to coat with oil. Cover with a damp cloth ( we use a tea towel) and put in warm place to rise until doubled in volume; about an hour.
3. Deflate the dough and turn it out onto a lightly floured surface. Divide the dough into three equal pieces and form into rounds. Cover the rounds and let them rest for about 10 min.
4. Preheat oven to 425 degrees F
5. Use a rolling pin to roll the dough into desired shape.
Toppings:
So you can see from the picture above that each side looks a little different. I tried two different ways to make the pizza. One side with both ranch and bbq sauce and one side with just the spicy ranch, it was really good both ways.
BBQ sauce (optional)
Hidden Valley Spicy Ranch Dressing
1/2 an Onion, diced
1 tablespoon olive oil
1 chicken breast, sliced
Bacon, cooked and crumbled
1 tomato, sliced thin
Mozzarella cheese, shredded
In a frying pan add oil, onions and chicken; cook the onions down until caramelized and chicken is cooked through.
Option 1: Spread a layer of your favourite bbq sauce evenly over the surface of the pizza dough and then another layer of  Hidden Valley Spicy Ranch dressing over top of that.
Option 2. Spread a layer of  Hidden Valley Spicy Ranch dressing evenly over the surface of the pizza dough.
Top with chicken, onions, bacon, tomato and cheese. Use as much or as little cheese and sauces as you would like.
Bake at 425 degrees F for about 15 min or until the crust and cheese is golden brown.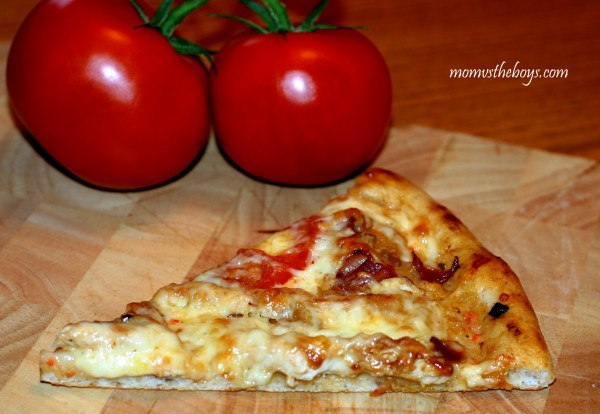 Yummers right??? Soooo who won the Hidden Valley Ranch Recipe Battle between the Hubster and Mama?????
sigh…. it was the Hubster!
yeah, it really was! We fell in love with that Twice Baked Cheesy Ranch Potato, the Cheese Ranch dressing really gave it a creamy kick and was so delicious! It even tasted fantastic the next day as leftovers! The pizza was delish, don't get me wrong, but hands down the potato was the challenge winner! hats off to Hubster!
Okay so now that we have our own family winner, we will be submitting the recipe to a bigger contest, one where there is actually prizes! lol Chef Ned Bell will be doing the  judging and Hubster's recipe will be  up against 15 of Canada's top food bloggers (and recipe junkies).  Do you think a lowly potato will be enough to win?? Taste if for yourself and you will see that it's more than you expected, it's amazing!
I was provided with the above mentioned products and a grocery GC for reviewing purposes. all recipes and opinions are my own.