As soon as the first fall chill hits the air I immediately start thinking ahead to Christmas, and I know I am not alone! I've been hearing rumblings about holiday shopping all over facebook these days!
Men, when shopping for the ladies in your life this year, think sparkly! Noooo…not vampires in sunlight silly, though that could very well be on her list!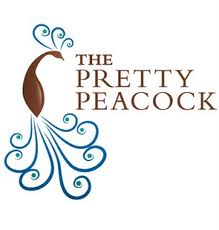 Think The Pretty Peacock!
The Pretty Peacock is more than pretty jewelry, it is timeless treasures with a lot of heart! Each piece is handcrafted just for you and personalized with meaningful names, dates or birthstones. With a one of a kind memento like that, you just can't go wrong! 
 Do you have a budding artist in family? The Pretty Peacock can even take your child's artwork and turn it into a real work of art to wear around your neck! 

I was really interested in the Envelope Lockets and had one custom created for our family. Are you familiar with the book Guess How Much I Love You? written by Sam McBratney? If you are a parent, chances are you do. But this is a book that we had long before we had children and the message at the end of the book 'I love you to the moon and back' is something Hubster and  I used to tell each other while we were dating. Today we read the book to our children and it's a special saying for us, so I decided to put that message onto a secret family love letter and tuck it inside the locket.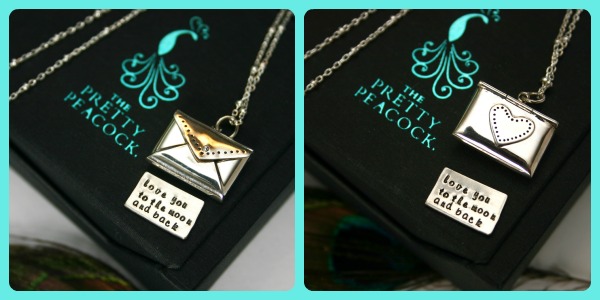 The photo above shows you both the front and the back of the envelope locket along with the message that gets hidden inside! This little envelope charm actually opens at the hinge and securely closes at the button latch in the center. Each locket comes with a personalized 'letter' (single sided text) and you can choose anything you like up to a maximum of 20 characters. Even longitude and latitude coordinates! You can have your love letter locket as a charm, hanging on a sterling silver chain, or a sterling silver charm bracelet.
Sadly, they are discontinuing the Envelope Lockets and only have a few left! Order yours now for 20% off and free shipping! Use discount code: LOCKET2012 at check out.
But do not despair, The Pretty Peacock has so much more to choose from, for ladies, men and children too! Stop by THE PRETTY PEACOCK  and take a look around! Come back here and tell me your favourite piece for a chance to win a  $50 gift certificate!