The holidays are hectic and the best way to reduce stress is to be prepared. Keeping essential items on-hand can save time and put your mind at ease while entertaining this holiday season.
P&G has some helpful Holiday Tips to keep you prepared, everything from from prepping for parties to preventing melt downs!
Be Beautiful
Playing hostess is always a bit demanding, especially during the holidays. Between planning a festive feast and decking your halls, remember to take some time to pamper yourself. Try taking a few minutes the night before your big event to decompress in the tub while hydrating your dry winter locks with something quick and easy, such as Pantene Moisture Mask. ( Love this stuff!)
While your treatment sits you can use your Venus & Olay razor and Satin Care with a Touch of Olay Shave Gel to get touchable and smooth legs. Be sure to protect your luscious locks from simple blow drying to holiday styling with a quick mist of shine, such as Herbal Essences Set Me Up Heat Protection Spray.
Try picking out your outfit the night before. The less you have to think about, the better. For the day of the celebration, keep your makeup easy, breezy and beautiful. Mascara alone can really bring your look from average to amazing. For a long-lasting impact to last from morning to night, try CoverGirl LashBlast 24 Hour Mascara. Finish off your look with your favourite shade of CoverGirl Blast Flipstick, ready to pucker up under the mistletoe.


Be Fresh and Tide-y
Keep your cool during the holidays and avoid embarrassing moments by being prepared with Secret Outlast deodorant, which gives you 48 hours of odour protection to outlast your day.
Slips and spills are inevitable, especially with holiday dinners, baking and parties, but you can be prepared. Keep
Tide to Go in your purse to clean up a stain on your new blouse without starting a load –your guests will never
be the wiser.
Be Prepared 
With all of the toys under the tree, many electronic, batteries are often an afterthought. By stocking up on longlasting batteries, like Duracell, you can avoid tears of frustration and keep the kids playing with their new toys for hours, while the adults get some much-needed grown-up time.
It's a good idea to pick up a couple extra packs of batteries for Christmas morning even if you know you have the toys you bought covered. Sometimes this slips the minds of Grandparents or Aunts and Uncles and the last thing you want to see on Christmas day is a disappointed child.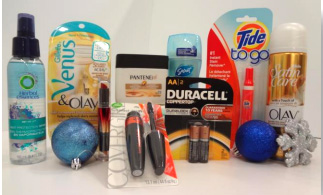 P&G has a Holiday Survival Kit Giveaway that will keep you prepared for all kinds of events down the road!
Enter Below to win!
Canada Only