A couple of years ago the hubs spotted orzo at the grocery store and bought it on a whim to try out, he's crazy like that. Neither one of knew what to do with it so I made him come up with a recipe himself. He played around with one, that I posted here and we loved it! Orzo was definitely finding it's way back on our grocery list again!
Orzo is perfect for summer salads and this season I was on the hunt for a new and different recipe, when I stumbled across the Fire Roasted Tomato Orzo Salad recipe in Kraft's Summer '13 What's Cooking magazine. I happened to own the salad dressing already and because of it's unique nature wasn't too sure what it would be suited for. Turns out, it's suited for Orzo! Here is my version adapted from Kraft.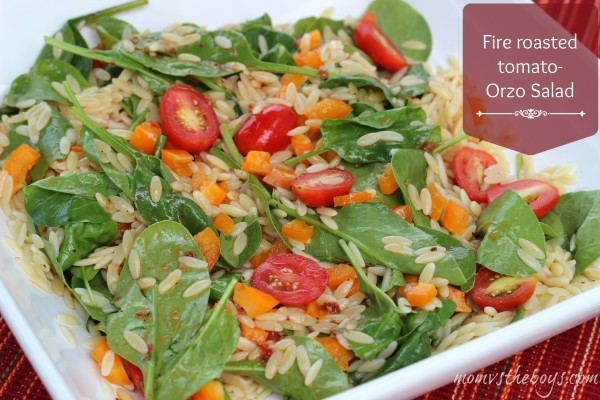 Fire Roasted Tomato Orzo Salad
Ingredients
1 cup orzo pasta, uncooked
2 cups tightly packed baby spinach leaves
2 cups cherry tomatoes, halved
2 small orange peppers, chopped
1 cup chopped red onions
⅔ cup Kraft Fruit & Veg Fire Roasted Tomato with Basil Dressing
Instructions
COOK pasta as directed on package, omitting salt; drain.
RINSE pasta; place in large bowl.
ADD remaining ingredients; mix lightly.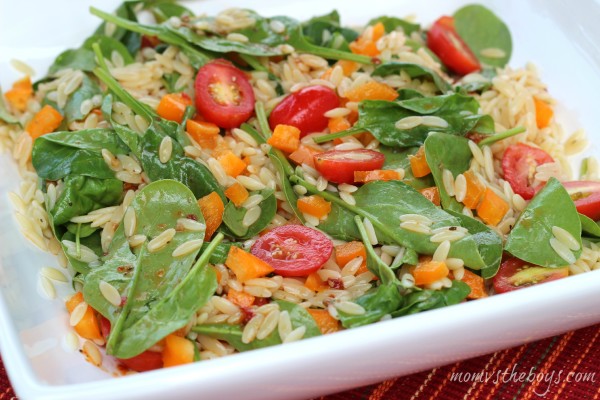 bon appetit