My seven year just set off on his first adventure in the air as the two of us traveled to Turks and Caicos together. The trip required 4 flights in total and the universe did not let him off easy!  We succumbed to crazy landings that required us to head back to the skies and try for a do-over, a 2 hour flight delay in a tiny airport with no air conditioning and even a missed connecting flight because of it! Other than some very painful ears due to cabin pressure, I'm happy to say he took it all in stride! He's practically a pro now! He was even invited into the cockpit to meet the pilot and take a look around! This was definitely one adventure, he won't soon forget!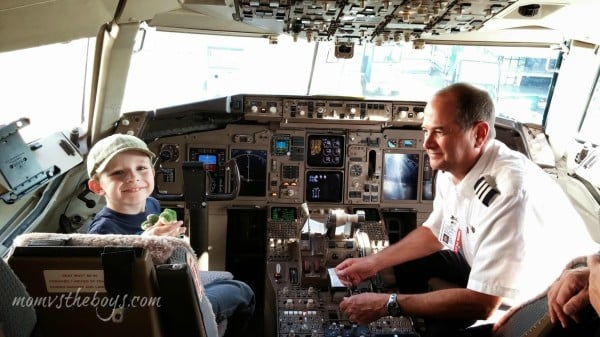 Here our my 3 top tips for traveling with kids!
1. Keep them Comfy
Dress your kiddos in comfortable clothes that are soft and have some room to them, nothing too constricting. Choose layers that can be removed easily if too warm, it's better to take a sweater off than hear complaints about being too cold and those overhead fans can be a little chilly. A sweatshirt can double as a pillow for a rest on the plane if need be. Wear slip on shoes or sandals for quick and easy removal when going through airport security. If your child has trouble with cabin pressure like mine did, be sure to have gum on hand and look into special ear plugs you can buy to help with air pressure discomfort, we will be getting these for our next trip.
2. Keep them Moving
Airports are a whole lot of hurry up and wait. Long lines are a drag to stand through no matter what age you are. Keep your kiddos on the move as much as possible pre boarding, there will be plenty of time to sit on the plane. Take a stroll, browse through book shops and stores, take pre flight potty breaks, watch the planes getting ready out the window and find quiet areas for games to take place. We were traveling with other kids and they had a blast making up their own games of catch with stuffies, gymnastics and even just running in circles to burn off the wiggles.
3. Keep them Entertained
Once on board the aircraft, keep your child busy and engaged with card games, colouring and reading. I brought along a selection of books from DK Canada and my son never complained once about being bored! The books were new to him and featured some of his favourite things like Lego and Star Wars! I choose a couple of levelled Readers that he would be able to read all by himself. DK has an amazing selection for both girls and especially boys and at a great price of just $4.99 a piece. The other item I knew he would love is the LEGO Star Wars Choose Your Side Ultimate Sticker Collection, he was already a fast fan of these sticker books and Star Wars was one he didn't have. His eyes lit up when he saw this in his carry on bag! The sticker books are around $14 and give hours of enjoyment, the front of the book has story building pages and groupings for the loads and loads of stickers in the back! There are plenty of extras to have fun with as well! These sticker books have been a huge hit with all of my boys and are a great way for kids to learn all the characters and vehicles from movie sets like Star Wars.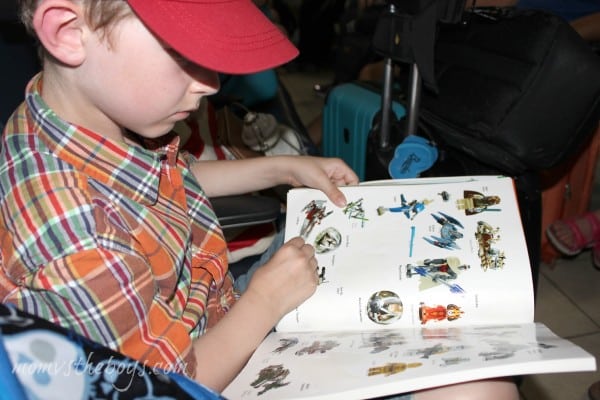 Depending on where you are headed, another great item from DK Canada is the Brickmaster sets. These are both books and lego sets in one. The lego pieces keep stored inside a pocket and the book shares ideas on how to create many different things using only those pieces. It's a great way to bring a small amount of lego that will make the biggest impact in building. It's a perfect activity for stays in hotels and vacation homes for downtime.
If you are interested in any of the great items featured above or want to see what other gems DK Canada has to offer your traveling boys, check out the LEGO boutique and browse the DK website and facebook page!