Summers were meant for being outdoors, come the warmer months our backyard deck becomes our haven – until the mosquitos drive us in of course! We eat all of our meals under our gazebo and grill as much as possible, our deck literally becomes our outdoor kitchen! 
While we love our hamburgers (who doesn't?) sometimes we have to step outside of the bun and get a little more creative with our grill! Have you ever tried to barbecue a pizza? It sounds a bit intimidating but it's actually quite easy! I'll show you how with one of my favourites Sweet Chilli Chicken Pizza!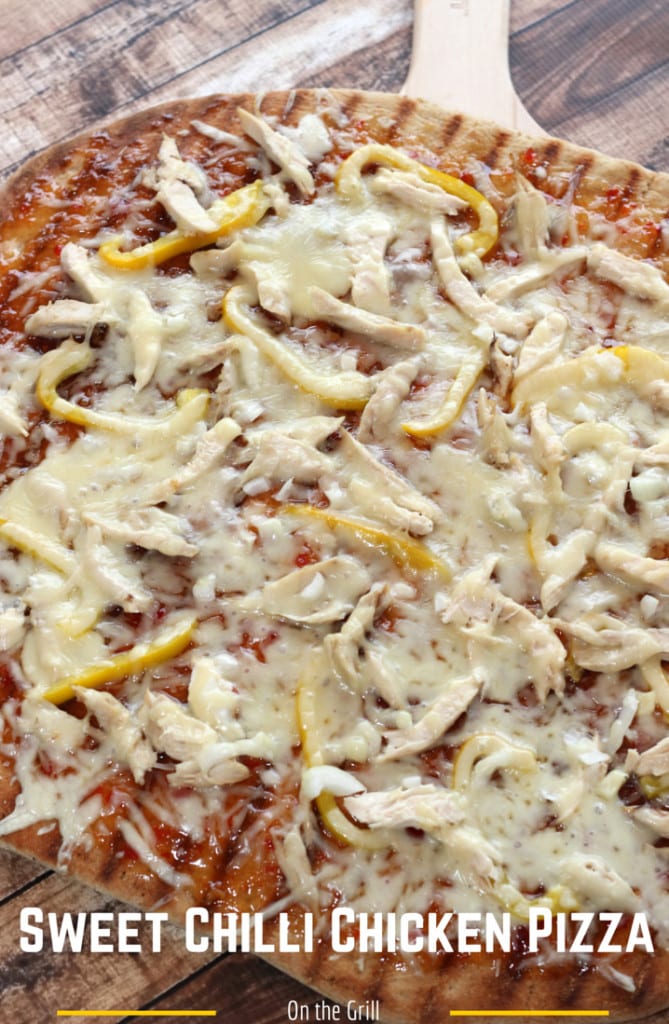 Sweet Chilli Chicken Pizza on the Grill
Ingredients
For Dough
1 package active dry yeast
1 tbsp white sugar
2 1/2 cups warm water
2 tbsp olive oil
1 tbsp salt
2 cups whole wheat flour
4 cups white flour
Blue Dragon Sesame Oil, or olive oil
Sweet Chili Chicken Toppings
Blue Dragon Sweet Chilli Dipping Sauce
Yellow Peppers, cut into thin strips
Red onion, cut into thin strips
Cooked Chicken, diced or shredded
Mozzerella Cheese
Directions
In a large mixing bowl, dissolve yeast and sugar in the warm water. Let sit until creamy; about 10 min.
Stir the olive oil, whole wheat flour, salt and 2 cups of the white flour into the yeast mixture. Mix in the remaining flour 1/2 cup at a time, stirring well after each addition. When the dough has pulled together, turn it out onto a floured surface and knead until smooth. Lightly oil a large mixing bowl, place the dough in the bowl and turn to coat with oil. Cover with a damp cloth and leave in a warm place to rise until doubled in volume; about an hour.
Deflate dough and turn it out onto a floured surface again. Divide the dough into two equal pieces and form into rounds. Cover and let rest for 10 minutes. Preheat the grill for medium heat.
Use a rolling pin to roll the dough into two round circles.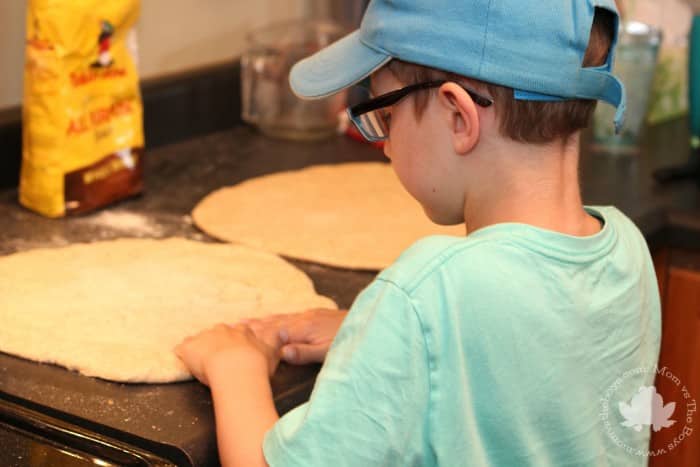 Lightly brush the dough with Blue Dragon Sesame Oil and place each round on a sheet of parchment paper. 
Brush the grill grates clean. Place the dough on the cooking grate with the paper sides facing up, the paper helps to transfer the dough to the grill, peel off and discard once your dough is set on the grill. 
Grill over direct medium heat, with the lid closed until the dough is marked and firm on the underside; about 2- 5 min.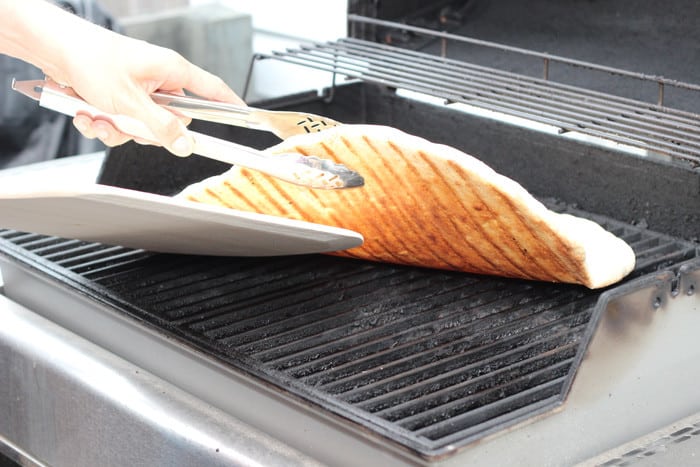 Transfer the crust to a work surface and top your pizza!
For the Sweet Chilli Chicken Pizza, spread Blue Dragon Sweet Chilli Dipping Sauce to cover the surface. Top evenly with cooked chicken, peppers and onion. Spread shredded cheese over surface. 
Return pizza to the grill and cook over medium heat, with the lid closed as much as possible, until cheese is melted and the bottom of the crust is crisp.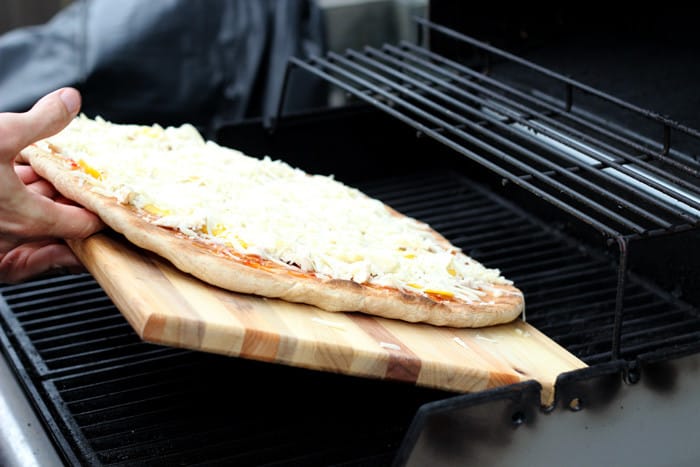 Rotate pizza for even cooking, transfer to a cutting board and cut into wedges. Devour.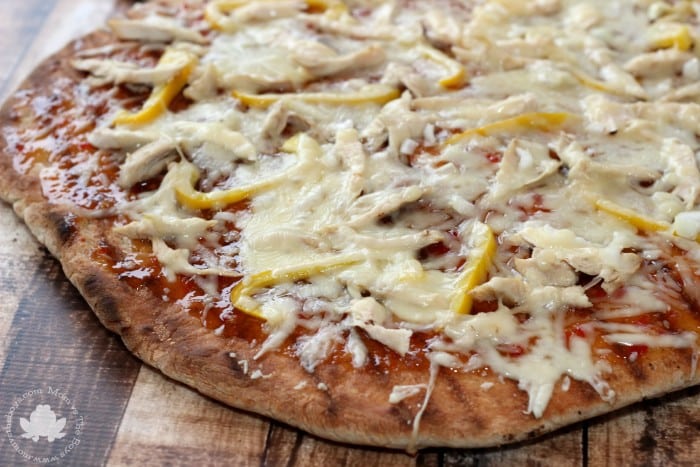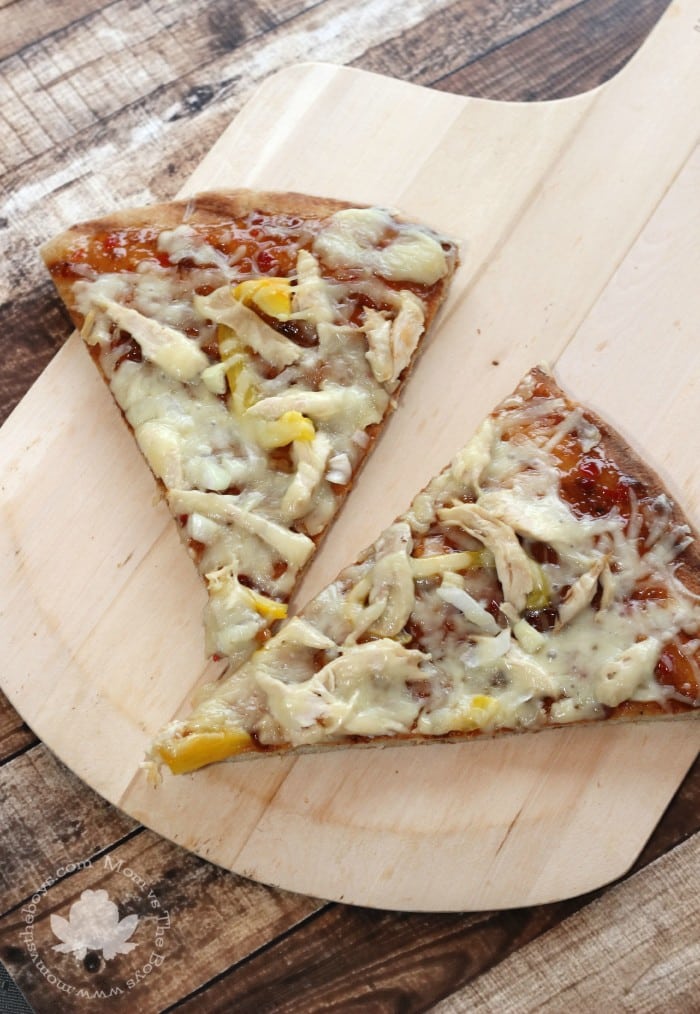 For more recipe inspiration be sure to visit the Bamboo Room and visit Blue Dragon on Facebook or Twitter
I am part of the Blue Dragon Canada ambassador program and I receive special perks as part of my affiliation with this group. The opinions on this blog are my own.