Growing up my parents took my brother and I out on many camping holidays, we started in a tent when we were really small and graduated to a tent-trailer when we were older and moved around to different campgrounds each time. My husband spent all of his summers at the same campground year after year, in a large trailer. So we are no strangers to camping, but fast forward to three kids and almost 40 years old and roughing it no longer sounds like a good time. We were delighted to find the perfect mix of outdoor adventures with modern luxuries at Cherry Beach Resort in Prince Edward County.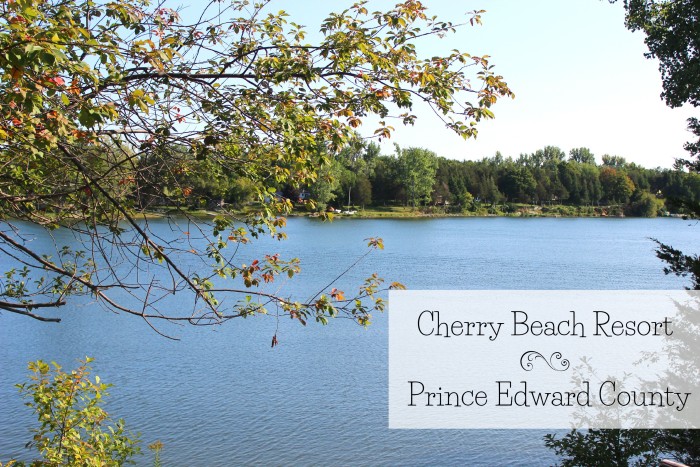 Cherry Beach Resort has everything  you and your family would want in an all-inclusive cottage resort. Spacious accomodations, full kitchen, bathroom and shower facilities, gorgeous views, plus all the things that make choosing a resort community so great like playgrounds, beach area, pool and splashpad and water sports!
The cottages come in many styles that you can either rent or own, and during our 3 day stay we had the pleasure of setting up camp at #9 Cove Bay.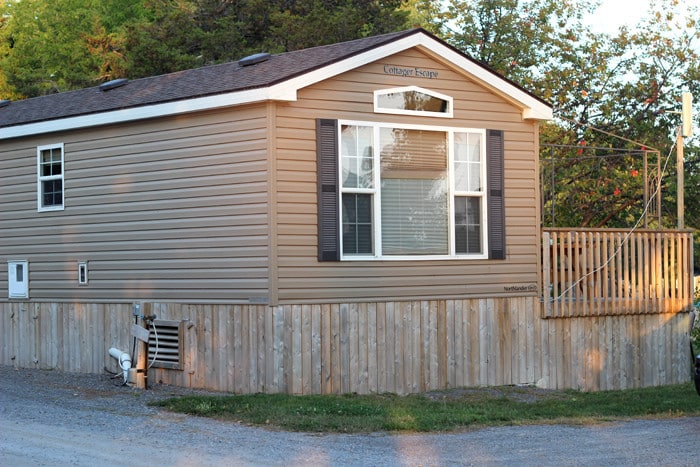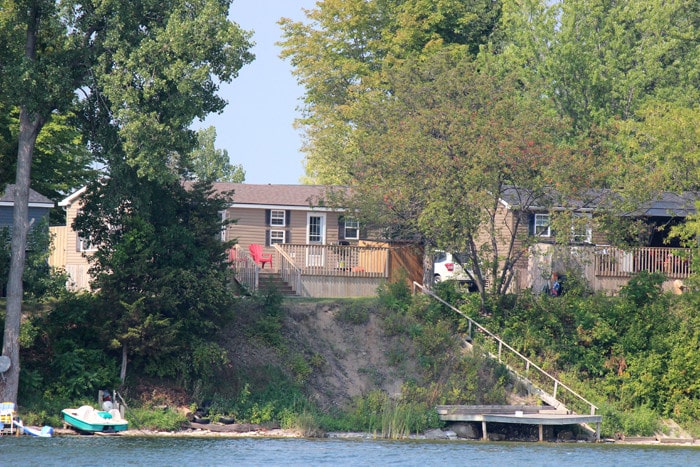 This unit had a comfortable living room, gorgeous kitchen, full bath, and 3 bedrooms. A master with a queen, and the other two rooms had bunk beds. The couch also pulled out into a bed making the sleeping capacity quite large, but the dining table only seated 4 which made for some juggling with our family of 5. We actually prefer to eat our meals outside, and do the same at home in nice weather, but while the deck was large and had a picnic table to fit us all, there was no cover from the sun and the heat was scorching during the mid day meal. We saved our outdoor eating for evenings when the sun had crept around to the back. The unit was super clean and well maintained, and even had a propane BBQ for our use that we saw the staff come and clean as we arrived and when we were departing.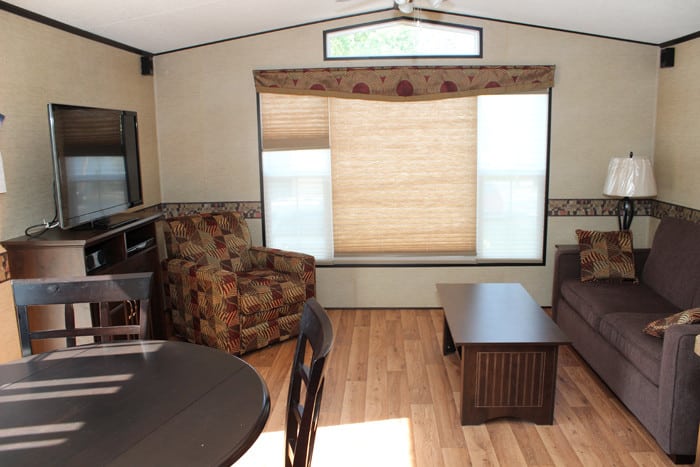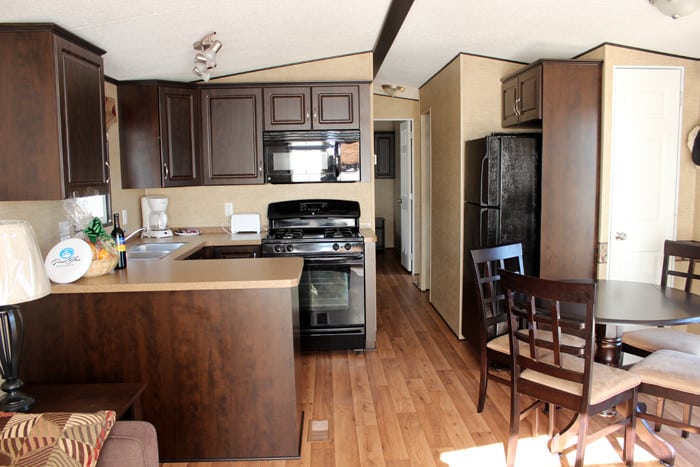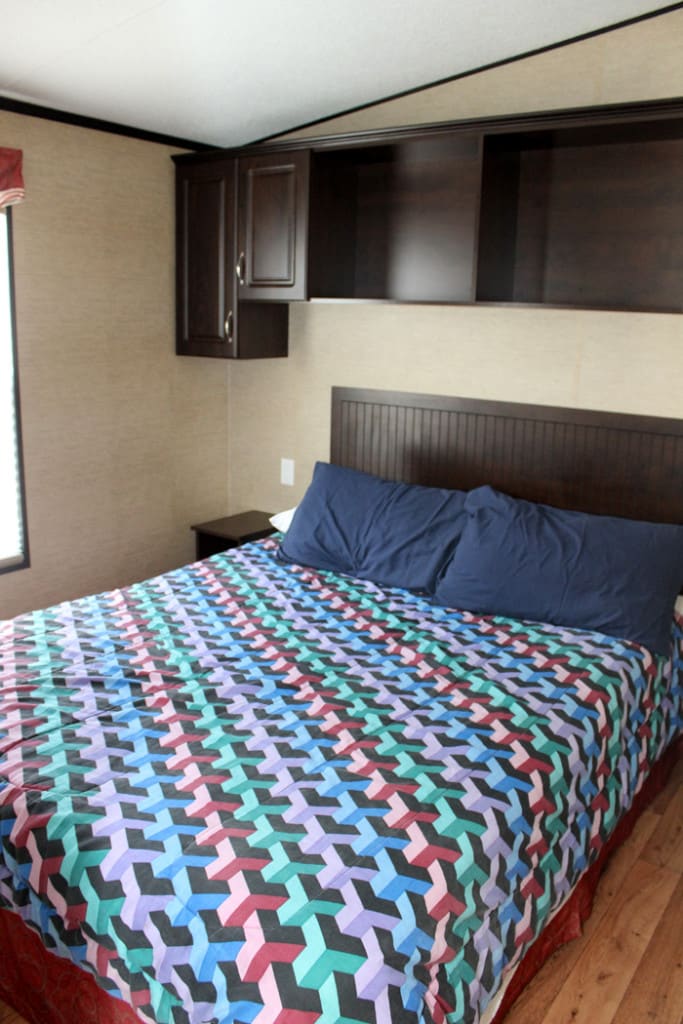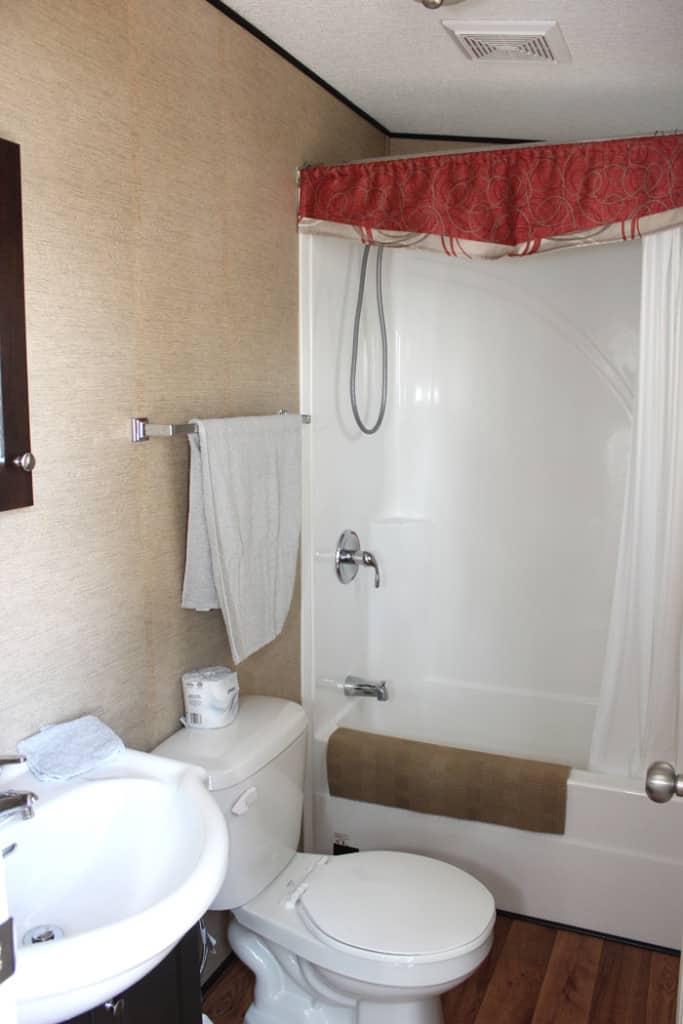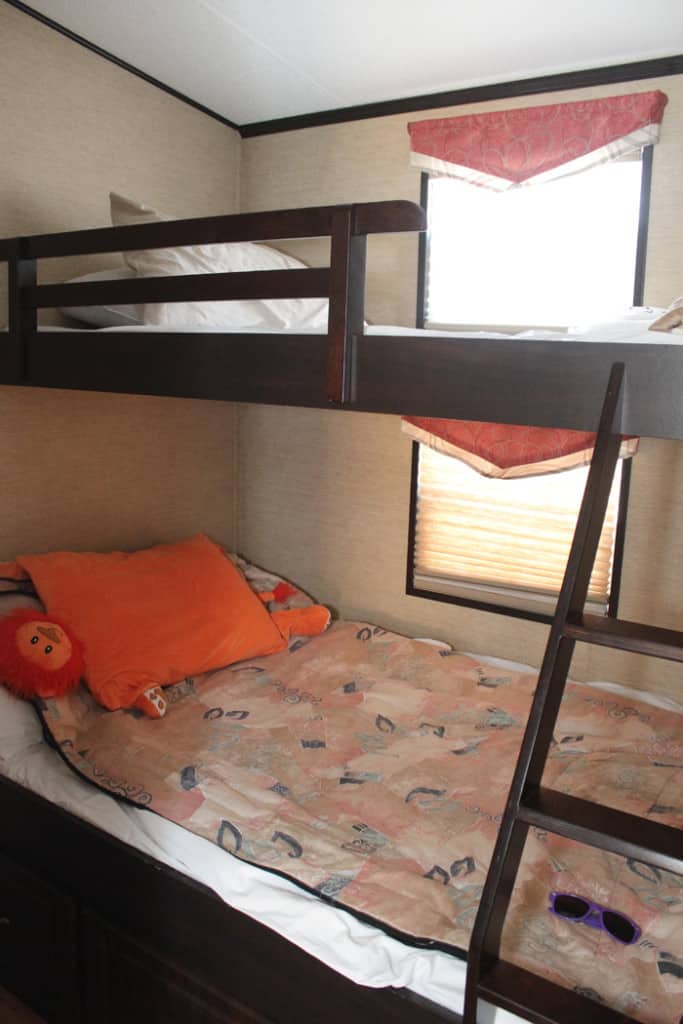 The kids loved having their own bunk areas, and made themselves right at home. The extra bunk came in handy for storing our suitcases as space is tight.
Our favourite spot was on our own private dock where we could hang out on our chairs, sip a drink and watch the kids spend hours throwing rocks. If you have small children this is probably not the unit for you, as the property drops off at a steep slope and the stairs and dock are a little rickety. We had a wonderful view of the lake from both sides of our unit, where we could see everything happening down at the Cherry Beach beachfront (including fireworks during a special summers end party!) and every night we were greeted with the most spectacular sunsets to close our day. Twice we spotted a mother swan and her baby touring around the bay!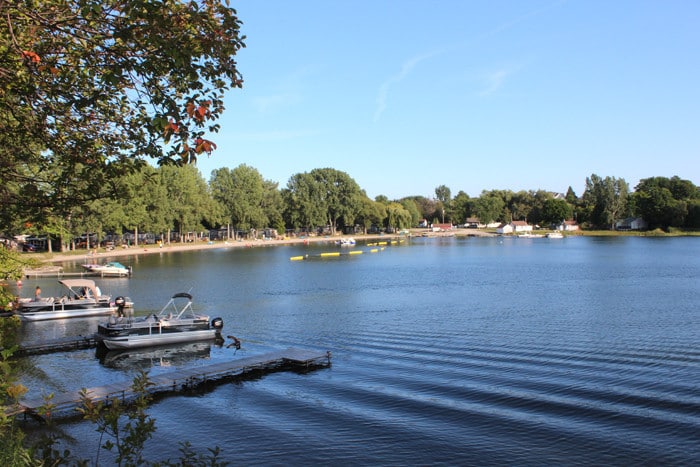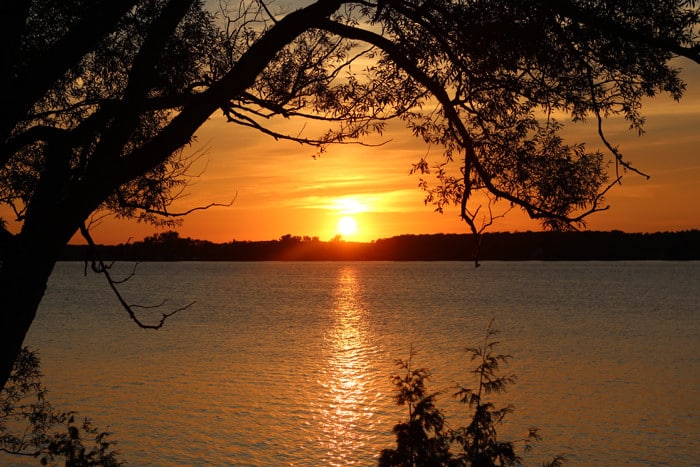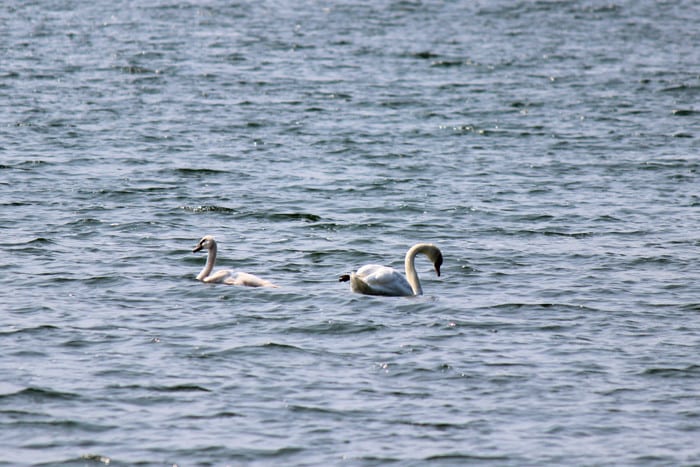 Renting at Cherry Beach
If you aren't lucky enough to own a cottage at Cherry Beach, renting is a great option. You can even extend your stay for as low as $149/night ($109 for spring and fall) and you can save big when you book ahead. You can book next years getaway now and save up to 20% off the 2015 rates!
What to Bring
Be sure to pack bed linens, beach, bath and kitchen towels, dish soap and sponge, paper towel, extra toilet paper (1 ply only to save the septic), toiletries, sun screen, beach toys, board games, fishing equipment, lawn chairs and extra garbage bags. Normally I would say bug spray as well, but the best part of this camping trip was there were no mosquitos! We were told that area doesn't get many of them which is a real treat! Your unit may have some of these things already, but it's best to pack them to be sure. The kitchen was well equiped with supplies in terms of bowls, cutting boards, wine glasses and bbq utensils, we found everything we were looking for.
Community
The best part about choosing a resort community over a regular cottage rental is the community. The staff at Cherry Beach are top notch! Everyone we met was super friendly and accommodating, I just can't say enough kind words about them! The residents were friendly as well and we spent lots of time at the pool, splash pad, play ground and sports pad. The pool area has plenty of lounge chairs and umbrellas to pick your perfect spot. Children can attend Kids Club daily from 10am-2pm and there are resort activities planned throughout the week such as hay rides, movies and game nights. 
I was really surprised to find that the water sports were also included in your stay. You can take out a kayak, canoe or SUP (stand up paddleboard) at no cost, every day and people definitely took advantage of those peaceful trips out onto the water. I enjoyed a kayak ride one morning while my husband took the boys out in a canoe, and we really wanted to try the SUP's but each time we decided to try the water was kind of rocky – next time for sure!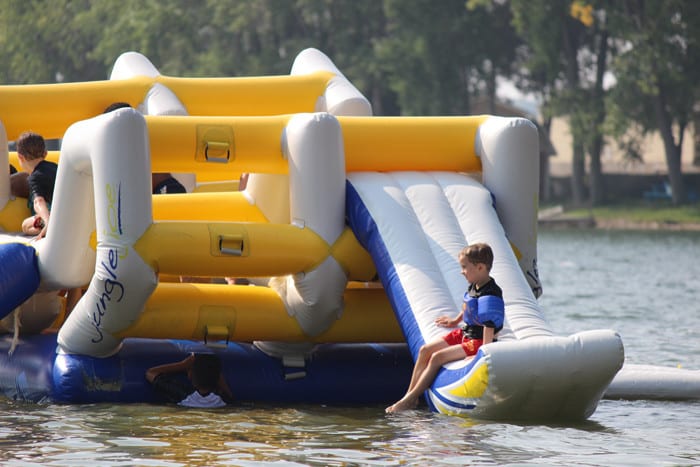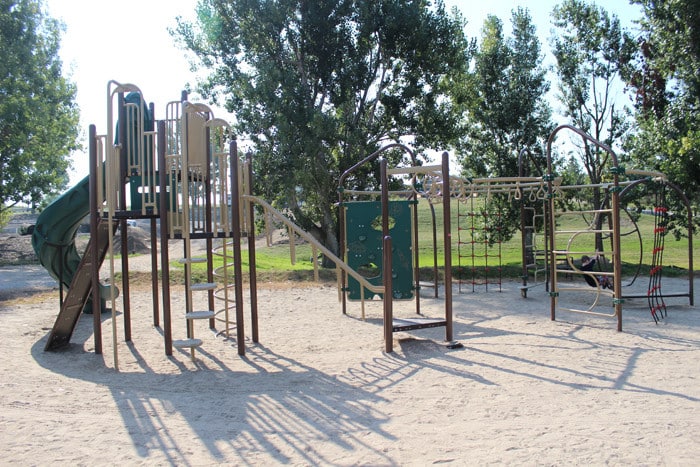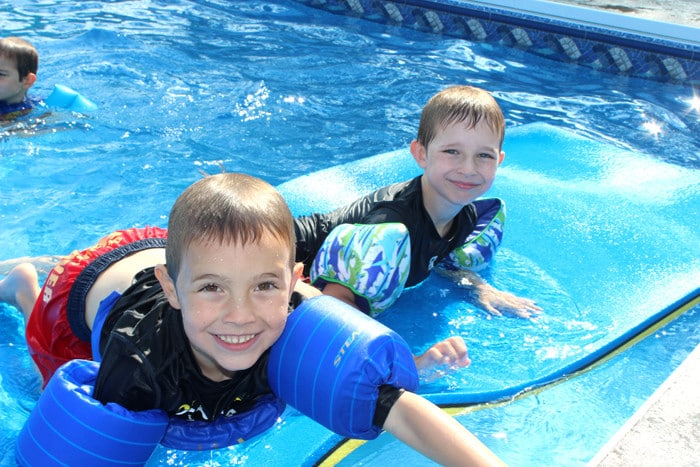 You can also rent activities and boats on the water, such as a pontoon boat tour down to Sandbanks where you can even go tubing off the back of the boat! Our family gave this a go one afternoon and loved it!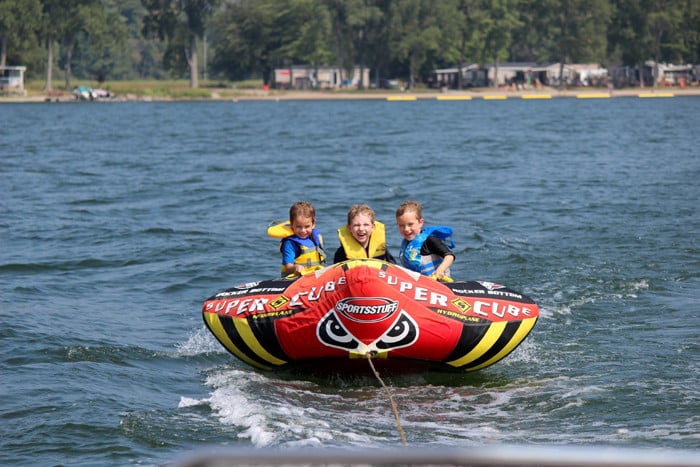 Ownership
Considering staying long term? Who wouldn't?! Our pontoon boat driver said he loves Cherry Beach so much he's been spending his summers there for about 25 years! Park model cottages start at $64,900 and include all furniture, appliances, lighting, window treatments, bedding and decor plus heat and air conditioning. There are 7 floor plans and many decor options to choose from the personalize your cottage and make it perfect for your family. 
If you've ever toyed with the idea of buying a cottage, this is definitely a great place to start, especially if you have children! You won't have to worry about the kids getting bored, there is so much to do and chances are they will make friends fast in the community. I could definitely start each day out on the water and end it at the campfire!
With Beach Rules like this, it's hard not to want to move in!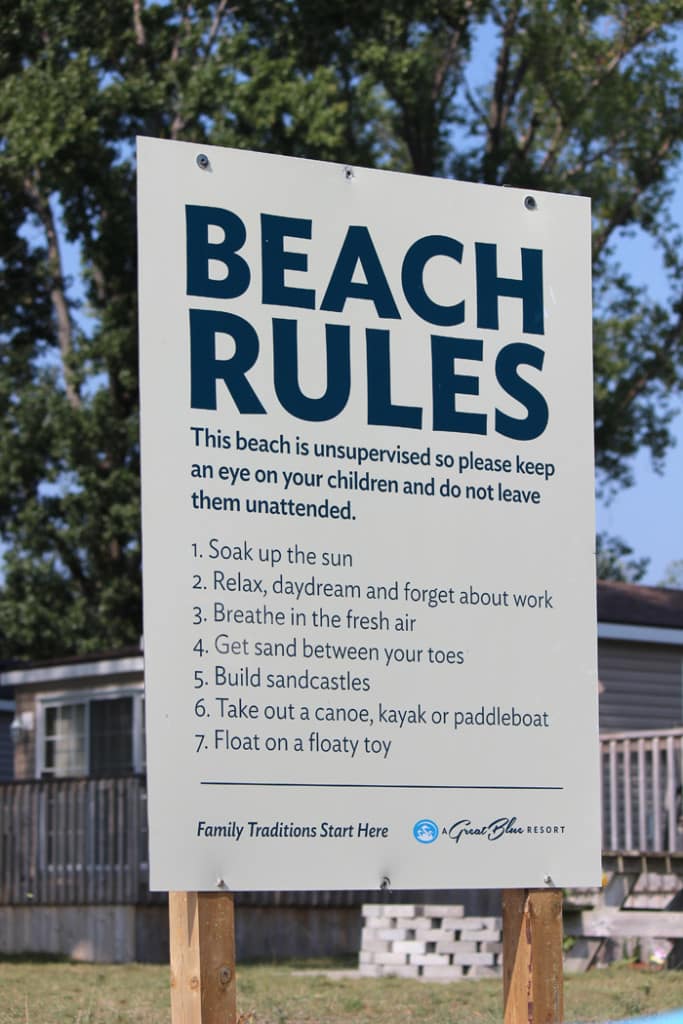 Cherry Beach Resort is just 10 minutes away from Sandbanks Provincial Park which has some of the best beaches in Ontario and some pretty fantastic sand dunes to play in as well! 
Great Blue Resorts has six other family-friendly locations to choose from such as Bellmere Winds Resort (Kawarthas – Rice Lake), Lantern Bay Resort (Muskoka – Gravenhurst), McCreary's Beach Resort (Ottawa – Perth), Shamrock Bay Resort (Muskoka), Vine Ridge Resort (Niagara Region), and Woodland Estate Resort (Kawarthas – Cambellford)
Check out our Great Blue Highlights Video from Cherry Beach Resort!
For more information visit Great Blue Resorts and follow along with them on Twitter @GreatBlueResort and Facebook
#GreatBlueTime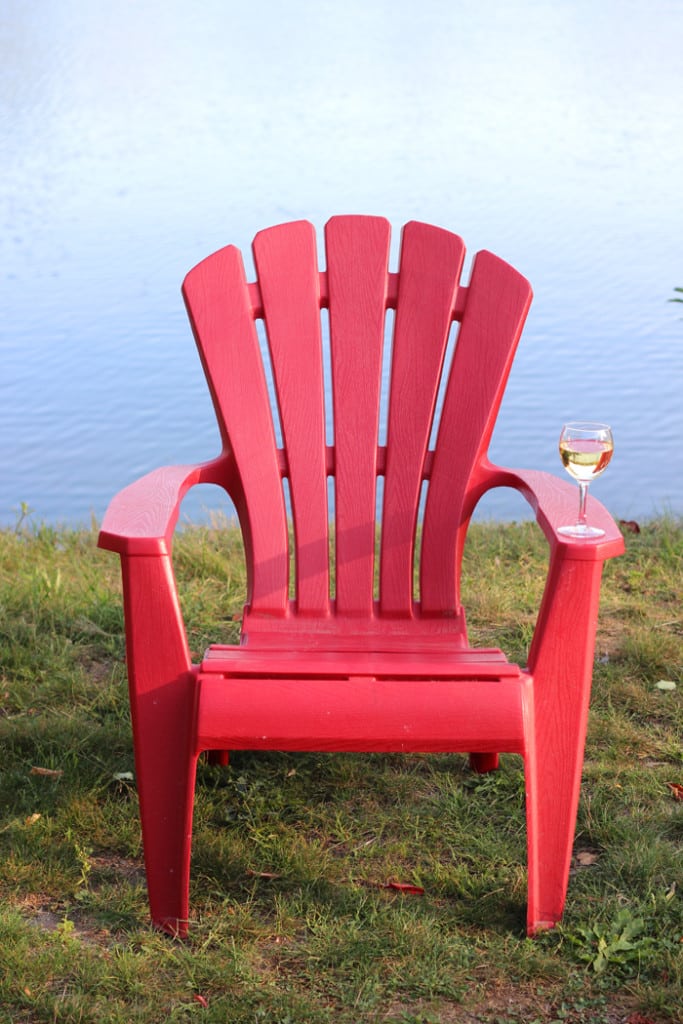 disclosure: We received a complimentary stay with Great Blue Resorts, however, all opinions expressed are honest and my own.