Happy First isn't just a clothing company, it's an idea, a mind-set, a movement!
Happy First® is a movement born of Debbie Vinyard's personal philosophy, A dreamer, a doer and a survivor, Debbie's fun-loving approach to living is the spirit behind Happy First® – a company devoted to inspiring people to pursue their passions and discover their infinite capacity for true happiness.
Debbie shares her passion for celebrating firsts, seeing the joy in each and every day and pursuing happiness through her trendy clothing line, Happy First!
The tops (and bottoms-even comfy yoga pants) come in an array of styles and colours that please the masses! It was truly difficult to choose just one item to take home and review. From hoodies, to tanks, to wraps and a tee for every day of the week, there is no shortage of pieces to pick from!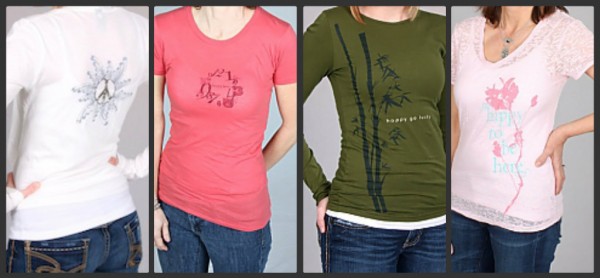 I was sent the Happy Hour tee shown second in the photo above. This is a longer length, fitted tee which is exactly the style I look for when shopping. Made of 100% pima cotton, the shirt is extremely comfy and soft. It comes in three colours – Milky Red (looks more pink), Grey, and Navy. I love the Milky Red, it is a really unusual colour of pink that you don't see very often. I think my only complaint would be that the shirt was a little thinner than I would like, I am pretty picky when it comes to shirts and anything showing through. But I love everything else, especially the message- Be Happy Every Hour!
Happy Chick
You can also get Happy Chick tops to really show of your passions! Are you a Runner Chick? Beach Chick? or Golf Chick?? They have you covered!
Discount!
Right now Happy First is offering Mom vs. the Boys readers a 25% discount site wide! Just enter momvsboys at check out, good through June 30th!
Win!
One lucky reader also has the chance to win a tee of their choice below!
CAN/US