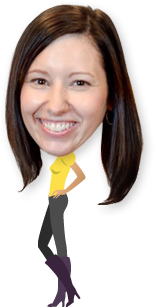 If you ever thought I was getting a big head, now you know it's true! Say hello to the very cool bobble head version of me!
Why the big head? I'm super excited to tell you that I am a ShesConnected Brand Ambassador!! (check out all the other bobble headed brand ambassadors here, we love comparing outfits!)
And heads are not all that's going to be BIG this year at the ShesConnected 2012 Toronto Conference, this year they have definitely kicked things up a notch and as I like to say, went with the "Go Big or Go Home' motto!
We listened to your feedback and have combined the best of all the blogging conferences to bring you the ultimate program for learning, networking, and building your blogging brand.
What you'll find at ShesConnected 2012
2 days of amazing sessions spanning all kinds of topics, plus endless networking opportunities

Inspiring and informative keynotes and ten indepth breakout sessions (Yes! 10!!)

Hands-on workshops that will take your blogging and social media skills to the next level

Networking with Brands and Bloggers

Fun, Fun and more Fun!!! (parties are planned for Friday and Saturday evening)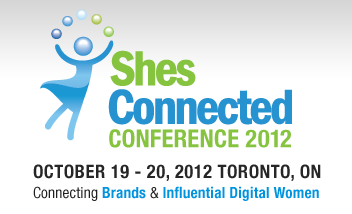 I attended last year's ShesConnected Conference and I would say it was a turning point for my own blog. It was the first social media conference I had attended and the only conference that puts the brands on the stand to speak and engage with us. I was really interested and impressed with what I had to hear. The biggest piece of advice I brought away from the conference was from the Brand panel where the representitive from PepsiCo said "You are even stronger together". I knew she was right and since the conference I have spent much time networking with other Canadian bloggers. I also changed my whole attitude when it came to monetization and decided to jump in feet first and bring my blog to a whole new and interesting level.
Early Bird pricing is in effect now, go HERE to register. The schedule is really flexible this year allowing you to purchase one or two day passes or even just access to the Expo Hall (not to be missed! there will be some amazing brands in attendance!) and parties!
I attended ShesConnected Conference #SCCTO in 2011 and I'm pleased to share my thoughts on last years conference.  As part of the Blogger Outreach program with ShesConnected, I received compensation.  The opinions on this blog are my own.