My big guy loves LEGO, like Loooooves it! A while back I rediscovered Lego Candy at the Bulk Barn and when a friend said they would work well on Cupcakes, I knew she was right! We made these fun and easy LEGO Cupcakes for Big Brother's class!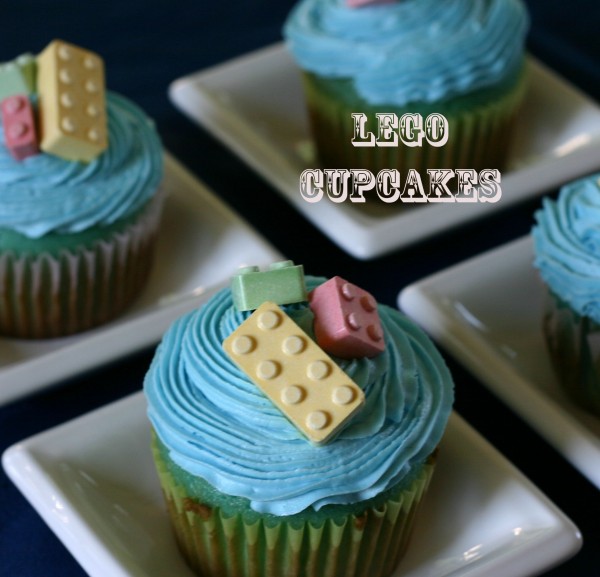 LEGO Cupcakes
I used a regular white cake mix  but added a bit of blue food colouring for fun. Bake as directed on the box.
The icing is a basic buttercream icing tinted blue with Wilton food colouring and piped on in a classic swirl.
BUTTERCREAM FROSTING
1/2 c. solid vegetable shortening
1/2 c. butter
1 tsp. vanilla
4 c. sifted confectioners' sugar (approx. 1 lb.)
2 tbsp. milk
Cream butter and shortening with electric mixer. Add vanilla. Gradually add sugar, 1 cup at a time, beating well on medium speed. Scrape sides and bottom of bowl often. When all sugar has been mixed in, the icing will appear dry. Add milk and beat at high speed until light and fluffy. Keep icing covered with a damp cloth until ready to use. For best results keep in refrigerator when not in use. Yield: 3 cups.
Big Brother did the honours of decorating each cupcake with 3 candy Lego pieces, he was pretty excited about this and did a great job!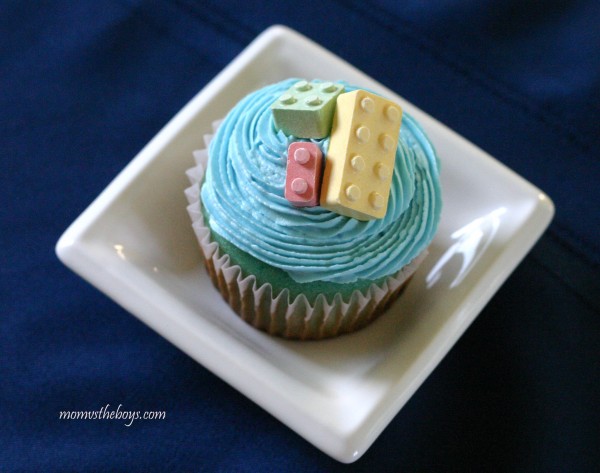 LEGO Cupcakes were a big hit with both my birthday boy and his class!