Are you heading to Sesame Place this summer? Well, the Residence Inn by Marriott is THE place to stay when making plans to meet your furry monster friends up close. Located just minutes away from where Sesame Street comes to life, the Residence Inn by Marriott offers families a comfortable and spacious suite to kick back and stay awhile.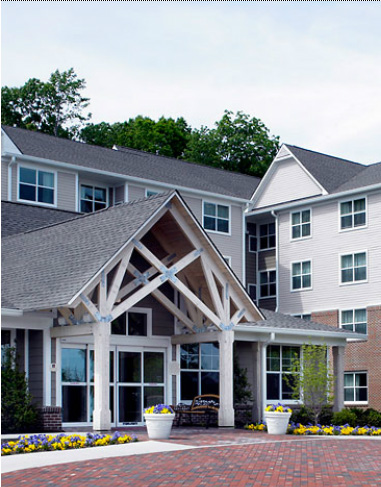 The Residence Inn is a perfect home away from home for short or extended stays. My family of 5 recently stayed 5 nights at this location and could have moved in permanently! lol There was plenty of room for my crew to move around without tripping over each other and ample drawers and closets to tuck away our clothes and belongings. The living room held a couch and comfy chair to watch the flat screen  tv or even the fireplace if the weather warranted it and the bedroom had a large and cozy King sized bed. So cozy, in fact, the stay has inspired us to purchase new bedroom furniture at home in a King!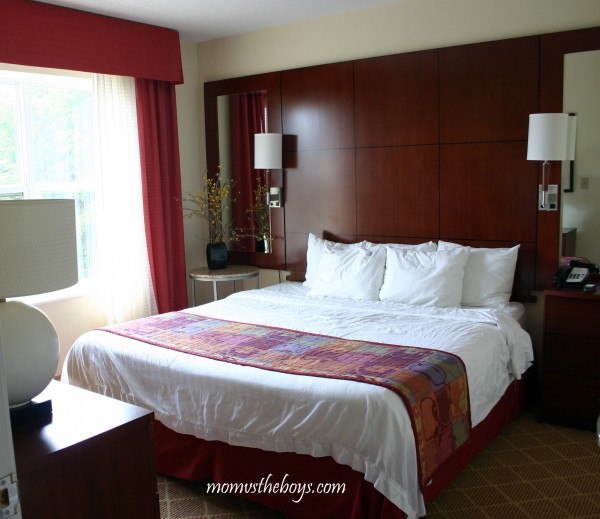 The Suites come equip with a  kitchen including  a range, full sized refrigerator and even a dishwasher. This was essential for us in keeping snacks and beverages handy and cold and allowed us to pack picnic lunches to bring to Sesame Place with us, cutting costs on our food bill immensely. Don't want to cook on your vacation? understandable! The Residence Inn in Langhorne offers a mouth watering breakfast every morning and features everything from basics like yogurt, oatmeal and bagels to the hot and tasty like homemade waffles (with chocolate chips!!), egg sandwiches and home fries. My boys were set on devouring a double chocolate chip muffin almost every morning. They were in heaven!

Above and beyond!
The staff at the Residence Inn really go above and beyond what you will find at other hotels. In addition to the wonderful morning breakfasts, they also host food in the evening two nights a week! I can't tell you how amazing it was to arrive back at our hotel after a long day at Sesame Place feeling worn out and hungry to be welcomed in to the courtyard patio for a bbq dinner and a glass of wine (yes, I said a glass of wine, I know, I can't believe it either) or for some comforting beef stew on a rainy day. There are just no words to describe how much that helps a family when traveling.
From the front desk, to the housekeepers, we were greeted with a friendly smile at every corner or a nice chat on the elevators. While checking in, the staff knowing we were heading to Sesame Place even gave my boys their own rubber duckies like our friend Ernie has! Since we were staying so many days we used our little yellow ducks during bath time at the hotel!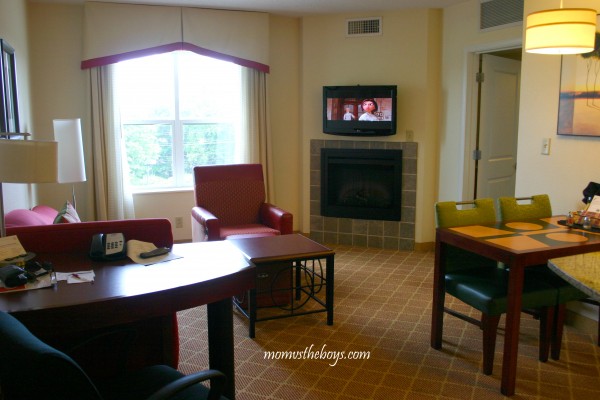 Take advantage of our wonderful amenities, including complimentary grocery shopping service and 24-hour pantry and laundry facilities. We're considered one of the finest hotels near Langhorne, PA, for a reason. We help you stay productive with complimentary high-speed, wireless Internet in all guest suites and throughout the hotel. We have a comfortable library featuring computer, printer and fax services.
After a long day touring the city of Philadelphia, our family enjoyed retreating to the hotel's heated pool and hot tub, it is always a highlight of a hotel stay for our boys to be able to swim and Mom and Dad relaxed those tired muscles from sightseeing. The hotel also has a fitness room and outdoor sports court that we had hoped to use for a little basketball with the boys but even with staying 5 days we just didn't fit it into our busy schedule!
The Residence Inn by Marriott in Langhorne, is the Perfect hotel for visiting Sesame Place or exploring the  Philadelphia area. For more information visit their website or stop by their new page on facebook and say hi!
disclosure: I was offered a discounted rate during our stay at the Residence Inn by Marriott in exchance for an honest review and promotion. All opions and experiences are my own.