Sesame Place has been on my bucket list for the boys since my oldest was young, but it was hard to decide on the perfect year to bring all three of them on a road trip to Pennsylvania. I wanted them to be old enough to enjoy everything but young enough that they wouldn't think the park was for babies since it is, after all, Sesame Street come to life. We decided this would be the year, as my sons just turned 3, 4 and 6 days before our travels and I was thrilled to team up with Sesame Place as their Canadian Ambassador this year! We were set! And as it turns out, I didn't need to worry about them ever being too old for Sesame Place, we saw plenty of big kids there and even the parents were having a blast!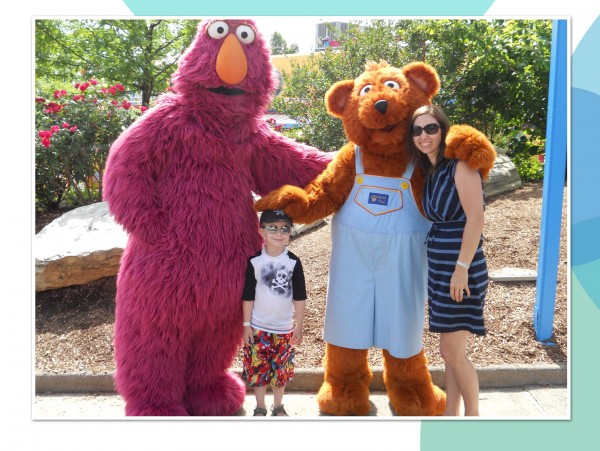 Sesame Place is located in Langhorne Pennsylvania, from Ontario you are looking at around 9 hours depending on where you live. This is totally doable by car and way shorter than a drive to Florida which seems to be the popular choice. I was surprised by how much there was to do in this area, it's super close to Philadelphia and a day in Philly is a must! We also spent 2 and half days right at Sesame Place and I would recommend you plan two full days at the park if you are coming down, they have a great deal on an Elmo's Two Day Pass that is perfect, pay for one day and come back for another for free.

Sesame Place has a nice split of both dry rides and wet rides. I recommend wearing your bathing suit underneath your clothes and do the dry rides first. Our boys could do all of the rides  but most of the rides the little boys had to have an adult ride with them. This was fine because my husband and I rode with them and my 6 year old was fine riding by himself, the only problem arose when all three boys needed an adult for Elmo's Flying Fish ride and we didn't have enough adults to go around. The staff were good about having my oldest wait with them at the gate so we could ride with the little boys and then I went on again with my oldest.
The little boys loved the activities that got them up and moving like Cookie Mountain or Ernie's Bouncing Bed but for my oldest son, his favourite hands down was the Vapor Trail Roller Coaster! I took him on it three times and he loved it! I don't think I have ever seen him so excited as he shouted 'yeah baby yeah!' as we flew through the air!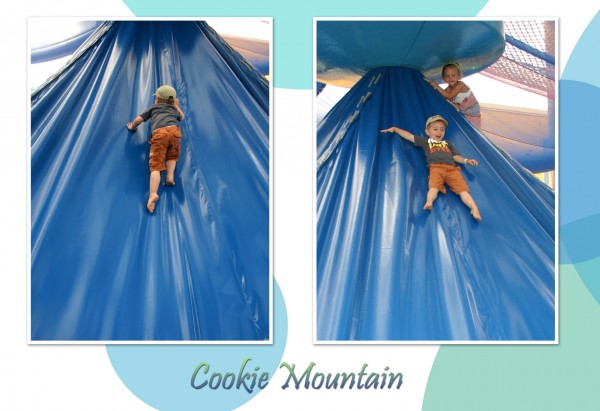 The wet rides were super fun for the whole family, there were a few that we really didn't enjoy but most of them we loved. Our family favourite was the Sky Splash where our whole family of 5 could fit into one large raft and go down the water slide that was more than 6 stories tall!  It was super exciting! We also really loved the Sesame Streak water slide which allowed us to ride doubles in tubes down dual water slides. On both of those rides, the kids were allowed to use life jackets provided by the park but there were a couple of water slides that did not allow them. Our children do not know how to swim so I was apprehensive about letting my oldest on those ones and it was out of the question for the little ones. We tried it twice and I just went first and let the life guard at the bottom know he was a non swimmer and she moved up nice and close as he came down. We also spent a lot of time hanging out in the Teeny Tiny Tidal Wave pool.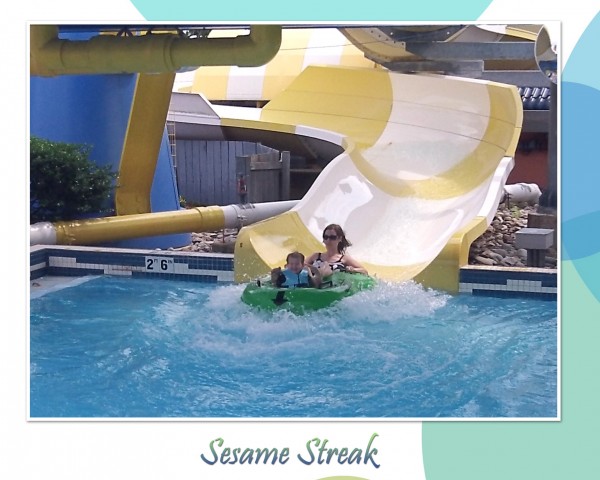 Got the Munchies?
I highly recommend bringing a small cooler with a packed lunch, snacks and plenty of drinks. I was really impressed that they allow this and we took full advantage. Over two and a half days we only purchased park meals twice. I do recommend buying your child at least one meal at Sesame Place because the kids meals come with souvenir plates and cups that you can take home, the plates are very cute Elmo faces and my boys love eating off of them at home and remember their trip. The meals are a little pricey and they didn't all taste good, but I did enjoy a pulled pork sandwich at Elmo's Eatery. The restaurants were kind of dirty and didn't seem to have food ready and one of our orders was supposed to come with juice but it was straight water. I had to take it back. Line ups can be really long during regular meal hours.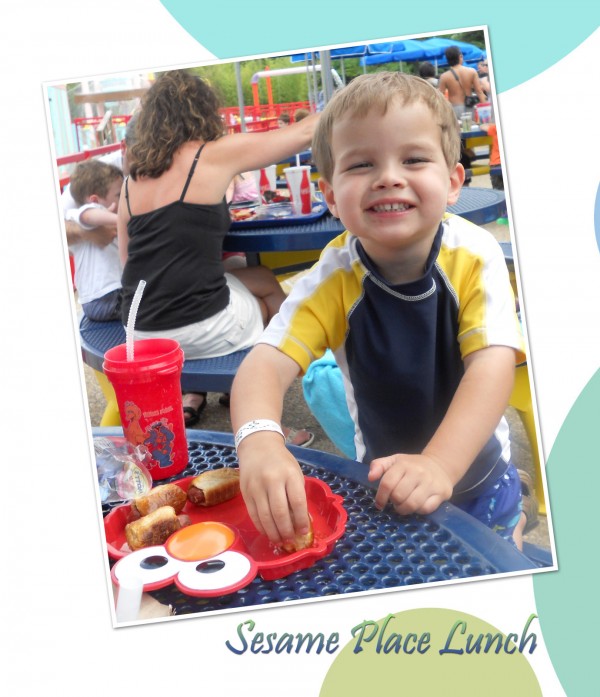 Discovery Dollars
This is probably the best way to go in terms of spending. With large crowds and wet attractions we didn't want to bring our wallets into the park but we knew we would need money with us. One option is to rent a locker for valuable or personal belongings but the best way to roll is with the Discovery Dollars.
With Discovery Dollars you can make purchases all day without carrying your wallet. Simply use your credit card to set up a spending account. In return, you'll be issued waterproof wristbands for the whole family. Use it to charge purchases throughout the park. Your account will automatically settle at the end of each day. It's a smart and convenient way to swim, slide, splash, eat and ride without worrying about misplacing your credit cards.

 
So that's the low down on Sesame Place rides and regular dining – for a price you can dine with the characters as well. Check out this post on Shows, Characters, the Parade and more!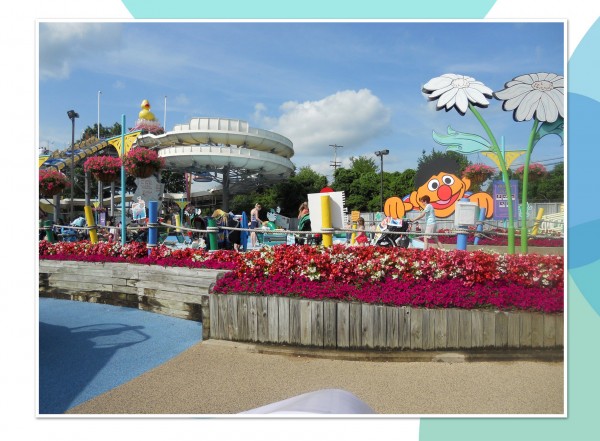 As a Sesame Place Ambassador I was provided with tickets to the park for reviewing purposes.