If you are like me, and I bet you are, you have a whole library full of your favourite Disney movies on VHS. They come in big cases that take up a lot of room and honestly, who needs a VHS player anymore right? Disney is bringing back old favourites in modern technology just for you!
On October 9th, for the first time, Disney's The Great Mouse Detective is being released on DVD + Blu-ray!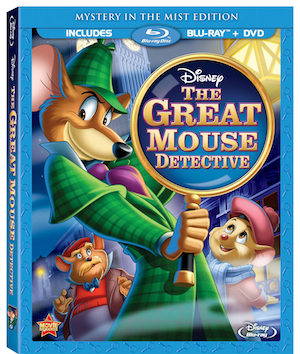 On October 9th, 2012, fans can experience Disney's greatest little mystery, in High Definition picture and sound, and go on a great big adventure as "The Great Mouse Detective" Mystery in the Mist Edition arrives on 2-Disc Blu-ray Combo Pack and HD Digital. When the diabolical Professor Ratigan kidnaps London's master toymaker, the brilliant Basil of Baker Street and his trusted sidekick Dawson try to elude the ultimate trap and foil the perfect crime. This family classic on Disney Blu-ray proves big heroes come in small packages.
Bonus Features: 
"So You Think You Can Sleuth" – Viewers get an introduction to private investigating to kick off the "Great Mouse Detective" film.
"The World's Greatest Criminal Mind" Sing-A-Long Song – young fans can sing along with Vincent Price to the song's villainous vocals.
"The Making of the Great Mouse Detective" – In this bonus feature, fans get a behind the scenes look at this classic film.
Mystery in the Mist Edition 2-Disc Blu-ray Combo Pack (1 Blu-ray Disc +1 DVD) =$29.99 U.S. and $35.99 Canada
What's your favourite Disney Movie??