Last week my family was invited in for a sneak peek of the coveted LEGOLAND Discovery Centre, the first and only venue of it's kind in Canada.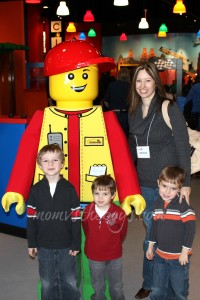 There's been a lot of buzz from Torontonians about the arrival of LEGOLAND, and as parents of three Lego obsessed fans, we were pretty excited to give them the chance to be one of the first kids to walk through the Lego-man shaped doors of LEGOLAND!
Our jaws dropped when we got our first look at the LEGO MINILAND, complete with famous Toronto (and Ontario) landmarks. I've been following the LEGOLAND Discovery Centre Facebook page for awhile now, so I knew we were about to see some fun lego landmarks but I had no idea they would go to this extent! It was truly amazing, with working lights and vehicles that actually drove around the city streets. I think the adults were just as much, or even more, interested in this area since we could pick out buildings that we were familiar with! Rogers Centre, Air Canada Centre, the ROM, Maid of the Mist and of course the CN Tower to name a few. See what other buildings you can spot below!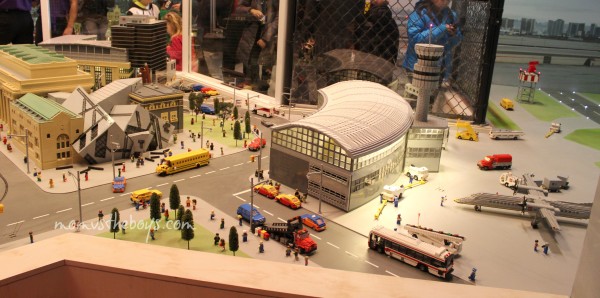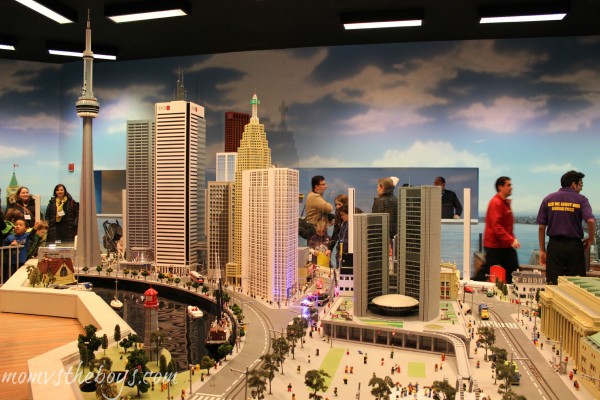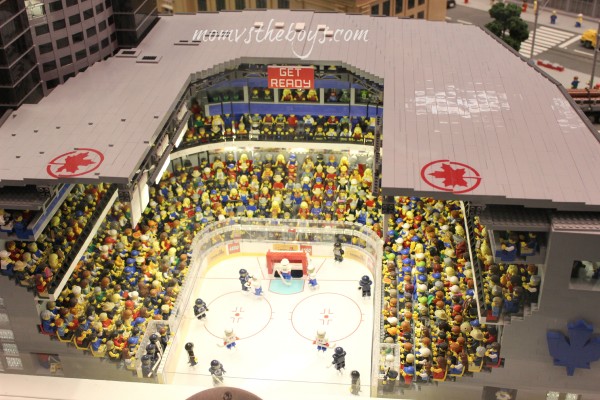 Beyond the next doors we got our first look at the heart of Legoland! The kids were excited to get their hands on those tiny bricks and spent a good portion of our time there building lego cars to race down ramps. I would say this was the most popular spot and it became crowded quite quickly. We moved on, but made sure we came back later for another play when the school groups had left. The staff were very enthusiastic to help the boys create the fastest race cars!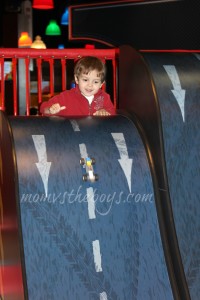 The boys also built towers and tested their strength on Earthquake Tables. Again, the staff were not only excited to work with the children, but were also in tune with their different temperaments and made sure that my middle guy, who is very shy, felt included! Another area, my boys sat down to play was the play house where they could make birthday cakes and put them right into ovens!
There were areas that were not open on the day we were visiting, including the Duplo Village and the two rides. But one of the highlights of our visit was the LEGO Studios 4D Cinema! Wearing our special 3D glasses we felt like we could reach out and touch the Lego characters and the 4th dimension is the elements and you'll experience them all, including wind, rain and even snow!
With three boys between the ages of 3 and 6, this is an ideal play spot for them. It's best to plan your visit before you go, tickets prices are quite steep, but you can get a good deal by ordering online. If you live in the Vaughn area, LEGOLAND would make a perfect birthday party location! They have party rooms that can fit up to 50 people! 
And because I've had  a few adults ask me about visiting, it's important to note that all adult visitors need to be accompanied by a child. If you want to go alone, they do host adult only evenings. Follow along on Facebook and Twitter for dates on adult night and other special events.
In case you haven't seen enough- check out my photo album on Facebook for more pics!