Let it be said, that I love a good challenge! Recently Sun-Maid challenged moms to create a delicious recipe using their Sun-Maid Raisin Bread and not one to turn down a challenge, especially when it comes to food, I accepted!
My family loves French Toast, we usually have it the regular way, but just subbing in raisin bread is not much of  challenge, we've had that in the past. Instead, I decided to come up with a fabulous morning french toast bake, incorporating all of our favourite morning bites, fruit, cream cheese and maple syrup!
I think it's a winner!

Okay to start, grease a 9×13 dish well. Now it's time to get your little helpers in on the action! Get your pint sized chefs in the kitchen and let them tear up 12 slices of Sun-Maid Raisin Cinnamon Swirl bread. Put half of the bread pieces on the bottom of the dish and set the rest to the side. Evenly distribute cubes of cream cheese over the bread. Next sprinkle 2 cups of sliced strawberries on top of cream cheese – little hands love to help with all of this! Lastly, put the bread pieces you set aside on top, as the final layer.
Now it's time for the liquid! I use a large bowl and a hand mixer for this part, but you could just as easily use a blender. Pour the half-and-half into a bowl or blender, whatever you chose to use. Pulse for a few seconds. Now it's time to get crackin'! Blend eggs into half-and-half until mixed. Add maple syrup and cinnamon and blend again until smooth. Pour the whole thing over bread mixture, cover and refrigerate overnight.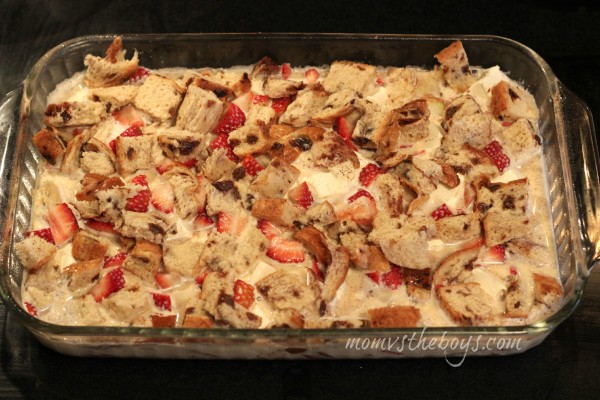 In the morning the first one out of bed can pop this dish out of the fridge. It needs to sit for about 45 min on the counter.
Preheat oven to 350 F and bake the dish, covered with aluminum foil for 3o min. Remove the foil and bake 30 min more or until the french toast is puffed up and golden brown.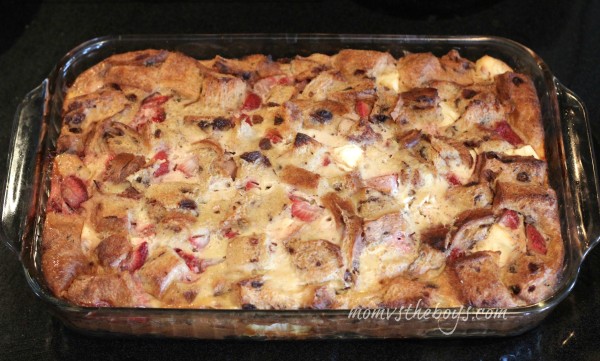 I'll warn you, warm strawberries smell amazing!!! Let sit for about 10 min and then dig in!  Serve with maple syrup or if you are feeling really fancy, a sprinkle of icing sugar!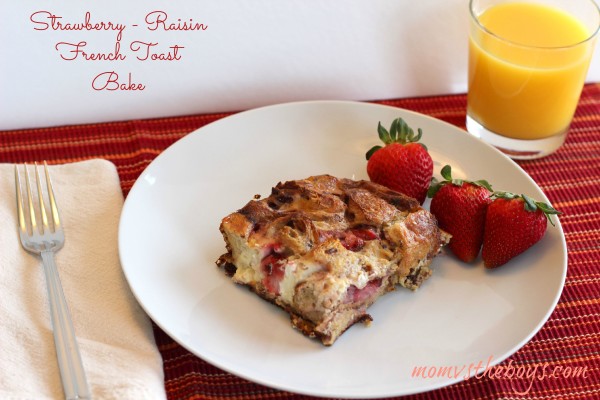 Strawberry-Raisin French Toast Bake
Recipe type:
Breakfast Casserole
Prep time:
Cook time:
Total time:
Ingredients
12 slices Sun-Maid Cinnamon Swirl Bread, cut into 1 inch cubes, divided
1 package cream cheese, cut into 1 inch cubes
2 cups sliced strawberries
2 cups half-and-half
12 large eggs
⅓ cup maple syrup
½ tbs cinnamon
Instructions
Generously grease a 9x13 baking dish
Arrange half of the bread cubes on the bottom of the dish. Evenly distribute cream cheese cubes over the bread layer; add strawberry slices, and the remaining bread cubes as the final layer.
Pour half-and-half into blender; pulse for a few seconds. Blend in eggs until fully mixed. Add maple syrup and cinnamon until smooth. Pour liquid mixture evenly over bread mixture.Cover with aluminum foil and refrigerate over night or 8 hours.
Remove baking dish from fridge 45 minutes before baking.
Preheat oven to 350 F (175 C)
Bake covered for 30 min. Remove foil and bake for another 30 min or until french toast is puffed up and golden brown.
Serve with maple syrup and/or icing sugar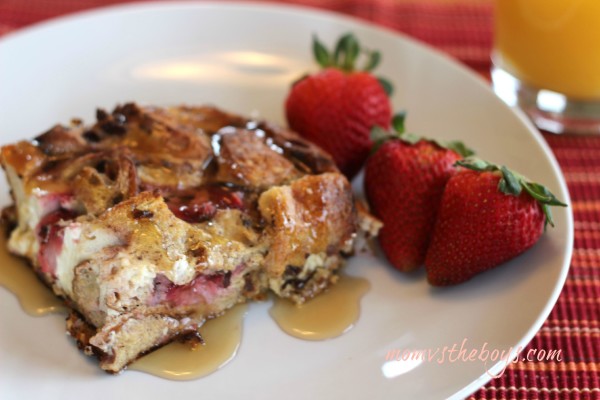 Having your kids with you in the kitchen is a great way to get them involved in the meal!
This makes a great Mother's Day or Father's Day brunch or even a festive Christmas morning breakfast! If you give it a try, let me know what you think!