A couple of years ago I made a birthday cake for a friend's 13th birthday. It was girly and fun and I knew I wanted to make a boy version for one of my kiddos. My oldest turned 7 this year and asked for a real party with school friends for the first time. We were really excited for him and I decided this was the perfect time to remake the Kit Kat Cake! Besides, who doesn't love their kids coming home in a sugar coma? 😉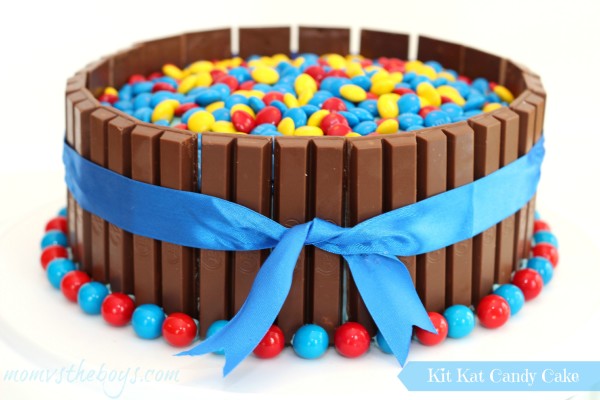 Kit Kat Candy Cake
Choose colours that work for your theme
Ingredients
1 boxed cake mix, any flavour
Butter cream icing
10 Kit Kat bars
m&m's or Smarties
Gum balls
Ribbon
Instructions
Make cake as directed in two 9" rounds, trim the top of one to make a flat surface.
Spread icing on the flat top and layer the other round on top. Icing generously all over.
Push your kit kat bars into the sides. Hold them in place with a fun ribbon.
Sprinkle the m&m's or Smarties over the top of the cake.
Using a dab of butter cream icing, 'glue' the gum balls in place, between each kit kat stick.
I used a rainbow chip cake mix for this cake and the Kit Kat's were actually the new Caramel and Mint bars. These came in multi pack sleeves of two bars each, as opposed the regular multi packs that have the full sized bars. Either way is fine, you'll need about 40 individual sticks for a 9″ cake. I went with a fun blue and red theme, and added in the yellow for a pop of colour! I like Wilton's recipe for butter cream icing, and just tinted it a light blue colour. To serve, cut pie shaped slices, two kit kats wide make a good serving size.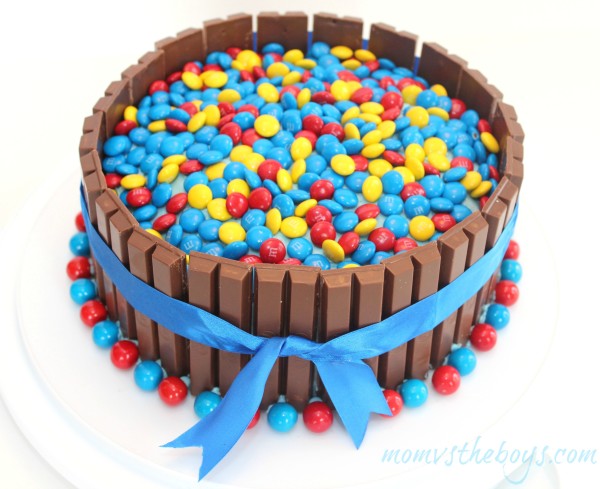 At the risk of a gender stereotyping backlash, you can view my 'girl' version of the Kit Kat birthday cake here!