My family recently took a two week road trip to sunny Florida! We were really anxious and excited to get there, so we drove 25 hours straight with the beach calling our names the whole time. On the return home though, we decided to take it a little slower and get to know some of those states we had driven through on the way down and we made an overnight stop in Charlotte, North Carolina. 
So what do you do with a family full of boys in North Carolina?? You take them to the NASCAR Hall of Fame of course!
Located in Uptown Charlotte, N.C., the 150,000-square-foot NASCAR Hall of Fame is an interactive, entertainment attraction honoring the history and heritage of NASCAR. The high-tech venue, designed to educate and entertain race fans and non-fans alike, opened May 11, 2010 and includes artifacts, interactive exhibits, and a 278-person state-of-the-art theater.   The goal of the facility is to honor NASCAR icons and create an enduring tribute to the drivers, crew members, team owners and others that have impacted the sport in the past, present and future.
But for the boys, it was all about checking out super fast race cars!!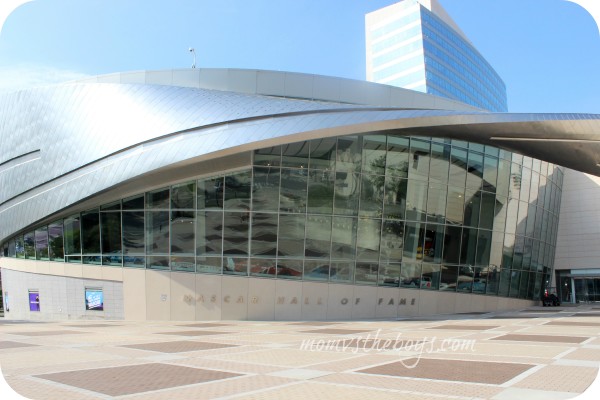 Gentlemen, Start Your Engines!
The NASCAR Hall of Fame is an impressive building on the inside and out, truly state of the art! We started out our visit by registering our Hard Cards, one for each member of the family. Hard Cards are small plastic cards, similar to a credit cards and act as your all-access pass to all the activities the NASCAR HOF has to offer and tracks your achievements on various challenges throughout your visit. When you register your card, you are able to pick your favourite NASCAR legend as your host. I picked Dale Earnhardt Jr, because not only is he easy on the eyes, he's my friend Shari's favourite racer! 
Pop Quiz: What does NASCAR stand for??
We soon found out in the High Octane Theater, where we took our seats in the most comfortable movie theatre we had ever seen! This 278 seat theater features a 64 foot wide curved projection screen with surround sound and comfy seats that even recline. My husband was in pure heaven!! The film we saw traced NASCAR's historic roots from the sandy beaches of Daytona to present day. We learned that it was Bootleggers that started the beginnings of what would become the National Association for Stock Car Auto Racing, as they needed the fastest car possible to outrun the law! And what does a man with a fast car do? He brags of course!  Bragging only lasts so long before someone challenges  you to a race and the world of car racing began and became quickly popular! Before things got too out of control, "Big Bill" Bill France Sr. put forth the first meeting in Daytona, and NASCAR was officially born in 1948. (Did you catch the pop quiz answser???)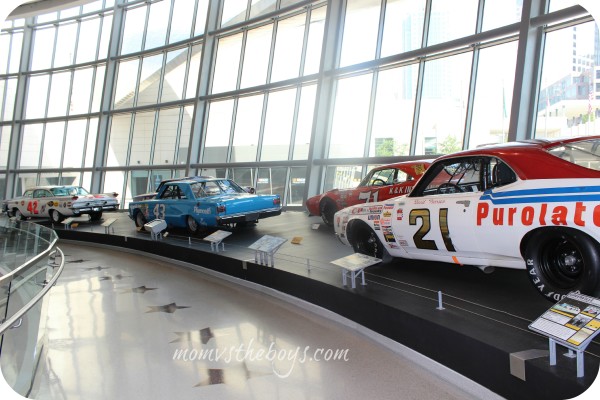 A banked ramp simulating various racetracks, Glory Road showcases 18 historic cars and highlights 40 current and historic tracks.
Let's Get Ready To Race!
We spent some time in the Hall of Honor and The Heritage Speedway but we had the most fun in Race Week, where we got a behind the scenes look at how a NASCAR team and the NASCAR industry prepare for race day each week. There were many interactive stations set up so you can truly get a feel for the NASCAR world. We did practice rounds in the Qualifier, pretended to announce the big race, felt how heavy those gas cans are, and took turns changing tires. Hubs did an actual pit stop performance and managed to get a pretty decent time! Timing is everything! The kids had fun racing each other in the Kids Corner and we got to walk through a real car trailer, I had no idea that the car goes in on top and the people move around underneath with a kitchen area and even lounge chairs in there!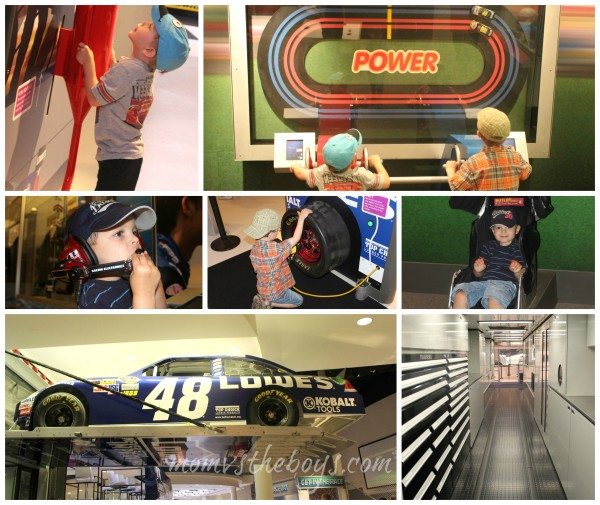 Want to know how it really feels to race on a NASCAR track? The iRacing simulator will give you that exact experience without moving the car! The iRacing Simulator is an additional charge, but well worth the $5 charge if you are a true NASCAR fan or just want to feel what it is like to race a car! It's the real deal though with all kind of rules you'll see in a race, such as staying behind the pace car, pitting etc I have to admit I was not very good at this! The cars are very sensitive and I had no idea what I was doing lol My son was on my lap and very disappointed in our performance! Daddy fared much better though on his races!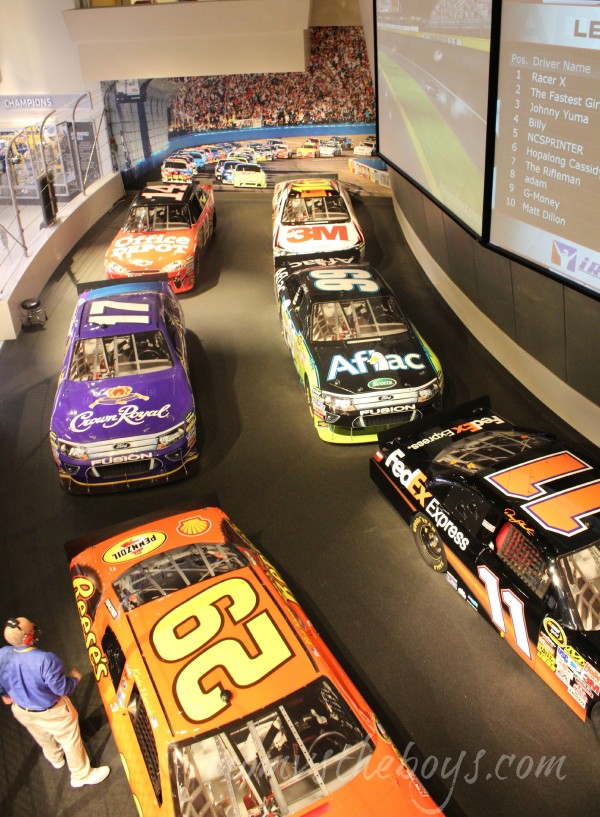 Lights. Camera. NASCAR
New to the NASCAR Hall of Fame is the Lights. Camera. NASCAR exhibit showcased in the Great Hall. The exhibit chronicles how the industry has influenced films, how NASCAR has promoted movies through sponsorship and how film has portrayed the sport's legends over the years. There are over 40 artifacts on display such as driver uniforms, hoods, scripts, stills and original cars! 
There are 6 famous cars on display including:
COLE TRICKLE'S CITY CHEVROLET CAR FROM "DAYS OF THUNDER" (1990)
RICKY BOBBY'S WONDER BREAD CAR FROM "TALLADEGA NIGHTS: THE BALLAD OF RICKY BOBBY" (2006)
HERBIE VOLKSWAGEN BEETLE FROM "HERBIE FULLY LOADED" (2005)
DOC HUDSON CAR FROM DISNEY'S "CARS" (2006)
1962 CHEVROLET BUILT BY WENDELL SCOTT FOR "GREASED LIGHTNING" (1977)
JEFF GORDON'S JURASSIC PARK CAR "T-REX" PROMOTING "JURASSIC PARK: THE RIDE" (1997)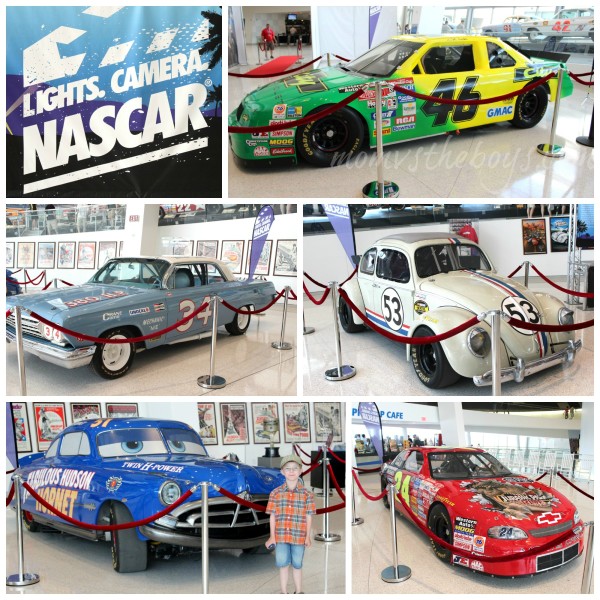 We had a fun trip down memory lane recalling some of really great movies! Of course, for the boys it was all about Doc The "Fabulous Hudson Hornet"!!
If you live in the area or plan on visiting North Carolina, this is a must-see location! And if you are driving through on a road trip of your own, make North Carolina and the NASCAR Hall of Fame your pit stop along the way!  It's a great way to spend a morning or afternoon and is interesting and entertaining for both NASCAR fans and non fans alike! 
Visit the NASCAR Hall of Fame Website for more details and give them a follow on Twitter and Facebook!
disclosure: We received complimentary tickets to visit the NASCAR Hall of Fame and ride the simulator, however, all opinions expressed are honest and my own.