Just before our summer holidays came to a close, we took one last family getaway to Melody Bay in Buckhorn, Ontario. Melody Bay is one of the newest and most exclusive lakeside cottage resorts in the Kawarthas and is home to row upon row of gorgeous RV trailers. Only, the word trailer doesn't really do it justice, because when you think of camping in a trailer, this luxury unit is probably not what you had in mind!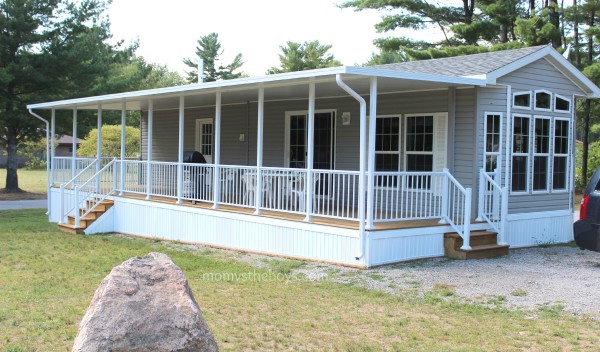 Home Sweet Home
Pulling up to our unit was really exciting, but it was really the moment we took our first walk through that we knew we were thoroughly impressed! Yes, this little house would be just fine! And it really does look like a small house, in fact, the kitchen alone blew me away with full sized, stainless steel appliances! The master bedroom houses a Queen sized bed and another small bedroom held a bunk bed big enough for all three boys to share. Our living room was comfortable with couches, chairs, carpeting, a fireplace and better satellite tv than we get at home! With the weather hovering between gloom and rain for most of our stay, this was actually pretty useful.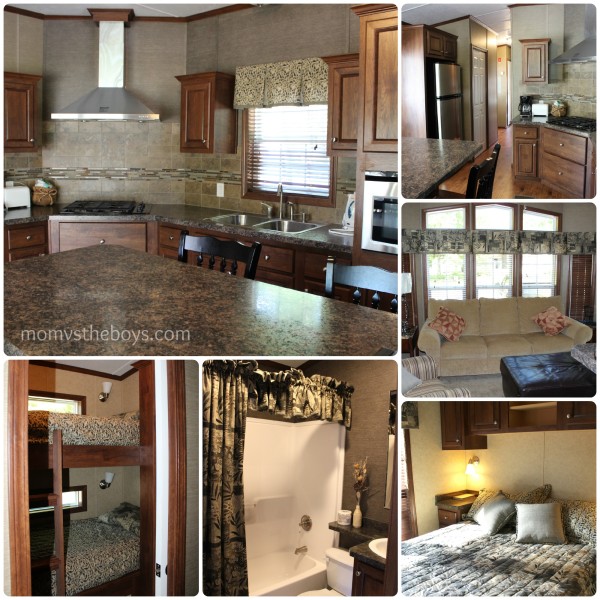 Not exactly Roughing It!
While we didn't intend to spend much time inside during our cottage country weekend away, the dreary weather had other plans. But despite the rain, we had a great time bonding as a family in close quarters. If  it's going to rain during a camping trip, Melody Bay is exactly where you want to be! Our covered porch was enormous and allowed us to get outside even in the dampest weather. We ate all of our meals and relaxed out there. The resort offers two heated pools, which was nice and warm and allowed us to swim with the boys even in a little drizzle. When the rain took breaks, we headed out for walks around the neighbourhood, played some hockey and beach volleyball and taught the kids how to play shuffleboard! The site hosts a cozy games room that the boys loved! We played family games of fooseball and borrowed a movie each night to take back to our trailer. Playing games and watching movies in front of our big screen tv and fireplace was actually a highlight of our time away, it felt good to go on a vacation where we could just slow down and cuddle together!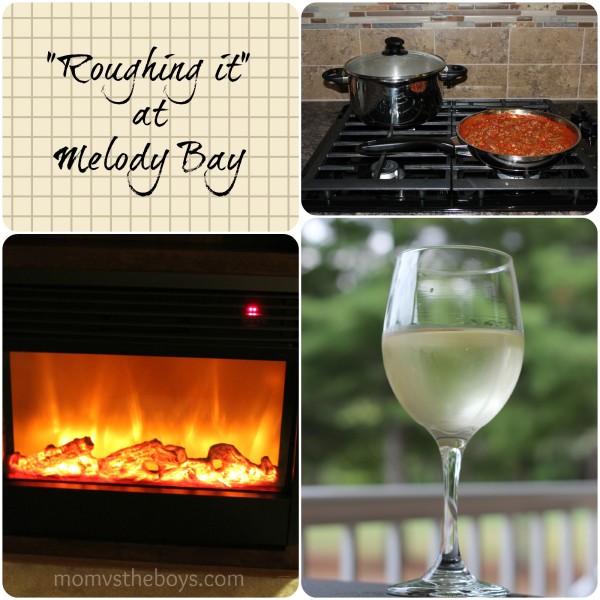 Melody Bay is just one of  Parkbridge Lifestyle Communities. Parkbridge is Canada's leading owner, operator and developer of residential land lease communities, recreational resorts and marinas.
Parkbridge's residential communities are comprehensive developments containing individual home sites that are leased to a resident through our innovative variation on the traditional land lease concept.  Every resident owns the home on the leased site. 

Our Cottage & RV Resorts are recreational getaways which include RV cottages and sites for travel trailers and family camping. Again, the key benefit is that customers never buy their lots.  They simply pay for their exclusive use of the land for short-term periods or full seasons. Parkbridge owns and operates the land, amenities and infrastructure while our customers own the dwellings. Our philosophy is to provide getaways they can't afford to miss – at prices they can actually afford.
So herein lies the difference, between what you would say is your standard family campground and a Parkbridge location like Melody Bay. The pride in ownership is vividly apparent throughout. We enjoyed going for walks to see how each family had taken their unit and piece of land and made it their own. Beautiful flowers, paved walkways and cozy fire place settings made each one unique. The community atmosphere and activities were welcoming and friendly even to a few new faces like us!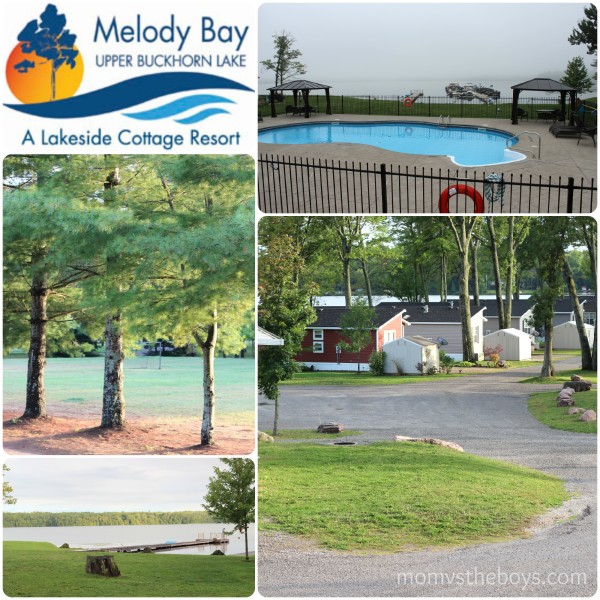 Cottage or Community?
My husband and I have toyed with the idea of buying a cottage a lot this summer. But, one of the downsides to that is the kids getting bored away from their toys and friends and parents always needing to entertain them. We quickly saw that this is a place where friendships are made and the children have planned activities to take part in. The community is safe and friendly for older kids to explore on their own, which really appealed to us. My husband has fond memories of spending summers at the trailer himself and as a family of five we love idea of just packing a change of clothes and some food and getting away without loading the van with everything but the kitchen sink. 
Melody Bay has one of the longest extended seasons in the Kawarthas, from April 1 to November 15. It's also the home to some of the best boating and  fishing anywhere in the region, with muskies, perch, crappies and bass abundant. The extended season is perfect for the many snow birds in Ontario!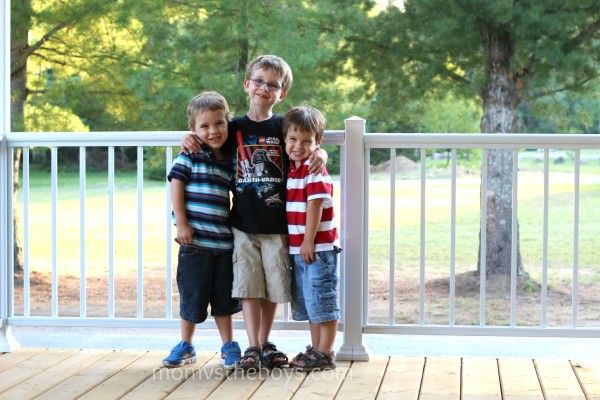 Thinking of buying a trailer or joining a community? Melody Bay offers 3 rental RV cottages like the one we stayed in. It's the perfect way to experience the Parkbridge difference whether it's just for the weekend or the beginning of years of fun and enjoyment! The rental units come equip with everything you'll need, you just need to pack your own bedding. Ours did not have an oven, but did have a BBQ.
One man we spoke with came up to visit friends on the May long weekend of last year, by the holiday Monday they had bought a unit of their own and by the following Friday was all moved in! Now that's a glowing review! He had rented out one of the other rental units the weekend we were there for his parents, and had other family staying with him. This was one happy resident!
Visit the Parkbridge Lifestyle Communities website to learn more and view their full list of rental properties.
get a closer look at Melody Bay by visiting Here
 disclosure: We received a complimentary stay with Global Resort Homes, however, all opinions expressed are honest and my own.