Parkbridge Lifestyle Communities Inc. offers camping at it's finest with their Cottage & RV Resorts.  Each resort across Canada is a little different and while many guests are actually residents, meaning they own their unit and pay for their exclusive use of the land, others are renting a unit and staying short term for weekend or week long getaways. 
My family has had the opportunity to visit a couple of Parkbridge locations over the last few years. Last summer we visited Lakes of Wasaga Resort in Wasaga Beach, Ontario. We loved Lakes of Wasaga so much that we returned again this summer as well, it was just a perfect fit for our large and active family that we couldn't resist.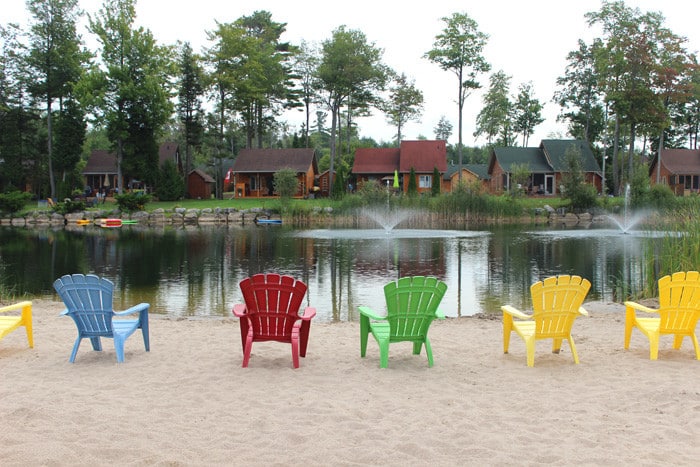 Here's a few tips to make the most out of your Lakes of Wasaga stay
Come Prepared
Each Lakes of Wasaga unit for rent is different. Parkbridge allows residents to join their rental program where they can rent out their unit when they are not personally using it. This is a perfect win-win scenario for both the owner and the resort, as well as the renter who normally wouldn't have access to such a wonderful community. It's a great way to get to know the resort if you are thinking of buying yourself or just want to getaway. 
Call ahead to inquire about which unit you will be staying in and what amenities are included. When we stayed in Melody Bay, another Parkbridge Resort, the unit did not include an oven but did include a barbecue and our cabins at Lakes of Wasaga had both. Knowing what you have to cook on will be a big help when meal planning.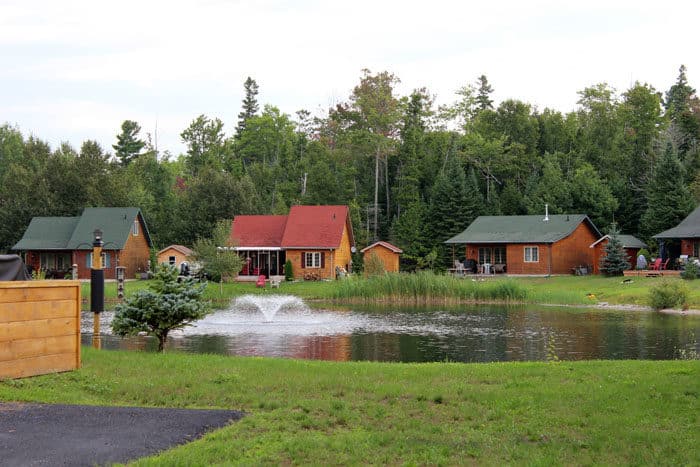 If you are renting linens with your unit, you will be given a large bag with all the bedding and towels you will need during your stay so plan to spend some time getting settled in. Each unit comes with a well equipped kitchen, but you never know what will be available. I always bring some plastic cups, scissors, and can opener as well as ziploc bags, aluminum foil and plastic wrap. I also bring extra dishwasher tabs, laundry pods and a supply of toilet paper and paper towels to get us through our stay as well. 
This summer we were hosted in #46 Cabin Crescent. It was a lovely 3 bedroom cottage that was perfectly spacious for our family of 5. One bedroom had bunk beds for two of the boys and the third boy slept in the loft upstairs. The cottage included a sun porch, large deck and yard space complete with a fire pit for making pizza pie irons and smores! A favourite of ours when we get to camp!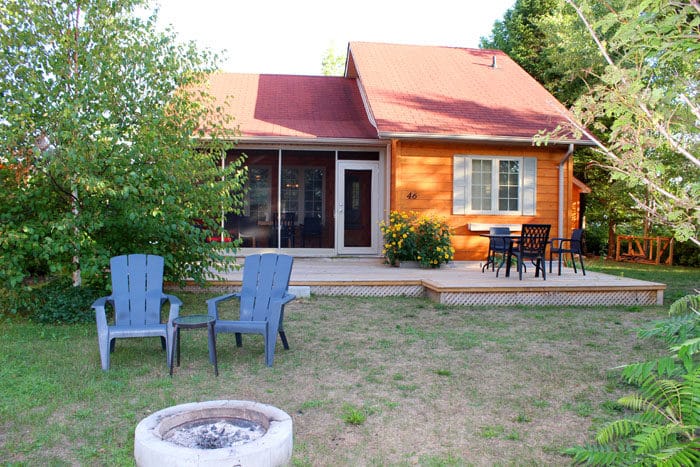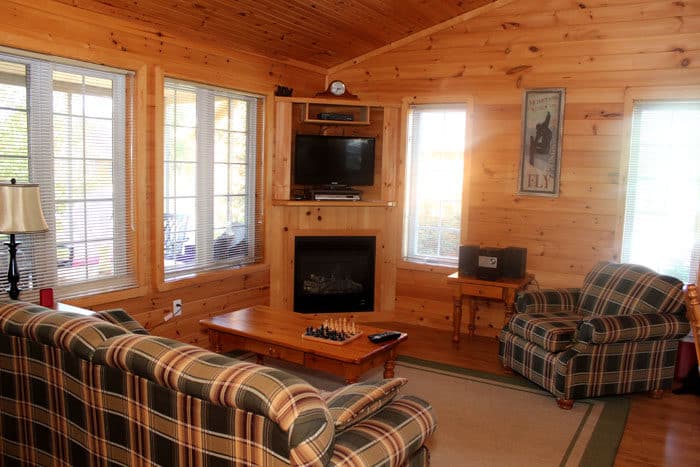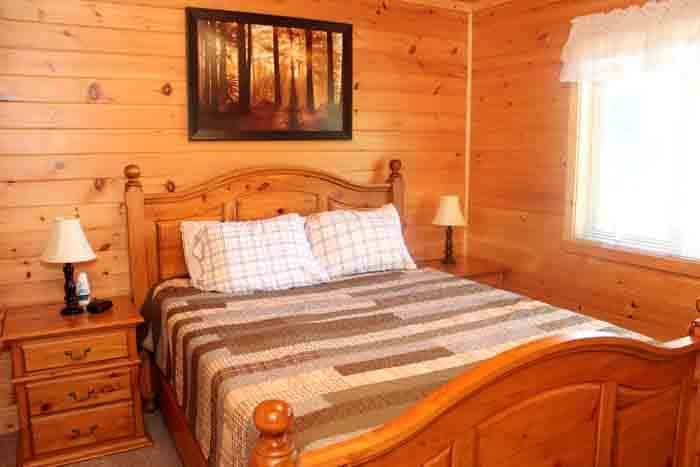 Do It All
There is so much to do at Parkbridge Resorts, take advantage of it all! Just some of the many activities you'll find at Lakes of Wasaga are basketball, playgrounds, mini golf, a splash pad and of course a number of heated pools including one indoors. My boys were eager to try everything the resort had to offer and even tried horseshoes and tennis for the first time! Turns out my middle boy was actually quite good at tennis and developed a real love for it which we wouldn't have discovered otherwise.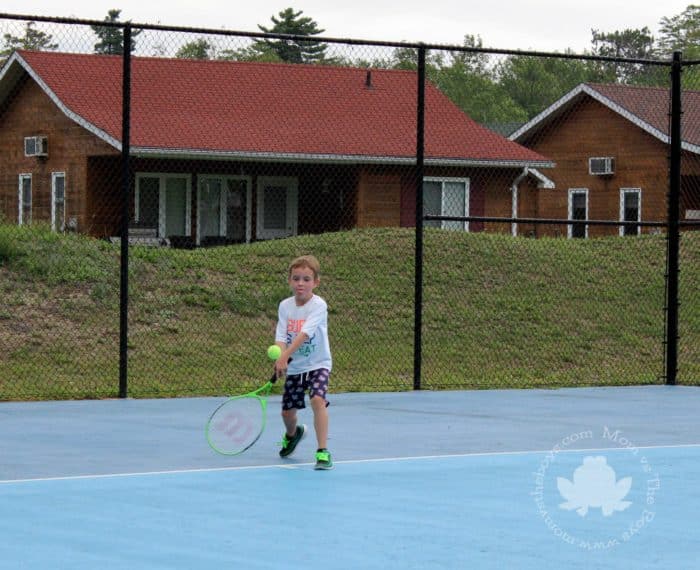 We can spend hours planning the perfect vacation but unfortunatly, we can't plan the weather. I love staying at Parkbridge because we are guaranteed a good time regardless of the weather. They have indoor pools for rainy days and their cozy accommodations are perfect for playing board games and cuddling around the fire place to watch a movie.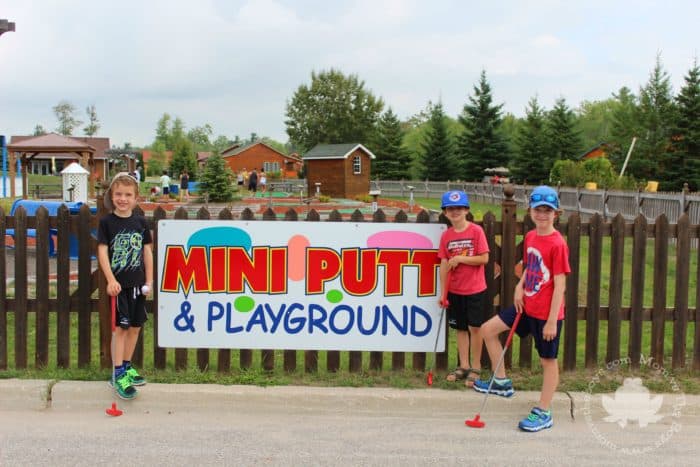 Another option is to take part in one of the many planned kids programs activities that are scheduled at each resort. Inquire at check in for a calendar of events. 
Go Explore
It might sound silly to tell you to leave the resort when there is so much to do right there, but take an afternoon or day to get out and about and see the town you are staying in. Wasaga Beach is home to the world's longest fresh water beach and the silky sand will have you walking barefoot in no time. Wasaga Beach has a unique vibe with shops and restaurants right across the street from the beach so of course you'll want to spend some time there, but spread out and try different areas of the beach as well. You'll find hidden playgrounds and peaceful undisturbed areas the further you go from the main beach. One night we set out on a little Pokemon Go adventure with the boys and found Wasaga Beach to be home to many fun little Pokestops!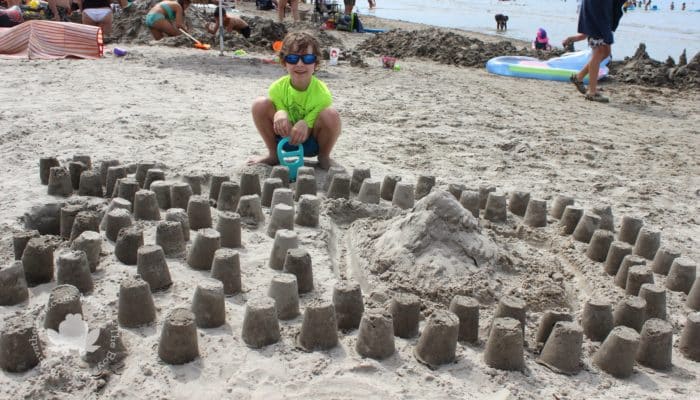 Take a peek at all the fun we had plus views of more rooms in the cabin and all the resort features in this short video we put together!
Visit the Parkbridge Lifestyle Communities website or facebook page to learn more and view their full list of rental properties.
disclosure: We received a complimentary stay with Lakes of Wasaga, however, all opinions expressed are my own.