Save your boxes and paper towel tubes to make this huge Skeleton Craft!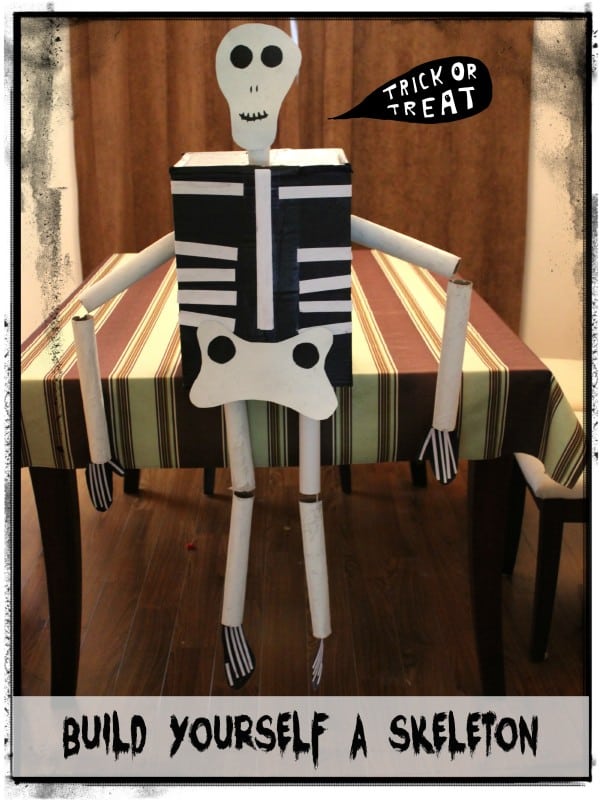 Halloween Skeleton Craft
Back in the day, way before I had kids of my own, I worked as an Early Childhood Educator. One Halloween I made this awesome Skeleton craft with my preschool group, after seeing it in a magazine (I think!, it was a long time ago!) Now that my kids are a little older, I knew this would make the perfect project for my boys this Halloween!
What You Need
A large carboard box in a rectangular shape to form the body
8 paper towel tubes
1 toilet paper tube (or cut down another paper towel tube for the neck)
Black paint
White paint
White construction paper
String
Sturdy cardboard
Glue
Hot glue gun
Put it Together
You will want to use a nice sturdy carboard, if you use something thin like a cereal box, it will start to curl once wet with paint. Draw out a head shape and the hip bone shape freehand and cut out with a pair of scissors. Trace your child's feet and hands on the same cardboard and cut out.
You now have all of your pieces. Paint the body box black, as well as the feet and the hands. It's best to do both sides of the hands and feet because these will spin around. If your paper towel tubes are already white, perfect! If not, paint all the tubes white, as well as the head and hips.
Cut out spine, ribs, collar bones, and fingers and toes out of white paper. Once the paint is dry, glue these into place. Using back paint, add details to the face and hips (you can also cut circles out of black paper if you prefer and glue them on)
Time to build the skeleton! Use a hot glue gun to hold the head onto the neck and the hips onto the body. It's quicker and stronger than craft glue. Using scissors, cut out arm, leg and neck openings the same size as the tubes from the body box. Make your leg holes closer to the front of the box than the middle so you can sit the skeleton on a shelf or table when done.
Poke little holes (use a sharp pencil or tip of scissors) at the top of the feet and hands. Tie one end of string here and slip on the paper towel tubes, two for each one. Use tape to secure at the end or poke another hole and tie a knot to hold the string.
Push the paper towel tubes into the holes you cut on the body to position the arms, legs and neck.
Give him a name, you have a new member of the family!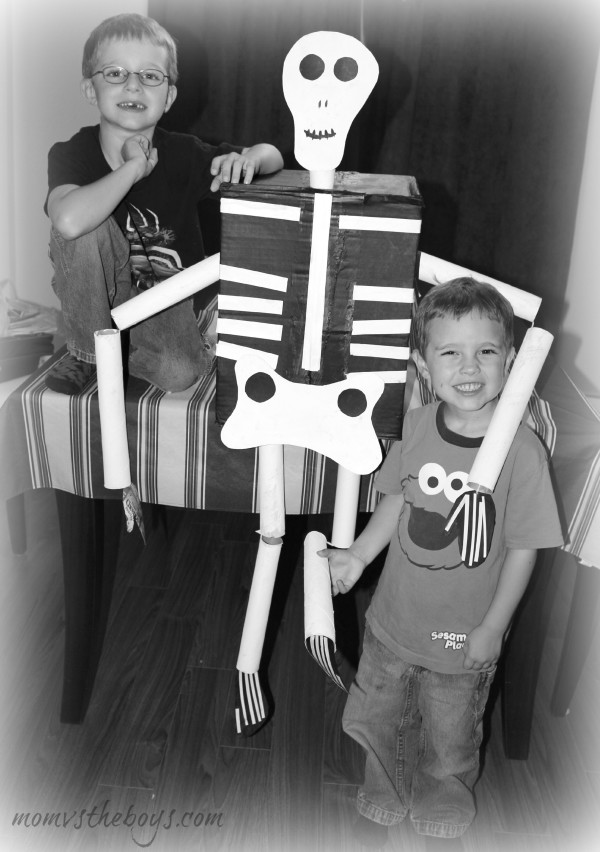 Decorating for Halloween? Check out this huge indoor/outdoor spiderwebs!
Make your goblins giggle with this BIG List of Halloween Jokes for Kids!