This is actually the first year that I've decorated my mantel for Valentine's Day. It gets a new look for Christmas, but the rest of the year it pretty much looks the same, so this year I thought I would dress it up for the holiday of Love! I didn't want to spend a lot of money on it or have new items I had to store away, so I created the challenge of making a fun mantel using items I already had in the house! I love the way it turned out!
Valentine's Fireplace Mantel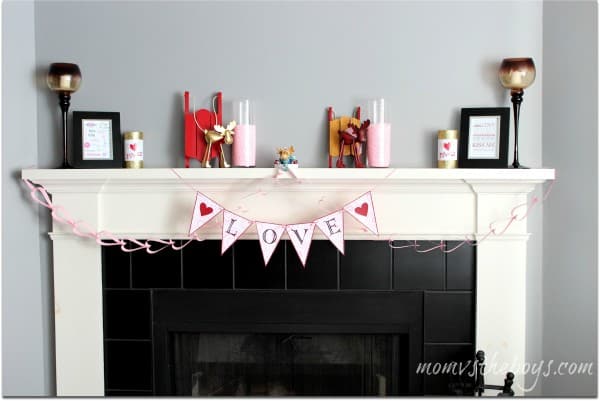 The tall candles on either end are new from the Christmas holidays and will likely have a permanent year round place on the mantel from now on. They were purchased at Jysk along with the sparkly gold candles. The moose and wooden sleighs are left over from the Christmas mantel as well, but since we still have a ton of snow, I still felt that their gold and red colour and Winter theme seemed appropriate! The wooden sleighs were made by my husband's late Grandfather so they are pretty special to us. The third little moose there in the middle is actually a stocking holder that one of Christmas stockings hang from! I left him there to hold our garland.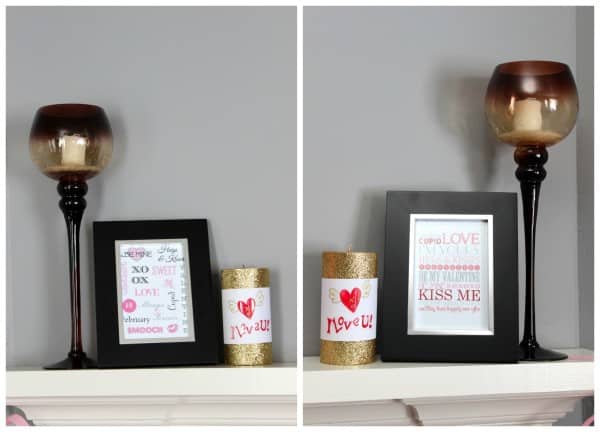 To dress up the sparkly gold candles, I simply wrapped them in white printer paper and attached a couple of stickers from the boys collection. I removed photos from the black frames and inserted some pink and black subway art! The one on the left I created myself in picmonkey, the one on the right, I found on Pinterest and is available for a free download here.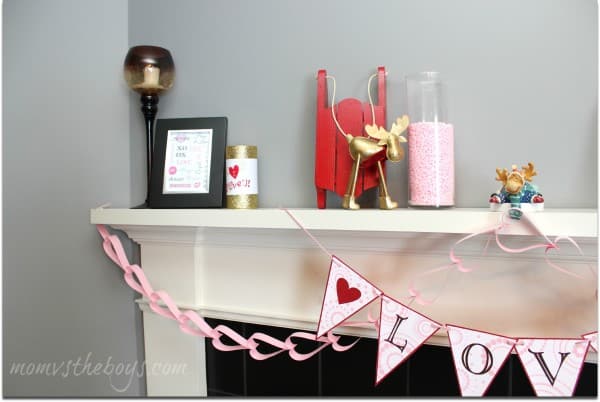 I love this simple paper heart chain! It's such an easy and inexpensive way to dress things up! For full instructions, see this post that I created with step by step instructions. The LOVE banner in the middle makes a great statement and really pulls the whole mantel together! I found it on Pinterest, for a free pattern download, visit SimpleCrafter. I didn't have any bright white card stock so I used printer paper and attached it to some pink cardstock to make it stiff. Pink yarn, holds it all together.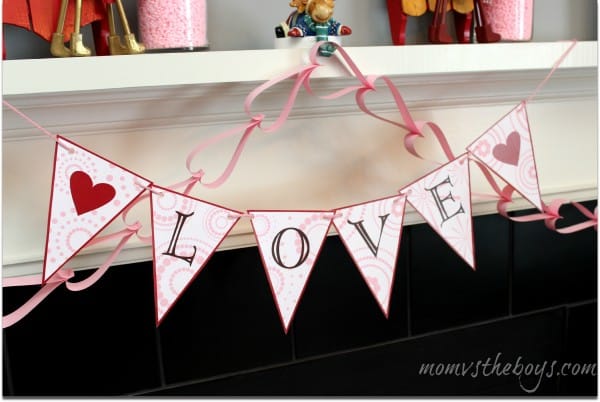 It's 'Scentsational'!
This Valentine's fireplace mantel is really scentsational! It smells amazing! Those glass vases normally hold some tiny pinecones for the Christmas holiday, but for Valentine's Day, I used some pretty pink Downy Unstopables in the Spring scent! They give an amazing pop of colour and fill the room with a lovely scent! The trick to filling large vases with small material is by first inserting something else of a similar shape inside and then pouring the small material in. That way you don't have to fill the whole container just the outside edges. For wide vases and bowls you can use cans, but for this long and skinny vase, I used a paper towel tube taped up on each end.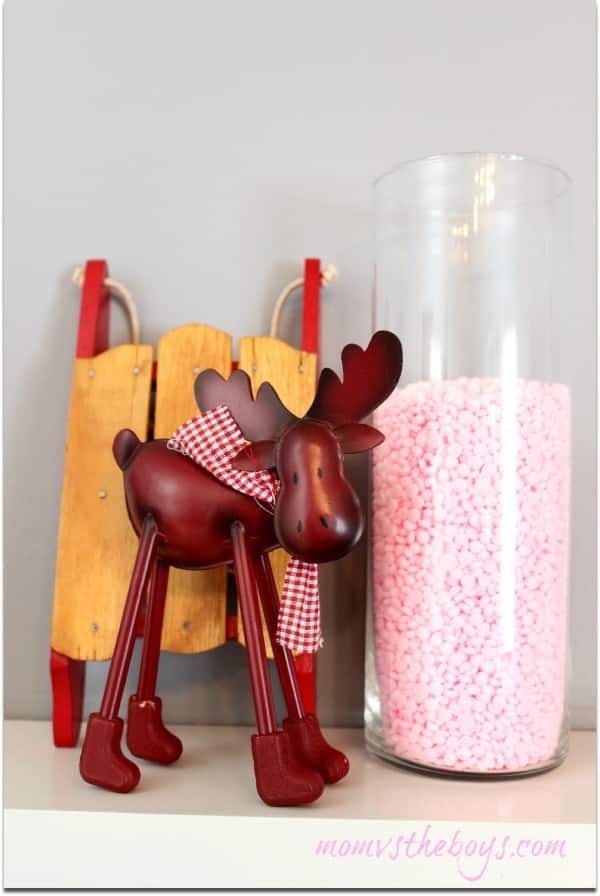 Happy Valentine's Day!
I hope I've inspired you with some fun ideas to spruce up your own mantel!