Love is in the air Tweeps!
With Valentines Day just days away, Pure Via is celebrating all things sweet! Whether it be a kind gesture from a stranger, a loving message from a friend, or a delicious treat, Pure Via is encouraging Canadians to make every day sweeter with a super fun new Twitter Challenge starting TODAY!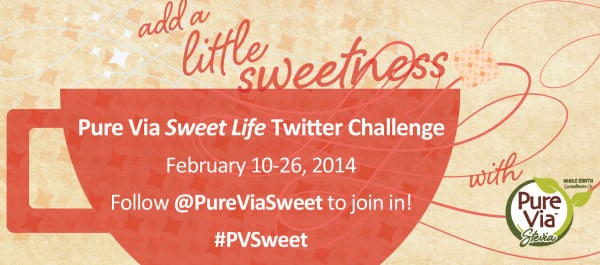 #PVSweet
Follow @PureViaSweet and track the Hashtag #PVSweet for  weekly "Sweet Challenges" all themed to making life a little sweeter!
Win SWEET Prizes!
Your sweet challenge tweet will enter you into a draw for a  grand prize of a $1,000 Visa gift card and fabulous Pure Via product!! Now THAT's Sweet!
There's more!
Throughout the course of the challenge, participants will also have the chance to win a host of additional prizes, including Pure Via products, Visa gift cards and a special Valentine's Day gift set!
Pretty Sweet Right??
Okay, so head over to Twitter, follow the hashtag #PVSweet and find out what the "Daily Sweet" challenge is so you can get entered! Challenge runs from February 10th-21st
The grand prize winner will be announced February 26th
Good Luck Sweets!