The kitchen is never ending when it comes to keeping it clean! You can spend all morning in there scrubbing and tidying but then along comes lunch and dinner and it's all messed up once again, it's just doesn't seem fair! Thankfully Scotch–Brite™ has two new Ultra Scrub Sponges to rid the mess!
The Scotch-Brite™ Ultra Inside Appliance Scrub Sponge, targets microwaves and other small appliances, to scour away the mess with one side, and wipe clean with the other. Plus, you can throw the sponge into the dishwasher to rinse bacteria and then reuse again and again.  Genius right?
The Scotch-Brite™ Ultra Stainless Steel Sink Rejuvenator shines worn-out sinks to a like-new finish, leaving your kitchen sink spick and span… at least until dinner time. Removing food particle build-up and buffing from natural scratching and dulling over time, just scrub with one side and polish with the other to leave your sink shiny and scratch-free in just minutes.
The Scotch-Brite™ Stay Clean line-up helps tackle those hard to rid messes, such as dried egg, cheese and pasta. The Stay Clean sponges clean your surfaces without trapping food particles that can cause unpleasant smells and harbor germs. Plus, they're safe for all surfaces, delicately but masterfully wiping away messes.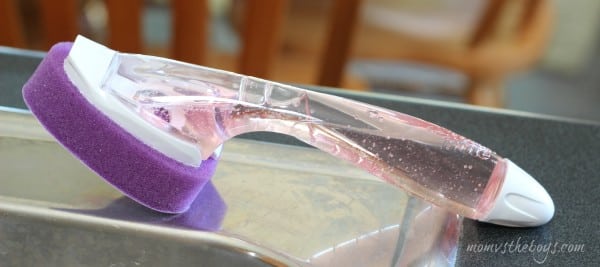 This type of scrub brush for the dishes is one my mother in law always used to use so it was kind of nostalgic to load it up and give it a try at our house. I love the purple colour of the sponge and the scouring surface so one tool does the whole job! 
Ready to tackle your kitchen?
Enter below to Win a 3M Scotch Brite basket filled with all the essentials you'll need to get your kitchen sparkling!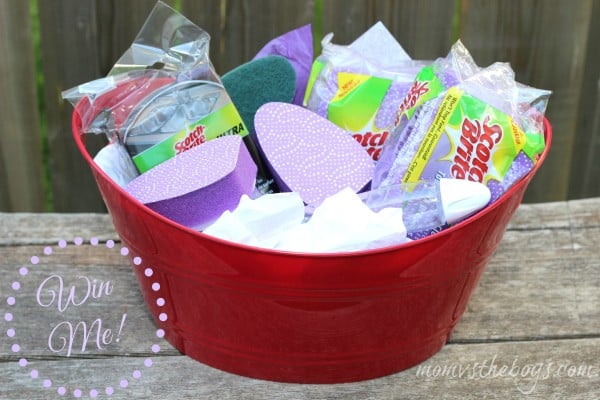 Canada only