Everyone loves Sesame Street! Sure, sure, maybe only your toddler or preschooler in the house will admit they love the furry friends but truth of the matter is, when you grow up with Sesame Street, those characters kind of stick with you forever. Meeting up with The Count, Big Bird and Super Grover has been the highlight of some of favourite vacations and I'm not just talking about the kids! Hubs and I were all smiles too and couldn't resist jumping in side them for photo opps! 
So where do you take your Elmo obsessed tikes? Here's the low down on three different, but all fantastic vacation spots where you can get face time with the Sesame Street crew.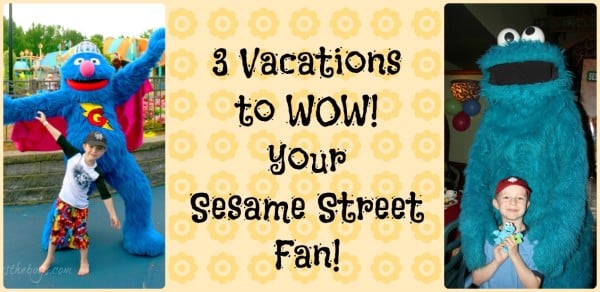 Busch Gardens – Florida
You are probably already familiar with Busch Gardens for checking out awesome animals and riding the coolest roller coasters around but Busch Gardens has a whole Sesame component too! The Sesame Street Safari of Fun is Busch Gardens newest land filled with kid sized rides and shows at the Sunny Day Theatre. My kids could have stayed here for hours if we didn't want to see the rest of the park! We caught one show which was pretty good and kids were invited up to meet the characters afterwards if they wanted to. You can also pay extra to get photos taken at Big Birds 123- Smile with Me and on select days you can Dine with Elmo and Friends at a buffet lunch. The cost is pretty high at $22 per adult and $15, plus tax per Child (Ages 3-9), it also includes a 6×8 family photo. If you are celebrating a birthday you can arrange something special for that as well. 
A Final Word – a fair number of Sesame themed rides, one show but not a lot of character interaction unless you pay extra. You'll be able to spend an hour or two here and still fit in the rest of the park.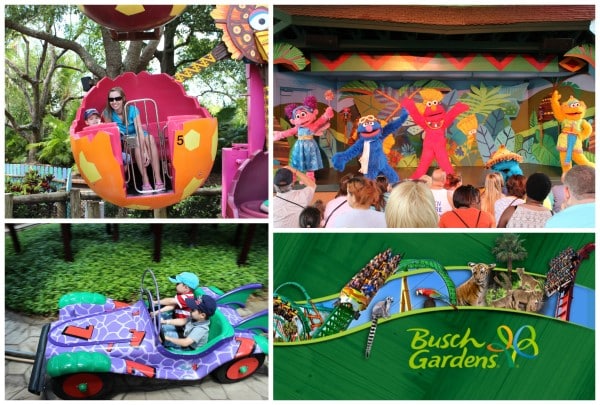 Beaches Resorts – Jamaica, Turks and Caicos
Beaches has been partnering with Sesame Street for 10 years now and have an extensive list of activities with the characters. Story time with Elmo, Science with Grover, Baking with Cookie Monster, From Trash to Treasure crafting with Oscar and the list goes on. There is a chance to see one or more of the 10 available characters each and every day of your vacation! Don't miss the lively Sesame Street Carnival Celebration Parade that happens once a week, it's a ton of fun and afterwards each character is introduced to the crowd! You can also catch the furry monsters at a Celebrating Friendship Stage Show for some evening entertainment, this happens every night (except the parade night) and it's a different show every night of the week! When adults are enjoying a little alone time, kids will have a blast at Camp Sesame! All of these are included in the price of your all inclusive vacation. For extra cash you can request a character visit your room for a "Night Night Sleep Tight" bedtime story. You'll receive 15 minutes for a special tuck in, a photo and a plush toy, prices start at $85 for the session. More of a morning person? No worries, you can also purchase passes to the Character Breakfast. The breakfast is a lot of fun with Sesame Street music and all the characters dancing and stopping by your table for a visit. You'll be able to snap pics with your own camera as you meet all your favourites from Abby Cadabby to Bert and Ernie. The cost for the breakfast is $12 per adult and $16 per child, each child receives a balloon, plush finger puppet and plastic cup, my son was crazy in love with his puppet, he got Cookie Monster! Special Birthday Parties are also available for a fee. Just check the daily schedule that arrives in your room or one of the boards near Camp Sesame for the weekly festivities. One day we even saw Elmo out on a catamaran!
A Final Word- Beaches Resorts is a perfect family vacation and Sesame fans will be able to enjoy seeing the characters at more of a relaxed pace. If you have a child that is slow to warm up or a little intimidated by the characters, this is a great way to ease them into the fun without the pressure of a one day visit to a park. The character breakfast is a great way to ensure you meet each and every character in person.
Sesame Place – Pennsylvania
Welcome to Sesame Street, don't be surprised if you start singing that old familiar tune "can you tell me how to get, can you tell me how to get to Sesame Street" before you even walk through the gate. This is All Sesame, All The Time! Main Street looks exactly like a real life replica of the show, there are both wet and dry rides that even small kiddos can go on, and there are Sesame Characters at every turn. Three different shows run throughout the day, and all of them are fantastic! Plus, you can catch the Neighbourhood Street Party Parade twice a day, once in the afternoon and again in the evening. You don't really need to see it twice, but it's so much fun you might want to! There is no set schedule to meet the characters but you'll see plenty of them as you make your way around the park. We visited 2 and a half days and got to meet all of them in person. The staff allow you to take photos with the characters with your own camera and will even take a photo for you to get the whole family in, but you can also visit 123-Smile with me for some professional shots. Again Character Dining is available for all meals of the day, expect to pay $19-$25 per adult and $10-$15 per child. The park hosts special events over some holidays such as the Halloween Spooktacular. 
A Final Word – If you have Sesame fans this is probably the biggest bang for your buck. All of the rides are Sesame themed, the shows and parades are not to be missed and even if your little one is still scared of characters there is plenty of opportunities to see them from near or afar. You'll be able to see and do everything in one action packed day, but if you can swing it, two is best.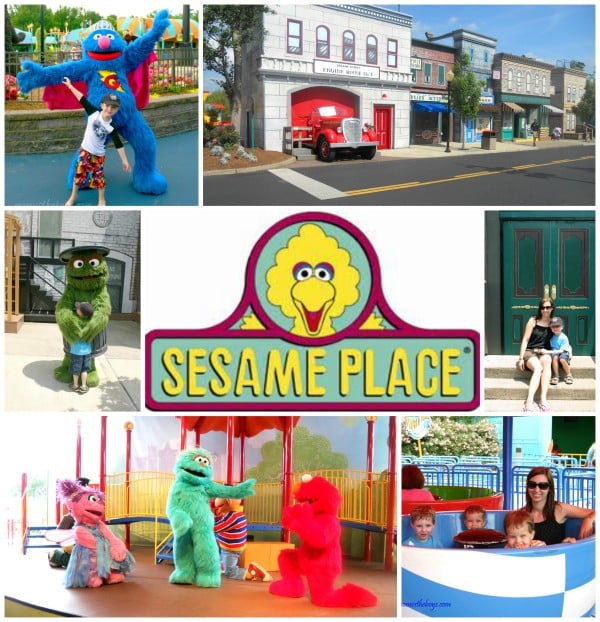 There is indeed a Sesame Street vacation for every level and size of Sesame fan! We have been lucky enough to see each one first hand and I'm happy to answer any questions you may have while you plan your vacation. Be sure to check out my travel page for other posts related to Busch Gardens, Sesame Place or Beaches Resorts, I have a number of them that will help you decide the best holiday spot for you!