This is the second year in a row that we brought he boys to African Lion Safari for a little adventure and they just love it every time! But Jen, I have girls and they love African Lions Safari toooooooo…… Of course they do! Everyone loves African Lions Safari, but I have boys, all boys, and these are my top 3 reasons why they LOVE African Lions Safari!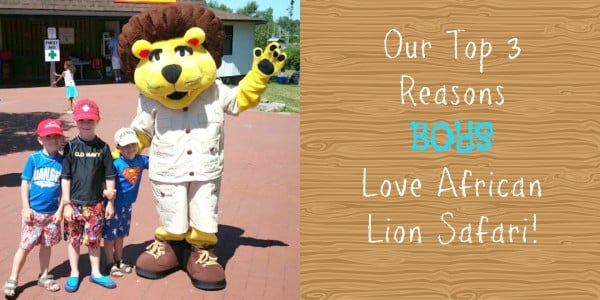 Things that GO!
Boys love things that go and African Lion Safari has a number of options! We always start our day with the bus tour of the game reserve, it's a highlight of the day to board the big white air conditioned buses and watch all the animals outside the window! It's a great way to get aquainted with all the animals! The other option, instead of the bus is to drive your own vehicle through. The boys love to watch the animals crawl, climb and take rides on visitors cars and trucks!
There is also a boat ride and a train ride to take in. The line ups can get quite long for these so plan accordingly and watch the lines for quieter moments. You'll see a few animals along the way and pretty scenery too! Keep your eyes on the waters edge for painted turtles, they are always a hit!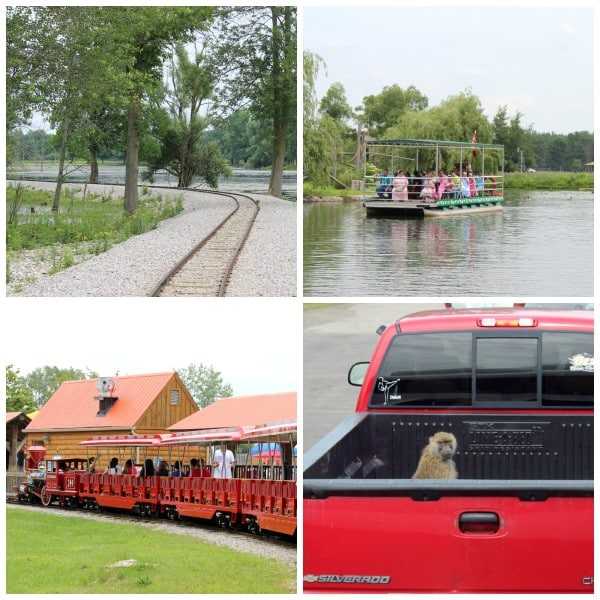 Bums, Poop and other Dirty things!
Yup, there is no getting past this. Boys go crazy for all things bums, poop and dirt! For some reason it's hysterical and you'll get your full share of strange animal bums, the number one favourite being the pink monkey butts! Those bumpy pink bottoms get everyone laughing, even mom! The boys call them 'nasty' but they just can't get enough! If for some reason you spot an animal pooping, that could possibly be the most talked about moment of the day! And seeing an animal ooze out of the mud like a big Rino is pretty awesome too! See that strange looking bird with the white legs? They aren't naturally white, they stay cool by peeing on their legs! Gross but interesting facts reign in boy world!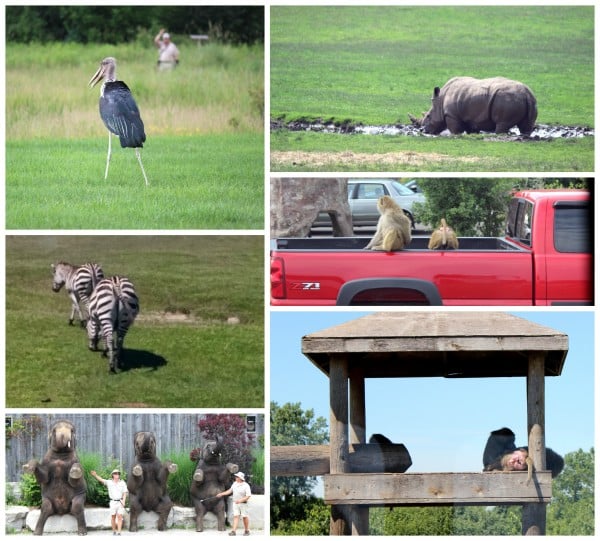 Get Wet and Go Wild!
The animals will always take centre stage at African Lion Safari but a pretty close second is all the fun to be had at Misumu's Bay Splash area and the playgrounds. The water is really, REALLY, cold, but it definitely got the boys cooled off on the hot days we've visited! The waterslides are the perfect size for kids and there is even a section for really little ones to cool down. The playground has a fun safari theme and the boys love love love the obstacle course where they slide and play in the ball pit!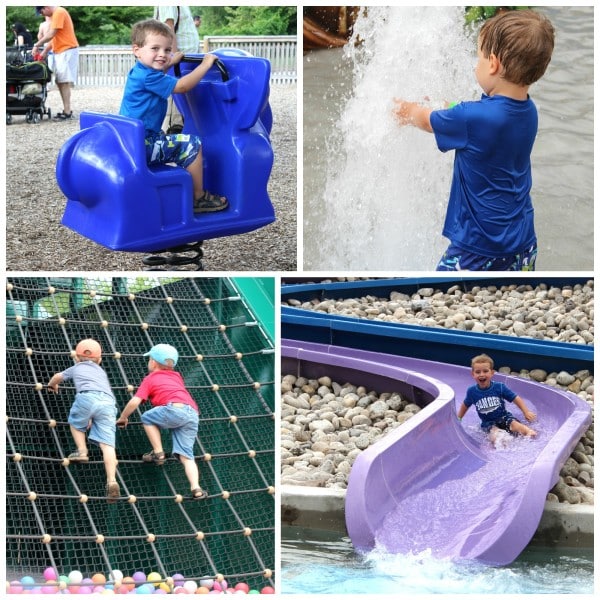 Tips for the day
* If you are worried about your vehicle in the reserve, you have a few options. You can bypass the monkeys who climb on the vehicles (by you REALLY don't want to miss that fun!) or you can pay a little extra to ride on the large buses (under $5). The windows are large and you can see just fine, plus you get some great information about all the animals you are seeing from the bus drivers commentary.
* Pack swimsuits and towels for the water park, no need for water wings or life jackets it doesn't get deep.
* Pack a picnic lunch. There are restaurants on site, but unlike a lot of attractions, African Lion Safari does allow you to bring your own food as well and there is a large grassy area to have a nice picnic on.
* Parking is free, park near the Kenya Gate entrance and your vehicle will be handy to grab swimsuits and snacks as you need them. 
* Bring Sunscreen and wear hats. There is not a lot of shade inside the park, especially during the shows. Protect yourself from the heat and sun
* Plan your day when you get there, check show times and be sure to catch each one – they are all great!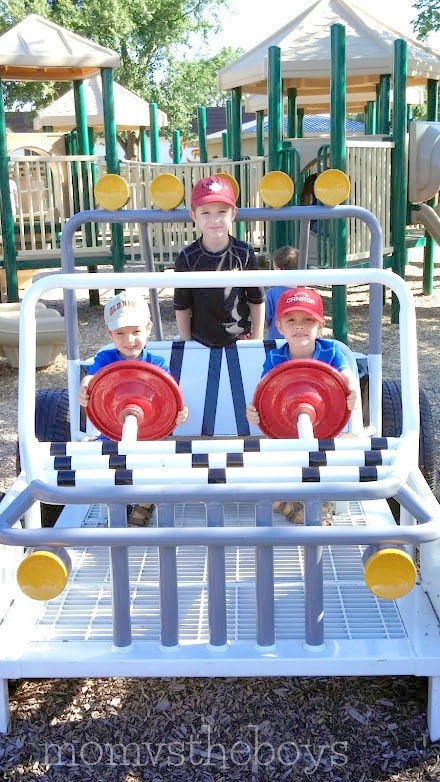 Visit African Lion Safari website for more information and follow along for all the latest news on Facebook!
disclosure: We received complimentary tickets to visit African Lion Safari, however, all opinions expressed are honest and my own.