Some people wish their whole lives for the chance to see the greatness of Niagara Falls, but fortunately for us, we are just a roadtrip away and have been blessed to see the rushing water many times. I'm sad to say that the most interactive we've gotten with the falls is to stand on the pathway above and pose for the customary "we visited Niagara Falls" photo. On a recent visit during the last days of Summer, we decided to get up close and personal, to show our boys what Niagara Falls was really all about. It was one Wet & Wild adventure!
The best ways to experience Niagara Falls

Hornblower Niagara Cruises
The best way to get to know Niagara Falls is to get as close to it as possible and Hornblower Niagara Cruises, puts you right into the action! You'll pass the American Falls, Bridal Veil Falls and journey right into the very heart of the famous Horseshoe Falls! Wondering if you will get wet? You're kidding right? You will get soaked! lol Don't worry, you will be given a plastic raincoat with hood to wear on the ride, so put it on and tie it up tight! You'll catch some of the best views of not only the waterfalls but also, Skylon Tower, the Peace Bridge, and be on the lookout for rainbows in the mist!
If you are an early riser, you can start your day with a sunrise tour, otherwise, the boat departs every 15 min throughout the day. Spaces are available on a first come first served basis, so it's still best to arrive in the morning to avoid long line ups. The Hornblower is a luxury catamaran with space both above and below to catch a view. Small children are perfectly safe, but may not enjoy getting wet. There are two areas on the below deck that have glass walls that will protect you from the mist.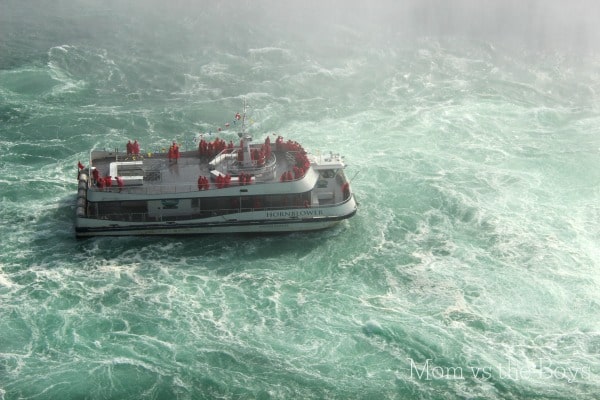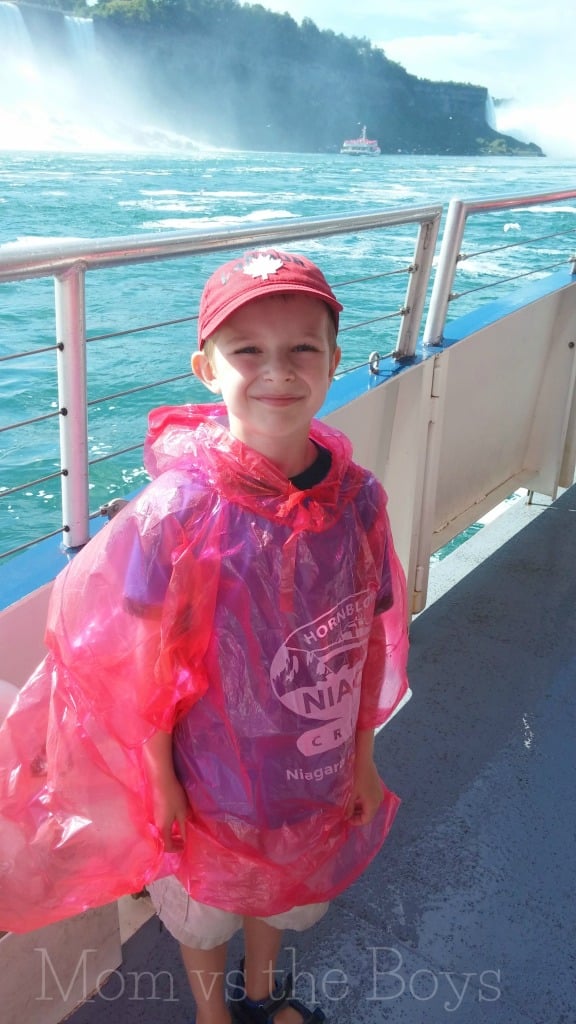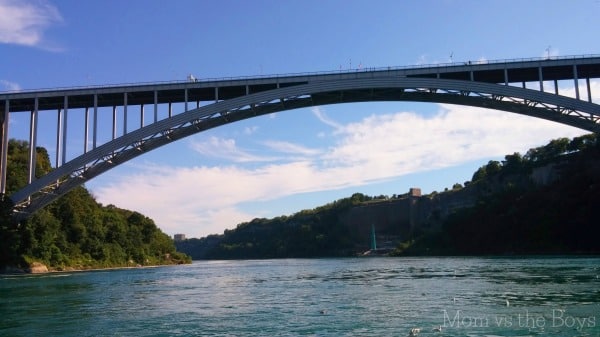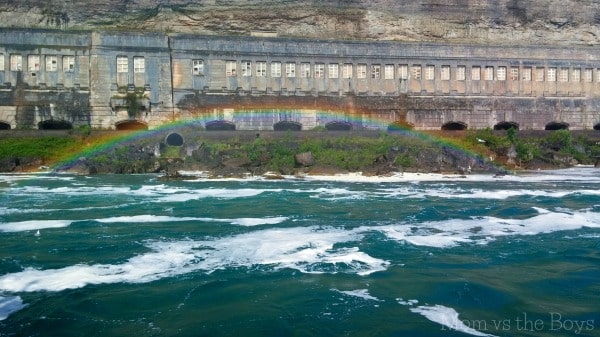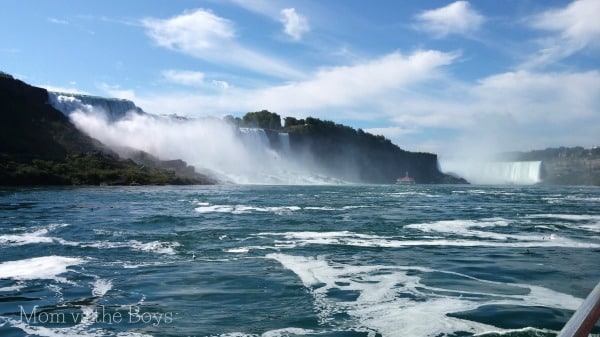 Journey Behind the Falls
Inside the Table Rock Welcome Center you will find the entrance to Journey Behind the Falls. This is one of Niagara's oldest attractions and this year marks their 125th anniversary! If you didn't quite catch how powerful the Falls are on the Hornblower, you'll definitely experience it here on one of the two observation decks. It sounds like thunder as over 2,800 cubic meters of water ours over the edge every second, traveling 65 kilometers per hour! The tunnels are a little eerie and it made me wonder if there were any good ghost stories from down there! Take your time and read some of the informational signage along the hallways, it's great fun to learn about the daredevils who attempted a ride over the falls, accidents that people survived and famous visitors to the same spot such as Princess Diana and her Boys.
There are two portals to view about one third of the way behind the falls, and an upper and lower observation deck to experience the falls. You will be given a plastic rain poncho to wear here as well. Again arrive earlier in the day or if you have an Adventure Pass, reserve your time to avoid long line ups.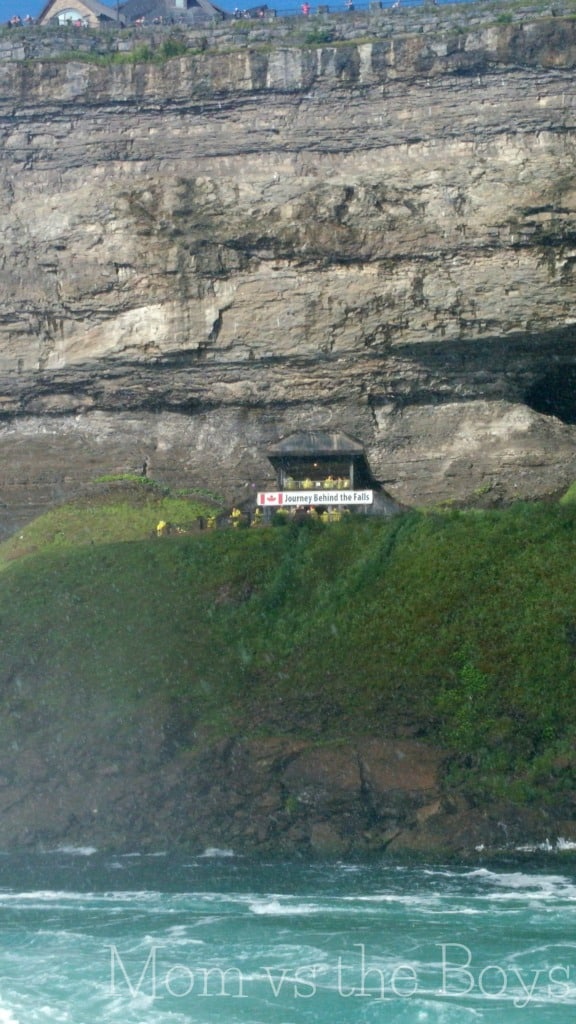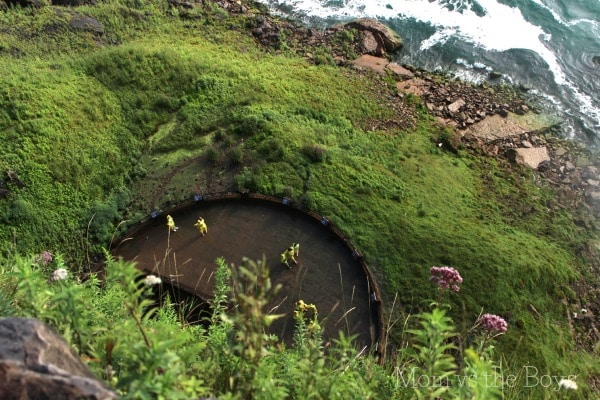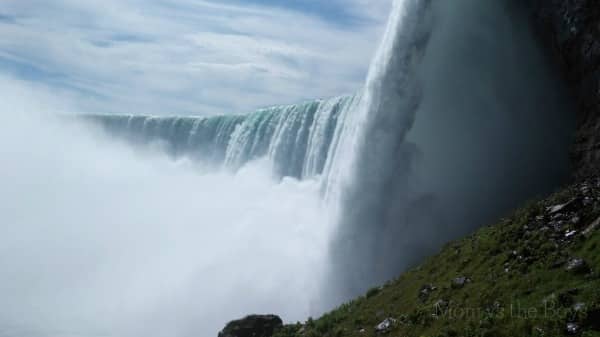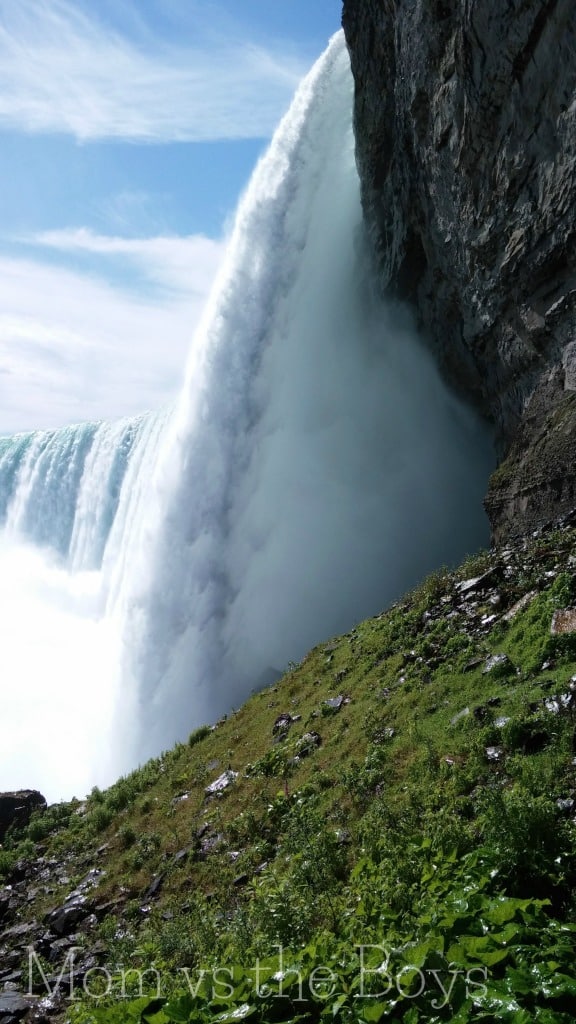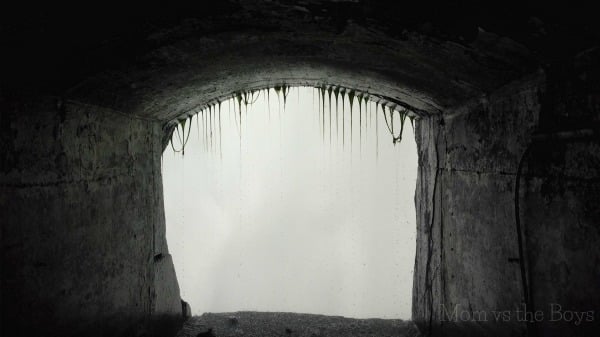 Niagara's Fury
This is a little different activity, but still involves a plastic raincoat! Much like a 4D theatre, Niagara's Fury puts YOU into the making of Niagara Falls! Enjoy a short film starring Chip the Beaver and his pals, then enter this state of the art room with screens all around you and floors that move! The temperature drops, wind picks up, it starts to snow even, but that's nothing, the wrath of Mother Nature lets loose with spraying water and rocky shores! Lights do go out and the kids were not fond at all about this part. They were cold, wet and it was a little scary. They did love the movie beforehand though and my son even picked out a stuffie of the polar bear as his souvenier.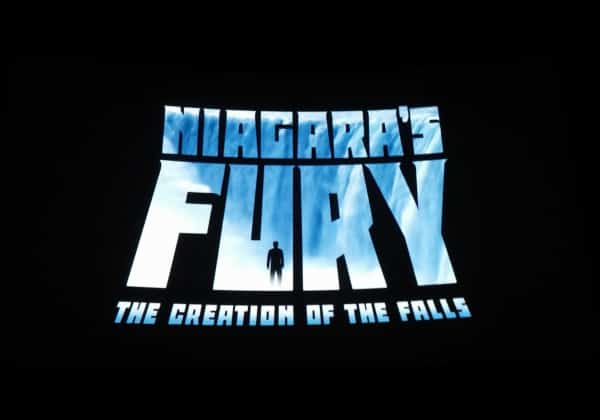 Skylon Tower
The best view of Niagara Falls is without a doubt seen from the top of Skylon Tower! From 775 Feet in the air you have a birds eye view of not only all three sets of waterfalls but the awesome city of Niagara Falls! We had fun picking out our hotel and restaurants we had eaten at, but also if you look you can spot the Toronto skyline and Buffalo as well. Landmarks and special attractions are well marked to help you spot things along your way around. The outside deck is extremely windy and cool, but worth it for the great view! There are three elevators on the outside of the tower that will take you all the way to the top in less than a minute!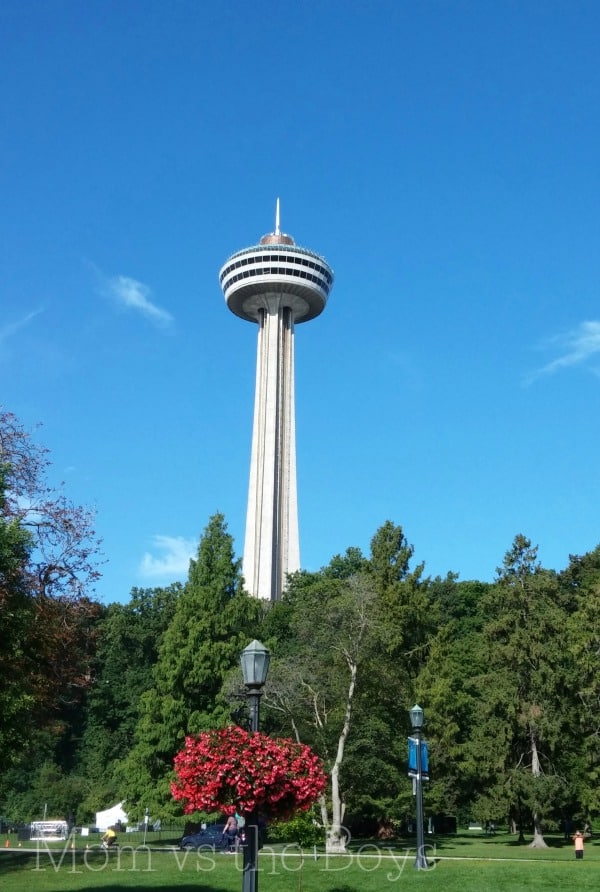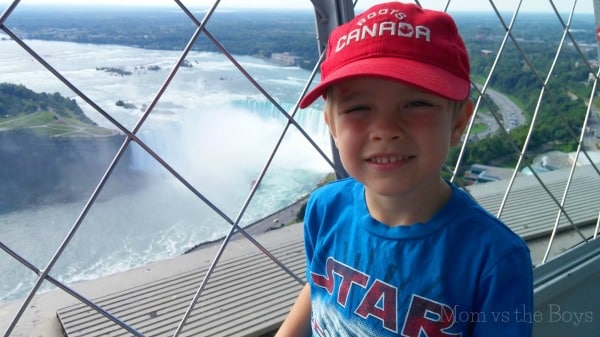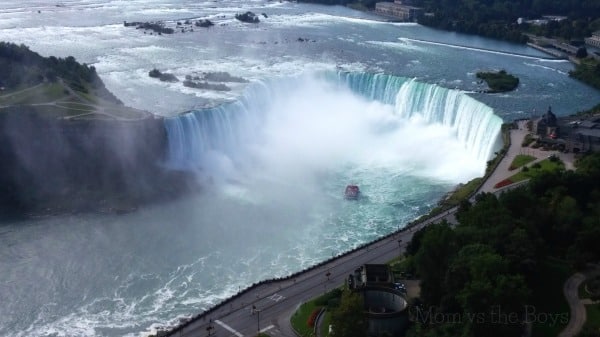 Nightime at the Falls
Okay so you've seen this amazing wonder from the side, from behind, from below, from above and even right inside the mist and fury of the Falls, and just when you think there's nothing else to see….the sun goes down!
As darkness creeps in, you are able to view the Falls in a new and wonderous way! Each night at dusk Niagara Parks illuminates the Falls into a rainbow of colour! It's spectacular! But that's not all, Niagara Parks hosts Canada's longest running fireworks series, with 81 shows a season! They are stunning and it was so special to cuddle on the grass and watch colours explode over Niagara Falls as a family! A pretty special memory to hold! Check the Niagara Parks website for a full schedule.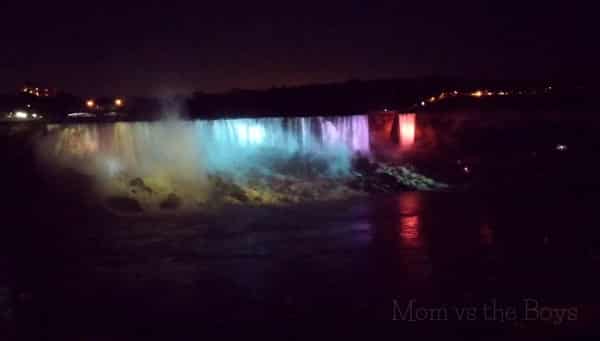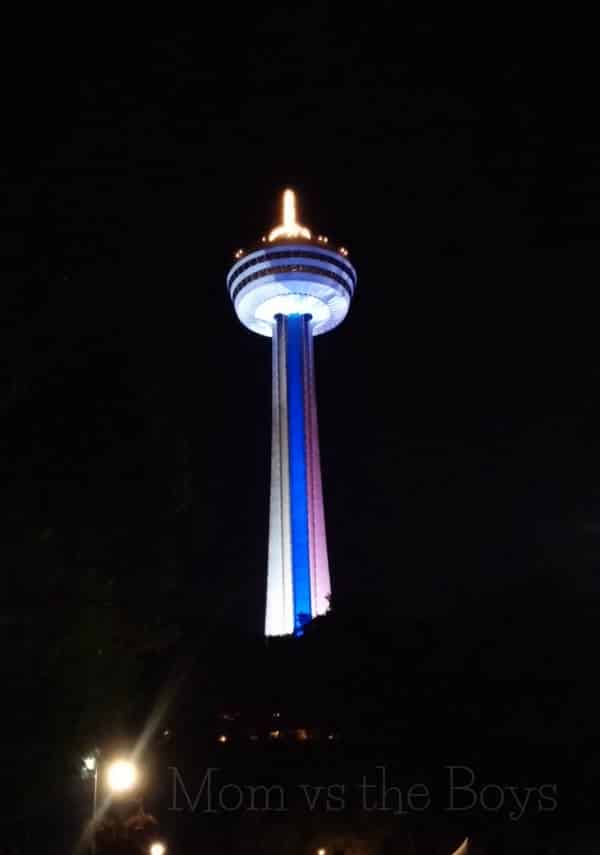 Adventure of a Lifetime!
Because you want to do more than peek at the Falls from the sidewalk, take advantage of some awesome savings with the Adventure Pass and see it all! During our visit, we saw Niagara Falls like we've never seen it before and gave our boys an indepth look at this great wonder of the world!
Save 30% with the Niagara Falls Adventure Pass!
Includes Journey Behind the Falls, White Water Walk, Niagara's Fury and the all-new Hornblower Niagara Cruises boat tour. You'll also get two-day WEGO transportation and over $55 in coupons for other Niagara attractions.
The WEGO is fun to ride and gets you around to all of your attractions and back to your hotel. For our small town kids, riding the bus was one of the coolest things we did! They never lost interest in hoping on board, especially when their feet got tired of walking! The two-day WEGO pass is a huge bonus and will save you on parking fees and the stress of trying to find somewhere to park, take advantage!
Don't miss checking out or fun short video we captured with the GoPro!