When BFF, Jenn (MomVsTheBoys) ask me to literally take the Trudeau Salad Spinner and accessories for a spin; I was more then thrilled!  I fell in love with the look of Trudeau when she first posted her chocolate chip muffin recipe using the Trudeau muffin pan.  It's bright colour was such a nice change to the metallic look of the standand pans – I'm a sucker for bright colours.  When she dropped off the spinner and I saw bright green, I was instantly happy!  Cooking should be fun and adding colour is always fun.
I couldn't wait unpack everything and give it a good test. So many salad options whirled through this girls head….Caesar, chef, spinach, the list is endless.  I finally decided on a spring mix salad with grilled chicken and strawberries.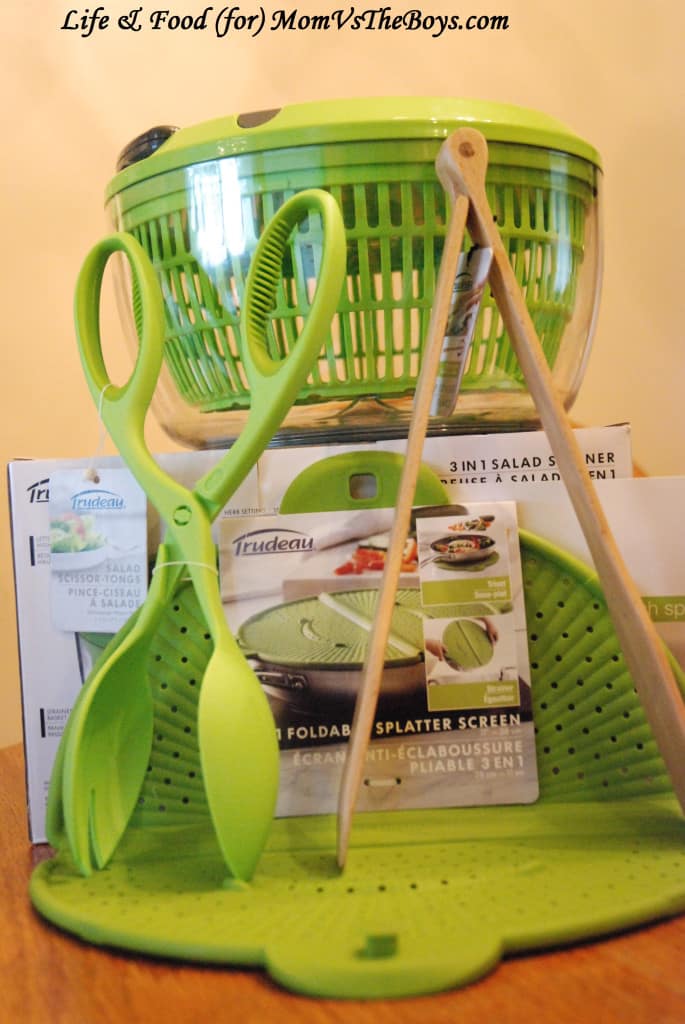 Everything I needed to make an amazing salad was laid before me.  I loved it all! Now to get to using it: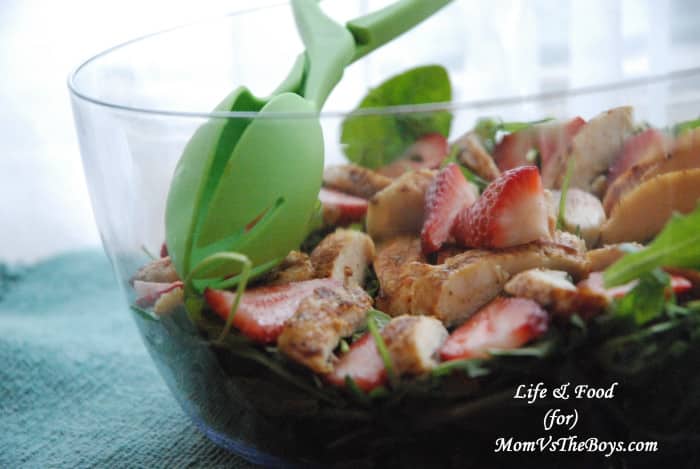 Chicken and Spinach Spring Mix Salad
Ingredients:
1 – 5 oz pkg Spinach & Arugula mix
2 Chicken breasts
3 – 4 Strawberries
4 Green Onions, chopped
1/2 tsp Paprika
Salt & Pepper
Raspberry Vinaigrette (or your favourite dressing)
Directions:
1. Season your chicken breasts with the paprika, salt, and pepper and grill, either on the bbq or since when I made this salad we were in the middle of a torrential down pour I used my cast iron grill pan.
2. Wash and spin dry the greens and strawberries.  Thinly slice the strawberries.
3. Once the chicken is done, let cool and slice into bite size pieces.
4. Lightly toss the chopped green onions with the greens in a bowl. Then layer in the chicken and strawberries. Add your dressing & voila! Done.
The cool thing about the Trudeau spinner is it has settings for fruit, herbs, and greens.  Settings? You ask. Yes settings! A light spin for delicate berries, a medium whirl for herbs, then all the way to a super speed for greens! Instead of you doing all the work cranking the handle round and round.  This spinner has a mechanism similar to a kids pull car. You crank the handle to the appropriate position, let go and it spins for you.  Need a little extra umph? Let it spin of a second and crack it back, it'll speed up. Want to stop it completely? There's a handy little brake button.  Plus, with it's anti-slip bottom you don't even need to lift it off the counter. Seriously, how cool is that!?!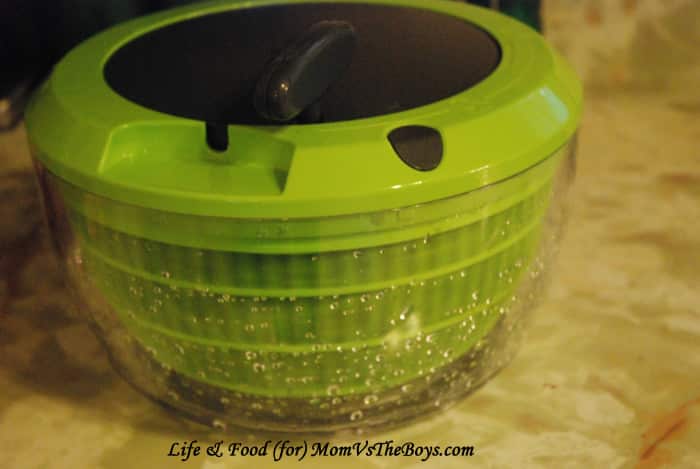 Once all the spinning was done and it didn't take much. I was curious as to how much water the spinner actually removed.  I was completely surprised when I measured out quarter of a cup of liquid was sitting the bowl.  Holy cow!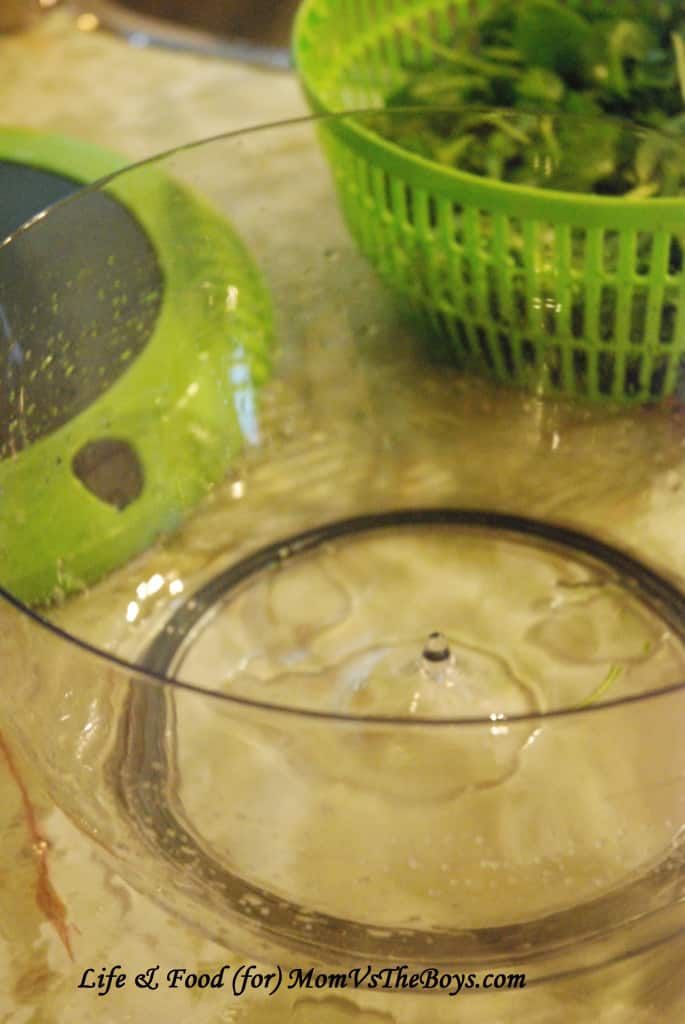 Speaking of the bowl.  Guess what I used to serve the salad in? Yup, that's right! The reservoir bowl. I just gave it a wipe out after I was finished with the spins and added everything in.  It's beautiful in its simplicity and super crystal clear so you can see all the pretty ingredients.  Because you know; you eat with your eyes first!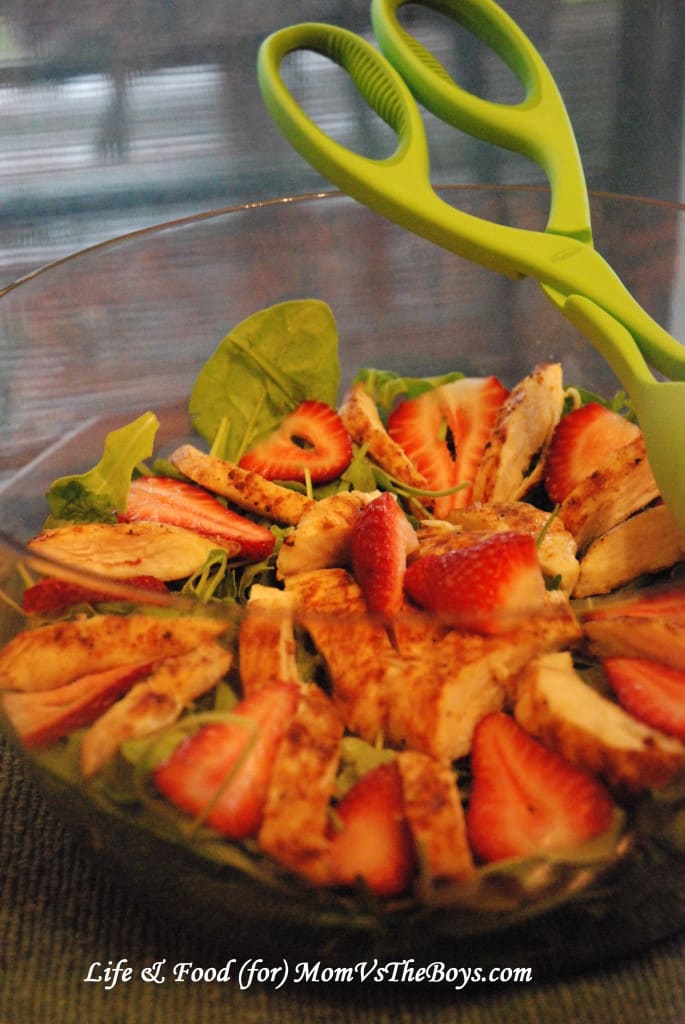 While I was grilling the chicken I got to also use the Trudeau Flip Tongs and 3 in 1 Foldable Splatter Screen. Both are awesome! Mind you, I over estimated the size of my grill pan so I had to use the splatter screen upside down so it stayed in place. But I have now used it on an appropriate sized pan and was thrilled that with just a lift of one side I can check on things without the splatters going everywhere. The flip tongs are just as cool.  They fold flat which is great when you're not using them because you can flip them over and just lay them on the stove without worrying about touching any of the burners. I'll admit I was a bit concerned when using them that I would break the beechwood but they are super flexible yet sturdy.  Concern is all gone and they are now my favourite tongs.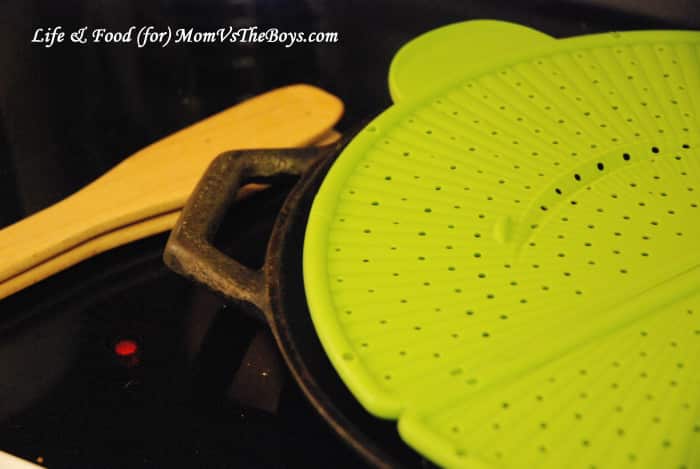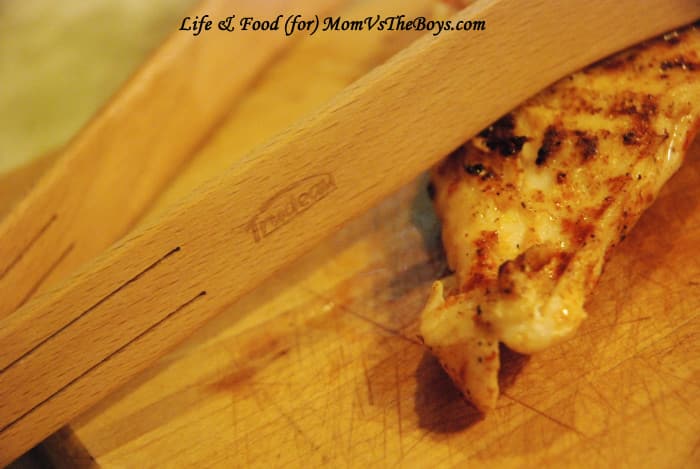 Lastly, is the Salad Scissor-Tongs. Serving the salad was a complete breeze with these babies! One clasp grabbed all the ingredients firmly. There was no fumbling around and only grabbing the larger ingredients.It grabbed a bit of everything in one scoop!  I love that they come apart so you can use them individually as servers.
Since my kitchen is super small (I've seen walk-in closets bigger), storage is always a problem. So anything that can be compressed or taken apart is always a winner for me and if they're also multipurpose I have to have them!  Trudeau seems to have me in mind when they designed this line.  I'm not only in love with look of Trudeau now, they've captured my cooking soul with the ease and functionality of their lines.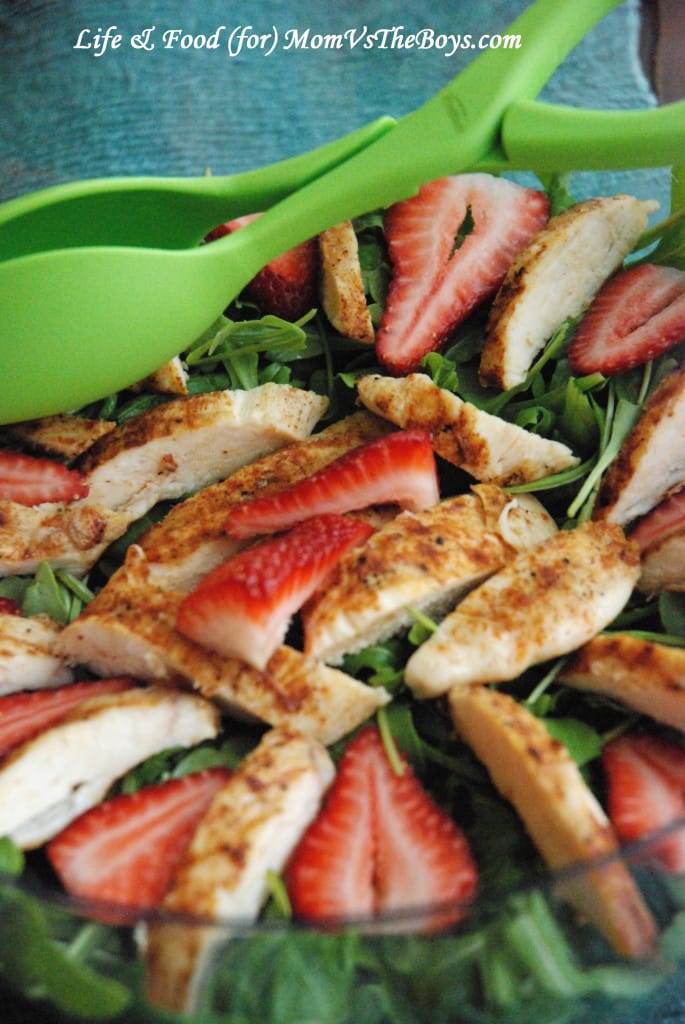 Stay Sweet!
Think you'll love the Trudeau Salad Kit as much as Tammy did? Enter below for a chance to win!
(Canada Only)