Do you want to build a Snowman?
Whether you are gathering in the snow or just over a glass of wine, your BFF will love this festive Christmas card this year!
I'm raising the bar on Holiday cards with this fun little card printable that includes a trendy eos lip balm tucked into the snowman's belly!
Aside from family and friends, there's coaches, teachers, school bus drivers, babysitters and neighbours to gift to over the holidays and this is a perfect, low cost option that will be sure to make the recipient smile. (now with unchapped lips!)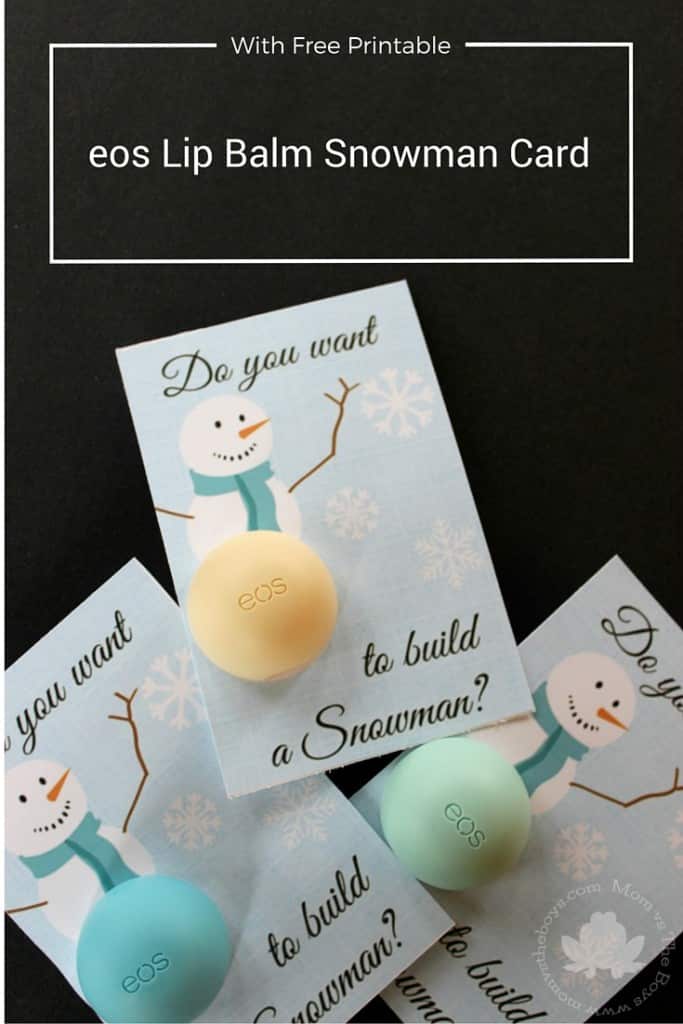 EOS Lip Balm Snowman Card – Printable
You'll need:
One eos lip balm in a White or light blue shades
One sheet of white cardstock paper
Scissors or paper cutter
Exacto knife or small scissors
Quality printer 
Printable Snowman Card – choose from one or four cards to a page

Directions 
Simply download the card printable, I've included a single card and a four card option, 'cause I know you'll want to make lots to share!  Print the card sheet onto a piece of white cardstock (you'll want a stiffer paper than regular printer paper) and trim using scissors or a paper cutter.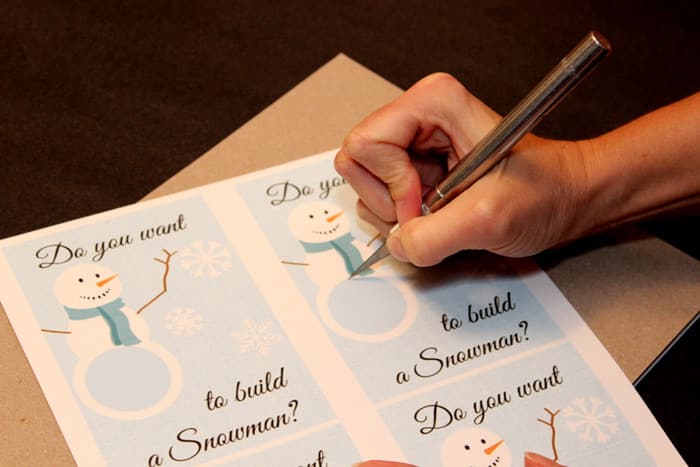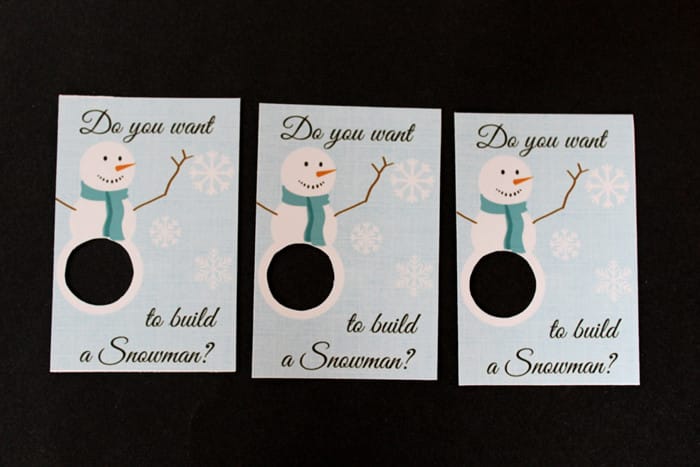 Use an exacto knife or small scissors to cut out the belly in the spot indicated.
Open your eos package and separate the two parts of the eos balm. I've used the white and light mint colour from the eos Holiday Trio that's in stores now. It's really neat and even comes with fun stickers to customize your balm. I made a personalized one for my best friend this year, she loves BLING, so I know she's going to squeal over this! The blue eos is the Blueberry Acai flavour. Any of them will work fine.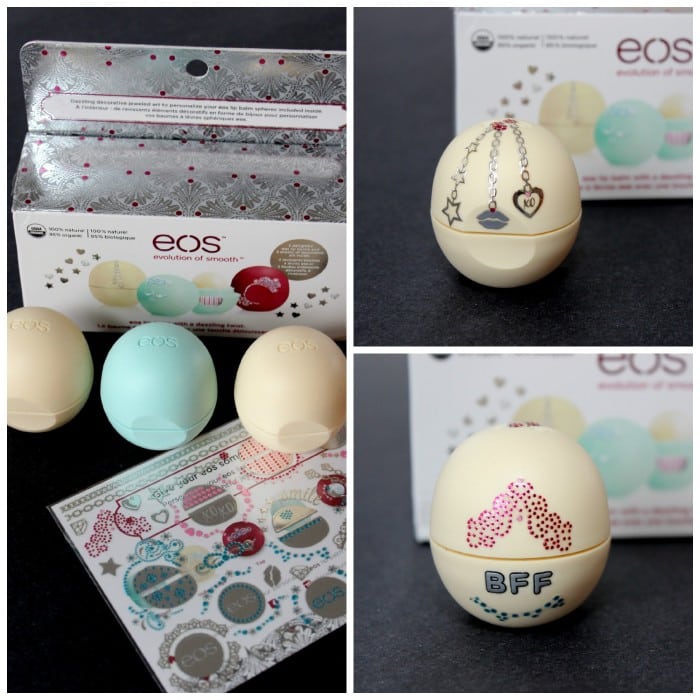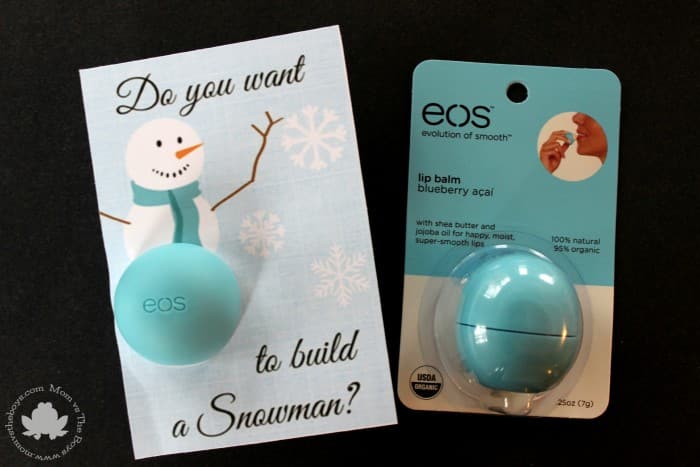 Carefully place the card over the balm and push down so that the threads are exposed. Twist on the top of the lip balm and you are done! Your snowman has a nice round tummy!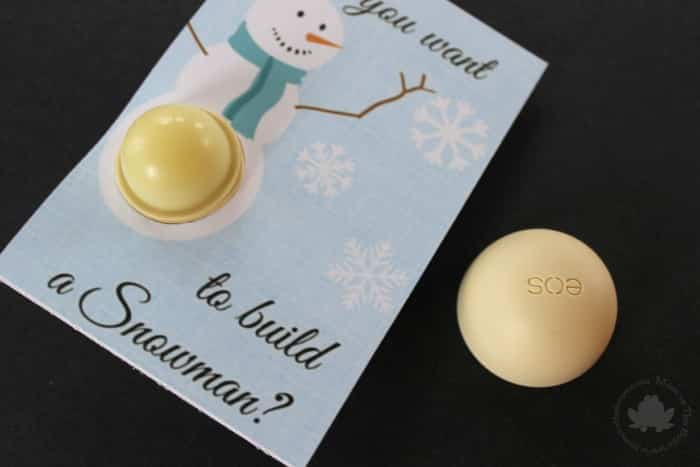 The gift of soft lips is the gift that keeps on giving….sorry, I couldn't resist, but you really can't go wrong with eos, my friends all love them and this is a really fun way to say your thinking about someone over the holidays. Especially, if you don't have loads of extra cash, like most of us this time of year. An eos balm is about $4-$5 and the printable is free!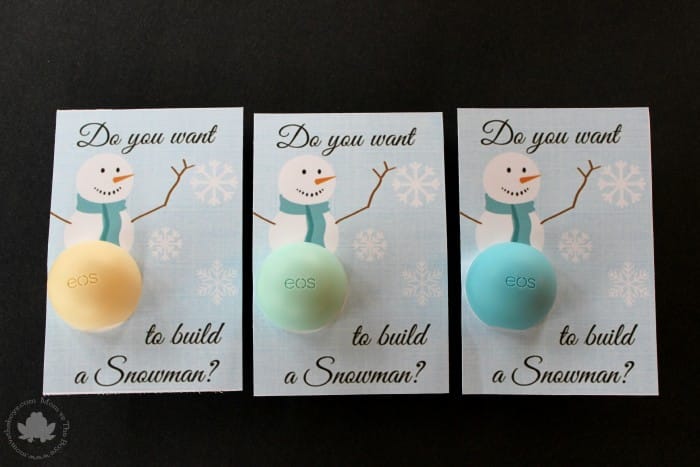 If you like this snowman printable, you'll also really love this rudolph eos printable created as well!